Many entrepreneurs leave then rejoin market
While many firms have been shut down during the COVID-19 pandemic, plenty have also been established, aiming to become part of the 'new normal' business environment.
Nearly 44,200 new companies were set up in the first four months of this year. In addition, nearly 19,300 enterprises resumed operations, meaning an average of nearly 16,000 firms were set up or restarted operations each month.
Also in the first four months, 51,500 enterprises temporarily suspended or stopped operating their businesses to await dissolution procedures. On average, nearly 12,900 businesses withdrew from the market every month, up 23.3 percent from the same period in 2020.
Deputy Director of the Central Institute for Economic Management (CIEM) Nguyen Hoa Cuong said: "Many enterprises stopped operating and dissolved to take a break to wait and see what the new market trends will be."
At the same time, Cuong said the desire to join the market was still positive due to the total registered capital.
Agreeing with the view, economist Le Duy Binh said: "The Government's efforts to improve the business environment in the previous period have brought confidence to the business community in general."
Binh said without the pandemic, the results would have been more apparent.
Binh said that in April, there were nearly 14,900 newly established businesses, with registered capital of 179.9 trillion VND (7.75 billion USD) up more than 59 percent over the previous months while in the first four months, new enterprises' registered capital reached nearly 628 trillion VND, up 41 percent over the same period last year./.
Vietnam among Taiwan-based firms' first choices for relocation to Southeast Asia
Vietnam, along with Thailand, is considered the first choice for suppliers based in Taiwan (China) planning to move into Southeast Asia to address increasing capacity demand, Digitimes Asia has reported.
In a story published on May 26, the news platform said many Taiwan-based suppliers intend to meet increasing capacity demand by relocating manufacturing to Southeast Asia and building new industrial clusters there to tap the demographic and geographic advantages as well as rapidly growing market demand in the region.
"They look to replicate their experiences in China and make Southeast Asia the next world factory that will support rising needs as the global supply chain makes transitions to accommodate "G2" (US vs China) developments."
Some suppliers note that manufacturers choose to build new production bases in Vietnam and Thailand in part for their transport infrastructure, it explained. Being able to transport goods via their road networks will make up for the incomplete supply chain ecosystems in Vietnam or Thailand.
It also added that the shift to regional manufacturing has given rise to the new trend – short supply chains. The supply chains in Vietnam and Thailand are near completion after years of effort. Furthermore, component suppliers' added demand in recent years are largely for automotive and home appliance parts, rather than ICT devices and applications, which allows them to better connect with Thailand's local industry development.
Vietnam and Thailand are therefore the ideal choices for Taiwan-based suppliers foraying into Southeast Asia, followed by Malaysia, Indonesia, and the Philippines, the article said.
Many suppliers indicate that the COVID-19 pandemic has forced them to put off or suspend their plans to move into Southeast Asia.
Digitimes Asia cited industry observers as saying that when the suppliers strategize about building new production bases in Southeast Asia, aside from customer requirements and supply chain considerations, they should also gain an understanding of what preferential treatments and investment incentives Southeast Asian governments may be putting forward to attract manufacturers looking to set up production outside of China./.
Facing bankruptcy, taxi operators seek help
The taxi associations of Hanoi, Danang and HCMC have written to Prime Minister Pham Minh Chinh asking for help as the Covid-19 pandemic has caused a serious decline in the number of taxi passengers by up to 90%, leaving them on the verge of bankruptcy.
Due to the steep decline in the number of passengers caused by the fourth wave of the coronavirus, taxi firms have seen their revenue plunge, while their employees have earned little income, Phap Luat Online reported.
As such, the associations proposed the prime minister lower the value added tax to 0% within six months for transport operators, while halving the registration fee for new vehicles for transport services.
Besides, the taxi associations expected the prime minister to direct banks to offer support and preferential policies related to loans to taxi firms, including cutting lending interest rates by 3 to 5 percentage points, restructuring loan payment deadlines and offering new loans.
In addition, the associations proposed allowing transport service providers to suspend the payment of social insurance until the end of 2021 and exempt them from road use fees until the end of December.
To help transport operators overcome the hardships, the Ministry of Transport proposed multiple support policies, including extending the validity of the Ministry of Finance's Circular 112, which extends the reduction of many fees until the end of 2021, and charging no fees for parking at airports, seaports and train stations.
Over VND2,800 trillion set for public investment projects in 2021-2025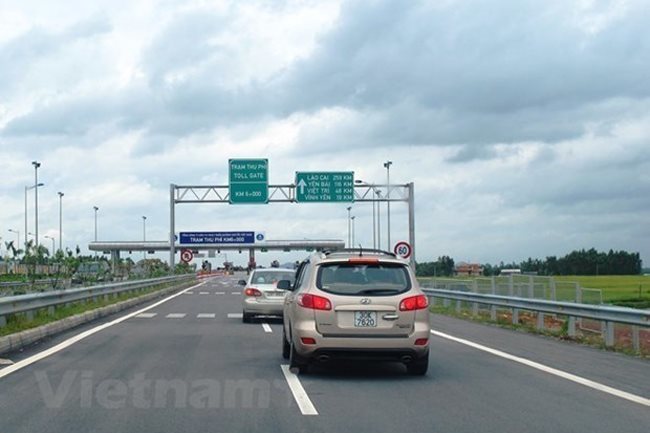 Cars travel on an expressway. Over VND2,800 trillion is set for public investment projects, mainly expressways, roads and bridges in the 2021-2025 period – PHOTO: VNA


The Government will submit a plan to invest over VND2,800 trillion from the medium-term public investment in various projects, mainly traffic ones, in the 2021-2025 period, up VND870 trillion against the figure in the previous five-year period, to the National Assembly at its sitting in July.
In the next five years, a series of major traffic projects will be developed, including a 1,700-kilometer seaside road from Quang Ninh Province to Kien Giang Province, a north-south expressway section and the Long Thanh International Airport.
The Government will invest over VND97.9 trillion in 74 key projects for regional connection, while spending VND8.1 trillion to complete 10 subcomponents of the projected seaside road from Quang Ninh to Nghe An.
Despite the surge, the capital will still meet only 70% of the investment demand from the ministries, departments and localities in the coming years, according to the Ministry of Planning and Investment.
Nguyen Bich Lam, former head of the General Statistics Office, told Tuoi Tre Online that the hike in public investment in the next five years would boost economic growth, especially in the context of the complicated development of Covid-19 and difficulties facing private enterprises.
In the next 10 years, the investment in traffic projects, mainly expressways and seaside roads, which help link provinces and cities, including the HCMC-Moc Bai, Trung Luong-My Thuan and My Thuan expressways, will bring about numerous benefits and facilitate the transportation of goods, Lam said.
To optimize public capital, the ministries, departments and localities should deploy projects and complete them as soon as possible, he added.
Food and beverages move with the times
The Vietnamese food and drink mergers and acquisitions market has shown more robust activity in the early months of 2021, with investors buoyed by the market outlook.
 
In January, Japanese seafood giant Maruha Nichiro announced that it had taken over food processing company Saigon Food. Founded in 2003, Saigon Food produces and distributes frozen seafood and ready-to-eat food under the "SG FOOD" brand for local and export markets like Japan. The company has four factories with freezing warehouses in Ho Chi Minh City.
Focusing on the growing consumption market, Saigon Food has established itself as one of the leading brands of porridge and hot pot sets in Vietnam, and in recent years has also started selling baby food. Its products are mainly sold in supermarkets and convenience store chains like Co.op Food, Bach Hoa Xanh, Ministop, FamilyMart, Circle K, and others.
Maruha Nichiro decided to acquire Saigon Food in order to secure a new marine product processing base and to acquire a platform for the development, processing, and sales of processed foods.
"In the midst of changes in the food supply chain around the world due to COVID-19, Saigon Food has the ability to develop products that are simple, safe, and easy to store, as well as the ability to sell them to the consumer market," a company statement said.
In April, Vietnamese agriculture and food company The PAN Group spent $4.3 million raising its ownership to 28.57 per cent of charter capital in Khang An Foods JSC. Following the deal, Khang An Foods will increase its charter capital from around $10 million to over $15 million with a view to constructing a food processing factory and a farming area in 2021. Khang An Foods, a member company of Sao Ta Foods JSC, is operating in processing and preserving seafood, buying and selling food, preliminary processed agricultural products, and production and export of agricultural products.
In another case, in early April, seafood processing company Vinh Hoan Corporation purchased an additional 1.8 million shares in Sa Giang Import Export Corporation to increase its ownership to 76.7 per cent. Sa Giang produces instant noodles and crackers made from crab and squid. The deal helps Vinh Hoan venture into the food and beverage (F&B) sector.
Huong Trinh, managing director of investment banking advisor BDA Partners in Ho Chi Minh City, told VIR that F&B will remain an attractive sector for mergers and acquisitions (M&A) in Vietnam, driven by favourable macroeconomic fundamentals. COVID-19 has also hurt trade activities and thus created higher demand for local foods.
"These elements create a stable investment environment and growth prospects for Vietnam's F&B, and we believe M&A activities in this sector will continue to increase," she said. "We have seen more such activities from local players following the consolidation trend when market conditions are challenging for small- and medium-sizes businesses. Recent notable transactions include the acquisitions of 3F Viet by Masan, GTNFoods by Vinamilk, International Dairy JSC by Blue Point, and Sa Giang by Vinh Hoan."
Indeed, F&B has always been a magnet for M&A in Vietnam. In the previous decade around 245 deals with the total value of $12.5 billion were recorded, led by giants in the industry such as Masan, KIDO, and The PAN Group. After a lull period, buyers have become more active in the M&A scene.
A report by the British Chamber of Commerce Vietnam revealed that one advantage for foreign investors entering the market through M&A is that they would not be required to apply for the investment registration certificate when contributing capital or buying shares of a local company, according to regulations. Another advantage would be time reduction for the licensing process as sub-licences would have already been granted to existing Vietnamese establishments.
"However, such companies would be faced with other challenges to overcome involving different strategies, vision, and culture to Vietnamese companies, as well as compliance standards such as health, safety, and the environment, accounting and financial reporting, and taxes," said the report.
With regards to local investors, M&A is also a powerful tool to create synergy of strengths for involved stakeholders. Tran Le Nguyen, general director of KIDO Group, said that the group has had actively conducted M&A strategies to increase the ownership in Tuong An Vegetable Oil and other subsidiaries like KIDO Frozen Foods and Vocarimex. The group is taking steps to merge with companies to optimise expenses for production, management, and distribution channels, thereby expanding its market share in the food industry.
At the same time, KIDO is joining forces with Vinamilk to extend its reach in the beverage sector. The two have formed a joint venture named Vibev producing and trading healthy drinks and teas. In the increasingly fierce competition, the tie-up is crucial for both companies to improve its brand awareness and consolidate market share.
Trinh from BDA Partners believed that the stable domestic demand for F&B consumption and Vietnam's good control of COVID-19 which minimises disruption in production have helped food manufacturing to be resilient during the pandemic. In addition, Vietnamese food companies will be beneficial from the participation in many free trade agreements.
She also expected Vietnamese businesses with market familiarity to become more active in M&A. "Nevertheless, we do not think the execution of cross-border deals is an issue for foreign investors as people are getting used to the new normal and M&A is moving online with the support of conferencing solutions, cloud, and local forces of professional advisors on the ground," she said.
Foreign-invested enterprises taking nothing for granted
While safeguarding workers from the latest wave of the COVID-19 pandemic in Vietnam, foreign-invested enterprises are rolling out new strategies to thrive in the new normal with high hopes from the vaccine rollout. 

Global personal protective equipment producer 3M is expected to announce in June the launch of its new disposable KF94 respirator – the 3M Particulate Respirator 9013 – designed to seal to the face allowing air to go through the filter, not around the outside edge of the respirator.
The product marks 3M's move to diversify its portfolio in Vietnam in order to meet market demands amid the serious development of COVID-19.
In late 2020 as part of 3M's strategy to drive superior operational excellence and efficiencies amid the development of the global health crisis, the company announced closing the 3M Vietnam manufacturing facility located in Long Thanh Industrial Zone (IZ) in the southern province of Dong Nai after four years of operation, moving manufacturing to other locations.
Similarly, while taking measures to protect their workers, Carlsberg Vietnam is now looking not only to survive but thrive in the new economic environment, through flexible fixes and workarounds, as the prolonged pandemic and the recent re-emergence in Vietnam are posing significant challenges to all economic stakeholders. Carlsberg Vietnam's brewery is located in Phu Bai IZ of the central province of Thua Thien-Hue.
Nathaniel Moxom, managing director of Carlsberg Vietnam, told VIR, "Since the pandemic has emerged, our top priority has been safeguarding the health and wellbeing of our employees – also a way to ensure the continuity of our business. We are also extending support to our customers and the community where we operate, accompanying them in the fight against the pandemic."
"In terms of business, we believe this is high time for us to optimise our operations and brew another long-term strategy for the new normal," he added. "With this achievement at the peak of the pandemic last year, we are optimistic about our prospects this year, especially after the positive results of the first quarter and forecasts that Vietnam's overall economic growth rate would be around an impressive 6 per cent this year."
3M and Carlsberg Vietnam are located outside the most risky areas as it stands. However, they are still on high alert with different scenarios because COVID-19 remains at large in Vietnam. Moxom noted, "Carlsberg Vietnam remains prepared for the outbreak turning for the worse with emergency measures ready to be deployed without any hesitation to ensure the health of our business and stable employment for our people."
Their preparations are in line with the Vietnamese government's drastic determination and strict measures to accelerate the localisation of high-risk areas, tracing, taking samples, and testing those coming into contact with infected people, while strictly taking prevention measures regarding facemasks, disinfection, distancing, social gathering, and health declarations so as to protect all people and ensure the continuation of production and the local supply chains.
This approach is not unique to 3M and Carlsberg Vietnam, but is also shared by other foreign-invested enterprises (FIEs), including those from Europe. COVID-19 is present in around 30 cities and provinces across Vietnam, hitting many IZs in the northern provinces of Bac Giang and Bac Ninh and the central city of Danang, causing the enforcement of lockdown and social distancing measures. FIEs affected include South Korea's Hosiden Vietnam, Samsung Electronics Vietnam, Johnson Health Vietnam, and Canon Vietnam, among others.
The country has been one of the international success stories of handling the global health crisis throughout the past year and more, protecting both lives and livelihoods through swift public health measures and effective economic support.
The European Chamber of Commerce in Vietnam (EuroCham) has highlighted the government's continued measures to contain the spread of the virus and to protect the health of citizens would boost foreign direct investment and trade, as well as accelerate Vietnam's economic recovery.
FIEs and European companies are pinning high hopes on the vaccine rollout in Vietnam, which they expect will soon accelerate through the mass vaccination programme already underway, with over one million people already vaccinated.
Alain Cany, chairman of EuroCham said "We encourage the government to allow more European business leaders to travel here as long as they have been vaccinated and can show proof, such as with the EU's proposed 'digital green certificate' – with reduced quarantine requirements."
The Ministry of Health said it has signed agreements to procure 110 million doses of vaccines. They include 31 million doses of the Pfizer-BioNTech vaccine, which will arrive in the third and fourth quarters, 38.9 million doses of the AstraZeneca vaccine provided through the global mechanism COVAX, 30 million doses of AstraZeneca through a deal signed by Vietnam Vaccine JSC, and 10 million additional doses through COVAX under a cost-sharing scheme.
Like Carlsberg Vietnam and many other FIEs, European companies have also been preparing plans to boost their footprint further in Vietnam, as they now have privileged access to the Vietnamese market, thanks to the recent implementation of the EU-Vietnam Free Trade Agreement.
Businesses cautious in Bac Giang province
Suspension of operations at four industrial zones in the northern province of Bac Giang is causing export chain breakdowns and impacts on general operations of the  business community in the province.

The four industrial zones (IZs) of Dinh Tram, Quang Chau, Van Trung, and Song Khe-Noi Hoang are home to over 300 foreign-invested enterprises (FIEs) with some 163,000 workers, but these manufacturing hubs of large-scale FIEs in such as Luxshare, Foxconn, Hosiden Vietnam, and SI Flex are undergoing some serious restrictions.
Apple's largest supplier Foxconn was preparing for interruption of facilities in Bac Giang which will impact the overall operation of the group in Vietnam, with Luxshare also expected to face disruption.
Foxconn has three factories in Bac Giang – Fuhong Precision Component Co., Ltd., New Wing Interconnect Technology Co., Ltd., and FuGiang Co., Ltd. At present, the operation of the former has yet to be impacted by the pandemic, but the remaining facilities are larger in scale and thus interruption is expected.
Foxconn general director Harry Zhuo said that the group has invested $900 million in Bac Giang, creating jobs for 35,000 people.
Along with operational impacts, the pandemic may impede the construction process of another member of Foxconn, Fukang Technology. Located in Quang Chau IZ, the project has the total investment capital of $260 million with design capacity of eight million laptops and tablets. The facility was expected to start operations in the third quarter this year.
Another company suffering damage from the pandemic is Hosiden Vietnam. Having 6,000 employees with numerous F1 and F2 coronavirus cases already, it is on alert and implementing pandemic prevention measures in an attempt to fight off increasing numbers of positive cases.
Last year despite the impact of the pandemic, Bac Giang still reported the import-export turnover of $21.8 billion, up 50.9 per cent on-year. The export turnover was $11.2 billion, with $3.1 billion coming from electronic products, $2.95 billion from telephone equipment, and $2.26 billion from power and solar panel products.
Bac Giang is the manufacturing hub of almost all of Apple's partners, including Goertek, thus interruption will inevitably impact operation and export activities, with the exact damage likely to depend on the duration of restrictions.
Nguyen Xuan Ngoc, deputy director of Bac Giang Industrial Zones Management Authority, told VIR, "Since the pandemic outbreak, manufacturers have been impacted because a large volume of employees were isolated due to being related to COVID-19 patients. They also faced difficulties in recruiting a temporary labour force to offset for isolated employees. We estimate that 40 per cent of the labour force working in IZs in Bac Giang have to had to suspend their job so far, and as a result manufacturers are suffering serious damage."
At an online meeting with Bac Giang People's Committee and the management authority, almost all representatives of the 25 leading companies expressed concerns over the possible damage. "However, the interruption in operations is compulsory in order to place priority on preventing the expansion of the pandemic," Ngoc explained. "The management authority is building plans to help manufacturers recover their operations as soon as possible."
VietinBank approved to raise charter capital by nearly $304 million
The prime minister has just approved supplementing state capital at Vietnam Joint Stock Commercial Bank for Industry and Trade (VietinBank – HSX: CTG). 

According to the prime minister's decision, VietinBank's charter capital will be supplemented with more than VND6.977 trillion($303.35 million) to maintain the state's ownership ratio in the bank.
The government now owns around 64.46 per cent stake in VietinBank. Non-state investors hold around 35 per cent.
At the end of 2020, the bank approved plans to issue more than one billion shares to pay dividends at a rate of around 28.8 per cent.
As of April 24, VietinBank's capitalisation has surpassed that of milk provider giant Vinamilk – one of the long-standing blue-chips in the domestic stock market, and become one of the top five largest-cap stocks.
Le Duc Tho, chairman of VietinBank's Board of Directors, said that the bank has submitted its plan to the SBV to increase profits by 10-20 per cent. However, it is expected that the SBV would approve the plan for profit to increase 2 per cent compared to the previous years.
The bank will continue to proactively collaborate with the SBV to reach its targets in 2021. The SBV is discussing official figures and targets with the Ministry of Finance.
Since early January, the International Finance Corporation under the World Bank was no longer a major foreign shareholder of VietinBank after selling nearly 56 million shares. Tho also said that IFC's shares were quickly absorbed.
In the first quarter of 2021, VietinBank recorded a pre-tax profit of VND8.06 trillion ($350.43 million) – 2.7 times higher than the same period last year.
Digital services to spur increasing remittances
Even as the global industry is on a declining trajectory, the rising number of international remittances is predicted to flow into Vietnam and some digital initiatives are being explored to smoothen and expedite remittance transactions.
According to fresh global remittance data compiled by the World Bank, the number of overseas remittances to Vietnam in 2020 was $17.2 billion, instead of $15.7 billion as the initial prediction. Thus, the updated figures in 2020 increased by nearly 3 per cent on-year, making Vietnam one of the top 10 beneficiaries among low and middle-income countries.
With overseas remittances transferred equivalent to 5 per cent of GDP in 2020, Vietnam was one of the top 10 countries in the East Asia-Pacific with the highest proportion of remittances compared to GDP.
The World Bank predicted that remittances will gradually recover thanks to mass vaccination, and it is forecast remittances transferred to low and middle-income countries will rise 5.6 per cent to $470 billion.
The State Bank of Vietnam's (SBV) Ho Chi Minh City branch also noted that in the first four months of this year, overseas remittances to the city reached $2 billion, up 11 per cent on-year. Thus, remittances flowing to Ho Chi Minh City in 2021 will likely not be lower than 2020.
"As COVID-19 still devastates families around the world, remittances continue to provide a critical lifeline for the poor and vulnerable," said Michal Rutkowski, global director of the Social Protection and Jobs Global Practice at the World Bank. "Supportive policy responses, together with national social protection systems, should continue to be inclusive of all communities, including migrants."
With global growth expected to rebound further in 2021 and 2022, remittance flows to low- and middle-income countries are expected to increase by 2.6 per cent to $553 billion in 2021 and by 2.2 per cent to $565 billion in 2022. Even as many high-income nations have made significant progress in vaccinating their populations, infections are still high in several large developing economies, and the outlook for remittances remains uncertain, according to the World Bank.
From another perspective, the Ho Chi Minh City Real Estate Association (HoREA) explained the high inflows of cash that causes real estate prices to reach record highs also includes remittances.
The SBV also agreed, highlighting that low interest rates, the glittering appeal of industrial property, and potential infrastructure projects have significantly spurred property purchases across the nation in the past few years.
In the first three months of this year, credit had grown by 3 per cent against the end of 2020, nearly equal to the normal ratio of 2.93 per cent.
"Besides risk-hedging tools such as gold and risky assets like securities, people are aggressively exploring other lucrative investment opportunities for higher returns, and attractive property projects are one of them. Real estate is a valuable and finite resource, especially in some prime locations. In our observation, around 20 per cent of the total remittances inflows to Vietnam is poured into the real estate sector, thus making a feverish excitement in land recently," emphasised a HoREA representative.
According to Nguyen Quoc Hung, director of Agribank's Remittance and Payment Service Centre, the number of remittance inflows to Vietnam will enjoy vast benefits from seamless services thanks to the increasing number of intermediary payment platforms. This in return creates favourable conditions for Vietnamese workers as well as overseas Vietnamese who want to transfer money back home.
"Despite the impact of COVID-19 on the global economy, remittances from some key markets such as Japan have remained stable. In addition, the majority of Agribank's customers are workers who went abroad in markets including Japan, South Korea, Taiwan, and the US," said Hung.
Around half of remittance recipients sell USD to banks to receive VND, according to Agribank, which has helped the bank secure an abundant source of foreign currency.
Likewise, VietinBank has facilitated and upgraded remittance transferring infrastructures, such as online transactions via digital banking accounts. VietinBank has also implemented preferential fees and gift-giving programmes for first-time customers, among others. As a result, the number of overseas remittances coming into Vietnam through the bank remains high.
Germany's data provider Statista also estimated Vietnam's remittance e-market at around $22 million in 2019, and it is anticipated that the annual growth will reach 21.5 per cent from 2020 to 2023, resulting in $47 million.
However, the World Bank believed credit institutions remain the most expensive type of service provider, with an average cost of 10.66 per cent in a global context. In the first quarter of 2021, debit/credit cards became the cheapest method for funding a remittance transaction at 4.68 per cent. The average cost when using mobile money was 5.68 per cent. Sending money using cash costs 6.93 per cent, and funding the transaction using a bank account incurred an average cost of 6.65 per cent.
Experts also cautioned the exchange rate losses and processing fees on average totalled 9 per cent of the transfer and thus may not be a good option. "In an ideal scenario, the entire remittance customer journey would be digital: migrant workers would receive their wages directly into a digital account, from which they would remit straight into the account of a family member back home. For this to work, however, employers would have to shift from cash-based to digital wage payments," the World Bank noted.
The long-awaiting mobile money implementation and the growing number of intermediary payment services in Vietnam are expected to facilitate international remittances safely and responsibly while reducing the risks of money laundering and terrorism financing. On March 9, the prime minister approved Decision No.316/QD-TTg on piloting the application of telecommunications accounts to pay for small-value goods and services.
These pilots shall be carried out on a national scale in rural, mountainous, remote, and border areas, as well as islands.
Transport Ministry signs VND2,821 billion railway maintenance contract

The Ministry of Transport and the Vietnam Railway Corporation (VNR) on May 24 signed a contract worth VND2,821 billion for railway infrastructure maintenance in 2021.
The contract is valid until December 21, 2021, in which VNR will be in charge of providing maintenance services for the national railway infrastructure this year.
Addressing the signing ceremony, Minister of Transport Nguyen Van The asked the two sides to accelerate the maintenance of the national railway infrastructure to ensure smooth and safe rail transport and the income of people working in the railway sector.
The signing came one week after the prime minister assigned the Ministry of Transport to ask VNR to manage and maintain the railway infrastructure facilities this year instead of assigning the job directly to VNR.
The prime minister's decision put an end to the argument between the Ministry of Transport and VNR on the handling of VND2,821 billion for railway maintenance.
In previous years, the Ministry of Transport handed over the railway infrastructure maintenance fund to VNR as it is under the ministry's management.
However, since 2019, VNR has been under the Commission for the Management of State Capital at Enterprises, so the ministry did not hand over the fund to VNR as it went against the Law on State Budget.
Of the VND2,821 billion of the infrastructure maintenance fund, 10% will be used for the regular repair of broken constructions, 10% for the purchase of substitute materials, 2% for equipment and over 70% for paying the salaries of some 11,300 workers.
Hue maps out investment plans in coastal areas
The central province of Thua Thien Hue is studying development plans for coastal areas and calling on investors, aimed at developing sea tourism and attracting five million tourists to its beaches every year.
According to tourism industry insiders, this is the right direction for Hue's development in the near future once the pandemic is brought under control. Visitors to Hue need to enjoy new products and services besides the current cultural and historical tours.
Specifically, the provincial People's Council passed a resolution on developing master plans to build coastal areas from Dien Huong Commune in Phong Dien District to Hai Duong Commune in Huong Tra Town, Thua Thien Hue Province.
The scale of the area is about 9,500 hectares, while the planned tourist scale is about five million visitors a year.
In the future, this will become a large-scale eco-tourist site, meeting the trend among travelers in the new normal.
In addition, Phu Vang District of Thua Thien Hue Province also has great potential for tourism development with a coastline of over 35 kilometers with pristine sand. Many lagoons such as Sam, Chuon, Thanh Lam, Ha Trung and Thuy Tu are located in the Tam Giang - Cau Hai lagoon system with an area of over 6,800 hectares of water surface, which holds great potential for tourism development.
Therefore, Thua Thien Hue has decided to build the Vinh Xuan eco-tourism, resort and coastal urban area in Phu Vang district.
The total area under planning includes an eco-tourism resort of about 127.32 hectares and a marine urban area of about 45.97 hectares.
Government: Public debt, government debt within allowable limits
According to the Government, through controlling overspending and borrowing of local budgets, by the end of 2020, Vietnam's public debt was equal to about 55.8 percent of gross domestic product (GDP), and the Government debt was about 49.6 percent of GDP, which are all within the allowable limit.
Regarding specific results, the Government's report said that in 2020, in the management, administration, and use of the State budget, the central budget saved about VND55 trillion, equal to 5 percent of the estimate assigned by the National Assembly.
According to the Government, budget discipline has been tightened, and the inspection, checking, and control of State budget expenditures have been strengthened. Violations causing waste in the State budget detected through inspection, checking, and auditing was strictly handled. The competent authorities promptly issued solutions to exempt, reduce, and extend taxes and other State budget revenues of around VND123.6 trillion to support people and businesses.
The issuance of government bonds to make up for overspending was in line with the State budget's capacity. Repayment was carried out fully and timely as committed, contributing to strengthening the national credit rating. The restructuring of the debt portfolio and strengthening supervision and control on overspending and borrowing of local budget contributed to reducing public debt. By the end of 2020, public debt was about 55.8 percent of GDP, and government debt was roughly 49.6 percent of GDP. All are within the allowable limit.
However, the balancing of the State budget's revenues and expenditures encountered many difficulties. The State budget's overspending increased compared to the estimate. Noticeably, the system of public non-business units remained bulky and ineffective. The conversion from fees to prices and the roadmap for adjusting public non-business service prices have not been prompt. Some financial funds outside the State budget have not operated effectively, with operating models unsuitable with reality.
Promotional activities to boost exports of lychees to Japan
The Ministry of Industry and Trade has said that the Vietnam Trade Office in Japan is continuing to coordinate with relevant domestic authorities as well as supermarket networks and distributors in Japan to promote Vietnamese lychees among Japanese consumers.
According to the ministry, a year after Japan officially opened its doors to fresh Vietnamese lychees, favourable conditions are now in place for exports and consumption.
The first batch of lychees, arranged by Japan's Sunrise Farm Co., Ltd and Ameii Vietnam, reached the country on May 23 and was warmly welcomed by customers.
Vietnamese lychees have made a noise in the year since they first arrived in Japan. Initially introduced at the AEON supermarket chain in June 2020, lychees have been bought by Japanese consumers and also the local Vietnamese community. Many Japanese customers have praised the freshness of the lychees and bought for their families and friends.
With a growing number of Vietnamese living and working in Japan, there has been an increase in demand for the fruit. The lychees have even become the first story to be discussed when Japanese people and their Vietnamese friends before they mentioned main affairs.
The Plant Protection Department under the Ministry of Agriculture and Rural Development said Japan's Ministry of Agriculture, Forestry and Fisheries has not sent experts to directly supervise and disinfect exported lychees this year, and instead allowed Vietnamese quarantine agencies to do so.
With experience and the results obtained after a year of exporting lychees to Japan, local authorities, exporters, and farmers in large lychee growing areas are fully prepared for this year's crop.
Bac Giang and Hai Duong provinces have increased the production and growing area as well as the number of planting area codes for export to Japan, while major exporting enterprises have boosted their investment in lychee production and handling and preserving the fruit to meet Japanese standards.
Central and local State management agencies have also been proactive in supporting lychee sales and exports. The Ministry of Industry and Trade and the Ministry of Agriculture and Rural Development have actively called for e-commerce trading floors and foreign importers to become involved. Both Hai Duong and Bac Giang provinces have held lychee export promotion conferences and carried out online trade activities with export hubs.
In this context, the Vietnam Trade Office in Japan quickly carried out promotional activities to promote Vietnamese lychees in Tokyo and elsewhere around Japan.
Specifically, the office coordinated with Japanese importers to urge local people to buy lychees through e-commerce sites, and at the same time actively called for Japanese importers to pay greater attention to investing in modern technologies to help handle and preserve the fruit more effectively.
Main lychee exporters developed a plan this year to export about 1,000 tonnes of fresh lychees to Japan. The Vietnam Trade Office in Japan will also continue to monitor information and actual consumption in the market.
Japan has stringent standards, the office noted, and consumers have high demand regarding food product quality, especially imported products. More than five years of negotiations were needed for Vietnamese lychees to meet the strict regulations in Japan./.
Binh Phuoc: IIP up nearly 17 percent in first five months
The Index of Industrial Production (IIP) in the southern province of Binh Phuoc increased 16.7 percent year-on-year in the first five months of 2021, according to the provincial Department of Statistics.
Significant growth was seen in certain key industries, such as processing and manufacturing (17.9 percent), water supply and drainage, and waste treatment (4.5 percent), and the production and distribution of electricity, gas, and air conditioners (4.1 percent).
In May alone, the index rose 17.54 percent year-on-year.
The department said the province's budget collections totalled 5.84 trillion VND (over 252.7 million USD) in the period, up 14 percent year-on-year.
To implement the dual goal of COVID-19 containment and economic development, the provincial People's Committee asked relevant departments, sectors, and localities to focus on promoting the development of innovative ecosystems and start-ups.
Attention has been also paid to synchronously implementing measures to remove difficulties facing local businesses.
Binh Phuoc is seeking investment in a series of infrastructure projects, including an airport and industrial parks, in the 2020-2025 period.
Situated in the southern key economic region, Binh Phuoc is the largest of the 19 provinces in Vietnam's southern region.
It is famous for two crops of high economic value - rubber and cashew nuts - and has 243,000ha of land under the former and 138,000ha under the latter.
It posted economic growth of 7.51 percent last year thanks to outstanding efforts in containing COVID-19 and promoting economic development.
Growth is expected to come in at 8.5-9 percent this year./.
FDI disbursement up 6.7 percent
Disbursed foreign direct investment (FDI) in Vietnam this year hit 7.15 billion USD as of May 20, an increase of 6.7 percent compared to the same period last year, according to the Ministry of Planning and Investment.
Foreign investors pumped nearly 14 billion USD into the country in the first five months, a year-on-year increase of 0.8 percent.
Of this, nearly 8.83 billion USD went to 613 new projects, up 18.6 percent, while 3.86 billion USD was added to 342 existing projects, up 11.7 percent.
Capital contributions and share purchases by foreign investors fell 56.3 percent to 1.31 billion USD.
The ministry reported that the number of new projects granted investment licences was down 49.4 percent year-on-year.
Foreign investors invested in 18 sectors, with processing and manufacturing absorbing the largest amount, of 6.14 billion USD, or 43.9 percent of the total.
Following was power generation and distribution (5.43 billion USD), real estate (1.05 billion USD), and wholesale and retail sales (522 million USD).
Of 70 countries and territories investing in Vietnam during the period, Singapore led with 5.26 billion USD, followed by Japan with more than 2.59 billion USD and the Republic of Korea (RoK) with 1.83 billion USD.
Localities attracting the most FDI were the Mekong Delta province of Long An (3.35 billion USD), Ho Chi Minh City (1.34 billion USD), and the Mekong Delta' Can Tho city (1.32 billion USD)./.
Floating LiDAR supplying contract signed for Thang Long Wind project
The Enterprize Energy (EE) on May 27 signed a contract with PetroVietnam Technical (PTSC) G&S and Fugro to supply, install and operate a Floating LiDAR (FLiDAR) at the planned site of a wind power project offshore the south central province of Binh Thuan.
The 3,400MW Thang Long Wind project in Binh Thuan province is the only offshore wind project in Vietnam that has received approval from the Government of Vietnam and the Ministry of Industry and Trade for the survey and preparation for Power Development Plan's inclusion, as a basis for investment implementation.
The project, which has total investment of 11.9 billion USD, will be implemented in five phases with the first phase completing in 2025 and the last in 2030.
Since June 2019, EE Group has conducted wind measurement, aerial, and bathymetric surveys at a 2,800 square-kilometre area located 20-50 kilometres off the Binh Thuan coast, with water depths ranging from 20 to 50 metres.
The EE Group plans to complete the installation of the FLiDAR in July 2021 to collect oceanographic data at the project site.
Thang Long Wind project is expected to create a breakthrough in offshore wind power in Vietnam to reduce the independence in fossil fuel in power production.
The group will also invest in a 270-km 500KV transmission line to transmit electricity from Binh Thuan to the southern industrial hubs of Dong Nai and Binh Duong. 
Source: VNA/VNS/VOV/VIR/SGT/Nhan Dan/Hanoitimes

Food companies pressured by soaring raw material prices