More effective use of trade remedy tools needed when joining FTA: experts
Trade remedies should be utilised more and in a more effective way to ensure fair competition and protect domestic production in the context of Vietnam's deeper integration into the global economy through joining more free trade agreements (FTAs), according to experts.
Trade remedies are measures are allowed by the World Trade Organisation (WTO) to prevent unfair competition such as dumping and subsidies for imported goods. These also prevent a sudden surge of imported goods which has the potential to cause serious damage to domestic manufacturing industries.
The demand for the use of trade remedy tools will also be higher along with the development of global trade. Trade remedies have been recognised by many countries as a necessary tool to stabilise domestic production and protect employment for domestic labourers.
Vietnam has so far joined 15 Free Trade Agreements (FTA) and is negotiating two other FTAs. Among the 14 FTAs that have come into force, the Comprehensive and Progressive Agreement for Trans-Pacific Partnership (CPTPP), the Vietnam-European Union Free Trade Agreement (EVFTA) and the UK-Vietnam Free Trade Agreement (UKVFTA) are three new generation FTAs with comprehensive commitments in many economic and trade fields.
The signing of these agreements helps expand the market, attract investment, and bring competitive advantages to Vietnam's exports, but also puts domestic production at risks of fraud of origin, illegal transfer of goods and evasion of trade remedies tax.
To deal with the issues, the Government of Vietnam and the Ministry of Industry and Trade have developed many projects and programmes to improve the capacity of Vietnamese businesses relating to using trade remedies tools.
Specifically, the Prime Minister approved two projects on "Strengthening state management on combating evasion of trade remedies and origin fraud", and "Building and effectively operating an early warning system on trade remedy" with the aim of preventing and responding to foreign trade remedy lawsuits, towards sustainable exports.
A project on enhancing trade remedy capacity in the context of Vietnam's participation in new generation FTAs was also ratified. It creates a comprehensive framework to enhance the effectiveness of trade remedies and improve knowledge and capacity of enterprises on trade remedies tools.
The overall goal of the project is to perfect the legal system on trade remedies to ensure their consistency with international commitments, new generation FTAs, and the interests of the economy in the process of international integration as well as to effectively use trade remedies to protect domestic production and benefits of consumers.
The project will focus on reviewing legal documents in the field of trade remedies in the 2022-2025 period, thereby proposing amending the Law on Foreign Trade Management or developing a Law on Trade Remedies.
Currently, the Ministry of Industry and Trade is actively coordinating with relevant ministries and agencies to develop a plan of action to carry out the project, ensuring the full implementation of the set goals, and protecting legitimate rights and interests of Vietnamese manufacturing industries and enterprises in the process of participating in FTAs./.
SBV promotes two new deputy governors
Prime Minister Pham Minh Chinh signed two directives appointing two deputy governors for the State Bank of Vietnam (SBV) last week.

Accordingly, the prime minister promoted Pham Tien Dung, general director of the Payment Department at the SBV and Pham Thanh Ha, director of the Monetary Policy Department as deputy governors of the SBV.
Pham Tien Dung has 30 years of experience working in banking IT at the SBV. Dung has worked at the Software Development Department of the Department of Information Technology since 1991, where he has contributed to the development of clearing and interbank payment software at the central bank.
Besides, he had been appointed chairman of the Board of Directors at National Payment Corporation of Vietnam (NAPAS), formerly known as Banknet.
Since June 2017, Pham Tien Dung has held the position of director of the Payment Department.
The PM also appointed Pham Thanh Ha, director of the Monetary Policy Department, as deputy governor of the SBV.
Born in 1973, Ha had worked at Vietcombank for 23 years. The MBA George Washington University graduate worked as the director of the Monetary Policy Department at the SBV since August 21, 2017.
At Vietcombank, he held the positions of head of Technology Projects Department, Foreign Currency Department, and Capital Management Department before being appointed as deputy general director of Vietcombank in 2010.
With the appointment of Pham Tien Dung and Pham Thanh Ha, the SBV currently has five deputy governors.
Vietnam to expand inbound tourism in early 2022
Vietnam has planned to expand locations in its pilot scheme to welcome back vaccinated visitors from overseas in early 2022, according to Nguyen Trung Khanh, director general of the Vietnam National Administration of Tourism (VNAT).

Destinations will be expanded in early 2022, and localities that meet conditions will be considered for allowing international tourists, Khanh said at a recent roundtable discussion to examine localities' preparations for receiving holidaymakers.
Khanh said the tourism sector is actively implementing the Government's Resolution 128 on safe and flexible adaptation to and effective control of COVID-19.
"Besides receiving domestic holidaymakers, Vietnam is reopening the door to international visitors to some localities, and moving towards fully reopening international tourism market," said the official.  
According to Khanh, safety will be given top priority and localities have been required to have plans to "handle incidents so that any problems that arise can be quickly resolved".
Vo Huy Cuong, deputy director of the Civil Aviation Authority of Vietnam, affirmed that the recovery of the tourism sector is closely linked to the recovery of the aviation sector.
He cited information from airlines, saying there will be incoming flights from international markets such as the Republic of Korea, Japan, Taiwan (China) and Thailand to selected pilot destinations in Vietnam in the near future.
These are very encouraging signals, helping Vietnam's aviation sector to resume international commercial flights and facilitate the reception of international passengers as well as overseas Vietnamese wishing to return home, said Cuong.
Amid concerns about COVID-19 threats when Vietnam reopens its international tourism market, Vu The Binh, vice president of the Vietnam Tourism Association, said Vietnam cannot close its borders forever and localities COVID-19 must flexibly and safely adapt to COVID-19.
In his opinion, vaccination is the most important factor in COVID-19 prevention, and safe tourism development must go hand in hand with economic development.
"Travel businesses understand this best, therefore they must ensure safety for their employees and customers…… We have to trust businesses. Businesses are allowed to operate as soon as they meet conditions," said Binh.
Vietnam has closed its borders to combat the COVID-19 pandemic since late April 2020. The move has dealt a heavy blow to economic development, including the tourism sector that makes up approximately 10% of Vietnam's gross domestic product.  
The Government has recently approved the VNAT's proposal to implement a pilot scheme to allow foreign travelers to destinations in Kien Giang, Khanh Hoa, Quang Nam, Da Nang and Quang Ninh in the first phase in the last two months of 2021.
Kien Giang is scheduled to welcome a flight from the Republic of Korea on November 20 to bring approximately 250 vaccinated visitors to its Phu Quoc island resort.
Shares to go up on high demand 
Market analysts forecast that buying demand will stay relatively high and the cash flow is looking for opportunities. Therefore, the VN-Index may continue to set new historical peaks this week.
The market benchmark VN-Index on the Ho Chi Minh Stock Exchange (HoSE) gained 0.75 per cent to end Friday at 1,473.37 points.
The index had gained 1.16 per cent last week.
An average of 1 billion shares were traded on the southern exchange during each session last week, worth VND31 trillion (US$1.4 billion).
MB Securities Joint Stock Company (MBS) said the VN-Index had gained for the third consecutive week last week. The average liquidity in the last two weeks reached 1 billion shares per session in volume and VND29.2 trillion in value.
Notably, cash flow still focused on small and medium-sized stocks, especially highly speculative stocks on UPCOM.
"Technically, the VN-Index is at a new peak, the cash flow is still very abundant when the declines in the session only happened in a short time," it said.
Mirae Asset Securities (Vietnam) Co Ltd said that the uptrend of VN-Index would persist and the index might continue to move towards the resistance level of 1,500 points this week.
Among the group of 10 stocks with the biggest influence on VN-Index last week, mid-cap stocks outperformed the blue-chips, it said.
Specifically, real estate companies Geleximco (GEX) and Investment and Construction Development Joint Stock Corporation (DIG) recorded increases of 25.8 per cent and 27.5 per cent, respectively, much higher than the large-cap codes such as Vietcombank (VCB), which increased by only 0.7 per cent, or Mobile World Group (MWG) rising 3 per cent.
The low-priced stock group also had many strong gainers such as Tan Tao Investment and Industry Corporation (ITA), up 27.8 per cent, and Hoang Anh Gia Lai JSC (HAG) up 32.8 per cent.
Foreign investors maintained a net selling position with a value of nearly VND1.3 trillion during the week. SSI Securities Co (SSI) and PAN Group (PAN) were the two stocks that were sold the most with a value of VND373 billion and VND316 billion, respectively.
In terms of industry, oil and gas stocks increased the most last week with gainers of Binh Son Refinery (BSR) up 2.1 per cent, PetroVietnam Construction Corporation (PVC) gaining 2.2 per cent, Petrovietnam Transportation Corporation (PVT) rising 2.8 per cent, PetroVietnam Technical Services Corporation (PVS) up 3.8 per cent, PetroVietnam Drilling and Well Services Corporation (PVD) climbing 4.1 per cent and Viet Nam National Petroleum Group (PLX) up 11.3 per cent.
Real estate stocks also outperformed with gainers of Novaland (NVL) up 1 per cent, Khang Dien House (KDH) rising 2.7 per cent, and Nam Long Group (NLG) rising 15.8 per cent.
They were followed by securities stocks such as Viet Capital Inc (VCI) up 0.4 per cent, Saigon Hanoi Securities (SHS) gaining 3 per cent, SSI Securities Inc (SSI) climbing 4 per cent and VNDirect (VND) up 8.5 per cent.
Experts from SHS said liquidity last week was recorded at the second highest in history, showing that the buying demand was relatively high and the cash flow was still in the market to look for opportunities.
From a technical point of view, VN-Index was moving toward 1,540 points. Therefore, there was still room to increase, so VN-Index might continue to increase to reach new highs this week with the closest resistance of 1,500 points. However, shaking sessions could occur during this process. 
Consumers become more prudent in post-pandemic personal finances
The COVID-19 pandemic has transformed the personal finance landscape, with consumers now more conservative about their short-term spending habits and more prudent in their long-term financial plans.

According to the Personal Finance in Vietnam Report 2021 by YouGov, Vietnamese consumers' confidence in the improvement of the COVID-19 situation has shot up since lockdowns ended in Vietnam, with optimism rising from around 30 per cent in September to almost pre-pandemic levels of 80 per cent in October. However, despite the positive outlook for the "new normal", families are still dealing with the impact of COVID-19 on their personal finances, which have seen a significant hit in 2021 compared to previous outbreaks.
Just under half of all people (48 per cent) have seen their income fall in 2021. More than a quarter (28 per cent) reported a slight decrease of between 10-20 per cent. Meanwhile, one-fifth (20 per cent) saw an even sharper fall of at least 20 per cent.
On a positive note, over one-third of Vietnamese (38 per cent) were able to increase their savings during the pandemic, with work-from-home mandates leading to reduced spending on non-essential items such as travel, leisure, and eating out. This is the highest rate in the region, just ahead of Hong Kong and far ahead of Singapore. However, others were less fortunate, with more than a third (34 per cent) of Vietnamese dipping into their savings and a fifth (21 per cent) borrowing cash to get through the outbreak.
This has caused consumers to re-evaluate their current spending habits and re-assess their long-term financial plans. Over half (53 per cent) of Vietnamese cut down on non-essential spending in the last six months. Meanwhile, more than four-fifths (81 per cent) plan to do so in the future.
Vietnamese consumers are now some of the most prudent in the world. Two-thirds (67 per cent) are more careful with their personal finances than before the pandemic. Meanwhile, a third (34 per cent) prioritise protecting their household finances in case of emergencies. That is almost 10 per cent higher than the global average. Vietnamese are also more keen to invest and reduce their debts than the average consumer elsewhere in the world.
However, while Vietnamese consumers are becoming more conservative in what they spend, they are also becoming more modern in how they spend it. E-commerce grew even more popular in 2021, while cashless transactions saw a boost during lockdown and e-wallets continue to gain traction. Consumers have become more confident managing their finances online and this digital financial trend is set to continue post-pandemic.
Vietnam – bright sport in world's AI market
Vietnam has emerged as a bright spot in the world's artificial intelligence (AI) market, as Vietnamese representatives have continuously been invited to introduce their products and research studies at global AI events.
Most recently, DrAidTM, developed by VinBrain (Vingroup), has been awarded the ACM SIGAI Industry Award 2021 for Excellence in Artificial Intelligence.
As the world's top award in the field of artificial intelligence, this award is granted to only one AI product per year.
The ACM SIGAI Award is held by the Association for Computing Machinery's Special Interest Group on Artificial Intelligence (AI) - the world's largest scientific and educational computing society, established in 1947 with nearly 100,000 members.
DrAidTM, the first complete AI product of healthcare in Vietnam, was among the three Vietnamese representatives at the Nvidia's GPU Technology Conference (GTC), which took place from November 8-11 and brought together more than 200,000 international researchers and leaders in the AI field.
The primary aim of the conference is to showcase the most innovative and original technological ideas and other developments from around the world.
DrAidTM was launched in June 2020, and is capable of detecting and screening over 21 abnormal signs and pathologies of Lung - Heart - Bone within 5 seconds with an accuracy of over 89 percent and sharing diagnostic results via QR code or link.
In particular, it is capable of self-warning of COVID-19, including asymptomatic cases or mild lung injury based on upright chest X-Ray and improving accuracy in addition to reducing false negatives when being used in combination with PCR test.
The Ho Chi Minh City Department of Health has put DrAid into use at hospitals and medical centres in the southern metropolis, and initially gained significant results in COVID-19 response.
Statistics by the World Intellectual Property Organisation (WIPO) show that, as of 2018, among six ASEAN countries with AI inventions, Vietnam ranked second with a total of 372 AI patent applications.
Between 2016 and 2020, the country counted 96 AI-related projects with total investment amounting to 169.2 billion VND (7.47 million USD)./.
Bac Giang selectively attracts investment projects
The northern province of Bac Giang will be more selective in attracting investment projects, with a focus on high-tech, large-scale projects and those that would churn out competitive products, join the global value chain and significantly contribute to the state budget and social welfare, a local official has said.
Chairman of the provincial People's Committee Le Anh Duong said from now to 2025, Bac Giang aims to lure investments in industrial development intensively, towards improving productivity, quality and efficiency, and reducing the use of natural resources and energy.
The locality expects to raise investment projects' contributions to its gross regional domestic product (GRDP) to 60-62 percent by 2025, and 66-68 percent by 2030.
The total disbursed investment is set at 246 trillion VND (10.8 billion USD) during the 2021-2025 period, and 613 trillion VND for 2026-2030.
Meanwhile, budget collection from projects is projected to increase 17 percent each year to reach 5.75 trillion VND by 2025, accounting for 38.3 percent of the province's total budget collection. The numbers are expected to hit 12.6 trillion VND by 2030, and 52.7 percent.
For projects outside industrial parks and clusters, Bac Giang will only consider big projects that will have great impact on local socio-economic development, and those in disadvantaged areas in Son Dong, Luc Ngan and Yen The districts.
The province will prioritise projects that are able to manufacture products competitive in the global value chain like electronic and electric components and equipment, and machinery.
In the sphere of trade and services, from now to 2030, Bac Giang will attract projects in new urban areas, commercial centres, wholesale markets, luxurious hotels, entertainment, logistics, finance, banking, health care and insurance in Bac Giang city, and resorts in Lang Giang, Luc Ngan, Luc Nam and Yen Dung districts.
To raise the efficiency of investment attraction, Bac Giang will mobilise resources for socio-economic infrastructure construction.
In the first 10 months of this year, Bac Giang attracted more than 871 million USD in investment. Foreign direct investment (FDI) projects in the province in the first months of this year have large scales, mainly in the production of electronic components.
The locality has to date lured over 1,300 domestic projects worth some 93.7 trillion VND, and more than 480 FDI projects valued at around 6.8 billion USD.
Bac Giang is applying measures to implement its investment promotion programme for 2021 with an aim to attract about 1.3 billion USD worth of investment in 2021, said Chairman of the provincial People's Committee Le Anh Duong.
The northern province has designed particular areas for projects in different fields, including industry, agriculture, tourism, services, urban areas, logistics, entertainment and health care, he said.
Accordingly, projects in electronic industry will be placed in industrial parks (IPs) and industrial clusters in Viet Yen, Tan Yen, Hiep Hoa, Yen Dung and Lang Giang districts as well as Bac Giang city. Priority will be given to projects producing computers, peripheral devices, semi-conductor accessories and accessories for electronic household appliances, mobile phones, and products for export and joining global value chains.
Meanwhile, garment projects will be located in planned IPs and industrial clusters, while electricity and manufacturing projects will be placed in new IPs and industrial clusters in Hiep Hoa and Yen Dung areas, and agro-forestry and food processing projects in Luc Ngan, Luc Nam and Hiep Hoa districts.
In the field of agriculture, Bac Giang will encourage investment in large-scale, green agricultural projects using high and environmentally-friendly technologies.
In trade-service sector, the province aims to lure investment in developing service-urban areas, thus forming a number of national tourist sites. Urban areas, trade centres, high-end hotels and entertainment centres, as well as projects in logistics, financial, insurance and health care sectors will be developed in Bac Giang city, while a number of resorts will be built in Lang Giang, Luc Ngan and Luc Nam districts.
Bac Giang will also encourage investors to develop tourism projects as well as trade centres, supermarkets, rural markets, retail and wholesale chains, resort and eco-tourism, sport and entertainment complexes and hi-end service-hotel areas in Bac Giang city.
In order to optimise advantages of each region, in 2021 and beyond, Bac Giang will focus on calling for investment projects in particular regions, with the core being areas along the National Highway 1A and Bac Giang city./.
Reference exchange rate down 11 VND at week's beginning
The State Bank of Vietnam set the daily reference exchange rate at 23,104 VND/USD on November 15, down 11 VND from the rate on the last working day of previous week (November 12).
With the current trading band of +/-3 percent, the ceiling rate applicable to commercial banks during the day is 23,797 VND/USD and the floor rate 22,410 VND/USD.
The opening-hour rate at commercial banks saw slight fluctuations.
At 8:25 am, Vietcombank listed the buying rate at 22,520 VND/USD and the selling rate at 22,750 VND/USD, both up 5 VND from November 12.
Meanwhile, BIDV kept both rates unchanged at 22,545 VND/USD (buying) and 22,745 VND/USD (selling).
Last week (November 8-12), the reference exchange rate followed a downward trend in the first three days, then turned around to go up on Thursday and went down again on Friday. It ended the week 8 VND lower than the rate on Monday./.
E-commerce offers fresh impetus to Vietnamese digital economy
The strong growth of the local e-commerce sector has become a driving force for the Vietnamese digital economy as several major technology firms recently injected their money into various e-commerce companies, according to industry insiders.
The Vietnamese online gaming and technology firm VNG invested US$22.5 million in Telio, a business-to-business (B2B) e-commerce company, in its pre-Series B funding round, bringing Telio's total capital mobilisation to US$51 million by September this year.
Most recently, Tiki, the Vietnamese all-in-one commerce platform, also secured US$258 million in series E funding round led by a global insurance group AIA, raising its value to nearly US$1 billion. With the new funding, the company is expected to enjoy growth of between 40% and 50% in revenue over the next few years, according Tran Ngoc Thai Son, Tiki CEO.
Meanwhile, Alibaba and Baring Private Equity Asia also invested US$400 million in Masan retail arm, The CrownX. This merger and acquisition (M&A) deal is anticipated to help Masan accelerate the completion of its online business platform in the country.
The local digital economy is projected to become the second largest in Southeast Asia, reaching US$220 billion in gross merchandise value (GMV) by 2030, according to the "Roaring 20s: The SEA Digital Decade" report produced on November 10 by Google, Temasek and Bain & Company.
Rohit Sipahimalani, chief investment strategist and head of Southeast Asia at Temasek, pointed out that the local digital economy will continue to attract global capital thanks to strong growth fundamentals, along with growing digital ecosystem of incubators and innovation labs.
Mitch Bittermann, executive vice president of Ecommerce Asia at TMX, pointed out that the country currently ranks third in Southeast Asia, just behind Indonesia and Thailand in terms of e-commerce.  
He stated that this development trend is anticipated to grow thanks to the country's National Digital Transformation Project, its young population structure, and a recent boom recorded in online shopping.
Nguyen Ngoc Dung, chairman of the Vietnam E-commerce Association (Vecom), noted that with the COVID-19 pandemic disrupting global supply chains, the trend of developing cross-border e-commerce and boosting exports through online sales channels will become increasing strong in the future.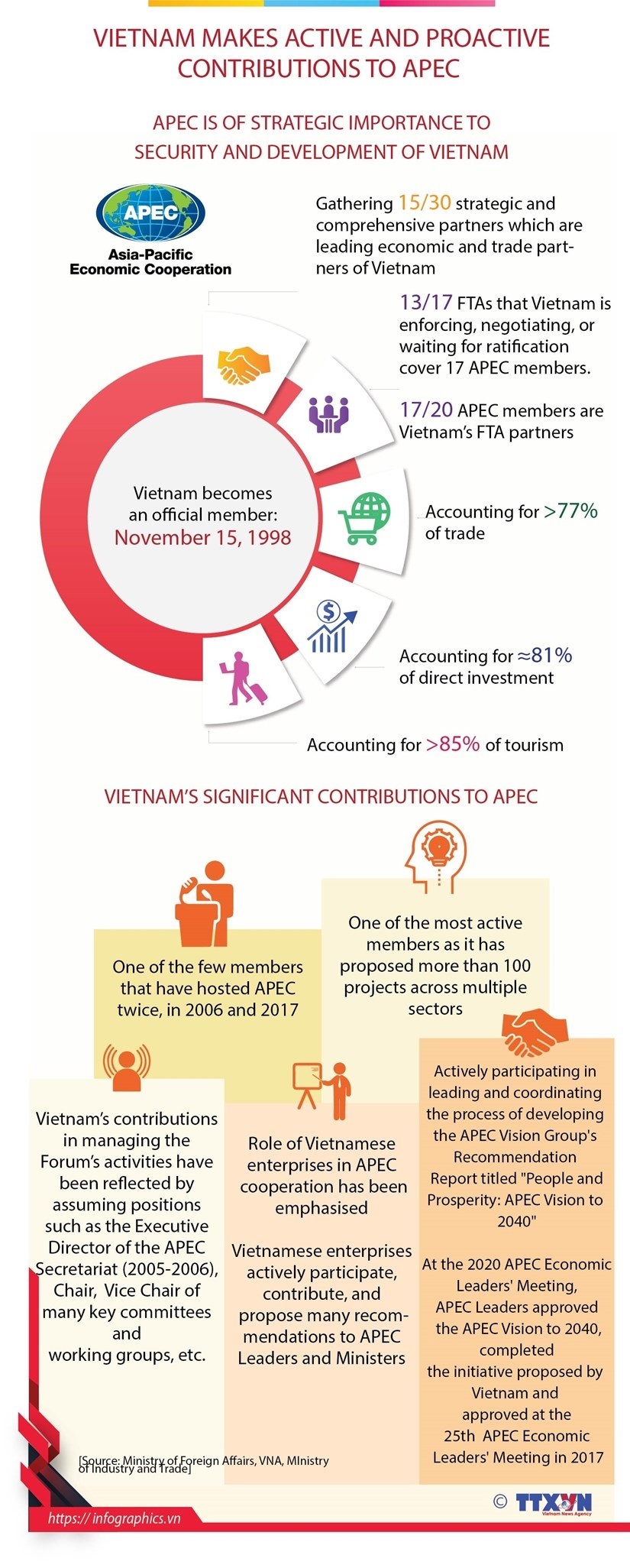 PV Power targets 1,707 million KWh of electricity in November
The PetroVietnam Power Corporation (PV Power), a subsidiary of the Vietnam Oil and Gas Group (PetroVietnam), set a goal of producing 1,707 million KWh of power and earning nearly 2.5 trillion VND (110.3 million USD) in November.
To accomplish this goal, PV Power continues to strengthen measures to prevent the COVID-19 pandemic and ensure safe, stable and efficient operation of its power plants.
According to PV Power, its power plants' electricity output in October reached 598.7 million kWh and its revenue last month was estimated at over 1 trillion VND, raising the 10-month respective figures to 12,797 million kWh and 21,727 billion VND.
Apart from producing power, PV Power has also actively implemented investment projects.
On October 24, the Quang Ninh liquefied natural gas (LNG) power project, jointly implemented by a joint venture of four investors: PV Power, Colavi, Tokyo Gas and Marubeni, officially kicked off. This is the first power plant project using imported LNG in the northern region with an expected capacity of 1,500 MW./.
VNG invests $22.5 million in Telio's B2B e-commerce platform
Vietnamese online gaming and technology firm VNG has invested $22.5 million in Telio, a business-to-business (B2B) e-commerce company in its pre-Series B funding round.

Telio provides an e-commerce platform connecting retailers with brands and wholesalers. So far, Teilo has raised a total of $51 million in additional funds.
Following the investment, VNG will assist Telio in expanding its presence on Zalo's instant messaging network, allowing merchants on Telio to automate order management as part of the strategic investment. With more than 64 million monthly users, Zalo will contribute to promoting the reach of Telio's e-commerce services, especially through the Zalo Official Account (OA) solution. Telio is also the first and only B2B platform to launch a booth on Zalo in October 2020, promoting contactless digital sales with the ability to cover all regions of the country.
Meanwhile, VNG will offer ZaloPay e-wallet services to Telio's network of 35,000 stores in 26 cities and provinces across VIetnam. The comapnies also have plans to offer financial support products to small- and medium-sized businesses in order to help them expand.
VNG's most recent investments in local startups include a $6 million investment in voucher platform Got It and a $4.4 million investment in logistics firm EcoTruck. The investments are part of VNG's long-term strategy announced in mid-2020 to back Vietnamese tech startups.
In December 2019, Telio raised $25 million in a Series A funding round led by Tiger Global , with Sequoia India, GGV Capital, and RTP Global also participating.
Fishermen in Quang Tri enjoying bumper catches

Over the past month, fishermen in the coastal area of Quang Tri province have brought home many bumper catches. These are glad tidings for local fishermen after the overwhelming difficulties posed by natural disasters and the COVID-19 pandemic, and promise high yields and incomes over the remaining months of the year.
Trieu Lang commune in Trieu Phong district has more than 300 boats that fish in coastal waters.
In October, the catch of local fishermen was estimated at over 356 tonnes of seafood with high economic value, such as Bombay duck, silver pomfret, and squid, among others.
The boats head offshore at 3-4am and return at 8-9am to sell their catch. They then return to sea. On average, each boat makes two trips a day.
Fishermen said they can catch more seafood after storms and rough seas. All of the seafood is bought by traders on the beach when the boats return.
According to the Sub-Department of Fisheries in Quang Tri province, the estimated total seafood exploitation in the first 10 months of this year was nearly 32,000 tonnes. To ensure the sustainable exploitation of aquatic resources, the department has coordinated with relevant sectors to provide information and guide fishermen on fishing in the right areas and not using destructive fishing methods, to protect the fishing grounds./.
Vietsovpetro puts new generation unmanned mini oil rig into operation
The Vietnam-Russia oil and gas joint venture Vietsovpetro has put its new generation unmanned mini oil rig BK-18A into operation.
According to Vietsovpetro, the BK-18A rig and other internal connection projects are constructed in Bach Ho oil field under Lot 09-1 in Vietnam's continental shelf, about 125km southeast of Vung Tau city.
It is designed and constructed by Vietsovpetro to exploit oil and gas from six wells with a total capacity of 1,360 tonnes.
Its construction started on December 15, 2020 and its installation at sea was completed on September 6 this year. It officially operated on November 10.
In 2020, the joint venture's oil and gas output reached 3.42 million tonnes, surpassing the set target by nearly 300,000 tonnes.
Oil sales totalled only about 1.11 billion USD last year, or 81.1 percent of the plan. It contributed nearly 745 million USD to the State budget. Its revenue from outside services and other activities amounted over 213 million USD, while after tax profit hit more than 49 million USD.
In 1988, Vietsovpetro pumped up the first tonnes of crude oil from the basement on the continental shelf in Bach Ho field, which was a milestone for the development of Vietnam's oil and gas sector. During the past four decades, the joint venture has led Vietnam – Russia cooperation in the energy sector, contributing greatly to strengthening the countries' economic and trade ties.
The joint venture with a workforce of about 8,000 now is still among the most important in the Vietnam - Russia coordination and is making great contributions to strengthening their comprehensive strategic partnership./.
Trungnam Group inaugurates wind power plant No.5 - Ninh Thuan project
Trungnam Group put a wind power plant with a capacity of 46.2MW into operation in Ninh Phuoc district of the central province of Ninh Thuan on November 14.
The project, costing over 1.6 trillion VND (69.5 million USD), comprises 11 turbines supplied by Germany's Enercon GmbH with an annual output of 136,281 MWh.
General Drector of Trungnam Group Nguyen Tam Tien said with its experience, the group overcome difficulties caused by the COVID-19 pandemic to complete and put the project into commercial operation before the deadline of October 31, 2021, ensuring economic, technical and financial criteria.
The wind power plant's official operation is a special milestone for Trungnam Group's campaign to complete 200 MW of wind power and 650MW of solar power in Ninh Thuan.
So far, Trungnam Group has had typical projects such as the wind power plant No. 5 - Ninh Thuan, the Thuan Bac wind power plant with a capacity of 151.95MW, the 450MW Thuan Nam solar power plant, and the 204MW Thuan Bac solar power plant. Total electricity output of the four projects is expected to reach 2.25 billion Kwh per year. The total multi-field investment of Trungnam Group in Ninh Thuan has hit 2 billion USD.
Trungnam Group aims to realise its strategic goals and vision to become a sustainable investment group with global scale by 2025, in which energy continues to be its key business.
It planned to increase its own capacity to 3.8 GW of renewable energy and 1.5 GW of LNG power by 2025, contributing to the process of reducing carbon emissions equivalent to more than 13 million tonnes of carbon compared to coal-fueled power, while maintaining its growth of at least 20 percent.
In 2021, Trungnam Group completed three large wind power projects, of which the 400MW Ea Nam wind power project in the Central Highlands of Dak Lak becomes the largest onshore wind power plant project in Vietnam so far./.
Small steel companies struggle in Q3 due to COVID-19
As the domestic market has been heavily affected by the COVID-19 pandemic, many small steel enterprises experienced a sharp decline in profit in the third quarter of 2021.
In its third quarter financial statement, Pomina Steel Corporation (POM) said that its net profit dropped 78 percent on-year to 3.5 billion VND (153,267 USD). However the company's consolidated net revenue still rose 38.9 percent to 3.1 trillion VND.
Meanwhile, due to the complexity of the COVID-19 outbreak in southern localities such as HCM City, Binh Duong and Ba Ria - Vung Tau, construction consumption also stopped, resulting in lower prices. Moreover, extra costs due to the "three-on-site" model triggered a decline of 14.7 percent in gross profit to 119.7 billion VND. Its gross profit margin inched down to 3.8 percent from 6.3 percent.
The company's revenue growth was boosted by exports with revenue of 1.9 trillion VND, 4.5 times higher than the same period last year.
The strong rise in exports offset the decline in domestic consumption that was down 55 percent.
For the first nine months of the year, Pomina recorded net revenue of 9.6 trillion VND, up nearly 32 percent over last year, while posting a profit after tax of 205.9 billion VND. In the same period last year it lost 127.8 billion VND.
This year, the company set a target of 12 trillion VND in revenue and 600 billion VND in profit after tax. Thus, after nine months, it respectively completed 80.35 percent of the revenue target and 34.3 percent of the profit target.
Other steel enterprises operating in the south also recorded a sharp drop in business results in the third quarter as both consumption and production were seriously hit by the pandemic.
Of which, Thu Duc Steel JSC (TDS) in its financial statement reported a net loss of 643.7 million VND, while in the same period last year it posted a net profit of nearly 2.2 billion VND.
The fall was due to losses of 31.8 percent year-on-year in net revenue, while production costs increased sharply. Because of the pandemic, it could only arrange the "three-on-site" for one production shift. Therefore the production cost was very high, while output was low.
The company's production cost climbed sharply because of rising debts, transportation costs, and raw material costs.
Vietnam- Italy Steel JSC (VIS) also suffered a net loss of 92.3 billion VND in the third quarter of 2021, despite an 18.4 percent increase in net revenue. In the same period of 2020 it recorded a profit of 26.7 billion VND.
The reason was the sharp rise in cost of goods sold, up 30.9 percent over last year, eroding the company's profit. In addition, financial revenue decreased by 42.2 percent while interest expenses jumped by 21.6 percent.
As of September 30, the company still witnessed a net loss of 18.6 billion VND although net revenue rose 56.1 percent year-on-year.
It explained that the implementation of the COVID-19 prevention measures in many localities had delayed construction activities, freezing the output of steel products. Both its billet and steel mills had to stop operating at times, but the company still paid fixed costs.
Also adding to the pressure, the prices of raw materials increased while the company could not sharply raise the price of semi-finished products, and inventories rose sharply, causing the company to pay extra costs for holding goods.
Similarly, the financial statements of Vicasa (VCA) showed that its profit after tax slid 48 percent in the third quarter of 2021, while revenue only decreased by 4 percent.
On the contrary, leading steel producers still performed well during the period thanks to strong export demand and higher global steel prices.
Hoa Sen Group (HSG) posted an increase of 89 percent in revenue and double in profit. While Hoa Phat Group (HPG)'s profit was 2.73 times higher than the same period last year./.
Vietnam's showcase as an open trading nation
Vietnam's 23-year membership in the Asia-Pacific Economic Co-operation (APEC) has marked a major milestone in the nation's over 30 years of doi moi, during which it reaped high prestige in the international community and surged as an attractive investment location.

Tim Harcourt, the new industry professor and chief economist at the Institute for Public Policy and Governance at the University of Technology in Sydney, once told VIR that he has visited over 60 countries to see what makes their economies tick and the potential trade opportunities with Australia. One nation that has always stood out to him is Vietnam, one of the emerging 'second generation' tiger economies of Asia.
Despite the health crisis, Vietnam still grew 2.92 per cent last year, as one of few nations with positive growth. The rate is expected to stay at 3 per cent this year, with foreign direct investment (FDI) still coming in.
Vietnam has moved from a planned economy to one that is more open, and market-orientated. The economy has grown at an annual average rate of above 6 per cent over the past decade, with inflation and unemployment both at just over 2 per cent.
"Vietnam has positively changed itself thanks to joining several global forums, including APEC, from which Vietnam has been greatly benefiting, in terms of trade, investment, and GDP growth as a whole," Harcourt said.
According to the Ministry of Foreign Affairs (MoFA), State President Nguyen Xuan Phuc will attend the 28th APEC Economic Leaders' Meeting hosted online by New Zealand on November 12, and the online dialouge between the APEC economic leaders with the APEC Business Advisory Council one day earlier, when he will also deliver a pre-recorded speech at the APEC CEO Summit.
Covering 21 economies and making up 38 per cent of the global population, 61 per cent of GDP, and 47 per cent of global trade, APEC currently is home to many leading economic partners of Vietnam, including Australia, Russia, China, Japan, South Korea, and the US.
According to former Deputy Prime Minister Vu Khoan, since Vietnam joined APEC in 1998, one of the biggest benefits for the economy has been the massive opportunities in wooing investment and expanding trade that the organisation provided.
"Vietnam will not be able to develop as it is doing now without APEC," he noted. "The economy's trade and FDI have remarkably changed."
Fifteen years ago, when Vietnam hosted the APEC Economic Leaders Week for the first time, the organisation was the country's biggest foreign investor, holding 62.7 per cent of total FDI. Specifically, 10 out of 14 nations and territories investing the most in Vietnam (over $1 billion each) were from APEC, with a total of $39.5 billion.
At that time, Vietnam's exports to APEC economies accounted for 72.8 per cent of the nation's total export turnover. Moreover, APEC was also Vietnam's biggest importing market, with a total turnover of $25.3 billion or 79.2 per cent.
Today, trade and investment cooperation between Vietnam and other APEC economies has expanded, with Vietnam surging to become a more attractive market, while APEC has also grown from strength to strength.
The investment from APEC economies into Vietnam has risen significantly, currently holding 83.64 per cent of total foreign-invested projects, and 81.65 per cent or $329.9 billion of total registered capital of $404 billion (see box).
APEC's members are also responsible for over 77 per cent of trade, 85 per cent of foreign visitors, and 38 per cent of official development assistance in Vietnam. Thirteen out of 17 free trade agreements (FTAs) that Vietnam has signed or is negotiating are with 17 APEC members, and 17 APEC member economies are Vietnam's FTA partners. Seven APEC economies are also Vietnam's biggest export markets – the US, China, Japan, South Korea, Hong Kong, Malaysia, and Singapore.
Many foreign groups from APEC member economies have witnessed strong development in Vietnam over the past years. For instance, Vietnam is now considered a global manufacturing hub for South Korea's Samsung, which is focusing funding on manufacturing electronics products in Bac Ninh, Thai Nguyen, and Ho Chi Minh City, with total capital of over $17.7 billion.
"Samsung Vietnam is extending its role beyond a vital global manufacturing stronghold. We are building Samsung's research and development (R&D) centre in Hanoi, with a capital of $220 million, to raise the mid- and long-term R&D capabilities," said Samsung Vietnam's president Choi Joo Ho at a recent talkshow on FDI in Vietnam. "The construction of the R&D centre stands at over 50 per cent and is expected to be completed at the end of 2022."
In another case, Vietnam in late August awarded a licence to LG Display that will see it raise its investment in the northern port city of Haiphong by $1.4 billion where the company is manufacturing plastic OLED screens for mobile devices, OLED TV screens, and LCD screens. This new investment has expanded its total investment in the country to $4.65 billion.
It is expected that a new wave of investment from APEC will hit Vietnam in the time to come.
During the 2017 APEC Economic Leaders Week in the central city of Danang, foreign and Vietnamese firms inked cooperation deals worth about $22 billion in many sectors. In 2006, when Vietnam hosted APEC for the first time, global CEOs and Vietnamese firms signed many business and investment deals, worth $2 billion in total.
"In 2018, Vietnam has attracted significant capital from APEC funds to implement 14 projects to enhance the capacity for state officers, small- and medium-sized enterprises, women-led groups, and labourers in commercial negotiations, digital skills, healthcare, and energy," said a MoFA document on Vietnam's participation in APEC.
Under APEC's Bogor Goals, by 2020 all APEC member economies saw trade and investment liberalisation through reduced trade barriers and the promotion of free-flowing goods, services, and capital among APEC economies.
Strong proposals
At the APEC Informal Leaders' Retreat in July hosted by New Zealand, the chair of APEC 2021, State President Phuc stated that to continue expanding ties, especially in trade and investment, Vietnam proposed three areas of cooperation.
"Firstly, as APEC is home to many of the world's top vaccine production and supply centres, we need to step up regional cooperation in technology transfer, capacity building for research, and production of vaccines. Accordingly, we should look into the possibility of establishing a temporary APEC waiver of certain intellectual property protections on COVID-19 vaccines."
"Next, we should develop an APEC guideline on sustaining supply chains during emergencies to maintain the flow of our economies and prevent disruptions of regional and global supply chains as was the case in the past," he said. "Lastly, APEC needs to quickly implement cooperation programmes and policy coordination on assisting disadvantaged and vulnerable groups; improving the resilience and adaptability of businesses, especially micro-, small- and medium-sized enterprises, to create more jobs and income, upskill and reskill the workforce, and reduce the digital gap between urban and rural areas, and among groups."
In its operation strategy, APEC ensures that goods, investments, and people move easily across borders. Members facilitate this trade through faster customs procedures at borders; more favourable business climates behind borders; and by aligning regulations and standards across the region.
Tim Harcourt from the University of Technology in Sydney highly values the Vietnamese government's commitments and actions as it prepares for upcoming APEC activities.
"There are bright prospects ahead for Vietnam, not just in Ho Chi Minh City, but in Hanoi, Danang, and in the countryside as well. Vietnam is opening its economy further, but it has a lot of work to do in terms of improving corporate governance, business regulation, and the country's investment in human capital," he told VIR. "Economically, Vietnam is likely to make special efforts at APEC to showcase itself as a modern, open, trading nation."
Norway to partner with Vietnam to "awaken" offshore wind power potential
Norwegian Ambassador to Vietnam Grete Løchen and Commercial Counsellor Arne-Kjetil Lian recently have handed over the 'Vietnam Supply Chain Study Report' to Vietnamese Minister of Industry and Trade Nguyen Hong Dien.
The 70-page report provides an overview of the entire supply chain for Vietnam's offshore wind industry, recommendations on what Vietnam can prioritise to stimulate the strong growth of a local supply chain to create jobs for skilled labourers, and export to offshore wind markets in the region and the world.
The report also highlights opportunities that offshore wind will bring to Vietnamese suppliers, and areas where Norwegian and other foreign companies can collaborate with Vietnamese partners to promote offshore wind power projects.
Although challenges related to institutional framework and policy still need to be addressed in order to support the implementation of large-scale offshore wind power projects, many international developers and investors, including Norwegian companies have been preparing to tap these opportunities.
Technology is an important element in offshore wind power development and this is also the strength of Norwegian companies, Counsellor Lian stressed.
The Norwegian business community is ready to partner with Vietnamese companies, and share experience and technology to help Vietnam build a strong domestic supply chain, he added.
With over 3,000 km of coastlines, Vietnam boasts an abundant offshore wind resource and is an emerging market for offshore wind.
According to the World Bank, offshore wind is capable of meet 12 percent of Vietnam's electricity demand by 2035. By gradually replacing coal-fired electricity, this could help reduce over 200 million metric tonnes of CO2 emissions and add at least 50 billion USD to Vietnam's economy from a strong local supply chain, more jobs, and exports./.
Brazil consumes more Vietnamese pangasius
Vietnam raked in US$47.44 million from exporting tra fish (pangasius) to Brazil by mid-October, representing an increase of over 1.5 times against the same period from last year, according to the Vietnam Association of Seafood Exporters and Producers (VASEP).
At present, roughly 20 local pangasius enterprises are participating in exporting their products to Brazil, including Southern Fishery Industries in Can Tho and Hung Ca 6 and Cadovimex II in Dong Thap, said Ta Ha, an expert from the VASEP.
The VASEP representative pointed out that the South American country's strong demand for food imports is projected to increase sharply from now until the end of the year and into next year, creating opportunities for Vietnamese pangasius enterprises to boost exports to the market.
According to the latest statistics compiled by the International Trade Centre (ITC), Brazil's total import value of frozen seafood products during the initial nine months of the year peaked by nearly 40% compared to the same period from last year, whilst its import of pangasius fillets from Vietnam soared by 41.3%.
Currently, approximately 96% of Vietnamese pangasius exports to this market are made up of frozen fillets, while the Southeast Asian nation is also the leading supplier of white-meat fish in Brazil.
Experts believe that there are bright prospects for pangasuis exports to Brazil and other South American markets in the future as soon as the COVID-19 pandemic is completely brought under control in the Mekong Delta region, with tra fish processing facilities gradually stabilising their processing capacity.
Vietsovpetro puts new generation unmanned mini oil rig into operation

The Vietnam-Russia oil and gas joint venture Vietsovpetro has put its new generation unmanned mini oil rig BK-18A into operation.
According to Vietsovpetro, the BK-18A rig and other internal connection projects are constructed in Bach Ho oil field under Lot 09-1 in Vietnam's continental shelf, about 125km southeast of Vung Tau city.
It is designed and constructed by Vietsovpetro to exploit oil and gas from six wells with a total capacity of 1,360 tonnes.
Its construction started on December 15, 2020 and its installation at sea was completed on September 6 this year. It officially operated on November 10.
In 2020, the joint venture's oil and gas output reached 3.42 million tonnes, surpassing the set target by nearly 300,000 tonnes.
Oil sales totalled only about US$1.11 billion last year, or 81.1% of the plan. It contributed nearly US$745 million to the State budget. Its revenue from outside services and other activities amounted over US$213 million, while after tax profit hit more than US$49 million.
In 1988, Vietsovpetro pumped up the first tonnes of crude oil from the basement on the continental shelf in Bach Ho field, which was a milestone for the development of Vietnam's oil and gas sector.
During the past four decades, the joint venture has led Vietnam – Russia cooperation in the energy sector, contributing greatly to strengthening the countries' economic and trade ties.
The joint venture with a workforce of about 8,000 now is still among the most important in the Vietnam - Russia coordination and is making great contributions to strengthening their comprehensive strategic partnership.
Ben Tre to provide support for 1,000 businesses in digital transformation
As many as 1,000 local businesses in the Cuu Long (Mekong) Delta province of Ben Tre will receive support in digital transformation, with an estimated cost of more than VND41.5 billion (US$1.84 million).
A memorandum of understanding (MoU) was signed on November 11 between the province's Department of Trade and Industry and technology companies on supporting local businesses in digital transformation.
The cost is being sourced from private sources, including technology companies.
Nguyen Thi Be Muoi, deputy chairwoman of the provincial People's Committee, said the province would help local businesses apply digital and technology platforms.
She asked local authorities to closely coordinate with departments and relevant agencies to implement the goal. They are also required to raise awareness of the importance of digital transformation in the business community.
She said that local businesses must have a roadmap for digital transformation solutions in each specific stage.
Nguyen Van Niem, deputy director of the province's Department of Industry and Trade, said promoting digital transformation would help local businesses improve management, enhance capacity and competitive advantage, and create new values for production and businesses.
There are six support packages for businesses in digital transformation, which includes e-invoices, digital signatures, e-commerce websites, CloudFone switchboards for customer care systems, Microsoft Teams software, and brand recognition solutions.
Priority will be given to local businesses with leading brands, start-up businesses, science and technology companies, and household businesses that want to convert to companies.
"Digital Transformation - Small changes, big benefits" will be the theme of the communication activities.
The department will provide training until the end of 2022 for 1,600 employees of local businesses to help raise awareness about digital transformation.
Enhanced cooperation with localities to ensure supply of goods to Ha Noi
Better connections are needed between the capital city of Ha Noi and other localities, if demand for agricultural products in the city is to be met between now and the Lunar New Year in 2022.
The 10.3 million people in the capital city need huge amounts of essential goods. The city's monthly needs include more than 92,900 tonnes of rice, 18,600 tonnes of pork, 5,350 tonnes of beef, 6,300 tonnes of poultry meat and 123.9 million eggs.
Between 35 and 65 per cent of the demand is supplied locally. To make up for this shortfall, the city is encouraging connections with other localities in agricultural products and food.
According to the head of the Ha Noi Agricultural, Forestry and Fisheries Quality Management Sub-Department, Nguyen Thi Thu Hang, in the first ten months of 2021, Ha Noi's distribution channels have supported businesses and producers from other localities to process 220,000 tonnes of farm produce, including many products from the One Commune One Product (OCOP) programme.
Ha Noi has also made connections between nationwide localities and large supermarkets in the city, including MM Mega Market, Big C and Aeon Mall, to supply agricultural products.
To ensure that localities' farming, forestry and fishery products continue to be available in Ha Noi, the city is planning trade promotions and events, providing they follow COVID-19 guidelines.
However, Ha Noi and those localities must diversify their methods of connection and support in the face of increasing demand for agricultural products and food.
In addition, localities need to continue to create favourable conditions for the businesses in trade promotion activities and signing of product consumption contracts.
Nguyen Van Hung, Deputy Director of the Center for Investment, Trade and Tourism Promotion of Lam Dong Province, said Ha Noi needed to provide market information for businesses, cooperatives and households in other localities via trade promotion programmes, and programmes of connecting supply and demand on online platforms.
To strengthen connections in the future, Deputy Director of Ha Noi's Department of Agriculture and Rural Development, Nguyen Ngoc Son, said other provinces and cities should continue to review regional specialities that meet quality standards, as well as supply and demand balance in the market.
In addition, they would need to pay attention to the quality of agricultural products and the standards on food safety and hygiene. These would be decisive factors in signing contracts and long-term cooperation between them, he said.
Pork market management
Ha Noi also needs to strengthen controls on pork trading activities and stabilise pork prices, to ensure enough supply up to the Tet holiday in 2022.
Ha Noi markets need 57,780 tonnes of pork from now until the Tet festival. The city's pork supply is likely to reach 57,000 tonnes meaning the shortfall must be imported from provinces such as Ha Nam, Vinh Phuc, Bac Ninh and Hung Yen, and from foreign markets, including Russia, Thailand, France and the US.
The Ha Noi Department of Industry and Trade will closely monitor the supply, demand and prices of pork, and will have measures in place to balance supply and demand and prices from now until the Tet festival in early 2022, according to the department.
Market information will be provided about pork supply and demand and prices, to avoid instability in the Ha Noi market.
The Ha Noi Market Management Department will also strengthen inspections to prevent the trading of pigs and pork without clear origin or quarantine.
The department will coordinate with the relevant agencies to strengthen inspection for breeding farms, slaughtering facilities, markets, supermarkets, commercial centres and cold storage to control pork supply and retail prices. This will avoid speculation and unreasonable increases in retail prices for pork on the Ha Noi market.
The Ha Noi Department of Agriculture and Rural Development will also boost inspection of quarantine and standards on food hygiene and safety.
Vietnam's economy begins rebound from COVID-19 Delta wave
A strong recovery in Vietnam's GDP growth momentum is forecast for 2022, at a pace of 6.3 per cent on-year, as increasing vaccine rollout helps to gradually contain the pandemic and allows a gradual reopening of international tourism.

In 2020, Vietnam was one of the most resilient economies in the Asia-Pacific region to the shockwaves from the global COVID-19 pandemic, with very low numbers of COVID-19 cases throughout most of 2020. Economic growth was strong in the first half of 2021, with GDP in the second quarter of 2021 rising 6.6 per cent on-year. However, a severe COVID-19 Delta wave engulfed the nation in mid-2021, resulting in a sharp contraction in GDP growth in the third quarter of 2021.
The latest economic data for the fourth quarter of 2021 compiled by IHS Markit Vietnam are showing signs of recovering economic momentum after the latest COVID-19 Delta wave. Overall, the pace of Vietnam's economic growth is expected to moderate to 2.3 per cent in 2021, compared with the 2.9 per cent growth rate recorded in 2020.
However, a key uncertainty in the near-term outlook is the extent and duration of the current wave of new COVID-19 cases that is hitting the nation. If daily new COVID-19 cases rise sharply again, this would pose a significant further risk to the near-term outlook for domestic demand. There would also be the added risk of renewed protracted disruption to manufacturing output if widespread COVID-19 clusters are again detected in major manufacturing facilities or logistics supply chains, as occurred in July and August. Furthermore, unless Vietnam can significantly ramp up its fully vaccinated rate in coming months, it remains vulnerable to new COVID-19 outbreaks.
Despite these near-term risks, over the medium-term economic outlook, a large number of positive growth drivers are creating favourable tailwinds and will continue to underpin the rapid growth of Vietnam's economy. This is expected to drive strong growth in Vietnam's total GDP as well as per capita GDP.
Vietnam's total GDP is forecast to increase from $270 billion in 2020 to $433 billion by 2025, rising to $687 billion by 2030. This translates to very rapid growth in Vietnam's per capita GDP, from $2,785 per year in 2020 to $4,280 per year by 2025 and $6,600 by 2030, resulting in substantial expansion in the size of Vietnam's domestic consumer market.
Vietnam's role as a low-cost manufacturing hub is also expected to continue to grow strongly, helped by the further expansion of existing major industry sectors, notably textiles and electronics, as well as the development of new industry sectors such as automobiles and petrochemicals.
For many multinationals worldwide, significant supply chain vulnerabilities have been exposed by the protracted disruption of industrial production in China as well as some other major global manufacturing hubs during the COVID-19 lockdowns. This will drive the further reshaping of manufacturing supply chains over the medium term as firms try to reduce their vulnerability to such extreme supply chain disruptions.
With US-China trade and technology tensions still remaining high, this is likely to be a further driver for the reconfiguring of supply chains. A key beneficiary of the shift in global manufacturing supply chains will be the ASEAN region, with Vietnam expected to be one of the main winners.
Vietnam accounts for 10 per cent of global footwear exports
For the first time, Vietnam's share of world footwear exports has surpassed 10 per cent with 1.23 billion pairs of shoes exported in 2020, according to data by World Footwear Yearbook 2021.

Specifically, Vietnam ranks second in the world in terms of footwear exports. With this result, for the first time, Vietnam is now responsible for 10 per cent of world exports, an increase of 4.4 times compared to 2011.
Notably, Vietnam became the largest exporter of canvas shoes in terms of value, surpassing China. This is the first time since the publication of the World Footwear Yearbook that China does not take the lead in an export category.
A series of world-famous footwear brands such as Nike, Adidas, Reebok, and Puma have all been outsourced and produced in Vietnam in large quantities.
Vietnam has exported footwear products to more than 150 markets around the world with key markets in the US, EU, China, Japan, the UK, and others.
According to statistics from the General Department of Customs, Vietnam's footwear export turnover in the third quarter of 2021 reached $2.92 trillion, down 47.7 per cent compared to the second quarter of 2021 and down 26.9 per cent over the same period last year. The decline is attributable to the temporary factory closures to contain the largest outbreak in the southern provinces.
However, due to the high increase in footwear exports in the first months of the year, in the first nine months of 2021, Vietnam's total export turnover of footwear products reached $13.31 billion, up 9.7 per cent on-year.
Hanoi vowing to support enterprises out of mire
Hanoi's commitment to accompany the business community to overcome this year's problems is contributing to reinforcing trust in the investment environment in the capital.

On November 6, Hanoi Promotion Agency (HPA) coordinated with some departments and agencies in the city to hold a dialogue between Hanoi People's Committee and domestic companies to help them deal with their difficulties. At the event, representatives of 10 associations and companies expressed their issues and offered solutions.
Chairman of the Board of Directors at Sunhouse Group, Nguyen Xuan Phu, said that the city needs to speed up the procedures for land allocation for enterprises. The company is currently negotiating to acquire a number of businesses in Quoc Oai district – however, the company faces numerous barriers to implement the deals and construction, as well as expand investment scale. Thus, the company is looking for more support from the authorities.
"The city should pay attention to solutions in reforming administrative procedures, such as digitalising systems to handle administrative procedures so that businesses can track them conveniently," Phu said.
The other representatives offered similar proposals to reform administrative procedures to save time and costs for businesses. The municipal people's committee has organised dialogues with both domestic and international companies a few weeks previously to discuss the same problems. There, representatives of embassies, international organisations, business associations, and foreign-invested enterprises focused discussions on reduction of taxes, vaccination programmes, extensions for social insurance payments, and travel between cities and provinces, as well as work permits for non-national labourers and other experts.
Dinh Tien Dung, Secretary of Hanoi Party Committee, said the city has been trying its best to take the correct measures to control COVID-19 as soon as possible. At the same time, the city is focusing on supporting businesses and overseas investors to restore production and business.
"Hanoi respects and protects the legitimate rights and interests of investors, and ensures the harmonisation of interests between the state, investors, and employees," Dung said.
Dung added that the city will issue and implement a new recovery plan imminently. The plan is to develop the city's economy in association with the prevention, control, and control of the pandemic, as well as restore production and business in industrial zones and clusters.
After the discussions, the leadership of Hanoi directly worked with those involved in the $4.2-billion North Hanoi Smart City project, which is funded through a joint venture between Vietnamese developer BRG Group and Japan's Sumitomo Corporation.
BRG chairwoman Nguyen Thi Nga said, "Our operations were impacted by the pandemic but it is lucky that the company has received the companionship of the authorities."
Hanoi's efforts to create more favourable conditions to attract potential investors into doing business in the capital are a great motivation for enterprises and investors to maintain operations.
In the first 10 months of 2021, the city wooed $1.2 billion in foreign-invested capital, including $196.2 million in 256 newly-registered projects and $506.6 million of added capital to 92 existing projects. The remaining capital was poured into 336 capital contributions and stake purchase deals. The foreign-invested capital focuses on sectors such as industry, processing and manufacturing, construction, real estate, and services.
Regarding foreign-invested enterprises' commitment to invest long-term in Vietnam and Hanoi in particular, Samsung Vietnam general director Choi Joo Ho said that they will continue to strictly implement pandemic prevention and control measures set by the government and Samsung Group, thus completing the twin target of ensuring safety for the company and maintaining production stability while fulfilling its export goals. The group will also strengthen cooperation with domestic enterprises and take part in public infrastructure projects.
To date, the city has attracted 6,625 foreign-invested projects with total registered capital of $48.7 billion. In 2018-2019, Hanoi was the top destination for foreign investment in the country with total registered capital of $7.5 billion and $8.67 billion, respectively. In 2020, the city ranked third, luring in $3.83 billion.
Nearly 20,000 companies were newly established between January and October this year, with total registered capital of nearly $12 billion.
Along with measures to prevent and control the pandemic, the city has issued several programmes to support businesses and locals in line with the government's policies. In particular, the city supported 1.82 million employees and employers with funds of over $43 million. The city has also exempted and reduced taxes and extended payment schedules worth over $980 million, benefiting 38,000 businesses.
Source: VNA/VNS/VOV/VIR/SGT/SGGP/Nhan Dan

Transport Ministry unveils prioritised waterway projects in 10 years