Measures suggested to boost GDP growth amid COVID-19
The General Statistics Office (GSO) has proposed the Government prioritise effective pandemic prevention and control, and continue aid packages for enterprises in a bid to boost GDP growth given difficulties caused by COVID-19.
GSO Director General Nguyen Thi Huong advised domestic firms to closely work with multinational foreign direct investment (FDI) businesses like Samsung and Toyota to seek material suppliers in Vietnam capable of fulfilling their needs in both short and long terms.
Vietnam's gross domestic product (GDP) declined by 6.17 percent year-on-year in the third quarter, the sharpest drop since the country began announcing its quarterly GDP figures in 2000.
However, the overall GDP expanded by 1.42 percent in the first nine months of 2021 from the same period last year, marking a great success of the country in the fight against the COVID-19 pandemic and maintaining production and business amid the prolonged period of social distancing in many provinces and cities.
During the period, the agro-forestry-fishery sector posted an expansion rate of 2.74 percent, contributing 23.52 percent to the overall growth; with the figures for industry and construction being 3.57 percent and 98.53 percent, respectively.
Huong said a number of sectors could recover in the fourth quarter if COVID-19 is brought under control, public investment disbursement is accelerated, and financial aid packages are promptly implemented.
Notably, when the world demand in the last months of the year tends to increase, Vietnam will have the conditions to strive for the highest possible growth amid its combat against the epidemic, the official noted.
Vietnam is Russia's sixth largest supplier of processed fruits, vegetables
Vietnam is the sixth largest provider of processed fruits and vegetables for Russia, according to the Federal Customs Service of Russia.
However, the Southeast Asian nation's shipments accounted for only 5 percent of Russia's total imports, it said.
In the first 7 months of this year, Vietnam's processed vegetables and fruits imported to Russia reached 30,000 tonnes, valued more than 30 million USD, up 13.8 percent in volume and 51.2 percent in value.
The value of processed vegetables and fruits imported from Vietnam to Russia rose sharply and had a much higher increase pace than the growth in volume thanks to a surge in import prices.
In the 7-month period, the average import price of processed fruits and vegetables from Vietnam to Russia was 1,011.2 USD per tonne, up 32.8 percent over the same period in 2020.
According to the Department of Imports and Exports under the Ministry of Industry and Trade, Vietnam is the first partner to sign the Free Trade Agreement with the Eurasian Economic Union. Under this agreement, nearly 90 percent of tariff lines are cut or reduced, of which 59,3 percent are removed.
This is a good opportunity for Vietnamese exports, including processed fruits and vegetables, which are Vietnam's strong products shipped to Russia./.
Vietnamese, German start-ups meet at AsiaBerlin Summit 2021
An event connecting Vietnamese and German start-ups for sustainable development took place, both online and offline, within the framework of the AsiaBerlin Summit 2021 from October 4-10.
The event was co-hosted by the SKARO GmbH company, the Vietnamese Embassy in Germany, the Digital Transformation Centre in Vietnam under the International Cooperation Agency of Germany (GIZ), and the Senate Department for Economics, Energy and Public Enterprises.
Minister Counsellor at the Vietnamese Embassy in Germany Dang Chung Thuy described AsiaBerlin Summit 2021 and the event in particular as an excellent platform to link the two countries' businesses, start-ups and investors together.
He hailed Germany as one of the most important partners of Vietnam in the European Union. Two-way trade doubled in the past decade, reaching 13.2 billion EUR last year, making Vietnam the largest trade partner of the European country in ASEAN.
With nearly 450 valid projects in Vietnam, Germany became one of the three biggest investors in the country during the period.
Participants at the event shared creative ideas about technological, energy-efficient and eco-friendly solutions.
The AsiaBerlin initiative aims to create a start-up ecological system between Asia and Berlin, thus helping startups in different areas, from Smart City, Urban Tech, GreenTech, to Climate Tech, Fintech, Social Entrepreneurship and Artificial Intelligence.
It is the fifth time the Vietnamese Embassy has attended the AsiaBerlin Summit./.
HCM City businesses slowly resume production, but remain cautious about COVID
HCM City companies are resuming production after months of closure, but remain cautious about the pandemic, only gradually reopening and getting workers back.
From October 1, they are not required to house workers onsite, and can merely register with local authorities if they want to reopen as long as they comply with safety criteria.
Some businesses with generous welfare policies have been able to keep their workers from going back to their hometown, and are able to resume easily.
Nguyen Hai Trung, general director of Daehan Motors Co., Ltd said the company's truck manufacturing facility in the HCM City Automotive – Mechanical Industrial Park in Cu Chi District complies with safety norms and has increased production compared to the lockdown period.
Around 80 per cent of workers have returned since most are Cu Chi locals, he said.
Meanwhile, many other companies are struggling with a lack of manpower since workers who had returned home are currently unable to travel due to lockdowns and other restrictions.
Most businesses are not reopening too quickly since they first want to ensure production will not be halted again by the resurgence of the pandemic.
For example, Viet Nam Organ Needle Trading Co., Ltd. is watching how other businesses are operating before deciding when it can switch to the so-called 'four greens' model that requires workers to have COVID-19 green cards, stick to a registered route while commuting to work and living in COVID-free areas, and workplaces to meet the city's pandemic safety regulations.
Many businesses are still keeping their workers onsite despite the high costs.
Lap Phuc Co., Ltd which specialises in mechanical moulds, is encouraging staff to continue living onsite, even until Tet if they agree.
Its general director, Nguyen Van Tri, told VnExpress online newspaper that since the city still has a high number of COVID infections, workers travelling between home and the workplace could easily spread the disease.
Dai Dung Mechanical Construction Commerce JSC is also continuing with this model, but plans to relax it once the number of community cases drops.
Trinh Manh Hung, deputy general director of the company, said some of the workers are fatigued from living on premises for three months, but the company is keeping their spirits up by providing leisure options and a "strong" wi-fi connection.
Around 720 businesses in the city's 17 export and industrial parks in HCM City have been operating with onsite accommodation for staff since July 15.
Only a few have allowed staff to return home since September 30.
Vo Han Hoan, deputy chairman of the city People's Committee, said businesses' responsibility to protect their premises from the pandemic has only heightened after the lockdown has been lifted.
Petrovietnam reports steady growth despite pandemic
Viet Nam's State-owned oil and gas group PetroVietnam has shown remarkable resilience in reaching its revenue targets, despite the hardships caused by the pandemic.
In September, the group's production and business activities faced widespread disruption due to social distancing, particularly to supply chains for petroleum products. However, PetroVietnam implemented a series of measures to manage the situation and maintain their business activities.
This has ensured Petrovietnam's crude oil output reached 8.2 million tonnes in the first nine months of this year, 13 per cent higher than was forecast. Total revenue hit VND437.8 trillion (US$19 billion), exceeding its target by 16 per cent, CEO Le Manh Hung said in the group's business update on Monday.
As of the end of September, the group's contribution to the State budget also increased 17 per cent year-on-year to VND66 trillion.
PetroVietnam also saw success in investment activities. Su Tu Trang oil field has been brought into production as planned. Development projects in BK-18A and BK-19 oil fields are also on schedule and are ready to be being operations by the end of October and November, respectively.
The group is working hard to kick-start Song Hau 1 and Thai Binh 2 coal-fired power plants. Song Hau 1 is expected to begin commercial operation in early November.
On September 9, Fitch Ratings assigned a standalone credit profile of BB+ and asserted the long-term foreign currency Issuer Default Rating at BB with a "positive outlook" to PetroVietnam. This is the third year in a row Fitch Ratings evaluated PetroVietnam's credit rating at BB+, reflecting the group's impressive achievements in recent years amid the pandemic.
In the fight against COVID-19, PetroVietnam has donated nearly VND555 billion to the National Vaccine Fund and by the end of September had spent VND776 billion to support prevention efforts. Vaccination campaigns within the group have also been sped up to ensure the workforce can operate. So far, most of the group's employees have been given the COVID-19 vaccine. 
More firms in Binh Duong register to resume operations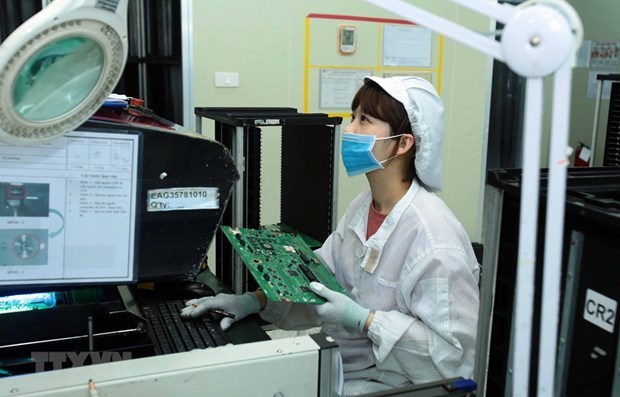 At an electronic component production line. (Illustrative photo: VNA)
An increasing number of factories in the southern province of Binh Duong has registered to resume operations, according to the Binh Duong Industrial Park (IP) Authority.
In addition to enterprises working under "three-on-site" and "one route, two destinations" models, there are nearly 200 businesses that have signed up to reopen under the "three green" model.
Enterprises outside IPs have also begun to follow suit and each case will be thoroughly considered by local authorities in order to ensure safety.
The province's employment centre said local enterprises need about 50,000 workers in the coming time.
Binh Duong has worked to administer the second COVID-19 jabs to its residents, with priority given to workers at IPs./.
Hanoi's craft villages urged to resume production
Hanoi's handicraft has ample room for growth and huge export potential and products must meet international requirements to enter foreign markets.
Representatives of the Ministry of Industry and Trade (MoIT) and the municipal Department of Industry and Trade joined a working session with some businesses in Bat Trang ceramics craft village on October 7 to seek ways for economic recovery in the post-pandemic period.
A survey amongst craft businesses and small scale companies showed that production chain is partly disrupted for a while, said Director of the MoIT's Local Industry Department Ngo Quang Trung.
Therefore, solutions are needed to remove bottlenecks in consumption and maintain orders for export firms while continuing to observe COVID-19 prevention and control regulations.
It is necessary to bolster promotions once COVID-19 is brought under control and take part in international trade fairs.
Incentives for industrial production establishments to join trade fairs at home and abroad will be continued, Trung said, adding that efforts will be made to foster links amongst businesses for consumption.
The MoIT will mull over new policies which conforms with the reality in localities for support firms, he said.
For their part, businesses in craft villages are advised to devise solutions and optimal strategies for market development.
Bat Trang is well-known for the traditional pottery trade. There are approximately 200 enterprises and 1,000 households who produce and trade ceramic wares here, with the products exported to many countries such as Japan, the Republic of Korea, Thailand, Russia, Italy, and France.
Hanoi has 1,350 craft villages producing diverse, sophisticated and high-quality products. Some of these products have gained firm footholds in the market.
Craft villages employ around one million labourers in rural areas with an average income of 5-6 million VND per month per person./.
Foreign investment inflows experiencing stable movement
Along with the positive business outcomes of foreign-invested enterprises in recent years and their decision to expand investments in Vietnam, long-term commitments are being confirmed.

Over the last few months, manufacturers and exporters reported decent business results. "In the first half of the year, it was not hard for Samsung to reach its export goals. If the home electronics complex in Ho Chi Minh City resumes its operations soon, we can even surpass our export goals of the year," said Choi Joo Ho, CEO of Samsung Vietnam.
The Samsung Vietnam leader confirmed to disburse the total investment approved annually, and that he is asking for hundreds of millions of US dollars more every year to upgrade production lines in the group's six complexes across Vietnam. "We will continue pouring funds into our facilities to enhance productivity and quality and diversify products like 5G equipment and laptops," added the CEO.
In addition to improving production lines, Samsung is planning to enhance the position of the group in the country. "Vietnam is not only a global manufacturing hub of Samsung, we are also building a $220-million research and development centre in Hanoi to improve our capacity in the medium and long term. Its progress stands at more than 50 per cent, and the facility is expected to be inaugurated at the end of 2022," Ho said.
The centre will focus on AI, 5G, big data, and other modern technologies.
In addition to Samsung, a number of other well-known corporations have already disclosed expansion plans in the country.
Sweden's food processing and packaging solution company Tetra Pak has just confirmed to add $5.9 million to the $141 material factory in the southern province of Binh Duong a few weeks ago. "This reflects our confidence in Vietnam's post-pandemic recovery," said Eliseo Barcas, CEO of Tetra Pak Vietnam.
In another case, LG Display in the northern port city of Haiphong asked to add $1.4 billion in early September after already adding $750 million in February.
The north-eastern province of Quang Ninh has also welcomed a second project of Jinko Solar with the total investment of $365 million, following the $500-million project in late March.
This is also confirmed in the foreign direct investment (FDI) report of the Ministry of Planning and Investment's (MPI) Foreign Investment Agency (FIA). Both newly- and additionally-registered investment in the first nine months of the year reported a sharp increase on-year (about 22 per cent) to $18.9 billion.
"These funds have been concentrating on quality, and the scale of foreign-invested projects has been increasing 2-4-fold on-year. In the context of globally declining investment flows, the soar of newly- and additionally-registered capital in the first nine months to Vietnam shows the confidence of foreign investors in the country's investment and business climate," an FIA representative said.
In the update on Vietnam's macroeconomic situation in September, the World Bank said that many macro indicators of Vietnam's economy in the first eight months of 2021 remained stable, in which FDI inflow was maintained, demonstrating the confidence of foreign investors in the Vietnamese economy in the medium and long term.
In the view of the Asian Development Bank's expert Andrew Jeffries, Vietnam remains an attractive destination for FDI and continues to benefit from a changing global supply chain, US-China trade tensions, and production disruptions in other regions.
"During the last two years, Vietnam remained a regional spotlight in mobilising FDI. Thanks to its rapid growth and dense population, they choose Vietnam for its domestic market and as a manufacturing hub for export," Jeffries said, adding, "In comparison with other regional countries, Vietnam remains an attractive destination for foreign investors, especially if the social distancing rules are lifted entirely."
According to a recent survey by the MPI covering 500 foreign-invested enterprises, Japanese investors confirmed their optimism on Vietnam's economic recovery in 2021, and 47 per cent of them have plans to expand production and business in the country.
South Korean enterprises participating in the survey have also new investment plans in Vietnam, with 61.9 per cent of them pledging to expand funding.
The confidence of investors is built on the efforts of the Vietnamese government to accompany them. Most recently, the government's Resolution No.105/NQ-CP has been issued to restart and develop the production and business activities of enterprises in parallel with ensuring the prevention and control of COVID-19. The official document aims to support and resolve difficulties and bottlenecks hindering production and business activities.
As the CEO of one of the largest foreign investors in Vietnam with six complexes in the northern provinces of Bac Ninh and Thai Nguyen, and Ho Chi Minh City – including the two largest smartphone facilities in the world – Ho of Samsung Vietnam highly appreciates the investment climate in Vietnam and Resolution 105, which he sees as "good news for foreign investors" as the regulations also aims to ease regulations on the extension of work permits for foreign labourers into Vietnam.
"In addition to Samsung, other foreign investors can enjoy attractive incentives and favourable investment policies in combination with abundant labour resources, stable politics, and a good infrastructure for manufacturing and transport," Ho said.
He also highly appreciated that the coronavirus had been controlled in Bac Ninh and Bac Giang during May and June, and that the support of the government for all businesses helps them to resume operations soon. "Bac Ninh is the first province to implement camping at work, so Samsung did not have to halt its operations during the pandemic," the Samsung Vietnam CEO emphasised.
"It is necessary to continue with our manufacturing activities, even in difficult situations, because we are a part of global supply chains," Ho emphasised. "For the long term, Vietnam remains an ideal destination for foreign investors. If Vietnam succeeds in both preventing the pandemic and operating within the supply chains, FDI into the country will certainly increase in the future." 
Pandemic spurs digital banking transformation, helps create new services
The pandemic has forced the banking sector to speed up digitalisation and contactless banking, said Nguyen Quoc Hung, general secretary of the Vietnam Banks Association during an online conference on the digitalisation of banking and finance in Viet Nam on Thursday.
Hung said the pandemic, especially the fourth outbreak of the virus in Viet Nam, has encouraged banks to introduce additional online services as well as customers to make full use of them.
Banking expert Nguyen Tri Hieu said the sector's digitalisation has been boosted with the rising popularity of mobile devices, the Internet and social media platforms. Those were all contributing factors for the proliferation of new banking services including digital wallets and mobile money.
Notably, mobile money has been said to be a viable solution for isolated and remote areas, where up to 40 per cent of the local population still had difficulties accessing regular banking services.
Pham Quang Minh, director-general of Mambu Viet Nam – a cloud-native banking platform that operates in a Software-as-a-Service model which enables banks and financial institutions to build new banking and lending experiences in the cloud – said digital technologies allowed banks to provide customers with products with high added value, better customer experience and more secure banking while at the same time cut operating costs.
Minh said digitalisation has become part of the sector's business strategy, in which banks must continue to create new ecosystems and work together with fintech firms to deliver better customer experiences.
Bui Dinh Giap, CEO of akaBot under FPT Software, said digitalisation could help banks improve productivity by allowing their workers to spend less time on non-productive tasks and more on value-creating tasks.
A recent Mastercard study showed the pandemic has been a catalyst for change in the way consumers spend money and pay for goods and services.
The study said 60-70 per cent of Southeast Asian consumers have shown reduced use of cash while 75 per cent asked said they would continue using contactless payment post-pandemic and as much as 91 per cent asked said they, at one point, used contactless payment during the pandemic in respect to social distancing rules and safety.
"This trend toward digital payment is happening across the region, according to our new payments index. At least 94 per cent of people in the Asia Pacific now consider using at least one emerging payment method," said Winne Wong, Mastercard Country Manager for Viet Nam, Cambodia and Laos.
Real processes have been seen in Viet Nam with more businesses and consumers using contactless payment or making the switch from cash-based transactions to contactless payment during the pandemic.
"For a population that preferred cash and cards predominantly, the pandemic really prompted the acceptance of cashless at an unprecedented pace, as from what I observed, Vietnamese people are more likely to ask if the money could be transferred, moving away from the traditional cash reliance mindset," Wong said.
Smooth and gradual reopening to be key
Although Vietnam is attempting to move towards a new normal, experts said it is important to achieve uniformity within all policies across the country, including to ensure that production and business can fully resume while any leftover of the pandemic is isolated.

Dony Garment JSC was forced to suffer a loss of $17,400 on an order of school uniforms to the United States in September due to the summer restrictions. "Despite heavy losses, we're at least able to keep reputation among our customers," said general director Pham Quang Anh.
Orders for the year-end shopping season have been cancelled, and Dony also missed another order to export garment products to the Middle East. "We couldn't accept it because we don't know when we'll be able to return to normal production," Anh told VIR.
Dony has been working hard to keep production active with the help of the stay-at-work model, with September's productivity increasing to 30 per cent, higher than the rate in August. But bringing productivity to 100 per cent will need much efforts.
Vu Thi Huong Giang, external affairs director at Nike Vietnam Co., Ltd., said at a government meeting with foreign businesses on September 20, "Nike's partners in the southern cities and provinces all hope to receive sufficient vaccines for their workers and soon reopen to restore production."
She added, "To reduce costs, Nike's partners suggested that cities and provinces avoid extensive testing and do not close businesses whenever an infection occurs."
Nike's supply chain includes 38 countries. In Thailand, the number of COVID-19 infections is three times higher than in Vietnam, but none of Nike's factories have had to close. India was also severely affected by the pandemic, but most places only stopped working for about three weeks and the production chain was restored very quickly.
In Vietnam, many supply chains broke down amid the latest wave as some businesses did not meet the regulations to operate during the outbreak.
The impact on the manufacturing sector became even more severe in August, and the current restrictions caused several businesses to temporarily close. The number of businesses affected by the pandemic and kicked out of the market or completing procedures for dissolution in the first nine months of 2021 was 90,300, up from 66,200 in the same period in 2020, in which Ho Chi Minh City alone has had about 30,000 businesses leaving the market.
Meanwhile, social distancing and movement restrictions led to a decline in output, new orders, purchasing power, and employment. The number of employees working in industrial enterprises as of August 1 decreased by 5.3 per cent on-month and by 10.6 per cent on-year, in which state-owned enterprises' workforce decreased by 0.8 and 4.3 per cent, respectively; non-state enterprises' by 5.6 and 9.7 per cent, respectively; and foreign-invested enterprises decreased by 6 and 12 per cent.
According to the Ministry of Planning and Investment, Vietnam has nearly 400 industrial zones (IZs) economic zones, export processing zones, and high-tech parks, attracting capital of about $126 billion and creating jobs for 4.5 million people. Up to now, the country has not had any accurate statistics and investigations on the extent of the damage done to businesses and the economy. However, the export value of the 19 southern cities and provinces applying the prime minister's Directive No.16/CT-TTg released in March 2020 on measures against COVID-19 is equivalent to about $391 million per day.
During the pandemic, many businesses still maintained production and continued to export, but the above figures showed that if the economy continues to stagnate, there would come a time when almost all businesses have to stop production, with the caused damage huge.
The World Bank recently lowered its GDP growth forecast for Vietnam, which is expected to be only about 4.8 per cent for the whole of 2021, 2 per cent lower than the forecast made in December last year.
"The economy needs to be reopened cautiously," commented Assoc. Prof. Dr. Dinh Trong Thinh from the Academy of Finance.
The purchasing power of the global markets is increasing steadily, and some countries are actively importing goods to serve the year-end shopping season. Thinh thought that it would be good for businesses to return to production as soon as possible, helping them to increase cash flow and cover expenses, as well as letting their staff return to work.
"Safe conditions and a suitable roadmap are the most important factors for the reopening of the economy. First of all, vaccinations must be widely deployed in cities with a high population density, IZs, and large enterprises," Thinh said.
"The government should allow local authorities at the provincial and city levels to select businesses and IZs to reopen production in accordance with the local situation," Thinh proposed.
He believed that a resolute and cautious reopening in early October will partly remove difficulties for businesses and help the economy to recover.
Recovery proposals set out for businesses
Both individuals and businesses are in critical need of further reductions of fees and taxes as they attempt to claw their way out of 2021's economic fallout.

The garment and textile sector is one of the most severely hit by the pandemic. Photo: Le Toan
According to the Vietnam Textile and Apparel Association (VITAS), although the trade surplus of the sector in the first nine months reported strong figures at $11 billion, textile and garment firms are still facing risks due to the on-month fall in export value of between 10-20 per cent since the worst pandemic outbreak emerged.
"If ceasing production for too long, partners will find new outsourcing for their orders, and we cannot know for sure that they come back to us when the pandemic is controlled," said VITAS vice chairman Truong Van Cam. "Thereby, resuming production as soon as possible and providing proper fiscal policies is essential for them to recover."
At last week's conference on economic recovery and development in combination with enhancing internal capacity and economic autonomy, organised by the Ministry of Planning and Investment (MPI), Cam's argument was highlighted amid great woes hitting the garment and textile industry – which grew only 4.8 per cent in the first nine months of this year, far lower than the average double-digit climb in the same period of recent years.
At the conference, experts and businesses from across all industries provided suggestions on stronger solutions related to fiscal and monetary policies.
Pham Huy Hung, vice chairman of the Vietnam Association of Small and Medium Enterprises, proposed lower interest rates to encourage businesses to borrow for resuming manufacturing and production. "The interest rate at present is too high for firms to approach. We should cut it down to 7-8 per cent next year for both new and old loans," Hung said.
Hung added that the loan restructuring in Circular No.03/TT-NHNN dated April, giving exemption from or reduction of loan interests and charges, as well as maintaining classified loan groups in order to help clients affected by COVID-19, is not suitable enough.
Truong Van Cam of VITAS added that the association has proposed the state to allow enterprises to arrange overtime hours per month higher than the current legal regulations to boost production with fewer workers.
Other policies proposed by VITAS across various fields include lowering credit limits, reducing loan interest rates, removing shortcomings in social insurance and environmental protection laws, and eliminating unnecessary transport restrictions that hinder day-to-day business.
Vice chairman Cam underscored the need for firms to be exempted from contributing to social insurance, unemployment insurance, and union funds, as paying for them has become a massive burden while unable to carry out operations.
Economist Nguyen Dinh Cung added, "Such fees that have no relation to business results should be cancelled for the next two years, while some taxes and fees that are delayed should be exempted. In addition, there could be a reduction in electronic bills for some sectors and cancellation of paying for union fees for the next three years."
A few days ago, Vietnam Social Security provided support for pandemic-hit employees and employers who are beneficiaries of the government's new support package sourced from the unemployment insurance fund, worth about VND30 trillion ($1.31 billion).
The Vietnam General Confederation of Labour also proposed to consider using the surplus of the unemployment insurance fund to support all employees who have been participating in unemployment insurance for six months or more.
Elsewhere, the government's Resolution No.68/NQ-CP dated July on policies to support employees and employers this year could add some more beneficiaries, such as employees who have not yet signed a labour contract and not yet participated in social insurance; and officials and employees in other public non-business units.
Previously, Resolution 68 reduced the compulsory contribution rate to the occupational accidents and diseases fund, and deferred compulsory contributions to the retirement and survivorship fund.
Since the pandemic began, the government has issued several fiscal and monetary policies related to taxes, fees, debt freezes, rescheduling, and more, expending around $6.7 billion from the state budget.
If including assistance from insurance funds, exemption and reduction of telecoms, water, electricity, and tuition, the total value of bailout packages this year is around $10.45 billion, equivalent to 2.84 per cent of GDP.
MPI Minister Nguyen Chi Dung noted that early support packages at the start of the pandemic were modest in comparison with other regional countries like Thailand and Malaysia, and acknowledged that more must be done.
"Previous support packages focused on removing short-term challenges for corporates and individuals. We need some more general measures for the long term, with enough huge resources to accelerate economic recovery and improve economic resilience," said Minister Dung.
Packaging groups retain optimism
Foreign companies are still beefing up investment in Vietnam's packaging industry as they bet on the long-term prospects of the market.

SCG Packaging Public Co., Ltd. (SCGP) over a week ago announced an investment of ฿11.8 billion ($354 million) into Vietnam's packaging industry. A new complex will be developed in the northern province of Vinh Phuc with commercial operations expected in early 2024.
Vina Kraft Paper Co., Ltd. (VKPC), a 70:30 joint venture between SCGP and Japan's Rengo Co., Ltd. is in charge of operating the project. VKPC's first investment in Vietnam commenced in 2009, followed by a 2016 expansion which doubled the original capacity to the current 500,000 tonnes of products per year. The expansion to the north of Vietnam will bring VKPC's total annual capacity to 870,000 tonnes by 2024.
SCGP's CEO Wichan Jitpukdee said, "Vietnam is one of the most dynamic economies globally, buoyant by vibrant domestic and export sectors. Furthermore, as multinational companies actively pursue foreign direct investment in north Vietnam, this is expected to support the 6-7 per cent per annum growth of packaging paper and related packaging products during 2021-2025."
He added that SCGP has been continuously expanding its Vietnam portfolio with an estimated pro-forma 2021 revenue of $444 million, including recent acquisitions. Its existing business model in Vietnam consists of broad horizontal offerings and deep vertical integration primarily located in the south and the new complex in north Vietnam will compound these efforts.
Tetra Pak meanwhile has poured an additional $5.9 million into its $141 million packaging material factory in the southern province of Binh Duong. The investment is a testament to the Swedish company's expectations of the potential of the Vietnamese market.
Ta Bao Long, communications manager of Tetra Pak Vietnam told VIR, "Even before the pandemic, Vietnam had been one of the fastest-growing markets in Asia for liquid food. The local market is forecasted to grow at 5 per cent compound annual growth rate during the next three years, doubling the global average. There are some factors driving that growth, including higher per capita income, increased health awareness, and a growing appetite for product variety. In times of crisis, liquid food, like other types of groceries, is always in high demand."
Long noted that the additional investment is supposed to improve both the company's service capacity and capability during the pandemic and beyond, thus offering its food and beverage customers with greater flexibility and efficiency.
Pandemic lockdowns continue to slow or even temporarily stop the flow of raw materials, people, and finished goods. "We believe that the impacts of the pandemic will briefly deviate Vietnam's economic growth from its long-term trend," Long said. "Therefore, we are optimistic about the market prospects as the right ingredients for growth are still there: a large population, increasing per capita income, fast urbanisation, and growing concerns for food safety and personal wellbeing."
According to market research firm FiinGroup's database, in 2020 and the first four months of 2021, foreign financiers continued ramping up investment in the Vietnamese packaging sector. In particular, Vietnam recorded 56 newly-registered foreign-invested projects in the packaging industry at a total of $516 million during the period.
Of which, the paper and corrugated packaging segment remained attractive to foreign investors with key names including Ojitex Long Thanh Branch ($60 million in 2021), Wing Fat Printing ($28 million in 2021), and Lap Thinh Factory 2 ($33 million in 2020).
Key growth drivers of corrugated boxes include a strong performance of manufacturing and processing industries, especially of home appliances and consumer electronics as well as the healthy growth of the fast-moving consumer goods sector. Also, given the rapid booming of e-commerce in Vietnam, the market created substantial demand as well as pressure for supporting sectors, especially corrugated boxes for parcel delivery services.
In recent years, another segment also attracting foreign investment capital is flexible plastic packaging. Notable projects include Meiwa Pax's new factory ($21.7 million in 2020) registered to invest after the acquisition of 89 per cent of Saigon Trapaco in 2014; and the St. John flexible packaging factory ($10 million in 2019).
Le Xuan Dong, managing director and head of Market Research and Consulting at FiinResearch, a research and consulting division of FiinGroup, said that packaging is one of the fast-emerging sectors in Vietnam, enjoying an annual growth rate of around 13.4 per cent during 2015-2020. In regard to segmentation, in 2020, plastic packaging and paper and corrugated packaging holds around 81.6 per cent market share in terms of sale revenue.
Foreign investors have been actively penetrating the market and/or expanding their existing business in the sector via mergers and greenfield investment. SCGP acquired 70 per cent of Duy Tan in early 2021 and acquired 94 per cent in Bien Hoa Packaging in late 2020 through its subsidiary, Thai Containers Group.
"The investments by foreign packaging manufacturers would not only meet the growing local demands, especially during post-pandemic economic recovery period, but also for export purposes," Dong said.
Vietnam's oil and gas laws in urgent need of readjustment to current-day realities
The energy transition trend, volatile oil prices, and limited resources are forcing countries around the world and Vietnam to make oil and gas development more flexible and increase investment incentives in this field.
According to Resolution No.55-NQ/TW dated February 11, 2020 of the Politburo on strategic orientations for Vietnam's National Energy Development to 2030 with a vision to 2045, the energy sector still has many limitations.
"A number of mechanisms and policies are not suitable with market mechanisms and have not promoted the establishment of a competitive energy market. Policies on investment, development, and the management of energy resources are still lacking and inconsistent," reads the Resolution.
As a result, in 2016-2020, even though many partners had come looking for an investment opportunity, PetroVietnam only signed eight new oil and gas contracts, only one of which was with a foreign partner, Murphy Oil Corporation from the US.
With the current regulations, too many agencies are involved in policymaking and the approval of related processes, from the prime minister, state management agencies in charge of the field, ministries and ministry-level agencies, and PetroVietnam to the people's committees of provinces and centrally-run cities.
Meanwhile, the current legal framework remains inadequate, the terms of oil and gas contracts are not as attractive as those in other regional countries. These are hampering foreign investors in the exploration and exploitation of oil and gas reserves.
Experts believe that it is necessary to complete the legal framework on the oil and gas industry to promote exploitation and exploration activities and increase production in deep-water and offshore areas.
The Law on Petroleum (LoP) needs to be adjusted to apply to all oil and gas activities, and the government should set it as the overriding legal document in case of inconsistency or overlapping with other laws to minimise problems.
According to Doan Van Thuan, an expert from the Centre for Economic Research and Petroleum Management under the Vietnam Oil and Gas Institute (VPI), competent authorities should consider adjusting the competence of approval of state management agencies in the revised LoP.
Accordingly, the prime minister should only approve processes that influence the "state's ownership of oil and gas resources" such as approving petroleum contracts, transferring the right to participate in oil and gas contracts, and terminating contracts.
To increase proactivity in the implementation process and align with international oil and gas practices, the PM should consider empowering the Ministry of Industry and Trade or PetroVietnam to approve junior documents, such as the list of oil and gas blocks, bidding plans, bidding results, switching work commitments, extending the scope of contracts, and reporting oil and gas reserves, Thuan added.
As oil and gas exploitation and exploration is a high-risk business that is mainly carried out in offshore deep water areas with high cost and difficult construction conditions, the VPI has proposed competent authorities to diversify the forms of oil and gas contracts (apart from the current Production Sharing Contracts) and increase incentive mechanisms to attract investment.
"Mechanisms and policies in accordance with international practices, ensuring the harmonisation of interests of both investors and host countries in the new conditions need to be urgently considered, studied, and applied," the PVI said.
Dr. Ngo Thuong San, chairman of the Vietnam Petroleum Association, said that the LoP and related legal documents need to be revised to suit the current realities and Vietnam's oil and gas potential, encourage foreign investment, utilise declining fields, improving the oil recovery coefficient, as well as invest in marginal fields, deep-water and offshore areas.
Tokenised property remains double-edged sword
Tokenising property, representing an early stage of blockchain application within the real estate market in Vietnam, is causing controversy due to the risks that investors could face, while the government has not yet made any specific regulations.

Several companies in Vietnam have launched a trading application in which buyers can connect and share capital to buy an a property via crowdfunding, even when they have only $100. This type of investment permits people to invest in property via non-fungible tokens, a kind of cryptocurrency.
Moonka Ltd. in August offered its property on the blockchain platform and gathered shareholders to buy a single property. The ownership certificate of that property is kept by Moonka, and buyers are given an account to manage and follow the property.
According to a representative from Moonka, these properties all have ownership certificates. A property can be sold only if more than 51 per cent of the shareholders agree. Shareholders can then transfer the shares to each other when they want.
At the end of 2020, some other companies such as RealStake and REVEX launched a similar platform to Moonka's, offering properties divided into many shares to sell to investors.
For many investors with little capital who still want to participate in the real estate market, these smaller share offerings are attractive investment opportunities.
Property broker Do Hoang Anh said that blockchain technology is an outstanding application in the real estate market.
"While it is new in Vietnam, it has been implemented for a long time in other markets and attracts investors with smaller funds. I expect this to be a new trend in the real estate business, along with traditional sales channels," Hoang Anh said.
However, Hoang Anh said that the current regulations are not yet including this type of business, therefore investors could face several risks. "Investors must consider the prestige of developers that are offering the shares to avoid ownership certificates being used for other purposes," he advised.
Other investors said that the implementation of blockchain is feasible because a company cannot use the property for other functions as the information cannot be changed once it is implemented in the blockchain.
Meanwhile, Luu Minh, a property investor, said that risks of this type of investment are diverse, including private rights, the legal system, internet security, and even money laundering.
"A successful trade via this type therefore can be reached only if a financial institute guarantees the risks of shareholders," judged Minh. "The legal system in Vietnam is very different from other countries, especially in property ownership. Therefore, the government must be the judge between a company and the shareholders."
The sharing of investment capital for properties among many investors was not a method of property investment until recently. "It is rather an financial investment or speculation in technology platforms," Minh said.
Nevertheless, more and more companies are joining the playground. With the development of the Vietnamese real estate market and the requirement to keep up with the world's digitalisation, tokenised properties could be an efficient way for investors to receive profits. The problem is that they must know how to evaluate the prestige and capabilities of developers.
In the last three years, some large-scale real estate corporations have spent millions of dollars on digital real estate solutions.
However, one of the most significant barriers today is that legal regulations are behind the need and development of technology solutions in the real estate sector.
Nguyen Huong, CEO of Dai Phuc Land said, "Pioneers in the implementation of blockchain will be under a lot of pressure as the legal framework for digital real estate solutions remains incomplete, especially amid the ongoing pandemic."
With a large market capitalisation of up to hundreds of billions of dollars like real estate, traditional transaction methods alone could not be enough to meet the general development needs of the market.
"One of the significant barriers to property investment is the very high value of a property. Blockchain helps to easily solve this problem by dividing investment capital through smart contracts in which investors can participate with just a few hundred US dollars. This opens up great opportunities for many small- and medium-sized investors to participate in the market and, at the same time, attracts investment resources both at home and abroad," Huong said.
Blockchain, meanwhile, could ensure the interests of investors and limit unnecessary risks. Nevertheless, it may take time for investors to get used to this new form of investment and put their belief in it.
According to the Vietnam Civil Code, the fundamental rights of property owners are the rights to own, possess, and use real estate. Meanwhile, the Law on Real Estate Business 2014 has no regulations related to tokenised investments on the blockchain platforms.
"Considering that, real estate investments on the blockchain do not have a legal framework for reference. Thus, if there is a dispute, it is very difficult to distinguish right from wrong and implement sanctions," argued David Jackson, CEO at Colliers Vietnam. "This new form of investment could help investors with little capital to still be able to participate in the market through smart contracts."
Blockchain is increasingly applied to real estate because of its distributed ledger technology, which makes transactions more transparent and can also increase reliability.
"This technology also helps cut down on administrative procedures, save time, and reduce costs. Moreover, the encoding of real estate into digital assets and the application of blockchain could help state agencies manage these better thanks to its transparency. Buyers and sellers meanwhile can easily access and connect," Jackson added.
In Vietnam, blockchain in real estate is limited to tokenised property. However, as these tokenised properties are not yet recognised by the current legal system, the token holders would not be guaranteed any security by the Vietnamese government.
According to Tran Vu, co-founder of property analysts SPE.R, the efficiency of this type of property depends wholly on its managing unit. "The shareholders can have their profit increase if the managing units can increase the value of the property. Otherwise, it could lead to losses for the shareholders," explained Vu.
According to the MSCI Real Estate Market Size reports from 2019 and 2020, the size of the professionally managed global real estate investment market increased continuously over the past few years, from $7.4 trillion in 2016 over $8.5 trillion in 2017 and $8.9 trillion in 2018 to $9.6 trillion in 2019.
Similarly, Vietnam's real estate market is also expected to grow rapidly in the coming years, with 30,000-40,000 new apartment units available each year and a compound annual growth rate of around 15 per cent for both residential and commercial real estate, according to Mordor Intelligence.
The MSCI report also states that the real estate market is mainly made up of siloed and independent networks with significant transactional friction between the current systems.
A full utilisation of the blockchain technology could offer several advantages and create a far more transparent ledger system where brokers and agents could see the entire transaction history of a property, opposite to the traditional multiple listing service databases commonly used today.
Construction reboot a welcome step
Construction bans over recent months have caused major delays to various ventures and their handover, but hubs like Ho Chi Minh City leapt back into action last week as restrictions were eased.

The construction of over 20 major projects in the city has resumed after being suspended since the worst outbreak of COVID-19 began. Luong Minh Phuc, director of Ho Chi Minh City Management Board for Traffic Works Construction and Investment, said the projects would restart from October 1 and are required to meet pandemic prevention and control safety requirements.
Many of these major projects are required to be completed before the end of the year, such as infrastructure in the Nuoc Den canal area in Binh Tan district, the new Hang Ngoai Bridge in Go Vap district, Thanh Da Park in Binh Thanh district, and more besides.
The summer months have severely dented the plans of developers. According to Nguyen Huong, CEO of Dai Phuc Land, the application of government directives during social distancing had a severe impact on the delivery process of products to customers as soon as the construction bans were put in place.
"All stakeholders such as developers, contractors, and buyers should negotiate conditions for the proper continuation of construction," Huong said. "This issue needs the understanding and sympathy from all sides, to share the risk and support each other to overcome this difficult time."
However, in addition to causing severe effects for developers, the delays caused a domino effect on contractors and sub-contractors of projects, including buyers.
Meanwhile, according to a representative from Gamuda Land in Ho Chi Minh City, the government's decision to apply stringent pandemic prevention and control measures, while ensuring the safety of the people, seriously affected the project implementation progress of developers such as Gamuda Land. The supply chain of goods and materials was interrupted and administrative procedures were kept pending.
"For instance, the next precinct of the Celadon City township project has had to suspend construction activities many times since March 2020, costing about five months in total," the source told VIR.
Ngo Quang Phuc, general director of Phu Dong Group, said that developers are now lacking workers because many have travelled back to their hometowns and have not yet returned to the city. "Developers, in addition, are unable to collect instalment payments from buyers due to the delayed projects," Phuc said.
Buyers, meanwhile, have not been so upended by delays because they have also been facing difficulties in mobilising cash for payments.
Nguyen Minh Van, a resident in Thu Duc city of Ho Chi Minh City, was one buyer whose unit was left behind in the handover schedule.
"The pandemic forces developers to delay their progress of unit delivery, but on the other hand, it also gives buyers more time for arranging their cash to pay instalments for the next phases," Van said.
Nguyen Hoang, director of Research and Development of DKRA Vietnam, said that in addition to venture delays, real estate developers are now also burdened with an increase in construction material prices and transportation costs.
The Ho Chi Minh City Real Estate Association in August proposed that the government consider supporting packages on taxes and land rental fees, as well as supporting policies from the bank in terms of deferring payment deadlines for 3-month interest loans, giving a new payment term after each quarter, and providing interest-free loans for businesses and home buyers.
In the capital of Hanoi, the city People's Committee allowed construction works to resume from September 22, except for those located in locked-down areas.
However, local district people's committees are being asked to report on the pandemic prevention and control situation on a daily basis to Hanoi Department of Construction.
Which securities company has largest market share in stock market in Q3/2021?
The Ho Chi Minh City Stock Exchange (HSX) has just announced the ranking of the brokerage market share in terms of stocks, fund certificates, and covered warrants services in Q3/2021.

VPS is the prominent stock brokerage company, with the largest market share at the moment
VPBank Securities (VPS) led the pack with 16.5 per cent, up 0.1 percentage points compared to the previous quarter.
This is the first time the growth of the company's market share has slowed down after a strong acceleration since the beginning of 2019.
In the top 10, VNDirect, SSI, and TCBS experienced sturdy growth. Specifically, VNDirect has surpassed Ho Chi Minh Securities (HSC) to secure the third position.
On the other hand, Mirae Asset Securities Company's market share diminished from 4.56 to 3.94 per cent.
Meanwhile, the Hanoi Stock Exchange (HNX) has also announced the brokerage market share of listed brokerages in Q3/2021.
VPS remains the prominent stock brokerage with the largest market share on the HNX of 17.02 per cent, thereby recording the third consecutive quarter in 2021 that it leads the HNX brokerage market share.
The second place in HNX stock brokerage market share is VNDirect Securities with 9.98 per cent, followed by Mirae Asset (7.51 per cent), SSI (6.96 per cent), and MBS (4.68 per cent).
The top 10 securities companies with the largest brokerage market share on the HNX saw a change from the previous quarter with the appearance of BIDV Securities Company (BSC) holding 2.82 per cent of market share, while Bao Viet Securities (BVSC) lost their position in the top 10.
Investors cautioned over bond issuance vulnerabilities
Credit-challenged companies, especially banks and real estate providers, are finding another way around their continuous capital needs by tapping into the corporate bond issuance market, which remains particularly vulnerable to economic downturns and incomplete legal frameworks in Vietnam.

The Ministry of Finance (MoF) has repeatedly warned about a number of risks stemming from corporate bonds, noting that investors are entirely responsible for their investment decisions, as the legal framework on bond issuance in Vietnam has not yet been completed.
In an official dispatch sent to the State Securities Commission, the Finance and Banking Department, and the Vietnam Stock Exchange, the MoF highlighted considerable risks when companies are seeking for capital mobilisation through the issuance of bonds with skyrocketing interest rates, especially in real estate.
SSI Research assessed that the domestic stock market will be less favourable in the remainder of this year due to the lingering pandemic, and this may push investors to opt for other lucrative investment approaches, including corporate bonds.
Data from market research firm FiinGroup showed that in the first half of September, there were VND6.38 trillion ($277.6 million) worth of corporate bonds issued in the local market, with real estate and banking institutions remaining the two largest issuers, such as SeABank, BIDV, Masan High-Tech Materials, and Hai Phat Land.
In general, the bond issuance interest rate of real estate lies between 9.2 to 11 per cent annually and is much higher than that of banks, which is around 4.1-7.23 per cent annually.
Michael Piro, COO at Indochina Capital, said that the pandemic has led to a strong need to refinance, which is sustaining the high-yield bond market in the Asia-Pacific region. Issuance in the region in the first half of 2021 was still strong despite reports that high-profile issuers, such as Chinese real estate companies, have missed their bond payments.
"Corporate bonds are viewed as a viable alternative to bank loans. The volatility of interest rates encourages companies to enter the bond market as bonds typically have fixed interest rates over a period of years until maturity," Piro said. "Entering the bond market is also a way to diversify lenders and, in certain cases, they can be processed at a faster speed than bank loan approvals."
According to the Vietnam Bond Market Association, 306 domestic bond issuance campaigns were carried out in H1/2021 with total value of $8.1 billion, including 293 campaigns worth $7.7 billion, and 13 worth almost $435 million.
The top two types of bonds issuers in Vietnam are commercial banks with $2.96 billion worth of bonds issued, and real estate companies with $2.69 billion. Bank bonds are offering interest rates of around 4 per cent, while real estate bonds can yield more than double the interest rate from bank bonds, at an average term that is short relative to the time it takes to complete a large-scale real estate development.
Thomas Kollar, partner at Mayer Brown, pointed out some significant risks for issuers of corporate bonds, including over-leverage and failure to comply with covenants or other obligations under the bonds that would trigger defaults and potential insolvency of the issuer. If these defaults occur on a large scale, they can result in systemic shocks as investors will ultimately bear these losses.
Nguyen Quang Thuan, chairman cum CEO of FiinGroup also cautioned, "One major challenge for bondholders to consider is credit risk, also known as default risk. When a bond issuer defaults on their payments, the holders of the bond may lose most of their principal. Secondly, bonds issued by corporations would be likely linked to liquidity and interest rate risks."
Banks and real estate developers are involved in vastly different businesses that are regulated at opposite ends of the spectrum. One trait that both businesses share is a continued demand for capital, and issuing corporate bonds enables them to raise that capital.
Kollar from Mayer Brown added, "Banks are strictly regulated and are subject to periodic reporting, so the banking system has the infrastructure in place to avoid over-leverage. Real estate developers, however, are not regulated like banks and therefore they could find themselves over-extended in certain circumstances."
Bond covenants for credit-challenged issuers could be very strict, effectively limiting the activities of an issuer and its ability to operate freely, he added. "Sometimes issuers in these circumstances cannot operate and grow their business effectively and could ultimately face liquidity pressures."
Kollar added there appears to be strong liquidity in the market at attractive yields which promotes bond activity and issuance. Bonds present banks with an attractive vehicle to raise tier-2 capital to meet their prudential ratio requirements and stay within regulated stability requirements at a lower cost. Foreign ownership limits of equity in banks also impact banks' ability to raise capital through equity issuances. These tier-2 capital bonds can be issued either locally in VND or on the international markets.
On the flip side, real estate developers that are looking to build up land banks or invest in early stages of potentially risky projects are in continuous need of capital. Bonds provide real estate developers access to relatively low-cost funding, and whilst credit-challenged issuers may face strict covenants and restrictions on their business activities, these may be less restrictive than the conditions that commercial banks are customarily willing to offer, given the banks' requirements to meet prudential ratios and single customer limits.
According to economist Can Van Luc, some businesses are promoting a corporate bond interest rate of up to 18 per cent annually, also known as the "abnormal high" trick.
"This does not include a fixed interest rate for one year, but is the ceiling ratio and may actually be lower," Luc said. "Besides this, the longer maturity bonds are, the higher and more sensitive they are to risks. In order to make the market transparent, the country needs to soon establish an independent credit rating organisation in order to provide risk measures for various entities. Thus, investors would be given access to more comprehensive perspectives of various borrowers."
Strong financial base required for stock expansions
With the epidemiological situation improving substantially during the remainder of the fall season, market watchdogs expect lucrative returns in several specific sectors.

Low interest rates in the past five years in Vietnam and worldwide have greatly supported cash flows heading into the stock market. This has been evidenced in the number of new securities trading accounts, stronger market liquidity, and investors' deposit balances at securities companies.
Data from market research firm FiinGroup shows that in the four stock groups of banks, securities, steel, and real estate which have rocked the market, cash flows from retail investors into steel and securities stocks decreased slightly while funds going into bank stocks remained stable.
According to FiinGroup, gold and the US dollar are no longer investment priorities for young Vietnamese investors. These investors boast more extensive investment knowledge and have access to real-time data through applications and have accumulated a lot of experience in stock investment over the years.
Cash flows, including those from selling securities, are expected to stay in the stock market until at least the end of the first quarter of 2022 when production and business activities are restored to 50-60 per cent of the pre-pandemic level, FiinGroup said.
"In terms of gold, the domestic gold price premium is at a record level of VND9-10 million ($390-435) per tael, putting physical gold investors at great risk. For the US dollar, the current zero interest rate on USD deposits, abundant foreign currency supply, as well as the low likelihood of VND devaluation in the context of Vietnam's strong foreign exchange reserves would make USD holdings no longer profitable but only a reserve," FiinGroup noted.
Furthermore, the current effective deposit interest rate is only 4.4 per cent (average for all terms), far below what is on offer by other investment channels.
Real estate remains quiet due to social distancing. Yield from real estate leasing is very low because the demand for retail, business, and residential premises all dropped sharply after four COVID-19 lockdowns while property prices remain high.
BIDV Securities stated that the accelerating pace of public investment disbursement could also boost the economy. "Related stocks will definitely soar in the last months of the year," it said.
The current valuation of stocks is rather cheap relative to the earnings forecast for 2021 and even 2022. Some analysts believed that these forecasts will be difficult to achieve because of COVID-19.
However, except for travel and leisure, there are plenty of opportunities for leading companies with strong financial base to expand market share and improve operation efficiency.
"Most importantly, under the current circumstances, a high valuation does not necessarily imply an impending market correction. It comes mainly from demand as evidenced by new cash flow and investor sentiment, instead of purely corporate fundamentals and earnings prospects," FiinGroup added. "On the other hand, 'cheap' valuation does not hint at a coming uptick if there is an absence of money inflows or weak investor sentiment."
Given underlying fundamentals, short-term growth outlook, and supply-demand dynamics, there are a handful of sectors which are expected to become bright spots, including steel, chemicals, industrial goods and services, food products, construction and materials, and banks, as well as insurance and securities brokerage.
In addition, experts remain positive on the prospects of a variety of industries, including technology hardware and equipment, utilities like water and electricity, packaging, and logistics.
On the other hand, Petri Deryng, founder of PYN Fund Management, noted that the recent Chinese liquidity crisis and the dismal situation of Evergrande, the second largest property developer in China, has robbed investors around the world of their peace of mind.
In general, the VN Index is up 40 per cent since the beginning of 2020, but is only about 12 per cent above the highs of 2018. Deryng forecast the VN-Index to move in line with the earnings growth of listed companies.
StanChart forecasts rate cut if COVID-19 impact lasts beyond Oct

Standard Chartered has forecast a potential interest rate cut if the economic impact of Vietnam's COVID-19 outbreak lasts beyond October.
Besides, Standard Chartered has revised down its gross domestic product (GDP) growth forecast for Vietnam in 2021 to 2.7% from 4.7%. This reflects the unexpected Q3 contraction of 6.2% year-on-year. The bank expects the recovery to accelerate in 2022 and maintains its 2022 growth forecast at 7%.
Early last month, Standard Chartered revised down its GDP growth forecast for Vietnam to 4.7% from 6.5% for 2021 and 7% from 7.3% for 2022 due to softening economic indicators.
"While we expect growth to start recovering in the fourth quarter of 2021, this hinges on progress toward reopening businesses. We continue to expect a post-COVID-19 growth acceleration but turn more cautious pending clearer signs of recovery. Vietnam's pandemic management is crucial to the near-term outlook," said Tim Leelahaphan, economist for Thailand and Vietnam at Standard Chartered.
The economist anticipates the State Bank of Vietnam (SBV) will keep its policy rate on hold at 4% to support credit growth and remain vigilant against inflation risks, which are driven by supply-side factors.
Standard Chartered sees downside risks to its growth forecast and a potential interest rate cut if the economic impact of Vietnam's COVID-19 outbreak lasts beyond October. Such a scenario could affect the external position.
An extended outbreak, with containment measures in place for longer, could have both short-term and longer-term effects on Vietnam's economy, exacerbating vulnerabilities such as rising inflation and limiting fiscal room for development.
According to the General Statistics Office (GSO), Vietnam's GDP in the third quarter of this year fell 6.17%, the sharpest fall since the country calculated and announced the quarterly GDP.
Nguyen Thi Huong, general director of the GSO, said the biggest GDP decline ever in the third quarter caused the January-September GDP to grow a mere 1.42% year-on-year, the lowest for the period in a decade.
The GSO's report also showed that the long-lasting pandemic had put many businesses on the verge of bankruptcy. In January-September, 90,300 enterprises withdrew from the market, up 15.3% year-on-year.
As for the foreign investment, foreign investors poured US$22.15 billion into Vietnam in January-September, up 4.4% year-on-year. The number of new foreign direct investment projects dropped 37.8% year-on-year but the registered capital rose 20.6%.
Indonesian technology startups expand presence in Vietnam
Indonesian start-ups and venture capital funds are pouring more capital into Vietnam, especially in digital technology, due to the similarity in business environment between the two countries, the Dau tu (Investment) newspaper reported.

East Ventures, a Jakarta-based joint venture firm, has participated in the US$2.7 million funding round of Vietcetera, a Vietnamese digital media startup at the end of August.
The newspaper quoted Melisa Irene, a partner of East Ventures, as saying that it was the firms' fourth investment in Vietnam. She added that earlier it has invested in Circo, a start-up on co-working space in 2018, Sendo in 2019 and Kim An in 2020.
The similarities between Vietnam and Indonesia's startup ecosystems have led them to look for opportunities in potential areas like co-working space, lending, commerce and media, Irene was quoted as saying.
Indonesian fintech platform Kredivo has recently announced its presence in Vietnam by partnering with Phoenix Holdings, a company with a diversified portfolio in consumer, financial services, retail and technology sectors, to form Kerdivo Vietnam JSC.
According to Velery Crottaz, managing director of Kredivo, the launch of Kredivo in Vietnam, the first market outside Indonesia, is a milestone for the business this year.
Vietnam came as a logical choice given the low penetration of credit cards in the country and a rapidly growing middle class, he said.
Crottaz also mentioned e-commerce market which is growing very fast and the similarities in demographic and consumption patterns to Indonesia.
Kredivo is not only the Indonesian start-ups that have ventured into Vietnam. Gojek, Indonesia's very first unicorn, is expanding its operation in the country.  The startup has introduced GoCar- its four-wheel ride-hailing service – in HCM City to serve frontline health workers. It plans to roll out a cashless payment service by the end of this year.
J&T Express, another Indonesian unicorn, is also building up its presence in Vietnam to meet the e-commerce delivery demand. the Jakarta-based company boasts more than 1,900 post offices across Indonesia.
Irene from East Ventures said big cities of Vietnam and Indonesia like Jakarta, Hanoi and HCM City have pushed the digital adoption, adding that they might base on this characteristic to predict the directions for pouring investment in potential fields,
"We thought Vietnam's digital economy might be 3-4 years behind Indonesia but the gap might be closed relatively fast," she said. 
Prospects of FDI attraction in northern region
Along with the synchronous implementation of solutions to control the COVID-19 pandemic, northern provinces and cities have made efforts to attract foreign direct investment (FDI) projects, leading to increasing FDI capital since early this year.
The Management Board of the Hai Phong Economic Zone granted the investment certificate to LG Display Vietnam Hai Phong (LGD) on August 31 which supplemented additional capital of US$1.4 billion into its current project. The adjustment has made LGD become the largest investment project in Hai Phong, with total investment of US$4.65 billion.
In July 2021, the Management Board of Industrial Parks in Vinh Phuc province also issued an investment certificate for a paper factory project invested in by the Vina Kraft Paper Co., Ltd., with total registered capital of US$611.4 million.
In the past nine months, the total amount of FDI into Hai Phong has reached nearly US$2.85 billion, exceeding 14% of the 2021 target and 3.2 times higher than the same period last year. Quang Ninh province has also attracted about US$1.86 billion, reaching 148% of the yearly plan while Vinh Phuc province has seen total registered capital of US$928.99 million, up US$88 million over the same period last year.
Ninh Binh province has also witnessed an increase of 15.19% in registered FDI capital while Thai Binh province has attracted five new FDI projects, with registered capital of about US$420 million, seven times more than the same period last year.
Head of the Management Board of the Hai Phong Economic Zone Le Trung Kien said that Hai Phong has actively prepared the best conditions to welcome large projects, including creating a fairly synchronous technical infrastructure in terms of transportation, industrial park infrastructure, support services, security and order, and labour forces.
According to Chairman of the Quang Ninh Provincial People's Committee, Nguyen Tuong Van, the creation of favourable conditions for administrative procedures has helped strengthened investors' confidence in the investment environment of the province.
Meanwhile, Chairman of the Vinh Phuc Provincial People's Committee Le Duy Thanh said provincial leaders have regularly listened and quickly solved difficulties for enterprises while gaining control of the COVID-19 pandemic.
Hai Phong has so far attracted more than 400 FDI projects, with total investment of nearly US$18 billion. The total investment capital of FDI enterprises in the first nine months of this year accounts for more than 30% of the total investment capital of the whole city while FDI enterprises contributed more than 25.6% to the total domestic budget revenue of the city. 
Due to the effective prevention and control of the pandemic, production and business activities of FDI enterprises have not been stagnant, creating stable jobs for more than 180,000 workers while the revenue of FDI enterprises in Hai Phong still increased by 19%.
Hai Phong aims to attract US$25 billion of FDI capital in the 2021-2025 period. To achieve this goal, the city is promoting infrastructure investment projects, especially projects on modernising the transport system and expanding industrial zones. The city has also paid special attention to providing housing for workers, training human resources, and ensuring social security and order.
General Director of Jinko Solar Vietnam Huang Jinxing said that after receiving the investment certificate of the Jinko 1 project, his company received an investment certificate for Jinko 2 project only six months later. He expressed this delight and thanks for the attention, support and companionship of Quang Ninh province.
To support FDI enterprises, Quang Ninh has established a special working group to proactively approach enterprises when they intend to invest in the province while shortening administrative procedures and establishing a 24/7 information mechanism to facilitate enterprises.
Along with controlling the COVID-19 pandemic, Thai Binh province has also focused resources on completing infrastructure of the Thai Binh Economic Zone, reforming administrative procedures, and improving the business environment.
Ninh Binh province is also making efforts to simplify administrative procedures to invite investors in the areas of infrastructure and high-technology to create the driving force for further development.
According to the Foreign Investment Agency (Ministry of Planning and Investment), as of September 20, 2021, Vietnam had posted total newly registered capital, supplemented capital and share purchases by foreign investors of US$22.15 billion, up 4.4% over the same period in 2020. This is a good sign regarding the prospects for attracting FDI in Vietnam in general and to the northern provinces in particular.
Two scenarios mapped out for economic growth
The Ministry of Planning and Investment has sketched out two scenarios for economic growth, Deputy Minister Tran Quoc Phuong told the press conference following the Government's regular meeting in Hanoi on October 2.
Accordingly, to meet a growth rate of 3% for the entire year, the national economy must expand at least 7.06% in the fourth quarter of this year. Meanwhile, to fulfil the yearly target of 3.5%, the quarterly growth is set at 8.84%.
The economic performance in the last quarter depends greatly on the implementation of the strategy on safe adaptation to the COVID-19 pandemic, Phuong stressed.
Businesses should restore their operations, even reaching only 80% of their capacity, to spur the economic growth, Phuong said, expressing his hope that the quarterly target of 7% would be completed.
Regarding transport activities, Deputy Minister of Transport Nguyen Ngoc Dong said the ministry has consulted relevant ministries, agencies and localities to put forth guidance on passenger transportation, which was issued on September 30 and took effect as from October 1.
The provisional guidance on passenger transport by road, rail, inland waterway, sea and air is based on risk classifications in different areas.
Public transport activities in very high risk localities (red zones) are not allowed to operate, except for taxi and app-based vehicles that offer less than nine seats and use vehicle partition and electronic payment.
For localities in high risk or orange zones, public vehicles can only carry half their designed capacity.
Public transport can resume operation as normal in low- and medium-risk localities and regions (green and yellow zones).
All passengers must comply with the 5K message, medical declaration, negative SARS-CoV-2 test (using RT-PCR or rapid antigen test) within 72 hours.
No testing is required for people who have received one jab or fully vaccinated or have recovered from COVID-19 within six months.
Drivers and staff must comply with the 5K message, medical declaration, test for SARS-CoV-2 by PCR or rapid antigen test after developing suspected symptoms.
In medium and high-risk localities, they must be tested for SARS-CoV-2 frequently (once every week).
Drivers in very high-risk areas must have received two COVID-19 jabs or recovered from COVID-19 within six months and have a negative SARS-CoV-2 test result within 72 hours by RT-PCR or rapid antigen test.
Provincial People's Committees will grant permits for road passenger transport activities depending on the pandemic situation in each locality.
The Civil Aviation Authority of Vietnam will also adjust the frequency of operations in phases depending on the actual situation.
Vietnamese tourism to be promoted in major foreign markets
On October 6, the Ministry of Culture, Sports and Tourism (MoCST) and the Ministry of Foreign Affairs hosted a virtual meeting with Vietnamese representative agencies abroad to discuss coordination in promoting Vietnamese tourism in key markets.
At the meeting, Deputy Minister of Culture, Sports and Tourism Doan Van Viet said that the ministry has worked with localities and travel enterprises to prepare for the resumption of domestic tourism once the pandemic is under control and the country enters a new period of safe and flexible adaptation to COVID-19.
The MoCST has made preparations for the welcoming of international visitors to Phu Quoc Island in Kien Giang Province as the first step in the reopening of international tourism nationwide.
The MoCST wished to cooperate with the Foreign Ministry to widely implement the programme "Roam Phu Quoc", which opened the campaign "Live Fully in Vietnam" to promote Vietnam's tourism recovery during the 2021-2022 period.
The Ministry asked the Foreign Ministry and diplomatic missions abroad to support the propaganda of Vietnam's plan for reopening of tourism; policies to ensure safety for visitors; and provide foreign businesses and tourists with information about the pilot process to welcome international tourists.
In addition to information about the travel demand of foreign visitors following a long period of implementing epidemic prevention and control measures, Vietnamese representative agencies abroad said that it is crucial to boost the connection and discussion to unify the mutual recognition of the "vaccine passport" between Vietnam and other countries.
For his part, Deputy Foreign Minister To Anh Dung affirmed that the ministry will always accompany the MoCST in promoting and reopening the tourism markets to welcome international visitors.
* The Ho Chi Minh City Department of Tourism has been finalising a draft on the restoration of tourism activities in the city from now until the end of 2021 and into 2022. 
The recovery roadmap for the tourism sector is expected to be divided into three periods. From October 1-31 in particular, the tourism activities are only permitted to resume in green areas in the districts of Cu Chi, Can Gio, Nha Be and 7.
From November 1 to December 31, priority will be given to opening tourism activities according to the epidemic control process of the localities (mainly in green areas).
During the third period (in 2022), the city's sector will focus on restoring all tourism activities and products of all types, scales and scopes with safe adaptation to the COVID-19 pandemic.
"Green corridor" needed for domestic tourism
In the past two weeks, several localities have basically brought the COVID-19 pandemic under control and began to restore intra-provincial tourism.
However, in order to restore domestic tourism, it is not possible to rely solely on intra-provincial tourism as locals are too familiar with local tourism products and resources.
In the context of the fight against the pandemic being complicated and once which may take a long time, it is crucial to connect green destinations from provinces and cities to both attractive and safe products for visitors.
How to move and connect smoothly inter-provincial green areas is a problem for travel businesses during the implementation of the programme "Restoring domestic tourism nationwide" recently launched by the Vietnam Tourism Association.
With their readiness, many enterprises have proactively developed new closed budget tours and routes to ensure safety in epidemic prevention and control. Green destinations, services, products and even tourists (issued with a COVID Green Card) are all being implemented. The remaining problem is a "green corridor" (also called green road or green channel).
Currently, provinces and cities have their own regulations on epidemic prevention and control based on their specific situation, along with different policies on quarantine for those who move to the localities. If there is not cooperation, agreement and coordination among localities to create a "green corridor" for inter-provincial tourism, it will be difficult to resume domestic tourism activities.
According to experts, in order to help the tourism industry operate smoothly and safely adapt itself to the new situation, in addition to unifying the criteria for safe tourism, special attention should be paid to removing barriers in terms of moving between interconnected green destinations. This requires the participation and close coordination of the relevant ministries, agencies and authorities of the provinces and cities in directing and giving specific regulations and guidelines for the connection and creation of "green corridors" for businesses to carry out tours and routes conveniently and safely.
It is also necessary to have strict conditions to reactivate domestic tourism. It will be futile if the tourism sector moves without the response and participation of the aviation, road, railway, and waterway industries.
Provincial and regional linkages require the sharing and cooperation of the localities. All parties involved in the tourism supply chain, such as: travel, accommodation, destinations, dining, and entertainment, must comply with the conditions and criteria on safety related to epidemic prevention and control.
Tourism enterprises should be responsible for controlling tourism programmes and groups of tourists to make them feel secure, relieving their fear of disease, and creating safe travel habits. Local management agencies will license and supervise safety and the quality of the services provided by travel businesses in the localities. This is also the strategy Ho Chi Minh City has been applying to diversify tourism products while ensuring safety.
However, some localities who have controlled the epidemic quite well are still hesitant to reopen tourism due to the slow speed of vaccination. Therefore, in order to accelerate the resumption of domestic tourism, vaccine coverage must be boosted in key tourist areas.
Only when necessary and sufficient conditions are met to form a favourable environment can domestic tourism operate safely and step by step get rid of difficulties, contributing to socio-economic restoration and development of safe and flexible adaptation to the new normal and effective control of COVID-19 pandemic.
Businesses, entrepreneurs – pioneers in industrialisation: Top legislator
Businesses and entrepreneurs are pioneers in the cause of industrialisation and modernisation, National Assembly Chairman Vuong Dinh Hue affirmed on Thursday.
The legislative leader visited the Vietnam Chamber of Commerce and Industry (VCCI) and met with representatives of the business circle on the occasion of Vietnam Entrepreneurs' Day (October 13).
At the meeting held in both in-person and online forms, which saw the participation of more than 400 entrepreneurs in Ha Noi and other branches and representative offices of VCCI, Hue said the Party always attaches importance the role of businesses and entrepreneurs.
In legislation, supreme supervision and making decisions on the country's major matters, the NA has placed people and businesses at the centre, he noted.
The legislature is working hard to prepare for its second session, scheduled to open on October 20, during which deputies are expected to mull over several important draft laws, including those relating to businesses, Hue added.
VCCI President Pham Tan Cong briefed the participants on the operations of the chamber and the Vietnamese businesses community, saying Viet Nam now has more than 800,000 operational enterprises, over 25,000 cooperatives and around 5.2 million business households, with some 7-8 million entrepreneurs.
He praised the spirit of nationalism, patriotism and the sense of responsibility of Vietnamese businesses and entrepreneurs, which have been clearly demonstrated in the COVID-19 combat with donations worth tens of trillions of Vietnamese dong.
The VCCI proposed solutions to help enterprises safely and flexibly adapt to, and effectively control the pandemic, such as implementing new policies and mechanisms that can ensure macro-economic stability and facilitate economic recovery. 
COVID-19 impacts Viet Nam's gas sector
The energy section has not been spared from the impact of COVID-19 restrictions, as demand for gas fell dramatically in the first eight months of this year, reports PetroVietnam.
The demand for gas for electricity generation is significantly lower than this time last year. The southeastern region of Viet Nam recorded only 87.5 per cent comparatively, and the southwest only 72.7 per cent.
The demand for gas has fallen since the end of April 2021, when the latest outbreak of the COVID-19 pandemic swept through Viet Nam. This has been especially felt in the southern cities and provinces that have recorded the most cases, particularly in July and August.
It is thought that the COVID-19 pandemic will remain unpredictable for the rest of the year and that a return to normal work is unlikely.
Some agencies have predicted that Viet Nam's economic growth in the remaining months of the year will remain low compared to the start of the year.
Domestic power plants are now the main consumers of the gas industry, accounting for 80 per cent of gas output. The decline in demand gas has reduced the capacity of gas producers, which will, in turn, lead to a reduction in gas production in offshore oil and gas fields.
The impact of this will be a major loss of revenue for the state that is collected through environmental tax, corporate income, value-added and export taxes. Budget revenue will also fall due to the decrease in gas transportation activities.
Because of low demand, gas buyers are required to pay in advance with a large amount of cash. This in turn causes an impact on the cash balance of the buyers.
Low gas demand will also lead to a significant decrease in budget revenues for cities and provinces against last year. The southern Ba Ria-Vung Tau province alone is expected to see a decline of VND435 billion in its budget revenue. This will be mirrored across other towns and cities.
Forecasts speculate that demand for electricity production will continue to decline in 2022. Gas for power production in the southeast region is forecast at a maximum of 2.8 billion m³, while gas input will drop to 755 million m³ in the southwest region. This will cause a strong decline in tax revenue in these cities and provinces next year.
This fall in demand is reflected in the low load demand across the electricity market. The power industry is facing an excess power problem, as businesses minimise or halt their production activities amid the COVID-19 pandemic.
Ironically, this issue is antagonised further by the number of renewable energy projects that have recently been put into operation, increasing supply to the national grid.
Currently, electricity prices offered by renewable energy plants are much higher than from gas-fired power plants. According to industry insiders, the decline in gas mobilisation and the introduction of new, renewable sources has lead to higher electricity prices.
Natural gas is considered a clean source of energy for electricity production with low greenhouse gas emissions. Using gas for the country's power production does help minimise the negative impacts on the environment.
The fall in demand for energy has harmed domestic oil and gas exploration and exploitation, especially in deep water and offshore areas. Failure to make full use of the country's natural resources will negatively affect foreign investment into liquefied natural gas (LNG) projects, which are important in addressing the growing energy demand on the national power grid.
The rapid decline in gas mobilisation for power generation has made impacted imports of LNG, following Decision No. 2233/QD-TTg dated December 28, 2020, in which the Prime Minister approved a plan to develop a competitive energy market by 2030.
In the short term, this impacts investment and construction of LNG projects to meet national energy demands. At the same time, as restrictions are relaxed, energy demand will increase, leading to a shortage of energy supplies. Infrastructure constraints will also limit LNG imports.
Viet Nam has a favourable geographical location and convenient LNG transportation route including many deep-water ports and existing gas infrastructure systems that can be used. Developing the LNG sector is an inevitable trend for Viet Nam to diversify fuel sources for electricity generation and contributing to ensuring energy security for Viet Nam.
Ha Noi property market has lower transactions in Q3 due to COVID-19
The Ha Noi apartment market saw a decrease in the number of transactions in the third quarter of this year due to a citywide two-month lockdown during the fourth outbreak of COVID-19.
Amid disruptions in sales activities due to a new wave of COVID-19 from late July to late September, sold units recorded in the third quarter reached 3,000, down 33 per cent year on year, according to the CBRE Viet Nam's report on Ha Noi property market in the third quarter of this year. There were a total of around 11,000 units sold in the first nine months of this year, slightly down by 1 per cent year on year.
However, the market witnessed a positive signal on the sold rate of newly launched projects. In the third quarter, newly launched projects reached a 52 per cent average sold rate during their first launched quarter, which is higher than the rates recorded in 2019-2020 (41 per cent - 42 per cent).
In the first nine months, the total new launch of apartments in Ha Noi slightly increased compared to that of the same period last year, though significantly lower than the pre-COVID level.
Especially, the total new launch during the first three quarters of the year was 11,430 units, up 7 per cent year on year, of which the third quarter recorded 3,483 units launched, up 1 per cent year on year. Ninety-three per cent of the total new launch is from township developments in the East and West of Ha Noi.
Launching activities were mostly in July before the two-month lockdown period, and resumed in late September as restrictions eased. In terms of segment, there were only high-end and mid-end products launched in the third quarter with the high-end segment covering 65 per cent of the total new launch during the quarter.
As residential projects and amenities within major township developments are being completed and handed over to the residents, decentralised townships were able to gradually upgrade their positioning and introduce new products at high-end prices in recent quarters, CBRE Viet Nam reported.
In the third quarter, primary prices of apartments for sale in Ha Noi averaged US$1,542 per sq.m (net of VAT and maintenance fee), up by 16 per cent year on year due to the higher proportion of high-end projects in the total new launch in this quarter compared to the same period last year.
The secondary market experienced a relatively quiet quarter due to restrictions in travel. Secondary prices averaged at $1,156 per sq.m as of the third quarter, down 1 per cent quarter on quarter and up 2 per cent year on year.
There are many factors leading to price increases, including low supply, higher product quality, upgraded infrastructure and a recent steel price hike, according to Do Thu Hang, Senior Director, Advisory Services, Savills Hanoi.
"The apartment sector is not immune to COVID-19's negative impacts, however, it is well positioned for post-pandemic recovery thanks to strong demand drivers. Future supply in the secondary hubs offers an array of locations and more affordable choices."
"The primary prices have increased by 10 per cent each year in Tu Liem District and 17 per cent each year in Cau Giay District since 2017. The reason for the price growth has been due to lower new supply, especially the number of projects with good legal status has been decreasing."
At the same time, newly launched projects are projects that are legally guaranteed with a favourable location, good quality and more utilities. This has pushed the prices of these projects higher than the market's average price, thereby causing the average primary price of the whole market to continuously increase in recent years, Hang said.
Regarding the market outlook in the fourth quarter, Hang said: "Ha Noi is controlling COVID quite well. Meanwhile, interest rates are low, deposit mobilisation is at a record low, and other investment channels are not attractive. Therefore, good projects with favourable locations will still attract investors as well as end-users."
"The apartment market's movements in the last three months of the year will likely be more positive than in the previous quarters, with supply growth and absorption recovery. The primary selling prices will remain stable. Those are expected to push the transaction volume up in the fourth quarter."
Investors need to have a sales strategy with a reasonable offering price. Besides that, they should also offer attractive sales policies as well as flexible payment schedules to reduce financial pressure as well as attract more customers, Hang said.
"Products with new and differentiating features continued to be introduced to the market, as a result of increasingly innovative R&D capabilities, as well as the partnership between local and foreign developers; local developers and international project management companies/operators. This trend is expected to continue showing product diversification and stronger competition in the market," said Nguyen Hoai An, director of Hanoi Branch, CBRE Vietnam.
Primary prices are forecast to increase at 5-7 per cent per annum over the next three years driven by upgraded positioning in township developments and expected launches of high-end and luxury projects in prime locations, according to CBRE Viet Nam.
In the fourth quarter, 11 new launches and the next phases of two projects will add 7,900 units. Eighty-seven per cent will be Grade B, and Tu Liem, Gia Lam, and Hoang Mai districts will have a total share of 81 per cent, Savills Viet Nam reported.
The growth of secondary hubs will continue. While the post-pandemic work-from-home trend may be a contributing factor, the reality is buyers are increasingly price conscious. 
VPS Securities remains top player in HCM City stock market
The Ho Chi Minh Stock Exchange has announced the list of 10 leading securities companies in the third quarter of the year, with VPS Securities remaining in top spot with a 16.5 per cent market share.
SSI Securities Corporation remained second despite increasing its market share (11.58 per cent). It had held the top position for seven years until it was overthrown by VPS in the first quarter of this year.
VNDirect Securities Corporation remained in third place with 7.72 per cent.
Ho Chi Minh City Securities Company (6.79 per cent), Viet Capital Securities JSC (4.9 per cent), Techcom Securities JSC (4.81), MB Securities (4.45 per cent), Mirae Asset (Viet Nam) (3.94 per cent), FPT Securities (3.38 per cent), and KIS Vietnam Securities (2.98 per cent) made up the rest of the top 10.
In terms of bond brokerage, despite its market share reducing significantly from the preceding quarter, Techcom Securities JSC was still the largest bond broker with a 34.86 per cent market share, followed by Tien Phong Securities Corporation and Tan Viet Securities Corporation with 21 per cent and 13.48 per cent, respectively.
The securities market yo-yoed through the third quarter with all indexes dropping sharply in July, the VN-Index recovering in August but again losing in September.
The VN-Index closed at 1,342 points on September 30, a decrease of 66.49 points or 4.72 per cent for the quarter.
The market capitalisation was nearly VND5.13 quadrillion ($225.6 billion), up 2.3 per cent from the preceding month and equivalent to 81.59 per cent of the 2020 GDP.
Foreign investors were net sellers to the tune of VND9.863 trillion ($434.4 million) during the quarter.
SSI Research said the selling was temporary and due to the unpredictability caused by the COVID-19 pandemic, while the significant appreciation of the VND against other currencies in the region affected fresh investment in Viet Nam. 
Source: VNA/VNS/VOV/VIR/SGT/SGGP/Nhan Dan/Hanoitimes  

Four scenarios for Vietnam's cloud computing market