Rice export volume up but value falls

Viet Nam enjoyed growth in its rice export volume but saw value fall in the first nine months of the year, according to the Ministry of Agriculture and Rural Development (MARD).
The ministry said the total rice export volume and value in the first nine months of this year reached 5.2 million tonnes and $2.24 billion, respectively. The figures represented a rise of 5.9 per cent in volume and a drop of 9.8 per cent in value compared to the same period in 2018. Of which, Viet Nam shipped abroad 586,000 tonnes of rice in September for $251 million.
The Philippines was the top market for Vietnamese rice in the first eight months of this year, consuming 1.76 million tonnes worth $720 million, 2.9 times higher in volume and 2.6 times in value over the same period last year.
Strong growth was also seen in other markets, including Australia (75 per cent), Ivory Coast (nearly 35 per cent) and Hong Kong (nearly 35 per cent).
The average rice price in the first eight months fell 13.8 per cent year on year to $435 per tonne.
White rice led the way in the period, accounting for 47 per cent of total revenue, followed by Jasmine rice with 39.8 per cent.
According to the Agro Processing and Market Development Authority (AgroTrade) under the MARD, the Philippine Government planned to diversify non-tariff measures to adjust rice import activities.
At the same time, the Philippine Department of Agriculture has also proposed the application of a defence tariff on imported rice at between 30-65 per cent, which may affect Viet Nam's rice exports to the market in the future.
However, positive signals were seen in the Japanese market, which is considering switching rice imports from the US to signature countries of the Comprehensive and Progressive Agreement for Trans-Pacific Partnership, including Viet Nam.
Meanwhile, Singapore has also shown more interest in rice from Southeast Asian countries such as Viet Nam.
To deal with the situation, the ministry said in the long term Viet Nam planned to move away from rice cultivation to focus on other crops which are more efficient.
It would also look to expand export markets in Africa and the Middle East as well as regional markets like Indonesia and the Philippines.
MoIT to ensure enough goods for Tet festival next year

The Ministry of Industry and Trade (MoIT) will ensure the supply-demand balance of essential commodities for the Tet (Lunar New Year) of 2020 and implement a programme on keeping goods in stock for market stabilisation.
To stabilise the market and ensure supply in the last months of the year and the month before Tet festival in 2020, Tran Duy Dong, Director of the MoIT's Department of Domestic Market, said the ministry will coordinate with ministries, sectors and localities in closely monitoring market situations and then send reports to the Prime Minister.
The MoIT and the Ministry of Agriculture and Rural Development will ensure supply and demand of agricultural products, especially dealing with African swine fever and ensuring pork supply in the last months of the year and the period before Lunar New Year.
In addition, it will closely monitor changes in supply and demand of goods, prices and development of domestic market, especially essential commodities. At the same time, it will promote inspection and supervision of implementation of regulations on price registration, price declaration and price management.
Moreover, the ministries must enhance cooperation in managing prices of goods under the State management to contribute to macroeconomic stability and to gain the target in CPI growth rate this year. They will also implement domestic trade promotion programmes to boost consumption in the domestic market.
Of which, the MoIT will promote trade promotion activities in mountainous markets and support businesses to sell goods to rural areas, border areas and islands.
It will actively prevent smuggling, trade frauds, counterfeit goods, fake goods and poor quality goods from the domestic market to protect domestic production and the legitimate interests of consumers.
Goods stock for Tet
Ha Noi plans to prepare goods in stock for the coming Lunar New Year with a total value of about VND31.2 trillion (US$1.34 billion), a year-on-year increase of 10 per cent.
As the Lunar New Year of 2020 comes earlier than previous years in late January, the preparation of Tet goods at present is almost competed by enterprises.
The Ha Noi Department of Industry and Trade said the goods in stock include 191,400 tonnes of rice; 44,600 tonnes of pork; 14,800 tonnes of poultry meat; and 12,306 tonnes of beef.
They also involve 260 million eggs; 247,400 tonnes of vegetables; 12,800 tonnes of processed foods; 11,364 tonnes of aquatic products; about 3,500 tonnes of dried agro-forestry products; 3,000 tonnes of confectionary; 200 million liters of wine, beer, soft drinks; 200,000cu.m of petroleum; garments and electronics products.
The department prepares a promotion month, fairs, market days to bring Vietnamese goods to the rural and remote areas to ensure sufficient supply of Tet goods for the people.
To ensure the supply and demand of goods, Ha Noi coordinates with neighbouring localities to organise fairs and exhibitions diversifying goods supply to the consumers.
Most localities and retail channels across the country have also planned preparation of goods for Tet to stabilise price and market, the online newspaper baotintuc.vn reported.
According to the Domestic Market Department, total revenue of retail goods and services in the first nine months of this year reached VND3.6 quadrillion, up 11.6 per cent year on year.
With this growth, the nation expects to gain a growth rate at 11.5-12 per cent in the revenue of retail goods and services this year.
Mekong Delta takes steps to improve farming co-operatives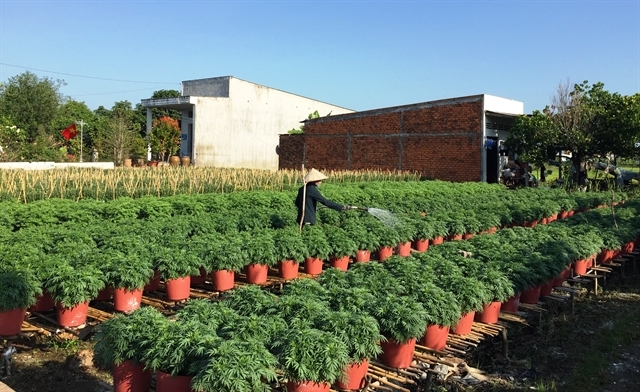 Farmers' incomes in the Cửu Long (Mekong) Delta have risen as a result of membership in agricultural co-operatives, but the effectiveness of the groups is still limited, experts have said.
Đồng Tháp Province, for example, has good linkages between co-operatives and companies. Set up in 2013, the Mỹ Đông 2 Agricultural Service Co-operative has more than 100 members and has contracted with the Southern Seed Corporation in HCM City to farm rice for 16 consecutive rice crops.
Ngô Phước Dũng, director of Mỹ Đông 2, said the co-operative's members are guaranteed outlets and have stable profits higher than rice farmers without farm contracts.
The delta, the country's largest rice, seafood and fruit producer, has more than 1,800 agricultural co-operatives, accounting for one-third of total in the country. They have more than 230,000 members, or 15 per cent of the delta's farming households.
The delta also has more than 11,700 co-operative groups with more than 260,000 members.
All of the co-operatives have helped the agricultural sector meet market requirements for large quantity and standard quality. Members, for example, have received instruction in advanced farming techniques to deal with climate change, including production of high-quality seeds and disease management, according to the Ministry of Agriculture and Rural Development's Department of Co-operative Economics and Rural Development.
Though the delta's co-operatives have links with companies under value chains, there is still a lack of investment capital and information about market outlets, according to experts.
Lê Đức Thịnh, head of the Department of Co-operative Economics and Rural Development, said that poor management had stifled operational effectiveness of cooperatives.
Most directors of co-operatives are farmers or agricultural engineers who do not have knowledge and skills in management, trade and markets, he said. The co-operatives are also small scale and find it difficult to access loans.
Nguyễn Phước Thiện, deputy director of the Đồng Tháp Province Department of Agriculture and Rural Development, said that lack of market information and incomplete legal regulations for farm contracts had hindered linkages between co-operatives and companies.
About 40 per cent of rice contracts between farmers and companies in the delta are successfully implemented, a higher rate than other agricultural products, according to the Department of Co-operative Economics and Rural Development.
Development
To improve profits, the Department of Co-operative Economics and Rural Development has ensured that farmers will have access to soft loans and receive advanced techniques and effective farming models such as intercropping of shrimp or fish, or rotation of crops in rice fields.
The agency will also be responsible for improving the skills of co-operative managers.
Other measures include working with international organisations to help farmers and co-operatives cope with climate change in the delta.
Cà Mau Province plans to establish 20 new co-operatives, 100 co-operative groups and two to three co-operative unions each year from now until 2030.
Đỗ Văn Sơ, chairman of the Cà Mau Co-operative Alliance, said the province would focus on training human resources and instructing legal regulations for developing co-operatives. It will also create favourable conditions for co-operatives to access support policies on advanced techniques, building brand names, and trade promotions.
In Hậu Giang Province, the local People's Committee has ordered relevant departments and agencies to provide financial support for co-operatives to invest in infrastructure. The province has 21 agricultural co-operatives that meet conditions to receive support for developing infrastructure with a total cost of VNĐ25 billion ($1.07 million), according to its Department of Agriculture and Rural Development.
Budweiser maker Anheuser-Busch InBev targets expansion in Vietnam
In order to grow further, the company needs to make a breakthrough in Southeast Asian countries such as Vietnam and the Philippines, said a research analyst at Euromonitor.
The world's largest brewer Anheuser-Busch InBev (AB InBev) is looking to expand in Asia's key markets, including Vietnam, CNBC reported.

Southeast Asia has become a logical choice for AB InBev, as the region is projected to be a key driver for growth, said Jarred Neubronner, research analyst at Euromonitor, adding key markets would be Vietnam and the Philippines.
″(AB InBev) is still not among the top 10 players in the Southeast Asian region in 2018 due to the dominance of local beer players," Neubronner was quoted as saying. "In order to grow further, the company needs to make a breakthrough in Southeast Asia countries such as Vietnam and the Philippines."
However, Budweiser-maker is facing challenges as some players have already done so by acquiring domestic brands in these markets.
​Thai Beverage, for instance, bought over Vietnam's largest beer company Sabeco (Saigon Beer Alcohol Beverage Corp) in a US$4.8 billion deal in 2017. "(That) immediately catapulted Thai Beverage to become the number one beer player by volume in Southeast Asia," said Neubronner.
Across Asia-Pacific, the company, which is listed in Singapore, ranked sixth in 2018 in terms of market share at 3.9%, according to Euromonitor.
"Many leading beer players in Southeast Asia are local players with strong local knowledge and distribution networks, so acquisitions of local beer companies is possible if AB InBev wishes to increase its market share in the region and tap on the expertise from established local players," Neubronner said.
Nearly 31,000 enterprises participate in National Single Window
The National Single Window (NSW) has received and processed over 2.3 million documents of more than 30,900 enterprises.
Up to now, there are 174 administrative procedures of 13 ministries and agencies which have been connected to the National Single Window.
The General Department of Vietnam Customs has not only actively cooperated with ministries and agencies in deploying new administrative procedures through NSW but also actively coordinated with the relevant units to kick off training courses of carrying out the newly connected procedure to NSW; supported and guided enterprises in the process of implementing administrative procedures through the standing support department (Helpdesk) of its agency.
Accordingly, the General Department of Customs has currently collaborated with the related ministries to amend and supplement 84 illegal documents of specialized management and inspection in the direction of creating favorable conditions for businesses.
Ministries and agencies also cut down 12,600 items (from 82,698 items in 2015 to 70,087 items) belonged to specialized inspection and management before clearance.
Laborers in poor districts entitled to get maximum loan for labor export
A laborer is entitled to ask for maximum loan covering all labor export fee, according to the Prime Minister's Decision No. 27/2019/QD-TTg regarding credit personal loan for workers in poor districts working abroad under employment contracts valid till 2020.
Laborers don't need to mortgage for the loan. However, businesspersons and laborers who ask for loan to pay labor export fee must mortgage their property for the loan if they borrow VND100 million up.
Laborers from low-income households and ethnic minority groups are entitled to enjoy half of the interest rate of a loan according to the regulation while laborers in poor districts can pay interest rate equal to interest rate for poor households' loan.
Additionally, according to the amended decree No. 74/2019/ND-CP about supporting policies for creating jobs and the national employment fund, laborers are entitled to borrow a loan of VND100 million, doubling the present level while businesspersons can ask for a maximum loan of VND2 billion (US$86,030) to expand their production scale.
The Vietnam Bank for Social Policies will consider production cycle, capital source, borrower's ability to pay debts to provide loan upon an agreement.
The maturity of loan does not exceed 120 months while it is 60 months presently.
The decision takes effect on November 8, 2019.
Many one- to two-star hotels in Khanh Hoa see poor occupancy rates
Khanh Hoa Province has seen the hotel room occupancy rates at one- to two-star hotels remain low over the past few months. The occupancy rate of the segment has stagnated at 26% since early 2019, with the highest rate reaching just under 50%.
Statistics from the Khanh Hoa Department of Tourism indicate that in September, the room occupancy rates at three- to five-star hotels averaged 65.3%, while the average rate at one- to two-star hotels was recorded at a mere 36.15%.
Between January and September, the rate of the segment was lower than not only the rates at three- to five-star hotels but also that seen in the year-ago period.
In the first quarter of 2019, the average room occupancy rate at one- to two-star hotels reached a mere 30.9%, much lower than that seen in the same period last year, at 54.9%.
The rate rose to 38.2% in the second quarter of this year, while the year-on-year rate was reportedly 55.1%. The average occupancy rate at 40.8% in the third quarter remained much lower than the 51.5% from the year-ago period.
The statistics also show that as of June, the province had some 49,190 hotel rooms, with 32,860 rooms at four- to five-star hotels and the remainder at one- to two-star hotels and other lodging facilities.
Some firms active in the hotel sector noted that the number of one- to two-star hotels in Khanh Hoa Province might be higher as many hotels have failed to register for appraisal to determine their hotel type. As such, many have yet to appear on the list kept by management agencies.
Low occupancy rates at one- to two-star hotels were attributable to the oversupply of rooms. Many hoteliers have rushed to build more hotels, while the number of local tourists to the province has only inched up slightly. Besides this, many local travelers prefer three- to five-star hotels, reducing occupancy rates at one- to two-star hotels.
Over the past nine months, the province welcomed over 5.6 million tourists, up 16.4% year-on-year, according to statistics. Over 2.79 million international holidaymakers visited the province during the time, soaring 42.2% from the year-ago period, whereas the number of domestic tourist arrivals edged up by a mere 2.5% year-on-year.
Fintech sector sees strong growth in Vietnam
Up to 70% of the operational fintech businesses in Vietnam are startups funded by foreign investors from developed nations, indicating the strong potential for further growth for the local fintech sector, according to the Institute for Development and Research in Banking Technology at Vietnam National University-HCMC.
The results of a survey by the institute showed that Vietnam has over 154 firms operating in the fintech sector, including 37 active in the payment segment, 27 in the consumer lending segment, and 22 in the blockchain and cryptocurrency and remittance segments.
Speaking at a ceremony held today, October 7, to introduce a series of events at the Vietnam ICT Outlook (VIO) 2019 seminar, Hoang Cong Gia Khanh, director of the institute, said that the fintech sector is closely associated with banking policies and tech applications.
Fintech enterprises, commercial banks and financial organizations are gradually developing the digital banking ecosystem, he added.
The fintech startups in the country have been funded by foreign investors from developed countries such as Japan, the United States, Canada, Australia, Denmark, France and other neighboring countries, Khanh said.
High foreign investments in the fintech sector have highlighted the trend of fintech firms in Vietnam quickly entering the market, with the sector expected to outstrip the market share of the potential retail segment of traditional banks.
The fintech sector is growing strongly, significantly changing business models to create a number of opportunities for firms to do business. A wide range of fintech services include ewallets, peer-to-peer money transfers, mobile payments, mobile banking, peer-to-peer lending, digital banking and blockchain banking.
Addressing the ceremony, Lam Nguyen Hai Long, chairman of the HCMC Computer Association (HCA), said that HCA has collaborated with a foreign partner, Fintech Academy Singapore, to organize the specialized seminar on the fintech sector for the first time.
The VIO 2019 seminar, themed "Shaping the Future of Vietnam Fintech," which is set to take place in late October, will gather banks, fintech experts and State agencies to share technology trends, the positive influence of fintech on the economy and information related to the fintech sector.
The VIO 2019 seminar is expected to feature 30 booths of banks, fintech firms and information and technology enterprises.
The event will be co-organized by HCA, Fintech Academy Singapore, the Vietnam Banks Association and the Institute for Development and Research in Banking Technology on October 30 and 31.
Vietnam seeks to bolster mechanical industry
Speaking at a recent conference, Deputy Prime Minister Trinh Dinh Dung has underlined the role of the mechanical industry as a critical industry, a foundation and driver of national industrial development, helping to shift the economic structure and enhance labour productivity.
But Vietnam's mechanical engineering industry is facing various problems, which requires bolder efforts from mechanical firms and industry bodies as well as the government, ministries and local authorities in formulating policies to create a conducive environment and mobilise resources for the industry's development in the coming time.
Unprotected local market
Minister of Industry and Trade Tran Tuan Anh acknowledged that Vietnam's mechanical industry is growing slowly with many limitations, without major enterprises taking a guiding role.
The majority of domestic mechanical firms are small-sized enterprises which possess low technological capability, lack advanced machinery and equipment, and have yet to master core mechanical technologies. Thereby local production currently meets only 32% of the demand and very few domestic producers can compete with foreign rivals.
Many important subsectors have failed to meet the set strategy and are falling behind by two to three generations, resulting in low added value in domestically manufactured products.
Besides the weakness in the enterprises themselves, such a situation was the result of inefficient state management. A strategy to promote Vietnam's mechanical industry until 2010 with a vision towards 2020 was issued in 2002 and approved by the Politburo a year later but many policies were not carried out until 2011 and even 2014.
The implementation of such policies was also inconsistent. For example, a preferential credit policy was approved in 2002 but few enterprises benefited from this policy. More importantly there have not been effective policies to protect and create a market for local mechanical producers to grow, especially in government procurement projects. In many instances, the bidding mechanism even gives an advantage to foreign firms.
According to Chairman of the Vietnam Association of Mechanical Industry Dao Phan Long, the domestic market is an important breeding ground for the development of manufacturing industries. Vietnam's annual import of machinery, equipment and materials worth dozens of billions of US dollars shows that there is plenty of room for local mechanical firms to grow. For years, Vietnam has invested significant resources on energy, building materials, mining, road and port construction, and irrigation projects, which is an important market for the mechanical industry. But most of the pie has gone to foreign firms due to ineffective measures to protect and tap into this market.
Better policy needed
The mechanical industry is characterised by intensive capital use and low profit margins. Therefore appropriate policies are needed, especially since the majority of domestic mechanical enterprises are small and medium-sized with limited technical capability.
According to VAMI Vice Chairman Nguyen Chi Sang, for large investment projects such as hydropower plants, thermal power plants, high-speed rail, anti-salinity, transport mechanics, roads and bridges, it is necessary to build a roadmap on domestic content. For the projects that use public investment capital, it is necessary to set aside the component that domestic firms can undertake for domestic bidding and such a process must be done right at the start of project preparation.
For the packages that domestic companies are yet unable to fully undertake, domestic bidding can be allowed on the condition that domestic companies can forge a partnership with competent foreign contractors.
Furthermore, the ministries and sectors concerned need to continue implementing the state policies on the mechanical industry's development seriously.
Sharing the same view, LILAMA General Director Le Van Tuan, setting aside the work for domestic enterprises is very important to develop the mechanical industry. He added that it is also necessary to tighten foreign labour management in order to keep jobs for local workers.
According to many experts, the government needs to introduce specialised policies to develop the mechanical industry. VAMI Chairman Dao Phan Long suggests establishing a unit to regularly advise the government in its policy for the mechanical industry.
Furthermore, it is necessary to continue issuing various incentive policies such as eliminating tariffs on the imports of materials and equipment used to manufacture machines replacing imported machines; adjusting corporate income tax for a number of priority sectors such as agricultural machines and food processing machines; and creating tariff barriers to mechanical products whose equivalents have already been locally manufactured.
After listening to the opinions of experts and enterprise representatives, Prime Minister Nguyen Xuan Phuc instructed the Minister of Industry and Trade to take note of the opinions and work with the parties concerned to formulate a new resolution on developing the mechanical industry by the end of the year.
He also called on investors, domestic and foreign enterprises to make further investment in science-technology and administration in order to increase competitiveness. The PM affirmed that the government will always accompany and support enterprises to create new breakthroughs in Vietnam's mechanical industry, helping to realise the goal of national industrialisation and modernisation.
Vietnam ICT Outlook to be held
Although the digital ecosystem in the field of finance and banking in Vietnam has been developing well recently, it still has many limitations and faces many difficulties and obstacles.
The information was announced in Ho Chi Minh City on October 7, at a press conference on the Vietnam ICT Outlook –VIO 2019 with the theme "Future of Vietnam Fintech".
The VIO 2019 is organised by Ho Chi Minh City Computer Association and Fintech Academy Singapore, will take place from October 30-31,
The event is expected to be an opportunity for businesses, banks, state management agencies, and experts to discuss opportunities, challenges and solutions to promote the development of digital ecosystems in the field of finance and banking in Vietnam.
According to Vu Anh Tuan, General Secretary of Ho Chi Minh City Computer Association, besides the main conference with the theme " Future of Vietnam Fintech ", VIO 2019 will have sixseminars discussing Fintech's development trend, the roles and impact on the economy in the current context; Fintech and the change of technology, payment services; The cyber security challenges for the Fintech; Start - up and Human Resources.
In addition, VIO 2019 will have dialogues between policy makers, state management, representatives of technology enterprises, Fintech, banks; trade promotion activities, trade connections between banks, technology enterprises, investment funds, technology firms at home and abroad.
New growth incentives for Vietnamese economy
The Vietnam's Gross Domestic Product (GDP) rose by 7.31% in the third quarter of this year, contributing to raising the nine-month GDP to the highest level over the past nine years, signaling that Vietnam's economy can make a breakthrough.
A facilitating State
According to the data released by the General Statistics Office (GSO), Vietnam's GDP was estimated to increase by 6.98% in the first nine months of 2019. The GDP expanded by 6.82% in the first quarter, 6.73% in the second quarter and 7.31% in the third quarter of 2019.
During the nine-month period, the agricultural, forestry and fishery sector grew by 2.02%, contributing 4.8% to the overall growth while the industry and construction sector soared up by 9.36%, contributing 52.6% to the overall growth as well as the service sector went up by 6.85%, contributing 42.6% to the overall growth.
GSO General Director Nguyen Bich Lam said that the manufacturing sector is the main driving force for the economic growth. In particular, the mining industry has grown positively after many years of negative growth, thanks to an increase in the output of ore and coal mining and the increasing price of coal provided for electricity production.
Another important driver for the economic growth is the service sector. Market services all posted high growth rate, offsetting the slow growth of the agricultural, forestry and fishery sector.
The nine-month economic picture also saw the growth of import-export activities and investment. Vietnam reported a trade surplus of US$5.9 billion in the January-September period.
The private economic sector also invested over VND624 trillion (US$26.83 billion) in the economy during the nine-month period, accounting for 45.3% of the total social investment capital, demonstrating the sound policy of the Party on facilitating the private sector to become an important driver of the national economy.
Lam said that the Vietnam's business and investment environment has improved which was attributed to the efforts of a State of action. The number of newly established enterprises surpassed 100,000 to a record high of nearly 102,300 in the first quarter of 2019. In addition, 43.4% of surveyed enterprises in the manufacturing industry said that their business performance in the third quarter was better than that in the second quarter and 52.1% of enterprises expected that their business prospects will be better in the last quarter of this year. Meanwhile, the number of enterprises forecasting difficulties in their business reduced to 12.1% from 18.3% compared to the same period last year.
In addition, inflation was kept under control at a low level and the average consumer price index (CPI) rose by 2.5% in the past nine months, the lowest nine-month increase in the past three years. Director of the GSO's Price Statistics Department Do Thi Ngoc said that inflation in the entirety of 2019 is expected to be curbed under 3%.
Bottlenecks needed to be removed
Many international financial organisations also released positive assessments on the Vietnamese economic outlook in 2019 and 2020. HSBC forecast that Vietnam's GDP will stand at 6.7% in 2019 and inflation will be kept under control below 2.7%.
In the ADB's Asian Development Outlook 2019 Update published on September 25, ADB said that the Vietnamese economy is predicted to maintain a healthy growth in 2019 and 2020 at 6.8% and 6.7% respectively. Vietnam's inflation is also forecasted to be reduced to 3.0% from 3.5% in 2019 and 3.5% from 3.8% in 2020.
ADB Country Director for Vietnam Eric Sidgwick said that despite the downturn in global trade, the Vietnamese economy remains healthy thanks to continued strength in domestic demand and sustained inflows of foreign direct investment (FDI). He added that prospects for domestic consumption continues to be positive, supported by an increase in people's incomes, buoyant employment and moderate inflation.
Meanwhile, domestic economic experts said that the economic growth will surpass the set target of 6.8% in 2019. However, efforts should be exerted to remove bottlenecks to the economic growth. The disbursement of public investment capital remains slow and in the nine-month disbursement only reached VND247 trillion (US$10.62 billion), equivalent to 60% of the plan. Director of GSO's Investment Department Nguyen Viet Phong said that 1% increase of public investment capital will help GDP to increase by 0.6%. Authorised agencies also need to address issues regarding land, administrative procedures and institutions to accelerate the disbursement of public investment.
The agricultural sector should adjust its production plans and crop structure in the context of declining growth rate of the sector due to climate change and epidemics.
The industrial production sector also needs to increase the proportion of processing and manufacturing industries while reducing the proportion of outwork and assembly for products manufactured in Vietnam in order to support domestic production and increase the localisation rate.
'Ghost month' spooks resort real estate sector
Supply and consumption of condotels and resort villas fell by double digits in Q3 as the 'ghost month' held investors back.
Of these, 58 units were bought, down 96 percent over the second quarter. Primary supply and consumption was mainly concentrated in central Binh Thuan Province and and southern Ba Ria–Vung Tau Province.
In the resort condotel segment, 6 projects were released, supplying the market with 2,605 apartments, down 32 percent over the previous quarter.
The consumption rate in this segment was 86 percent, around 1,380 units, down 30 percent over Q2. Primary supply and consumption was concentrated mainly in the central provinces of Ninh Thuan and Khanh Hoa and Da Nang City, a major tourist destination in central Vietnam.
The DKRA report said the slowdown in resort real estate was a seasonal effect. Sales fell sharply in Q3 because August coincides with the seventh lunar month, traditionally called the "ghost month," during which locals avoid buying new things or engaging in important transactions to avoid bad luck.
According to the report, supply and demand of resort real estate would pick up again in the final quarter, with more growth expected in the sea villa segment as investors are increasingly showing interest in resort complexes with townhouses and beach villas, and are booking more units there.
PetroVietnam overfulfills most set targets in first three quarters
The Vietnam National Oil and Gas Group (PetroVietnam) has fulfilled and surpassed most of the production targets set for September and the first nine months of this year.
The group produced 8.99 million tonnes of petrol and oil in the period from January to September, surpassing the goal for the period by 5.6 percent and fulfilling 79.2 percent of the yearly plan.
PetroVietnam also turned out 1.1 million tonnes of nitrate in the reviewed period, up 8 percent compared to the set target for the period and fulfilling 76.6 percent of the yearly plan.
The electricity output of the entire group reached 16.42 billion kWh, an increase of 4.3 percent from the targeted output and equivalent to 76 percent of the yearly target.
The group also overfulfilled all financial targets set for the first nine months of the year.
Specifically, aggregate revenue of the group in September was estimated at 61.4 trillion VND (over 2.64 billion USD at current exchange rate). The figure represents a 9.5 percent increase from the monthly target.
Total revenues for the nine-month period added up to 560.6 trillion VND (over 24.1 billion USD at current exchange rate), surpassing the period's plan by 12 percent and fulfilling 92 percent of the yearly plan.
The group contributed an estimated 8.7 trillion VND to the State budget in September, 16.4 percent more than targeted, and 78.5 trillion VND in the reviewed nine months, up 11.1 percent from the period's plan and equivalent to 89 percent of the yearly plan.
All the four subsidiaries of PetroVietnam, namely Rusvietpetro, PTSC (PetroVietNam Technical Services Corporation), PVGas (Petrovietnam Gas Corporation) and PVTrans (PetroVietnam Transportation Corporation), have overfulfilled financial targets for the years.
It is noteworthy that PetroVietnam has earned a BB by the world leading rating agency Fitch Ratings, reflecting its success in reforming corporate governance. Fitch Ratings offered PetroVietnam a standalone credit profile at 'bb ', and first-time long-term foreign-currency issuer default rating (IDR) at 'BB' with a positive outlook.
The State-owned group maintained its top position in the list of the top 500 most profitable enterprises in Vietnam 2019 announced by the Vietnam Report.
PetroVietnam reported that its total volume of oil and gas exploitation amounted to 23.98 million equivalent tonnes last year, exceeding the yearly target by 5 percent.
Meanwhile, the group posted an estimated revenue of 27 billion USD, up 25.9 percent from 2017. It contributed some 5.22 billion USD to the State budget, an annual increase of 24.3 percent.
The Government has assigned Minister of Industry and Trade Tran Tuan Anh to take the main responsibility for power projects, while Chairman of the Committee on State capital management at enterprises Nguyen Hoang Anh is responsible for issues relating to the removal of difficulties for key projects such as Long Phu 1, Song Hau 1, and Thai Binh 2, ensuring their progress.
The Vietnam-Russia Oil and Gas Joint Venture (Vietsovpetro) has successfully launched the topside block of BK-20 drilling rig, belonging to Bach Ho field. Its subsidiaries had designed this construction work as well as procured and manufactured many important items.
Furthermore, Vietsovpetro won a high prize at the seventh science and technology competition for young professionals in Russia
PetroVietnam claimed the second prize at a national contest on labour hygiene and safety in 2019.
The Ca Mau fertiliser factory has completed the overall maintenance in 2019 and resumed operation to serve the local demand for fertiliser in the winter-spring season.
The Binh Son Refining and Petrochemical Joint Stock Company took the lead in oil and gas service on financial administration capacity in 2018.
Mechanical services for manufacturing oil and gas rigs meet international standards as well as domestic demand and export./.
Vinh Phuc targets 6 million tourists in 2019
The northern midland province of Vinh Phuc aims to welcome 6 million tourists in 2019, including 43,500 foreigners, and rake in 1.91 trillion VND (82.13 million USD) from the tourism sector.
The number of visitors to Vinh Phuc has increased rapidly over the past years thanks to the locality's investment in infrastructure and its efforts to improve service quality.
The figure rose from 3.8 million in 2016, including 28,000 foreigners, to 5.2 million last year, with 40,200 foreign holiday makers. The province earned about 1.67 trillion (71.81 million USD) from the tourism sector in 2018.
According to the provincial Department of Culture, Sports and Tourism, in the first nine months of this year, the province served about 4.6 million tourists, up 17 percent year-on-year, including about 39,000 foreign vacationers.
During the reviewed period, the sector bagged 1.38 trillion VND (59.34 million USD), representing a year-on-year increase of 15 percent.
With the increasing numbers and the diversification of tourism services, the target set for 2019 is reachable, the department said.
To ensure safety for tourists, Vinh Phuc has instructed competent agencies and localities to intensify inspection, and asked restaurants, entertainment sites and accommodation establishments to maintain their service prices even in the peak season, while paying attention to environmental protection and food hygiene.
A wide range of tourism products have been developed to lure more visitors, comprising eco-tourism, homestay, culture-spiritual tourism, resort tourism, and MICE (Meeting, Incentive, Conference and Event) tourism.
Notably, several newly-launched tours have attracted a slew of travellers such as the one-day tour to conquer Tam Dao Mountain Range, "Spiritual Path" tour, and Hai Luu stork eco-tourism, among others.
Vinh Phuc province is now home to 67 hotels and 299 lodging facilities with a total of 6,389 standard rooms. There are 10 travel businesses operating in the locality, including four international firms.
The province is home to several popular tourist destinations. Tam Dao Resort is an ideal summer resort in the north, standing 900m above sea-level.
The Tam Dao National Park is just nearby where the vegetation coverage is representative of five types of tropical forest. The flora consists of 904 species and the rich fauna includes 307 species.
At the foot of Tam Dao Mountain, Dai Lai Lake is an artificially created lake. Dai Lai is blessed with a favourable climate, cool summer and warm winter. Over the lake lies a 3-hectare island which is home to difference kinds of birds. Tourists also have a chance to enjoy panoramic view of the lake from top of Than Lan Mountain.
Located 90km from Tam Dao, Tay Thien Site is well-known with the beauty of forests, streams, waterfalls, and grottoes.
The province also has bountiful tangible and intangible cultural values through nearly 1,000 relics such as Ha Tien Pagoda, Binh Son Tower, Huong Canh Temple, Hai Ba Trung Temple and Dong Dau archeological site. Visitors will also be fascinated with local traditional feasts, peculiar crafts, melodious folk songs, traditional popular games as well as tasteful local dishes.
Trong quan Duc Bac singing - response folk singing between male and female groups – has been practised by locals in Vinh Phuc for centuries and has become a cultural "speciality" of the locality.
The art form involves spontaneous back and forth repartee singing accompanied by drums. The witty response of singers on various topics and in different voices is a unique feature of this folk art.
Each spring, young men in Duc Bac village of Vinh Phuc province and young women from the neighbouring province of Phu Tho gather on the bank of a river in Duc Bac to engage in Trong quan singing, through which they express their love. The singing then gradually moved to the yard of the communal house.
To turn the folk art into a unique tourism product for Vinh Phuc, it is necessary to organise performances at cultural-historic sites and popular tourist attractions, and include Trong Quan shows in programmes of community-based tours./.
Diversity, inclusion in businesses promote innovation, throw open niche markets: conference

Embracing diversity and fostering inclusion is critical to business success in the 21st century, the Inclusive Business Forum heard in HCM City on October 11.
It does not just make social sense to promote diversity and inclusion, but also business sense, delegates said.
Inclusive businesses go beyond philanthropy by integrating diversity and inclusion into their operations, combating discrimination in both the workplace and society, while continuing to grow the business, they pointed out.
In his opening remarks, Dao Xuan Lai, UNDP's Assistant Resident Representative in Viet Nam, said: "Diversity and inclusion bring about new market niches, innovation and productivity for businesses."
A McKinsey study estimated that companies in the top quartile for gender diversity are 15 per cent more likely to have financial returns above their respective national industry medians, he said.
"Diversity triggers new ideas and innovations. With a diverse work staff, from diverse backgrounds, sexual orientations and gender identities, and people with disabilities, businesses can tap into a pool of new talents and innovative ideas to keep up with rapidly changing markets.
"Embracing diversity and inclusion will also help businesses open up and get access to new products and service lines in the market."
There is a growth of diversity and inclusion globally, he said.
"Many Vietnamese businesses are already greening their investments, generating decent jobs, creating opportunities to reduce inequalities in the workforce and challenging stereotypes of persons with disabilities and LGBTI (lesbian, gay, bisexual, transgender and intersex)."
But the fact is that there are many challenges to creating a culture of inclusion in business.
A 2016 study by iSEE and UNDP found that on average 30 per cent of LGBTI respondents in Viet Nam reported being denied employment based on sexual orientation and gender identity.
Futhermore, in the 2018 report, Ending Stigma, 66 per cent of persons with disabilities said they had never even attended a job interview, and of those who had, 54 per cent said they had been denied a job because of their disability.
"For Viet Nam's continued economic growth, it is crucial to fully embrace this new way of doing business, which will also help and reduce inequalities for vulnerable groups," Lai said.
Warrick Cleine, chairman and CEO of KPMG Viet Nam and Cambodia, said Viet Nam could only meet its potential if everyone is part of the story.
"This means businesses must create a positive, inclusive and diverse experience. At KPMG, this means a happy, healthy and safe workplace, where everyone can bring their whole selves to work. This is great for Viet Nam, and fantastic for business".
Imagtor, which won the UNDP SDG Challenge in 2017 and received equity-free seed funding and a business incubation programme, explained how it championed diversity and inclusion.
Cao Thi Ngoc Dung, chairperson of Phu Nhuan Jewelry JSC, spoke about her company's marketing campaigns using same sex couples to model their jewellery.
This messaging helps challenge stereotypes and combat discrimination against LGBTI people, while PNJ could broaden its consumer base to niche market segments, she said.
She also emphasised the need to integrate customers' and society's benefits with the company's interests.
Francesco Tran Van Lieng, president of the Viet Nam Cacao Joint Stock Corporation, said: "Vietnamcacao focuses on enhancing social responsibility by keeping pace with industry 4.0 to help disabled and [other] less competitive [workers] to integrate into the working environment and contribute to the business growth thereby redistributing benefits to society."
The forum was part of the En Xanh (Blue Swallows) programme organised by the Centre for Social Initiatives Promotion, UNDP, the Viet Nam Chamber of Commerce and Industry, and the Viet Nam Union of Science and Technology Associations.
Vietnamese agricultural products expected to enter AEON retail chain
The Hanoi Promotion Agency (HPA) and AEON Mall Vietnam opened the Hanoi Agriculture Fair 2019 at the AEON Mall Long Bien on October 11 in a bid to bring Vietnamese agricultural products into modern retail chain of Japanese AEON group.
The fair featured 80 pavilions managed by 72 enterprises from 15 provinces and cities across the country. They are showcasing organic agricultural products, farm produce applied with high technology, clean farm produce and specialties from various regions.
HPA Deputy Director Nguyen Thi Mai Anh said that this is the first time that Hanoi held such a fair to approach the modern distribution system of AEON Group, noting that the fair will help firms to access the AEON retail stores in Vietnam in the near future and in Japan, Southeast Asia, Asia and Europe in the future.
She stated that the fair which will run until October 13 is also an important trade promotion event to help agricultural and processed food enterprises to introduce their products to Hanoi consumers.
The fair is among activities to realise the Memorandum of Understanding signed between the Ministry of Industry and Trade, the People's Committee of Hanoi and Japanese AEON Group, under which the parties aim to reach an export revenue of Vietnamese goods through AEON's chain of US$500 million by 2020 and US$1 billion by 2025.
Earlier on the same day, HPA and AEON Mall Vietnam jointly held a seminar seeking measures to promote the consumption of agricultural products at the AEON retail system in Hanoi.
Hai Phong inaugurates key transport project
A project on upgrading a section connecting Lang Am and Nhan Muc bridges in Vinh Bao district, northern Hai Phong city, was inaugurated on October 13.
Approved in 2016, the project, which cost over 1.29 trillion VND (55.6 million USD), included the upgrade of a 7.7km section of National Highway 37 and construction of a new 7.57km section near Chanh Duong canal. It also constructed a bridge spanning Dong canal that is 12m wide and 24m long as well as another bridge crossing Chanh Duong canal that is 15m wide and 24m long.
Speaking at the inauguration ceremony, Chairman of the municipal People's Committee Nguyen Van Tung said the road will help facilitate travel on National Highways 37 and 10, which connect Hai Phong to other localities.
The city plans to further linking the road to its coastal route in a bid to boost Vinh Bao socio-economic growth, he added.
According to the municipal leader, Hai Phong has so far invested in developing rural infrastructure to expand its connectivity and economic space. The city will build four new bridges to increase its connection with neighbouring Hai Duong and Quang Ninh provinces./.  
4th National Farmers' Forum held in Hanoi
Opportunities created by free trade agreements (FTAs) for Vietnamese farm produce to access major markets in the world were explored at the 4th National Farmers' Forum in Hanoi on October 11, according to a report from the Vietnam News Agency.
Vietnam signed two new-generation FTAs in 2018 and 2019: the Comprehensive and Progress Agreement on Trans-Pacific Partnership (CPTPP) and the EU-Vietnam Free Trade Agreement (EVFTA).
The two deals are expected to open up great opportunities for Vietnamese farm produce in 37 markets with a combined population of over 1 billion.
Deputy Minister of Industry and Trade Do Thang Hai emphasized the prospects for cooperation with new partners through the CPTPP, such as in Canada, Chile, Mexico and Peru, thanks to the application of 0 per cent tariffs on most key farm exports of Vietnam immediately after the pact took effect or after just three to five years.
The EVFTA also gradually reduces import tariffs on Vietnam's farm exports to 0 per cent over a short period of time, with 99.7 per cent of the country's agricultural exports eligible for the rate after seven years.
The tariff cut is particularly significant because the EU has been one of the top two export markets of Vietnam for a number of years, with bilateral trade reaching nearly $56 billion in 2018, Deputy Minister Hai said.
Vice Chairman of the Vietnam Farmers' Union Nguyen Xuan Dinh noted that despite many policies to support farmers in production and marketing, the country's farm products still have low added value due to obstacles such as food safety and hygiene.
He expressed a hope that the forum would identify solutions to problems facing domestic farm produce exports.
Mr. Dinh also voiced his concern that besides the opportunities, the FTAs also bring formidable challenges to Vietnam's agricultural sector.
Forum participants discussed obstacles that Vietnam's agricultural exports face in the CPTPP and EVFTA markets. Technical barriers in food safety and quarantine, managerial standards, and technological content are preventing Vietnam's farm products from entering strict markets.
Vietnam exported $30.02 billion worth of agriculture, forestry and fishery products in the first nine months of this year, a year-on-year rise of 2.7 per cent.
Products with export turnover of more than $2 billion included wood and timber products, coffee, rice, cashew nuts, fruit and vegetables, and shrimp.
Rosie Skin opens first cosmetics store
Vietnamese high-end cosmetics brand Rosie Skin opened its first showroom on October 9 in Ho Chi Minh City's District 1, with the participation of hundreds of key opinion leaders (KoLs), women, famous businesses in the beauty field, and representatives from the Rosie Skin brand.
Rosie Skin was founded by businesswoman Ms. Anh Tran after many years learning about cosmetics and falling in love with the field. She has remained devoted to researching cosmetics for many years and worked with leading experts in South Korea to create a Korean-standard brand of cosmetics for Vietnamese customers.
Products are made under strict international standards, from preparation to production, packaging, and customer services.
Rosie Skin's offerings are a combination of natural ingredients imported from South Korea and licensed by the Ministry of Health, providing customers with flawless white skin through five product lines, including Tone-up Body Lotion (for daily use, natural skin whitening, sunscreen, and deep moisturizing); and Body Cream V1 Intense White (a high-end body cream that helps anti-aging, skin whitening, moisturizing, and UV protection).
Hydra Nutrition Night Cream (skin whitening cream used at night that regenerates and protects skin from damage); Facial Cream V1 Intense White (a day cream that tightens and whitens the skin, prevents aging, and offers UV protection); and Lightening & Age Defying Serum (a skin whitening serum with anti-aging properties and whitening for dark spots) are also in its product line.
"Not many beauty care products provide intensive results that meet international standards or are guaranteed by years of experience of leading experts," Ms. Anh Tran said at the opening ceremony. "I hope that the arrival of the Rosie Skin brand will create new trends and standards in Vietnam's cosmetics industry and help women shine and be strong."
A representative from a South Korean researcher, Mr. Pak Min Ho, sent a video congratulating Rosie Skin on the grand opening and said it is an exclusive development partner and Ms. Anh Tran is the representative director of the brand in Vietnam. This is an honor for Rosie Skin and Ms. Anh Tran, as the company is well-known for rigorously evaluating and selecting partners and representative images in each country.
Ms. Anh Tran added that the five product lines introduced by Rosie Skin are not only recognized by the World Health Council but also bring many benefits to customers, not only whitening the skin but also intensively nourishing the skin from deep inside, stimulating collagen production.
"I would also like to announce that Rosie Skin will set aside 10 per cent of its revenue each month for charitable activities such as building bridges and schools in remote areas and elsewhere that need help," she told the ceremony.