Personal demand for deposits drops sharply
Credit institutions reported that customers' demand for banking products and services was at a low level in the third quarter compared to the previous one. In particular, the demand for personal deposits declined sharply.
This is the result of a business trend survey conducted by the Statistics and Forecasting Department under the State Bank of Viet Nam (SBV).
Credit institutions expect the demand to recover in the fourth quarter of this year if the pandemic situation is well controlled.
In a general assessment for the whole year, credit institutions have narrowed their expectations for growth in the demand for banking services, in which the demand for loans is expected to continue to increase higher than the demand for deposits and payments.
Meanwhile, recent data by the General Statistics Office showed that capital mobilisation of credit institutions only increased by 4.28 per cent as of September 20, lower than the same period last year (7.48 per cent).
And before that, data from SBV showed that deposits of personal and business customers at credit institutions increased by 3.59 per cent in the first seven months of this year, much lower than the same period in previous years.
At the same time, deposit growth is slower than credit growth. The General Statistics Office reported that credit growth reached 7.17 per cent by the end of last month, positively supporting economic growth in the first nine months of the year.
Credit institutions expected that capital mobilisation of the whole system would recover, increasing by 4.6 per cent on average in the fourth quarter of this year and by 10.4 per cent for the whole year.
However, this expectation has decreased compared to an expectation of 11.9 per cent in the previous survey period.
It is forecast that capital mobilisation of the whole credit institution system will grow by 12.6 per cent next year.
Although deposit growth is very low, experts believed that the liquidity of the banking system would still be very abundant under the support of the State Bank.
However, the sharp decrease in the demand for personal deposits also raises concerns.
Nguyen Quoc Hung, general secretary of the Viet Nam Bankers Association, said that the amount of personal deposits to credit institutions has dropped since the beginning of the year, therefore, the ability to mobilise capital also tended to decrease.
This led to the risk of difficulties in resources to support businesses after the pandemic, leading to possible liquidity pressure in the future, he added. 
ADB to support Vietnamese tech start-ups with $1 million fund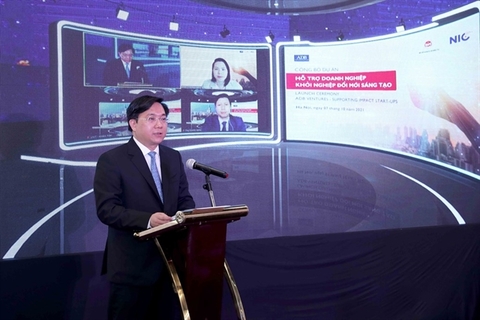 Deputy minister of planning and investment Tran Duy Dong at an event to start ADB Ventures in Ha Noi.
 A US$1 million initiative started yesterday in support of early-stage impact technology start-ups in Ha Noi. The initiative was a joint effort between the Ministry of Planning and Investment (MPI) and the Asian Development Bank (ADB).
The $1 million fund, which has been created under ADB Ventures - a new venture platform that will support and invest in start-ups offering impact technology solutions that contribute to Sustainable Development Goals in Asia and the Pacific - was to provide qualified start-ups with financial assistance and improved business management. Start-ups in clean tech, finance, agriculture and healthcare are to be given priority.
The initiative was only the first step in a cooperation agenda between the MPI and ADB to address a lack of financial capital for tech start-ups in Viet Nam, said MPI's deputy minister Tran Duy Dong.
The deputy minister said ADB has always been a reliable partner of Viet Nam's Government in knowledge sharing and policy consultation.
The fund's objectives include granting high-risk projects access to financial capital to help early-stage impact technology companies who contribute to solving issues related to climate change and gender equality.
ADB Country Director in Viet Nam Andrew Jeffries said the organisation is to continue its support for Vietnamese start-ups.
Jeffries said ADB Ventures has set an objective to become the region's leading tech investor and facilitator by 2030.
Viet Nam is to participate in ADB Ventures Lab - a programme to help early-stage impact technology companies to discover and develop opportunities to scale up in developing Asia-Pacific markets - and ADB Ventures SEED - a grant programme to validate and de-risk technology pilots and promote expansion into emerging markets that start-up companies might otherwise not prioritise.
Vu Quoc Huy, director of the Viet Nam National Innovation Center, said the centre is to work closely with ADB to identify and select start-ups with the most potential to join the initiative.
ADB Ventures is the Asian Development Bank's new impact-technology investment platform, established in January 2020.
Central bank proposes new law on bad debt settlement
The State Bank of Vietnam (SBV) has proposed to issue a separate law on bad debt settlement.
The new law would be based on the provisions of Resolution 42/2017/QH14 to ease the work of settling bad debts.
In a recent report sent to the National Assembly, the SBV said existing policies on bad debt settlement of credit institutions are currently regulated in many different legal documents.
Resolution 42 piloting the bad debt settlement of credit institutions, which was approved by the National Assembly in 2017, will also expire next year.
The SBV, therefore, has proposed to legislate the policies specified in Resolution 42 into a new law to continually enable the banking industry to settle bad debts of credit institutions. The issuance of a new law on bad debt handling will help maintain the settlement of bad debts after the expiry of Resolution 42, helping credit institutions accelerate the handling of bad debts to avoid potential risks for the economy.
Experts also suggested streamlining Resolution 42 to better deal with bad debts.
According to banking expert Can Van Luc, one of the major problems when dealing with bad debts currently is the handling of collateral. The right to seize security assets of a credit institution is one of the key contents in Resolution 42, but it does not specify regulations when the borrowers do not cooperate. Therefore, as Resolution 42 will expire next year, Luc said it is necessary to have a law on bad debt settlement with a stronger legal framework.
Lawyer Truong Thanh Duc, director of ANVI Law Firm, said Resolution 42 has a good effect in dealing with bad debts, however, the policy still needs to be further streamlined to improve the handling of bad debts of the banking industry.
Though the banking industry has still actively taken measures to handle bad debts and limit newly arising bad debts, the debts tended to increase in the first months of the year due to the impact of the COVID-19 pandemic. By the end of June 2021, the bad debt ratio was 1.73 per cent against 1.69 per cent at the end of 2020.
Banks handled VND78.86 trillion in the first six months of 2021 through provisions and debt sales.
From August 15, 2017 to June 30, 2021, VND359.41 trillion of bad debt was recovered according to Resolution 42.
The results are positive, but many warnings showed bad debt will continue to rise again due to the COVID-19 pandemic.
According to the SBV's statistics, banks restructured loans worth about VND350 trillion for COVID-19-affected borrowers. Industry insiders estimated if half of the loans became bad loans, the bad debt ratio of the banking system would increase to more than 3 per cent by the end of this year.
Property prices escalate despite COVID-19 pandemic
Although the local real estate market has been hit by the COVID-19 pandemic, leading to poor liquidity and a fall in supply to the market, property prices have continued to increase, according to economic experts.
Moving forward, questions are being raised on how the national economy will recover, particularly with real estate and property being viewed as an important field of investment.
According to economic expert Dr. Vo Tri Thanh, during the third quarter of the year Vietnamese growth is considered to be at its lowest point since records began. Despite facing major difficulties, there are also some positive signs.
"Swift vaccination in recent times, along with changes in anti-pandemic strategy, is an important factor in bringing life back to normal. Besides, despite facing plenty of difficulties, the world economy has gradually recovered, with positive growth forecast. The control of the pandemic will also open up expectations for real estate investment," Dr. Thanh said.
The past two years has seen the real estate market remain a bright spot, offering good prices in many countries globally. From the perspective of consumers, rising property prices have driven them into difficulty, Dr. Thanh added.
Dr. Can Van Luc, a banking and finance expert, said that real estate prices since 2020 have increased by 5.6% globally, despite the negative impact of the pandemic. For some countries such as Australia and Canada, real estate can be viewed seen as a medium and long-term investment channel for investors.
The opening nine months of the year saw the number of real estate businesses increase following the establishment of 5,400 new firms with a total registered capital of VND343,000 billion.
The Vietnamese real estate market is therefore expected to start recovering strongly from the fourth quarter of the year, with the third quarter representing the bottom quarter of the national economy.
Economic growth is therefore expected to expand by 2.5% or 3% this year, and between 6% and 7% next year. Indeed, economic recovery will be a key driving force behind the growing real estate market, Dr. Luc said. 
Dr. Nguyen Van Dinh, deputy general secretary of the Vietnam Real Estate Association, said that in the first quarter of 2020, the transaction rate hit the lowest level since the 2013 crisis. In line with this, the absorption rate stood at approximately 10% compared to the same period from last year. However, after a period of careful consideration and evaluation, by the end of 2020 it was confirmed that the domestic real estate market was not facing a crisis.
"The pandemic makes real estate liquidity poor, but compared to the region, the liquidity of Vietnam's property market is still good. During two years of suffering COVID-19, many economic sectors were severely affected, so many investors have embarked on real estate - a potential market," Dr. Dinh analysed.
However, supply is consistently failing to meet the market's demand due to barriers such as the censorship process and halted construction. Accordingly, the property market has failed to obtain lots of new products, leading to insufficient supply. This is the problem of the market in the present and medium term, Dr. Dinh added.
According to Nguyen Manh Khoi, deputy head of the Housing and Real Estate Market Management Department under the Ministry of Construction, numerous COVID-19 outbreaks over two years has severely impacted the real estate market, thereby resulting in project hiatus and decreasing supply.
"Transactions in the real estate market in 2020 and 2021 have witnessed changes. During the first half of the year, real estate transactions were significantly higher, showing that the real estate market is still of great interest," Khoi said.
Quang Ninh to apply sandbox model to tourism
To ensure pandemic safety, Quang Ninh will apply the sandbox model to tourism and prioritise serving groups of tourists once this northeastern coastal province re-opens its door to travellers from other localities.
The provincial People's Committee this week held a teleconference with departments, sectors, and localities in Quang Ninh to look into procedures for tourist reception to achieve the target of attracting two million visitors in the fourth quarter.
Chairman of the People's Committee Nguyen Tuong Van said tourism development needs to be based on the principle of safety, so criteria for making tourist reception procedures and rules on traveller behaviours must be clarified.
Quang Ninh has permitted local tourist sites to welcome visitors from within the province from October. It is planning to re-open to those from other localities next month.
The provincial Department of Tourism has drafted guidelines on procedures for the trial reception of visitors in the "new normal" context, including requirements related to those from within Quang Ninh and from other localities.
According to these draft guidelines, tourism businesses and service suppliers must guarantee safety from COVID-19 by meeting safety requirements for passenger transportation, vehicles, tours, and destinations.
Director of the Tourism Department Pham Ngoc Thuy said Quang Ninh is calling on local residents to visit local tourist sites, adding that it is encouraging enterprises based in the province to organise tours for their employees.
To lure travellers from other localities, he added, it is necessary to boost tourism promotion to attract tourist groups while ensuring safety for visitors to local places of interest.
The sandbox model should be applied to ensure safety amid the pandemic, Thuy noted.
Once getting the green light from the provincial administration, Quang Ninh will firstly re-open the Tuan Chau international tourism and entertainment complex, Ha Long Bay, and the Complex of Yen Tu Monuments and Landscape to tourists from other localities. In particular, sandbox tours such as night cruise trips on Ha Long Bay and trips to the high-end Legacy Yen Tu Resort will be given the top priority.
This trial period will undergo frequent examination and assessment, according to the official.
The provincial People's Committee assigned the departments of health, transport, and tourism to advise it about the conditions necessary for ensuring COVID-19 safety and form "green" tours and tourist sites when welcoming tourists from elsewhere back.
Meanwhile, localities in Quang Ninh were told to proactively get plans and criteria ready for traveller reception to support safe tourism recovery.
The province has completed injecting all eligible people with the first doses of COVID-19 vaccine, and the administration of the second doses is expected to finish in October.
At present, people coming to Quang Ninh are still required to be fully vaccinated and have a negative RT-PCR test result for the coronavirus within 72 hours. 
Textile and garment products exported to EAEU exceed quota threshold
Depending on the amount of exports exceeding the threshold, Vietnamese textile and garment products are set to be subject to the most favoured nation (MFN) tax rate for a period of six months or nine months.

This comes after the Ministry of Industry and Trade received Note No. 14-575 dated September 28 from the Eurasian Economic Commission (EEC), notifying that Vietnamese textile and garment products exported to the Eurasian Economic Union (EAEU) surpass the threshold of import preferential tariff quotas. This occurred during the first seven months of the year as prescribed in the Vietnam-EAEU Free Trade Agreement (VN-EAEU FTA).
In the list of items that exceed the threshold are lingerie, skirts, women's clothing, suits, jackets, sport coats, and trousers.
According to Article 2.10 of the VN-EAEU FTA which outlines the threshold safeguard measures for 12 groups of Vietnamese export products, textiles and garments are at risk of being applied through threshold safeguard measures when imported into the EAEU.
In line with this, depending on the amount of exports exceeding the threshold, local textile and garment products are set to be subject to the MFN tax rate for a period of six months or nine months.
According to Decision No. 85 dated July 6 of the EEC regarding the application of threshold safeguard measures, effective from August 7, two groups of skirts, dresses, and women's clothing from the nation are not entitled to enjoy the preferential tax rate of 0% under the VNEAEU FTA. This will be the case when being exported to the EAEU market over the next six months due to exceeding the prescribed threshold for 2020. 
Vinh Phuc reaps success in attracting FDI
Binh Xuyen District has emerged as an investment magnet for foreign investors as more projects are put into operation in the area amid the COVID-19 pandemic, Vinh Phuc industrial zone authority reported.
Binh Xuyen District has become an investment hub in Vinh Phuc Province as it is home to seven industrial zones, namely Binh Xuyen, Binh Xuyen II, Ba Thien, Ba Thien II, Son Loi, Nam Binh Xuyen and Thang Long Vinh Phuc.
According to the report, Binh Xuyen Industrial Zone has led the province in attracting FDI with 84 FDI projects by September 30, amounting to a total investment of US$1.275 billion (occupancy rate of 92 per cent). Meanwhile, Ba Thien Industrial Zone managed to lure $886.72 million with 31 FDI projects (occupancy rate of 75 per cent), and Ba Thien II $875.64 million with 53 FDI projects (occupancy rate of 68 per cent).
The number of FDI projects attracted to Binh Xuyen II industrial zone was 57 in phase I with a total investment of $303.45 million (occupancy rate of 100 per cent). Thang Long Vinh Phuc industrial zone also saw an investment inflow of $720.76 million with 25 FDI projects, equivalent to an occupancy rate of 63 per cent.
The number of projects with valid licenses to operate in industrial zones in Vinh Phuc was 404 by September 15, consisting of 75 domestic direct investment (DDI) projects and 329 FDI projects with total registered capital of VND19.428 trillion ($853 million) and $5.378 billion respectively.
Regarding FDI projects, Vinh Phuc authority has granted new licenses to 24 projects and approved capital adjustments to 19 projects with total registered capital of $840.91 million and $88.08 million respectively.
FDI enterprises in Vinh Phuc have successfully overcome difficulties and maintained operation during the pandemic thanks to the province's dual target. The province is striving to attract 5-8 more new FDI projects and three new DDI projects within the next three remaining months of 2021. 
Agricultural sectors see trade surplus in first nine months of this year, despite COVID-19 restrictions 
 
The agriculture sector gained a trade surplus of US$3.3 billion in the first nine months of this year, a miracle in the context of the COVID-19 pandemic that has affected almost every other part of the economy.
During the first nine months of 2021, the total trade value of agricultural, forestry and fishery products was estimated at $67.7 billion, up 27.9 per cent over the same period last year, Deputy Minister of Agriculture and Rural Development Phung Duc Tien said at the ministry's monthly press conference held on October 5.
Exports grew by 17.7 per cent year on year to $35.5 billion and the import value was estimated at $32.2 billion, up 41.6 per cent.
The ministry reported that farm produce accounted for $15.8 billion (up 14.4 per cent year on year), while forestry products contributed $11.97 billion (up 31.6 per cent) and fisheries products $6.2 billion (up 2.4 per cent).
The agricultural industry expects its export value to reach $44 billion for the whole year as targeted, despite the complicated development of the pandemic.
In the first nine months, many farm products saw a growth in exports, including coffee, rubber, vegetables and fruits, pepper, cashew nuts, cassava and cassava products, livestock products, pangasius, shrimp, rattan and bamboo.
The four largest markets were the US (accounting for 28.6 per cent), China (19.1 per cent), Japan (6.8 per cent) and South Korea (4.3 per cent).
Nguyen Van Viet, director of the Planning Department, Ministry of Agriculture and Rural Development, said the agricultural sector saw added value in the third quarter increase by 1.04 per cent compared to the same period last year, pushing the nine-month growth rate of the sector's added value to 2.74 per cent, contributing 23.52 per cent to the national economy's overall growth.
According to Viet, to achieve a growth rate of 2.8 per cent for the whole industry in 2021, the livestock and fisheries sector must show strong growth in the fourth quarter.
Therefore, the ministry has issued an action plan to focus on production and business, following the weather conditions and developments of the COVID-19 pandemic in each locality.
This plan will ensure continued implementation of pandemic controls and enough food supply for domestic consumption.
The ministry will promote market development and remove barriers to trade, creating favourable conditions for domestic consumption and export.
It will strengthen connections with companies such as Viettel Post, VNPT Post and goods-delivery businesses to promote the consumption of agricultural products and electronic transactions, providing support for the trading of agricultural products on e-commerce platforms.
The ministry will coordinate with ministries, sectors, localities and associations to remove difficulties in customs clearance and logistics infrastructure, avoiding the stagnation of goods in material regions, factories and the border between Viet Nam and China.
It will also focus on expanding international trade promotion activities in export markets and providing market information for agricultural product exporting enterprises. Information on the policies and regulations of export markets in regards to the COVID-19 pandemic will also be provided.
The ministry continues to closely coordinate with Viet Nam's commercial counsellors abroad to support the export of standard agricultural products to the EU, UK, China and Japan.
Vietnamese cashew nuts increase market share in US
Despite the cashew industry facing stiff competition from the Ivory Coast and Nigeria, Vietnam's cashew nut market share in the United States' total imports rose slightly from 89.08% in the initial seven months last year to 89.26% this year, according to the Ministry of Industry and Trade.
This figure therefore indicates that the Vietnamese cashew industry has successfully retained its leading position as one of the largest suppliers of cashew nuts to the US thanks to its stable supply sources and high quality.
Cashew nut exports during the opening nine months of the year are estimated to have reached 425,000 tonnes worth US$2.65 billion, thereby representing a rise of 16.6% in volume and 14.9% in value compared to the same period from last year.
The average export price of cashew nuts throughout the reviewed period dropped by 1.5% on-year to fall to US$6,237 per tonne.
According to statistics compiled by the US International Trade Commission, the US imported approximately 97,620 tonnes of cashew nuts worth US$615.68 million during the seven-month period, marking an increase of 0.5% in volume and a drop of 6.1% in value.
Specifically, the US imported 87,130 tonnes of cashew nuts worth US$545.88 million from the Vietnamese market, up only 0.7% in volume, although representing a drop of 6.4% in value compared to last year's corresponding period.
Furthermore, strict social distancing measures and high fright costs caused by the fourth pandemic wave have exerted a negative impact on Vietnamese cashew exports to the US, according to a representative from the Import-Export Department under the Ministry of Industry and Trade. 
Moving forward, the Import-Export Department forecasts that cashew nut exports will increase in the near future as the fourth quarter can be considered the peak season for cashew nut consumption in major markets such as the US, Europe, and China.
Moreover, social distancing measures have been gradually eased, a factor which has contributed to making production and transportation activities more convenient.
Shares rise for four straight days, pushed by real estate stocks
The market rose for the fourth straight session on Thursday as investors sought real estate stocks, boosting many large-cap stocks in the group to move higher.
On the Ho Chi Minh Stock Exchange (HoSE), the benchmark VN-Index rose 0.23 per cent, to 1,365.99 points. The market's breadth was positive with 228 stocks climbing, while 192 stocks declined.
The index had gained a total of 2.3 per cent in the last four sessions.
Investors poured VND20 trillion (US$881 million) into the southern exchange, equivalent to a trading volume of nearly 693 million shares.
The 30 biggest stocks tracker, the VN30-Index, increased 0.07 per cent, to 1,462.74 points. In the VN30 basket, 11 stocks jumped, while 18 stocks slid and two ended flat.
In the large-cap group, gainers were insurer Bao Viet Holdings (BVH), Vingroup (VIC), Vietcombank (VCB), Vietinbank (CTG), Sabeco (SAB) all gained. On the other side, PetroVietnam Gas (GAS), FPT Corporation (FPT), Masan Group (MSN), Vinamilk (VNM), Mobile World Group (MWG) and Novaland (NVL) were the blue-chip stocks that dropped.
According to financial news site cafef.vn, real estate and construction attracted cash flow with a series of gainers such as C.E.O Group JSC (CEO), Dat Xanh Group (DXG), FECON Corporation (FCN), Ba Ria-Vung Tau House Development Co (HDC), Khang Dien House (KDH), Phat Dat Real Estate (PDR), Tu Liem Urban Development JSC (NTL) and Dat Phuong Group (DPG).
Industrial park stocks also traded positively with many gainers such as Nam Tan Uyen JSC (NTC), Sonadezi Chau Duc Shareholding Co (SZC), Sonadezi Long Thanh (SZL), The Viet Nam Rubber Group (GVR), Becamex (BCM) and Kinh Bac City Development Share Holding Corporation (KBC).
Towards the end of the session, the VN-Index's gain was also significantly strengthened by securities stocks, including FPT Securities Joint Stock Company (FTS), Ho Chi Minh City Securities Corporation (HCM), Viet Capital Incorporation (VCI), SSI Securities Incorporation (SSI), Agribank Securities Corporation (AGR) and APG Securities Joint Stock Company (APG).
On the Ha Noi Stock Exchange (HNX), the HNX-Index also closed higher with a gain of 0.52 per cent, to 370.40 points.
During the session, more than 102 million shares were traded on the northern bourse, worth nearly VND2 trillion.
Fed's tapering will not affect Viet Nam's stock market
In the last three months of 2021, Viet Dragon Securities Company (VDSC) believes that the US central bank's tapering may affect the global stock market, the securities firm said in its new strategic report.
Emerging markets recorded a strong correction in 2013 after the US Federal Reserve announced it would reduce monthly asset purchases from US$85 billion to $65 billion.
Countries with large foreign currency debt and low foreign exchange reserves will suffer the most from currency devaluation along with the reversal of foreign capital flows.
However there is not much concern as Viet Nam's foreign exchange reserves are quite abundant at $100 billion, making the ability to adjust the exchange rate more flexible, said VDSC. Therefore, the impact on the market benchmark VN-Index will not be too great from a macro perspective.
But given the volatility risk of the global stock market as the Fed may begin to withdraw pandemic-era support for the economy in November, the short-term movements are unpredictable.
The market will turn to the third-quarter business results, which are scheduled to be released in October, to measure how the pandemic impacts enterprises' activities, VDSC added.
The securities firm believed that the third-quarter business results will be differentiated among industries. However, in large-cap stocks that influence the market's trend like real estate and bank stocks, the business outlook during the period is not really positive. Real estate and bank stocks account for nearly 54 per cent of market capitalisation.
The third quarter traditionally records the lowest business results for the real estate industry, while the prolonged social distancing orders in HCM City and neighbouring provinces have caused stagnation in sales activities and construction progress in key areas, including HCM City, Dong Nai, and Long An. The delay could affect the contraction progress and profit records in the future.
For the banking sector, VDSC estimates that profit growth in the third quarter may slow down significantly compared to the second quarter of 2021. After a quarter of implementing distancing orders in HCM City, the picture of bad debt of the banking industry is in focus.
VDSC expects bad debts and restructured debts in the banking sector to rise sharply by year-end, affecting the speed and size of provisioning. However, there will be a lag in the formation of bad debts and a phase difference between the increasing speed of bad debt among banks.
The company forecasted that the VN-Index will fluctuate around 1,240 - 1,380 points. The benchmark closed yesterday at 1,365.99 points, up 0.23 per cent.
GrabCar Protect launched in HCM City
Grab Company has just announced the resumption of GrabCar operations in the Covid-19 epicentre of HCM City with its new GrabCar Protect service.
According to the company, the new service, which was launched from October 7, meets all the local requirements for safe passenger transportation during the Covid-19 pandemic.
Drivers have been fully vaccinated. Each taxi car will only serve 50% of its capacity.
All GrabCar Protect vehicles have been installed with safety screens. Drivers and passengers are advised to travel with open windows, not to use air conditioners, and to frequently use disinfecting agents.
All vehicles will be thoroughly disinfected after each transportation.
Passengers are advised to pay by card or Moca wallet on the Grab app.
HCM City has suspended public transport, including app-based cars since mid-June in an effort to contain the widespread Covid-19 outbreak that has so far infected over 405,184 people citywide.
Government bond market picks up as public investment disbursement rises
Plentiful liquidity of the banking system has allowed the Government to issue bonds with low coupon rates and high winning ratio, MB Securities company reported.
According to the report, State Treasury offered VND48 trillion (US$2.11 billion) worth of bonds in September and successfully mobilised VND38.458 trillion ($1.69 billion) from the primary market, accounting for 80 per cent of the offered bonds. Winning volume increased 6.16 per cent compared to August.
Winning yields remained almost unchanged since late August with yields for 5-, 10- and 15-year bonds being 0.82, 2.12 and 2.35 per cent respectively.
Government bond trading on the secondary market was also picking up with average trading volume reaching VND12.1 trillion ($532 million) in September, up 47 per cent month-by-month. Average outright trading volume was worth VND8.7 trillion ($383 million) per day, up 45 per cent against August.
At the end of September, the yield for 10-year bonds stood at 2.17 per cent, 6 basis points higher than the previous month. Likewise, 2-year bonds also saw an increase in yield to 0.76 per cent, up 7 basis points.
Foreign investors net sold VND691 billion ($30.34 million) worth of government bonds in September, and net bought a total of VND10.471 trillion ($460 million) so far in 2021.
Government bonds issuance is expected to rise in the future to finance growing public investments. 
Standard Chartered lowers Vietnam's 2021 growth forecast but maintains 2022 estimate
Standard Chartered has revised down its GDP growth forecast for Vietnam in 2021 from 4.7 to 2.7 per cent, reflecting the unexpected contraction of 6.2 per cent on-year in the third quarter.

The bank expects recovery to accelerate in 2022 and maintains its 2022 growth forecast at 7.0 per cent.
"While we expect growth to start recovering in the fourth quarter of 2021, this hinges on progress towards reopening businesses. We continue to expect a post-COVID-19 growth acceleration but turn more cautious pending clearer signs of recovery. Vietnam's pandemic management is crucial to the near-term outlook," said Tim Leelahaphan, economist for Thailand and Vietnam, Standard Chartered.
The economist anticipates the State Bank of Vietnam to keep its policy rate on hold at 4.0 per cent to support credit growth and remain vigilant against inflation risks, which are driven by supply-side factors.
Standard Chartered sees downside risks to its growth forecast – and a potential interest rate cut – if the economic impact of Vietnam's COVID-19 outbreak lasts beyond October. Such a scenario could affect the external position. An extended outbreak, with containment measures in place for longer, could have both short-term and longer-term effects on Vietnam's economy, exacerbating vulnerabilities such as rising inflation and limiting fiscal room for development. However, Vietnam's external position is resilient in both the short- and medium-term.
When higher prices do not translate to better profits 
 
Although global oil prices continuously hit new peaks, not all Vietnamese oil and gas companies have benefited from the higher prices.
Oil prices have skyrocketed since the beginning of the year on tight supplies and global recovery demand, with Brent crude rising over 50 per cent this year and reaching a three-year high of US$80.75 per barrel on Tuesday.
For upstream companies in the industry, analysts from Viet Dragon Securities Corporation (VDSC) said that firms like PetroVietnam Technical Services Corporation (PVS) and PetroVietnam Drilling & Well Services Corporation (PVD) are expected to benefit from big oil and gas projects.
However, in the first half of the year, these enterprises' business results were not very positive due to the impact of the fourth outbreak of COVID-19. Moreover, during that period, there were not many new oil and gas projects in the country.
In its revised semi-annual financial statements for 2021, PetroVietnam Drilling reported a decrease of 60.7 per cent and 47.4 per cent in revenue of the parent and consolidated companies, respectively, in the first six months of the year.
The company explained that there was no revenue from leasing rigs during the period, while prices of jack-up rigs declined by 15.1 per cent compared to the same period last year.
The rig utilisation rate also fell to 74 per cent compared to 89 per cent of the same period last year.
On the other hand, midstream and downstream companies such as PetroVietnam Gas JSC (GAS), Binh Son Refining and Petrochemical Company (BSR) recorded positive profits in the first half of the year, helped by a steady uptrend in oil prices, leading to higher selling prices or improved gross margins.
Experts from VDSC, however, warned that in the second half of the year, these companies' profits may be affected due to the COVID-19 outbreak in Viet Nam, especially as HCM City and other provinces in the Mekong Delta carried out Directive 16 since the beginning of July, resulting in lower energy demand.
According to Viet Capital Securities JSC (VCSC), disruptions caused by the COVID-19 pandemic in the third quarter have affected fuel demand, leading to higher inventory in Binh Son Refining's warehouse, thereby increasing the cost of external storage.
Binh Son Refining is planning to reduce production and submit a proposal to the Government on prioritising domestic petroleum products over imported products, as the sharp fall in gasoline consumption caused the plant to reduce its capacity to 90 per cent (in the worst case) compared to the normal level of 105-110 per cent.
Experts from VCSC lowered their forecasts for Binh Son Refining's 2021 sales to 6.1 million tonnes, down 12.6 per cent, with an operating efficiency of 92 per cent. However, they still expected gasoline demand will recover in the fourth quarter of 2021 and sales are forecast to grow 16.1 per cent in 2022.
The Domestic Market Department, Ministry of Industry and Trade, said that in the near future, the petroleum market will face many fluctuations and prices are also likely to increase.
It is because economies are gradually recovering, vaccination proportion is increasing, countries start to reopen and use COVID-19 green cards as licences to restart production and business, travel, transportation, and tourism.
On the stock market, last week, oil and gas stocks witnessed outstanding performance. Of which, many key stocks in this industry increased by over 10 per cent like PVD and GAS.
The market capitalisation of the oil and gas industry increased by 5.1 per cent, with PVD up 10.8 per cent, BSR up 10.8 per cent and PVS up 7.9 per cent.
The sharp increase of Brent crude contributed to the strong movements of domestic oil and gas stocks. However it will not have positive effects on business results, Le Xuan, a senior trader, said.
"It only has effects for the short-term as it is more about speculation and doesn't have much positive impact on the business results of the third and fourth quarters of 2021," said Xuan.
"In the medium- and long-term, the industry still mainly depends on the business foundation and drilling projects."
New rivals emerge in wood industry battle
While partially lifted social restrictions have been representing a glimmer of hope for domestic manufacturers and exporters of wood products, a heavy competitor in Mexico is emerging, meaning Vietnamese groups are being asked to up their game.

The freight rate crisis continues to resonate with the impact of the pandemic, causing more companies to look for opportunities from bilateral trade agreements. In this context, Mexico has many advantages over other suppliers because of its location and membership in the United States-Mexico-Canada Agreement. This has pushed many furniture makers in the world, including China, to shift production to Mexico.
Nguyen Quoc Khanh, chairman of the Handicraft and Wood Industry Association of Ho Chi Minh City, said at an industry meeting last month that competition for wooden furniture exports to the US market has since then become more intense, and "Mexico has become a competitor of Vietnam in this market."
In the first seven months of 2021, Mexican furniture exports to the US reached $1.12 billion, up 39 per cent over the same period in 2020, according to the US International Trade Commission (ITC). Forecasts of the US Census Bureau showed that the value of Mexico's wood exports to the US will continue to increase this year, reaching over $1.87 billion, eventually reaching $2.2 billion by 2025 with an average increase of 4.2 per cent per year.
"Now, with its advantages, Mexico is attracting the interest of US importers, as they are known for fast delivery times and offer a minimal disruption of key supplies, as well as source diversity," Khanh said.
In 2020, about 95 per cent of Mexico's furniture exports came to the US market.
A KPMG study noted that wages in Mexico are still significantly lower than those in the US and China, while employees in the US also work fewer hours than Mexicans, which increases factory output by 16 per cent.
Meanwhile, a report by the Mexican consultancy Tetakawi released early last year also noted that Mexico boasts more than 675 furniture factories, including domestic and foreign manufacturers, employing over 52,000 workers. Their main export items are similar to Vietnam's products meant for export to the US market, including wooden frames, office furniture, bedrooms, kitchens, and other wooden furniture.
America remains a potential market for many furniture manufacturers in the world. The Freedonia Focus Reports' furniture report predicted that this industry's demand in the US will reach $68.8 billion in 2022, up 2.6 per cent from $60.5 billion in 2017. The report also attributed the increased demand to strong growth in new home constructions and steadily increasing disposable income levels that have contributed to the demand for furniture in the US.
Vietnam is the largest supplier of living and dining room furniture to the US market, followed by China, the EU, Mexico, Indonesia, and Malaysia. In the first six months of 2021, Vietnam became the largest supplier of these items to the US, reaching $4.9 billion, up 81.9 per cent over the same period in 2020, accounting for 39.5 per cent of the total value of wooden furniture imports to the US, according to data from ITC.
However, the growth of furniture exports from Vietnam to the US has slowed since July and dropped sharply in August. Meanwhile, Chinese manufacturers are taking advantage of this situation by exporting furniture to the US market via Mexico. Chinese investors may also repeat their strategy of shifting production to Vietnam, as tariffs for most Chinese furniture for the Mexican market have risen since 2018.
According to the Vietnam-China Timber Trade 2015-2020 report by non-profit organisation Forest Trends and timber associations, the growth of China's wooden exports increases by about 4.3 per cent per year.
However, moving production from one country to another so flexibly is not always possible, especially since the country has also been suffering under pandemic-related regulations. "We have no plans to shift production, and instead plan to expand to meet the growing plywood demand from import markets," said Cu Duc Hoang Tai, a representative of Junma Phu Tho producing veneer, plywood, and veneer panels. "The company's production capacity is gradually recovering after the stagnation in April."
Junma, which accounts for more than 30 per cent of the US plywood market, is having trouble with shipping. Many shippers have to pay a freight rate of more than $10,000 per container to the US. Despite this, the demand for sea freight from Vietnam to the US continues to increase sharply. "Now, we are more worried about how to get our goods delivered on time," Tai said.
Near the end of the year, the demand increases because construction activities are entering their finishing stages, which then lead to an increase in the US market's furniture demand. "The number of new orders decreased compared to the same period last year, with some moving to other markets, but so far no foreign-invested enterprise has left Vietnam yet," said Do Xuan Lap, chairman of the Vietnam Timber and Forest Product Association.
Vietnam ranks high on economic performance in region: website
The AXA Investment Managers Asia headquartered in Singapore recently published an article which elucidates the reasons behind Vietnam's high ranking on economic performance and discusses the prospects for broadening the country's position in the regional and global production ecosystems.
"There are several characteristics contributing to Vietnam's growing trade and manufacturing competitiveness," the article stated.
It affirmed that the successful integration into the Association of Southeast Asian Nations (ASEAN) was key to igniting Vietnam's trade engine.
"Vietnam also signed free trade agreements with other major economies including China, the European Union, the UK, and Japan, creating a fertile environment for trade relations to grow," it noted.
It continued that a rapid increase in manufacturing competitiveness has also contributed to Vietnam's rise as a regional export powerhouse. Manufacturing value-added increased by the most in the past decade, doubling India's gain.
The article went on that manufacturing competitiveness has been underpinned by low labour expenses. A rapidly growing young population has helped to keep wage pressure low despite fast economic growth.
"Vietnam has also been very successful in attracting foreign direct investment (FDI), thanks to favourable government policies".
The authors cited that by 2020, the number of industrial parks in Vietnam had grown to 369, an increase of 180 percent from 2005. Vietnam's ranking in the World Bank's "ease of doing business" index – up 23 places to 70 from ten years ago.
"Vietnam's FDI inflow has experienced the fastest growth in the region," the article pointed out.
According to a set of proprietary competitiveness scores calculated based on ease of doing business, logistic quality, wage cost, GDP growth and changes in the share of exports and FDI, Vietnam is viewed as the most competitive country in the region, which has underpinned its impressive export market share gains in recent years.
The authors projected that in the short term, the adverse impact from the COVID-19 pandemic will linger, weighing on Vietnam's manufacturing and export sector, restraining the pace of corporate capital expenditure, and hampering the relocation of global supply chains.
Meanwhile, over the long term, foreign businesses are expected to resume the establishment of efficient global supply chains./.
Reference exchange rate down 5 VND on October 8
The State Bank of Vietnam set the daily reference exchange rate at 23,165 VND/USD on October 8, down 5 VND from the previous day.
With the current trading band of +/- 3 percent, the ceiling rate applicable to commercial banks during the day is 23,859 VND/USD and the floor rate 22,470 VND/USD.
The opening-hour rates at commercial banks stayed stable.
At 8:25am, Vietcombank listed the buying rate at 22,630 VND/USD and the selling rate at 22,860 VND/USD, unchanged from the rates at the same time on October 7.
BIDV also kept both rates unchanged at 22,660 VND/USD (buying) and 22,860 VND/USD (selling).
Meanwhile, Vietinbank cut both rates by 3 VND, listing the buying rate at 22,635 VND/USD and the selling rate at 22,855 VND/USD./.
Rosier economic picture expected for final quarter

After GDP growth came in at -6.17 percent in the third quarter, there is room for optimism that the final quarter of the year will see a much rosier economic picture.

The fourth wave of COVID-19 to strike Vietnam seriously affected the country's economy and especially the southern region, including Ho Chi Minh City and Binh Duong, among others.
This was concerning, as 19 cities and provinces in the south of the country contribute nearly half of total GDP.
Pham Dinh Thuy, head of the Industrial Statistics Department under the General Statistics Office, said more than 50 percent of cities and provinces nationwide saw a downwards trend in industrial production during the third quarter. The fourth wave of COVID-19 has clearly disrupted supply chains and export activities in the economy as a whole and especially in the south.
Many localities introduced measures to prevent the spread of COVID-19, including the "three-on-the-spot" strategy (where employees live, work and eat on-site) to curb the pandemic.
While these measures helped control the spread of COVID-19, they also created difficulties in production.
"The 'three-on-the-spot' strategy causes backlogs, resulting in higher selling prices, and enterprises will be short of cash flow," said Vu Van Tien, Chairman of the Board of Directors of Geleximco Group.
According to experts, one of the crucial elements in Vietnam's economic picture has been its macro-economic stability.
According to Nguyen Thi Hong, Governor of the State Bank of Vietnam, the macro-economic situation in the first nine months of 2021 remained stable, with inflation controlled at a low rate and a trade surplus being posted. Vietnam's economic growth remains positive and is the brightest among Asian countries.
Another highlight of the country's economic growth compared to the time during previous waves of COVID-19 is the greater recoverability thanks to changes in strategy to live safely with the pandemic./.
Long-term focus crucial in face of quarterly GDP drop
The GDP growth target for the entire year is under threat unless the fourth quarter can record a high figure to compensate for the past nine months.
The processing and manufacturing industry is no longer considered a growth driver for the fourth quarter, and the GDP of the third quarter was estimated to have dropped by 6.17 per cent compared to the same period last year – the worst dip since Vietnam began calculating quarterly GDP in 2000.
Le Trung Hieu, director of the Department of the National Accounts System under the General Statistics Office (GSO) said, "Industrial values of Ho Chi Minh City, Binh Duong, Dong Nai, and Ba Ria-Vung Tau were heavily affected, which had a significant impact on the country's GDP growth."
According to Hieu, the low growth of the fisheries sector in the third quarter has impacted and reduced industrial growth. Prolonged social distancing affected harvests, production, and processing of aquatic products in the Mekong Delta.
Basa fish production in this area accounts for almost all national production, while shrimp from this area cover around 80 per cent of the country's total shrimp output. In the Mekong Delta, 120 of 449 seafood factories stopped working due to social distancing, and those remaining worked at just 30-40 per cent of total capacity.
Industrial production remains an important driving force of Vietnam's economy, but was severely affected. Manufacturers have been struggling to cope with rising commodity prices, the impact of the pandemic, and shortages of raw materials.
The inventory index of the entire manufacturing industry estimated as of September 30 increased 3.5 per cent over the same period last month and 28.2 per cent over the same period last year, according to data from the GSO.
The Asian Development Bank in Vietnam has continuously lowered its growth forecast for Vietnam, from 6.7 per cent in April to 5.8 per cent in July and 3.8 per cent in September.
With a low growth rate during the last nine months, the 6-per-cent target set by the National Assembly, as well as the government's 6.5-per-cent plan, will be near-impossible to reach as the number of businesses suspending operations at least temporarily increased by 16.7 per cent, while other enterprises stopped operating entirely and have been waiting for their dissolution, up 17.4 per cent.
Nguyen Thi Huong, director general of the GSO, said growth can be supported by public investment, exports, and increased consumption. According to Huong, well implemented measures to transform the anti-pandemic model and speed up the reopening of the economy – especially major economic centres such as Hanoi and Ho Chi Minh City – would be necessary to recover the economy in the fourth quarter.
However, Vietnam's imports and exports have also been slowing down, decreasing 2 per cent in September compared to August. The 19 southern provinces, equivalent to 45 per cent of Vietnam's export turnover, were affected by the prolonged social distancing during that time.
Meanwhile, the production capacity of the northern provinces of Bac Ninh and Bac Giang has not yet recovered, while bordering countries have not yet restored customs clearances. Now, Lao Cai customs is worried that exports will have difficulties which then could affect the budget revenue plan.
For example, the main export product through the border gates of the northern province of Lao Cai, dragon fruit, has not yet been cleared for customs by the Chinese side. By the end of August, Lao Cai's total import and export tax revenues only reached around 56 per cent of the original target assigned by the Ministry of Finance.
Nevertheless, experts believe that a GDP growth rate of 3.5-4 per cent is still achievable. Vietnam's economy could recover if the pandemic is controlled by the end of 2021, or at the latest by the end of the second quarter of 2022, and if 70 per cent of the country's population are fully vaccinated.
Tran Thanh Hai, deputy director of the Foreign Trade Agency under the Ministry of Industry and Trade, said that the growth rate of export turnover reached a considerable 18.8 per cent after nine months. In 2020, the country's export turnover only increased by about 7 per cent.
"I hope that in the last three months of the year, the southern localities will regain their growth momentum and balance out their economies," Hai said.
Nguyen Thi Hong Minh, director of the Central Institute for Economic Management, said that over the next six months or so, the government should prioritise pandemic prevention, combined with suitable macro policies and the promotion of disbursements of public investment to support businesses through these tough times.
By late 2023, macroeconomic policies could be loosened in the country, stimulating the economy and creating more resilience for businesses, Minh added.
After that point, Vietnam aims to continue to normalise macroeconomic policies and promote far-reaching economic reforms. "The government also needs to accelerate support packages for the people and immediately remove difficulties for them in accessing support," Minh said.
Binh Duong leader vows best conditions for US firms to resume production
Chairman of the People's Committee of southern Binh Duong province Vo Van Minh has committed all possible support for firms, including those from the US, to resume production and trade.
During a teleconference between the provincial People's Committee and the American Chamber of Commerce in Vietnam on October 7, Minh said nearly 90 percent of enterprises have returned to production in the new normal.
Representatives from 20 US enterprises spoke highly of achievements made by Vietnam and Binh Duong in particular in the fight against the pandemic, and thanked the provincial authorities for standing side by side with them amid difficulties.
Minh said local firms working under "three on the spot" model in "green zones" or those in "green zones" could allow workers to go home and go to work daily.
As the province has opened mobile medical stations in industrial parks, more workers will be given full two shots in the near future so that dealing with F0 and F1 cases will be more easily, he said, adding that the locality also plans to fully vaccinate those aged 18 and above this month.
He reiterated the need to test workers twice per week to maintain safety in "green zones" and prevent the spread of the virus in workers' rent housing areas. He added that the province is also considering a plan to minimise testing costs incurred by firms.
The Chairman said workers wishing to travel must have certificates proving they have been vaccinated for at least 14 days and several personal papers.
According to him, Thu Duc city in Ho Chi Minh City and Binh Duong province's Thuan An and Di An cities basically agreed with a pilot plan to allow workers to travel by motorbikes between both sides.
The same day, the provincial Centre for Disease Control reported 840 new COVID-19 cases, down 1.4 percent from a day earlier, bringing the total count in the province to 219,652./.
Nike Group to expand investment in Binh Duong
Sportswear giant Nike Group has affirmed that it will continue to expand production in the southern province of Binh Duong.

Leaders of the Foreign Investment Agency under the Ministry of Planning and Investment, Ho Chi Minh City and the provinces of Dong Nai and Binh Duong had a meeting with Nike representatives on October 6 on the reopening of production in a safe manner.
At the meeting, participants agreed that currently, Binh Duong, HCM City, Dong Nai and Nike Group are effectively coordinating in preparing for the resumption of the group's production chain in the southeastern region, especially Binh Duong where 20 factories of Nike are located.
Currently, many workers in Nike factories have returned to work in the 'new normal' situation./. 
Businesses, entrepreneurs – pioneers in industrialisation: Top legislator
Businesses and entrepreneurs are pioneers in the cause of industrialisation and modernisation, National Assembly Chairman Vuong Dinh Hue affirmed on October 7.
The legislative leader visited the Vietnam Chamber of Commerce and Industry (VCCI) and met with representatives of the business circle on the occasion of Vietnam Entrepreneurs' Day (October 13).
At the meeting held in both in-person and online forms, which saw the participation of more than 400 entrepreneurs in Hanoi and other branches and representative offices of VCCI, Hue said the Party always attaches importance the role of businesses and entrepreneurs.
In legislation, supreme supervision and making decisions on the country's major matters, the NA has placed people and businesses at the centre, he noted.
The legislature is working hard to prepare for its second session, scheduled to open on October 20, during which deputies are expected to mull over several important draft laws, including those relating to businesses, Hue added.
VCCI President Pham Tan Cong briefed the participants on the operations of the chamber and the Vietnamese businesses community, saying Vietnam now has more than 800,000 operational enterprises, over 25,000 cooperatives and around 5.2 million business households, with some 7-8 million entrepreneurs.
He praised the spirit of nationalism, patriotism and the sense of responsibility of Vietnamese businesses and entrepreneurs, which have been clearly demonstrated in the COVID-19 combat with donations worth tens of trillions of VND.
The VCCI proposed solutions to help enterprises safely and flexibly adapt to, and effectively control the pandemic, such as implementing new policies and mechanisms that can ensure macro-economic stability and facilitate economic recovery./.
Quang Yen town works to help Quang Ninh achieve double-digit growth
With its advantage as a southwestern coastal urban area of Quang Ninh province, Quang Yen town has attracted many large projects in various fields. The town is exerting every effort to become a motivator helping Quang Ninh achieve the goal of double-digit growth in 2021 amidst complicated developments of the COVID-19 pandemic.
This year, Quang Yen set a target of clearing ground for nine projects, including four transport infrastructure projects, four industrial parks and the Ha Long Xanh urban complex, with a total area of 4,470ha and more than 6,700 households affected.
One of the projects with a large area to be cleared is the Ha Long Xanh urban complex invested by VinGroup with a total capital of over 232.3 trillion VND (10 billion USD). The project covers about 4,110ha, with 3,186ha belonging to the territory of Quang Yen town. The number of affected households is 2,054.
To date, around 2,800ha of Quang Yen have been checked. The town is accelerating the work, with a hope to hand over the ground to the investor by the end of this year.
In order to ensure the goal of handing over the ground on time, the Centre for Land Fund Development is working with relevant localities to quickly complete land surveying. Pham Minh Ha, Deputy Director of the Centre, said that the unit has arranged its staff to work on Saturdays, Sundays and overtime to ensure the work and make compensation plans.
To achieve a double-digit growth rate and budget revenue of 51 trillion VND (over 2.2 billion USD) this year, the northern province of Quang Ninh is working to sustain the productivity of its economic pillars.
Authorities are taking actions to address market-related difficulties and the increase in unsold inventory so as to encourage the coal industry, a major sector in Quang Ninh, to maximise the mining output, thus contributing to the gross regional domestic product (GRDP), the State budget, and social security.
The province looks to raise the clean coal output in 2021 by 2.82 million tonnes compared to the target set at the start of the year. It will work to secure 10.2 billion kWh of electricity produced in the fourth quarter and 38.5 billion kWh in the whole year.
Local authorities are tackling difficulties and creating optimal conditions for the processing and manufacturing industry, especially flour, plant oil, textile - garment, electronics, and mechanical factories, to maximise capacity and output so that this sector can serve a true growth impulse.
Some projects in local industrial parks will be sped up so as to partly or wholly become operational in Q4, thereby creating new products and subsequently a new impulse for growth.
Quang Ninh is also accelerating procedures so that work on four key projects worth over 283.2 trillion VND in total will begin this October. They consist of the Ha Long urban area complex, the Quang Ninh LNG-fired power plant, Phase 1 of the Van Ninh general port, and the Dong Trieu golf course.
With total investment of more than 17 trillion VND, three key projects expected to act as driving forces for the province's development are scheduled to be completed by December 31, namely Van Don - Mong Cai Expressway, the coastal road linking Ha Long and Cam Pha cities, and Cua Luc 1 Bridge.
Infrastructure construction is being hastened at the Nam Tien Phong, Bac Tien Phong, and Dam Nha Mac industrial parks, Hai Ha Seaport, and Van Ninh Port. Relevant agencies are also making efforts to attract strategic investors to developing seaport infrastructure and logistics services at Hon Net - Con Ong Port in Cam Pha city.

Quang Ninh recorded an estimated GRDP growth rate of 8.2 percent in the first nine months of 2021./.
Vietnamese, Taiwanese garment, textile firms foster partnership
The Taiwan Textile Roadshow has been held from October 6-7 directly in Hanoi and in the online format via Zoom, aiming to strengthen cooperation between Vietnam and Taiwan (China) in the textile and garment sector.
The event, jointly held by the Taiwan Textile Federation (TTF) and the Vietnam National Trade Fair and Advertising Company (Vinexad), saw the participation of 12 textile manufacturers from Taiwan.
The Taiwanese enterprises have introduced techniques to produce fabric using dyeing treatments that can reduce the impact on the environment. They have also applied innovative technologies in production to produce fabrics with many outstanding features such as fabric from recycled plastic, warp-print fabric, antibacterial fabric, UV protection fabric, cooling and multi-functional fabric.
In 2020, Vietnam was Taiwan's largest textile and garment export market with an export turnover of up to 1.9 billion USD, accounting for 25.3 percent of Taiwan's total export turnover of textiles and garments. The main import items from Vietnam were clothing and accessories.
This year, the Taiwan Textile Roadshow targets the formation and strengthening of sustainable partnership between garment and textile material production firms with Vietnamese garment and textile firms.
Earlier, similar events were held in Ho Chi Minh City and Hanoi, including nearly 400 direct and online exchanges among 100 Vietnamese and 16 Taiwanese businesses in the field./.
Indonesian technology startups expand presence in Vietnam
Indonesian start-ups and venture capital funds are pouring more capital into Vietnam, especially in digital technology, due to the similarity in business environment between the two countries, the Dau tu (Investment) newspaper reported.
East Ventures, a Jakarta-based joint venture firm, has participated in the 2.7 million USD funding round of Vietcetera, a Vietnamese digital media startup at the end of August.
The newspaper quoted Melisa Irene, a partner of East Ventures, as saying that it was the firms' fourth investment in Vietnam. She added that earlier it has invested in Circo, a start-up on co-working space in 2018, Sendo in 2019 and Kim An in 2020.
The similarities between Vietnam and Indonesia's startup ecosystems have led them to look for opportunities in potential areas like co-working space, lending, commerce and media, Irene was quoted as saying.
Indonesian fintech platform Kredivo has recently announced its presence in Vietnam by partnering with Phoenix Holdings, a company with a diversified portfolio in consumer, financial services, retail and technology sectors, to form Kerdivo Vietnam JSC.
According to Velery Crottaz, managing director of Kredivo, the launch of Kredivo in Vietnam, the first market outside Indonesia, is a milestone for the business this year.
Vietnam came as a logical choice given the low penetration of credit cards in the country and a rapidly growing middle class, he said.
Crottaz also mentioned e-commerce market which is growing very fast and the similarities in demographic and consumption patterns to Indonesia.
Kredivo is not only the Indonesian start-ups that have ventured into Vietnam. Gojek, Indonesia's very first unicorn, is expanding its operation in the country.  The startup has introduced GoCar- its four-wheel ride-hailing service – in HCM City to serve frontline health workers. It plans to roll out a cashless payment service by the end of this year.
J&T Express, another Indonesian unicorn, is also building up its presence in Vietnam to meet the e-commerce delivery demand. the Jakarta-based company boasts more than 1,900 post offices across Indonesia.
Irene from East Ventures said big cities of Vietnam and Indonesia like Jakarta, Hanoi and HCM City have pushed the digital adoption, adding that they might base on this characteristic to predict the directions for pouring investment in potential fields,
"We thought Vietnam's digital economy might be 3-4 years behind Indonesia but the gap might be closed relatively fast," she said./.
Bamboo Airways to resume domestic flights from October 10
Bamboo Airways plans to resume services on certain domestic routes from October 10 after seeking opinions from competent agencies and localities.
There will be flights from Ho Chi Minh City to such localities as Thanh Hoa, Khanh Hoa, Phu Yen, and Binh Dinh provinces and Phu Quoc island in Kien Giang province.
A detailed plan will be rolled out after the carrier receives a licence from the Civil Aviation Authority of Vietnam (CAAV) in line with new regulations amid the COVID-19 pandemic.
The airline said all of its staff have been vaccinated and taken regular COVID-19 tests.
During the first phase, passengers will have to keep physical distancing and show a certificate of negative COVID-19 results tested within 72 hours before departure. Those who have got the first dose three weeks prior to departure, or full two shots or recovered from the disease within six months will be exempted from the testing.
Passengers from HCM City, Binh Duong, Dong Nai and Long An provinces need to take PCR or rapid tests within 72 hours before departure.
After their arrival, they will undergo medical monitoring at home or lodging facilities for seven days, follow the Health Ministry's "5K message" and take PCR or rapid tests on the first day and the seventh day.
For other domestic routes, Bamboo Airways will further observe instructions of competent agencies and seek opinions from localities to map out resumption plans.
Once licensed, it will resume nearly 60 domestic flights, including those from Hanoi and HCM City to almost airports nationwide, along with niche routes like Vinh-Buon Ma Thuot, Vinh-Da Lat, Da Lat-Buon Ma Thuot and Phu Quoc-Da Nang./.
Mobilising venture capital for private sector
The Asian Development Bank (ADB) and the Ministry of Planning and Investment (MPI) have launched the "ADB Ventures supporting impact startups" project today, which is expected to release venture capital for the private sector of Vietnam.

The project worth $1 million will be developed between September 2021 and December 2023 by ADB and the MPI's National Innovation Centre (NIC). Accordingly, ADB Ventures will provide venture capital for innovative businesses and startups, as well as some skills for doing business.
The project aims to strengthen the ability to approach venture capital of innovative businesses and startups to overcome challenges in the early stage, as well as further investment in technologies, contributing to the positive movement of climate change and gender equality.
ADB country director in Vietnam Andrew Jeffries said that supporting emerging startups in these verticals is vitally important to Vietnam's balanced and sustainable economic emergence. Vietnam is particularly vulnerable to the impacts of climate change. In the coming decades, increasing temperatures and rising sea levels will imperil industries, agricultural productivity, and the health and livelihoods of millions.
"Climate change is a particularly acute risk for agricultural and informal sector workers, many of whom are women. Innovative private sector business models will play a powerful role in addressing Vietnam's climate-related development challenges," Andrew Jeffries said.
Vietnam will participate in some tools of the project, including two technical-assistance sub-projects (ADB Ventures Lab and ADB Ventures SEED). Of these, ADB Ventures Labs matches impact technology startups with commercial pilot opportunities through our regional corporate and public sector networks, while ADB Ventures Seed program provides small-scale funding valued $200,000 for promising business models that have strong potential to scale their impact on climate and gender.
"Seed programme funding provides a vital runway, while giving ADB Ventures the opportunity to learn about the technology solution before deciding whether or not to consider larger equity or debt investments in future fundraising rounds. I look forward to announcing ADB Ventures transactions in Vietnam in the future," said Andrew Jeffries, country director of ADB in Vietnam.
MPI Deputy Minister Tran Duy Dong said that the cooperation between the NIC and ADB to carry out ADB Ventures is quite necessary and being an important initiative to enhance the collaboration in the time coming to mobilise more resources and resolve the troubles of capital for innovative businesses and startups in Vietnam.
"Although the venture capital is not very big, it will be useful for startups to approach other venture capital in the country and in other country members of the ADB in the form of technical assistance," emphasised Dong.
Right now, the NIC, in collaboration with the ADB, is looking for and choosing promising businesses in Vietnam that can match all conditions of the project. Thereby, around 20 feasible concepts will be piloted in ADB Ventures Lab and 10 of them will receive aid in ADB Ventures SEED.
Source: VNA/VNS/VOV/VIR/SGT/SGGP/Nhan Dan/Hanoitimes  

First three wind-power plants put into use in Soc Trang province