Wood processing firms should embrace technologies: experts
Vietnamese wood processing firms need to rethink their production models and embrace technologies to increase their competitiveness amid current and future challenges, delegates said at a seminar held in Ho Chi Minh City on September 10.
Nguyen Chanh Phuong, Deputy Chairman of the Handicrafts and Wood Industry Association of HCM City (HAWA), said the wood processing industry faced four challenges, including fierce competition in the market due to an increasing number of FDI enterprises and a fast and large shift of foreign investors coming to Vietnam, resulting in a shortage of labourers.
In addition, it faced low labour productivity and the impact of digitalisation in the industry' s processing, administration, design and trade.
Nguyen Quoc Khanh, HAWA Chairman, said in the first five months of the year, foreign investment capital in the country, according to the Foreign Investment Agency, was nearly 1.2 times higher than last year's total FDI capital flowing into the country.
Of the number, there were 49 new projects investing in the wood industry (32 in wood processing), equivalent to 73 percent of total FDI projects investing in the sector last year, he said.
This figure showed the reality of competition in the very near future. If enterprises stopped at their current capability levels, they would fail in the competition ahead.
Vietnamese wood processing enterprises, on the one hand, had to solve internal problems to ensure product quality and meet existing orders, while increasing productivity and innovation to be able to retain existing customers and get new ones. On the other hand, they must be flexible and increase their competitive advantages to stand firm and be in front for future changes, he said.
"Businesses need a serious and effective strategy. They need to have a new vision and deep thinking, in which the key to solving these two problems at the same time can only be investment in technology.
"With the advancement of CNC precision technology, combining new technologies such as artificial intelligence, big data, cloud computing, and robots, woodworking technologies have reached surprising development levels, offering businesses a lot of opportunities to improve quality, control progress, reduce dependence on labour and increase production," Khanh said.
But when choosing technologies to invest, businesses should base their real needs and development plans in the coming years to make their investment efficient, he said.
Leslie Lye, sales manager for the Weinig Group, said with the changes in consumer buying behaviour and the availability of new technology, there has been a shift in customers' buying requirements. Instead of buying furniture manufactured in bulk, customers are increasingly buying personalized furniture to meet their requirements. The production cost of customised furniture must be comparable to the mass-produced product.
"To fulfil market needs, furniture manufacturers need to develop a system to cater for personalized design and production management for orders with difference batches."
Vietnamese factories have been making greater technological investments compared to other Southeast Asia countries. The investment for the 4.0 Industry era should start now or as soon as possible, he said.
"Of course, the technological investment must help solve all the urgent orders first, to match the production to the current customer's needs, and to maximise profit as much as possible at that point of time. But in the long run, the company should foresee what technology in Industry 4.0 is offering to optimise the wood working process, so they can invest in technology wisely and correctly to obtain a consistent profit and a sustainable business."
In addition to investment in technology, delegates at the seminar agreed that investment in qualified human resources who can understand and be able to operate this kind of equipment and technologies is also very important.
Organised by HAWA and Yorkers Trade and Marketing Services Co, the "Rethinking Wood Processing Models" seminar was a pre-event of the 13th International Woodworking Industry Fair (Vietnam Wood), which will be held in HCM City's Saigon Exhibition and Convention Centre from September 18 to 21.
Jantin Lam from Yorkers Trade and Marketing Service Co said Vietnam Wood will feature more than 1,000 advanced machines and equipment of 483 exhibitors, providing an opportunity for Vietnamese firms in the sector to update technologies.
According to HAWA, Vietnam's import of wood processing machinery and equipment increased from 220 million USD in 2017 to 280 million USD last year. The figure is expected to rise by 25 percent this year.
The country's wood product export revenue was 9 billion USD from last year and is targeted to reach 11 billion USD this year.
Fruit, vegetable exports fall 5.8 percent in eight months
Fruit and vegetable exports in the first eight months of this year fell by 5.8 percent year on year to about 2.53 billion USD, according to the Agro Processing and Market Development Department (Agrotrade) under the Ministry of Agriculture and Rural Development.
The figure includes 246 million USD in August.
Between January and July, China remained the biggest importer as it accounted for 70.5 percent of Vietnam's fruit and vegetable exports, equivalent to 1.65 billion USD – down 5.6 percent year on year.
It was followed by the US, whose imports rose 12.5 percent to 84.07 million USD, making up 3.6 percent of the total. The Republic of Korea ranked third with 76.91 million USD worth of the commodities from Vietnam, rising 13.1 percent and accounting for 3.3 percent of the total.
The markets posting surges in the import of Vietnamese fruits and vegetables included Laos 2.84 times, Hong Kong (China) 2.37 times, Taiwan (China) 44 percent, and the Netherlands 37.9 percent.
Also in August, Vietnam purchased 134 million USD worth of fruits and vegetables from other countries, raising the eight-month imports to 1.28 billion USD, up 11.5 percent from a year earlier.
Agrotrade forecast there remain numerous difficulties facing the exports for the remaining months of this year due to uncertainties in the world's economy, the escalating US-China trade tension that will cause reluctance over trade and investment activities, and the enhanced application of strict food safety and environmental protection standards in many markets.
Automobile sales decrease in August
Sales of automobiles saw a month-on-month decline of 19 percent to about 21,480 vehicles in August, according to the Vietnam Automobile Manufacturer Association (VAMA).
In the month, sales of all vehicle types dropped, with passenger cars down 21 percent, commercial ones 12 percent and special-use vehicles 37 percent.
The figures of both domestically-assembled and imported automobiles plummeted 18 percent and 22 percent against the previous month.
In the first eight months of 2019, automobile sales recorded a year-on-year surge of 20 percent. Sales of passenger cars leaped 31 percent in the reviewed period, while those of commercial and special-purpose vehicles dropped 1.6 percent and 28 percent, respectively.
Thaco was the most successful in August with 5,975 vehicles of all kinds sold, accounting for 29.3 percent of market share. It was followed by Toyota, Ford and Honda.
However, the sales did not reflect the consumption power of the country's entire automobile market, as the figure did not include sales of other manufacturers that are not VAMA members such as Audi, Jaguar, Land Rover, Mercedes-Benz, Subaru, Volkswagen, Volvo, and Hyundai Thanh Cong.
Besides, the Vietnam Motor Show 2019, to be held in October, will be a chance for local consumers to choose suitable cars from renowned brands and access to promotion programmes.
Pharmed and Healthcare Vietnam 2019 opens in HCM City
The 14th International Exhibition on Products and Supplies for Medical, Pharmaceutical, Hospital and Rehabilitation (Pharmed and Healthcare Vietnam 2019) opened in Ho Chi Minh City on September 11, featuring more than 600 booths by exhibitors from 25 countries and territories worldwide.
The exhibitors bring a wide range of their latest products to the four-day event in various fields of pharmaceuticals, hospital, beauty care equipment, and drug manufacturing and packaging technology.
Addressing the opening ceremony, Deputy Minister of Health Truong Quoc Cuong said that the annual Pharmed and Healthcare Vietnam exhibition aims to foster exchanges and share experience between Vietnam and foreign countries in the fields of pharmaceuticals, medical equipment.
It also provides an opportunity to promote Vietnam's latest achievements in the fields and help local companies to promote their products, seek investment and expand their market for the improved care of people's health.
Co-organised by the Ministry of Health, Adpex Joint Stock Company and the Vietnam Pharmaceutical Companies Association, the event is the largest of its kind in Vietnam which provides a meeting venue for manufacturers and suppliers working in pharmaceuticals, medical supplies and equipment.
This year's event is expected to welcome 15,000 visitors.
Vietnam Airlines retires last Airbus A330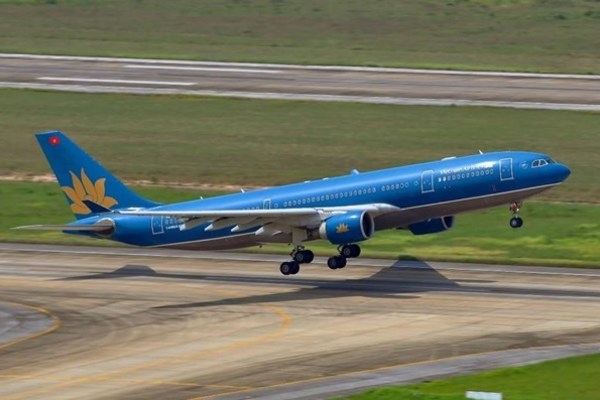 The national flag carrier Vietnam Airlines says goodbye to its wide-body Airbus A330 aircraft.
The national flag carrier Vietnam Airlines on September 11 announced it had retired the last wide-body Airbus A330 aircraft in a move to replace its aging rolling stock with new models.
Since October 2016, the Airbus A330 fleet had safely transported nearly 20 million passengers on around 96,000 flights.
With 12 aircraft of this model at the carrier's peak, the planes were mainly used on mid-haul flights such as Hanoi - HCM City and Hanoi/HCM city – Da Nang, and 15 international flights to the EU, Australia, Northeast Asia and Southeast Asia.
Vietnam Airlines' phasing out of the A330 is part of the plan to upgrade its fleet with new-generation aircraft such as Boeing 787 and Airbus A350.
In 2015, the carrier became the first airline in the world to successfully operate both next-generation aircraft Boeing 787-9 Dreamliner and Airbus A350-900 XWB at the same time. The fleet has helped Vietnam Airlines save energy and maintenance cost, reduce 20-25 percent of carbon emission, while improving its service as a four-star airline.
It is now operating 94 routes to 21 domestic and 29 international destinations with an average of 400 flights per day, connecting the world's major cities to travel destinations in Vietnam, Laos, Cambodia, and Myanmar.
In 2010, Vietnam Airlines became a member of SkyTeam – a global airline alliance whose 20 members provide access to an extensive global network of 16,609 daily flights to 1074 destinations in 177 countries. This membership reaffirmed the carrier's position on the global aviation map.
Vietnam Airlines has been continuously working to complete procedures to conduct direct flights to the US, according to the national flag carrier.
The airline said it has been awarded a foreign air carrier permit from the US Department of Transportation to operate flights to transport passengers and goods and parcels from Ho Chi Minh City and Hanoi to several destinations in the US, as well as those via points in Taipei (China's Taiwan), and Osaka and Nagoya in Japan. It was authorized to fly to Los Angeles, San Francisco, New York, Seattle and Dallas-Fort Worth. It can also continue flights to Vancouver, Montreal and Toronto cities in Canada.
In addition, Vietnam Airlines is also permitted to operate routes from destinations outside Vietnam, via Vietnam and other transit points to 25 destinations in the US in the form of codeshare. The permission also allows the carrier to make charter flights between the two countries.
Vietnam experiences a travel bloom: Thai media
Vietnam's non-smoke sector is enjoying a boom, with a substantial increase in the number of Thai visitors buoyed by growing low-cost flights, local media reported.
Vietnam reported foreign tourist arrivals of some 11.3 million in the first eight months of this year, with significant gains from several Asian source markets, Bangkok Post cited Vietnam's National Administration of Tourism.
The standout market in terms of growth is Thai travellers, up 46.3 percent in the eight-month period. Meanwhile, the Chinese market dipped 0.9 percent.
An estimated 310,955 Thai people travelled to Vietnam during January-August, with a leap expected as airlines increase the frequency of flights and push new routes to the country.
Chotechuang Soorangura, associate managing director at NS Travel & Tours, said the growth of Thais travelling to Vietnam is the result of two factors: more flights and cheap prices for tourism facilities. Besides, the travel time is short while Vietnamese cuisine is not dissimilar to Thai food.
From Bangkok, travellers can choose from seven destinations via direct flight. The central region is gaining popularity, with such leading destinations as Da Nang, Hue and Hoi An.
Social networks mean travellers are sharing their stunning pictures of attractions online, tempting potential travellers to ask tour companies where the photos were taken so they can book a package themselves.
The Thai Travel Agents Association said Thai visitors booking tours to Vietnam are up 30 percent, particularly to Da Nang, Da Lat and Hanoi.
Chotechuang said the variety of prices is another strength leading to growth. Travellers preferring a more luxurious trip can spend 20,000 THB (over 650 USD) per package for an elegant stay. But there are plenty of budget options for around 10,000 THB.
President of Bangkok Airways Puttipong Prasarttong-Osoth rated Vietnam as a rising star of the airline. This year, it commenced its newest route, Bangkok – Nha Trang, the third city in the country it serves.
In the last two years, various airlines are interested in entering Vietnam as they witnessed the expansion of infrastructure, new attractions and good service facilities at tourist destinations.
Vietnam posts trade surplus with other CPTPP members
Vietnam recorded a trade surplus of over 1 billion USD with the 10 other members of the Comprehensive and Progressive Agreement for Trans-Pacific Partnership (CPTPP) in the seven months since the deal took effect in the country in January, according to the General Department of Vietnam Customs.
The CPTPP, one of the largest trade pacts in the world, covers 13.5 percent of global GDP and a market of about 500 million people. It gathers 11 countries, namely Australia, Brunei, Canada, Chile, Japan, Malaysia, Mexico, New Zealand, Peru, Singapore and Vietnam.
It officially took effect in Vietnam on January 14 this year.
The authority further said the country's exports to the CPTPP members like Japan, Canada and Mexico rose considerably in the first seven months of the year. The shipments to Japan reached 1.01 billion USD, Canada 546 million USD and Mexico 290 million USD.
Meanwhile, imports from Mexico dropped by 659 million USD, Singapore down 490 million USD, and Malaysia down 219 million USD.
Exports to the CPTPP countries since the year's beginning have accounted for 15.4 percent of the total export revenue. Additionally, six of the 27 markets to which Vietnam's shipments surpassed 1 billion USD are CPTPP economies.
These figures show that the agreement has helped Vietnam tip its trade scale in favour of exports, the general department said.
Canadian Consul General in Ho Chi Minh City Kyle Nunas said with a relatively short roadmap for tariff reductions by Canada (from 17 – 18 percent to zero percent in three years), some groups of Vietnamese commodities are forecast to enjoy strong export growth as from 2019 such as textile-garment, footwear, handbags, and plastic and wood products.
Businesses and investors of Canada are also paying special attention to Vietnam's roadmap for opening its market for several agricultural products like pork, beef, chicken, aquatic products and fresh fruits, he noted.
Australia is also a potential market for Vietnamese goods. As soon as the CPTPP came into force, Vietnam began making use of opportunities generated by the deal to boost shipments to Australia. Notably, it has dominated the tra fish market there as it supplies up to 98 percent of the tra fish amount consumed in the country.
Nguyen Thi Thu Trang, Director of the WTO Centre under the Vietnam Chamber of Commerce and Industry (VCCI), said the CPTPP economies' stronger demand for Vietnamese agricultural products is expected to help local exporters offset the recent decline in the export of those items to China, which has tightened import regulations.
Shinji Hirai, chief representative of the Japan External Trade Organisation (JETRO) in Ho Chi Minh City, said the CPTPP will consolidate Vietnam's role as a production and export hub of businesses of Japan as well as other member countries. In return, Vietnamese firms will also gain similar benefits when it enters the markets of other CPTPP nations.
Ministry seeks ways to support incense stick export to India
The Ministry of Industry and Trade (MoIT)'s Department of Asian-African Markets on September 11 held a working session with the Embassy of India in Vietnam on the support for Vietnamese incense stick producers and exporters.
At the meeting, the department voiced its concern about India's revision of its import policy of incense sticks and related products from free to restricted, as stated in a public notice of India's Ministry of Commerce and Industry on August 31.
It was opined that the sudden and unannounced requirement of licence will cause huge damage to Vietnamese businesses, especially during peak time of demand in the South Asian nation which falls in September and October.
A large inventory cannot be exported as there is no alternative and various pending consignments will not pass through the customs clearance. In addition, it will affect the lives of workers in the field, most of them poor and disabled people.
Indian importers who have formed partnership with Vietnamese firms for years will also suffer as they have paid in advance in accordance with contracts signed before August 31.
The MoIT asked the embassy to work with Indian competent agencies to address negative impact to Vietnamese firms and workers caused by sudden amendments of the country's incense stick import.
Indian agencies should re-consider not asking for import licence for batches shipped from Vietnam before August 31. They were asked to halt the restriction during peak time this year and work to eventually remove import control over Vietnam's incense sticks.
In reply, Deputy Chief of Mission at the Indian Embassy Rajesh Uike pledged to promptly work with Indian functional agencies to remove bottlenecks for businesses of the two countries and will soon reply to the MoIT.
Another solar power plant inaugurated in Ninh Thuan
The first phase of Nhi Ha solar power plant was inaugurated on September 10 in Nhi Ha commune, Thuan Nam district, the south central coastal province of Ninh Thuan.
The 50 MWp plant was invested by the Solar Power Ninh Thuan Sole Member Limited Liability Company with total capital of 1.13 trillion VND (48.59 million USD).
Fourteen months after the project won an investment licence, the company has installed a total of 151,440 solar panels, and the plant was connected to the national grid on June 27.
Vu Quang Sang, Chairman of the Solar Power Ninh Thuan Sole Member Limited Liability Company, said the plant is expected to generate 80 million KWh of electricity annually, meeting the demand of roughly 22,000 households.
Le Van Binh, Vice Chairman of the provincial People's Committee, said the success of renewable energy projects in Ninh Thuan has contributed to optimising investment resources and boosting clean energy development in the province.
These projects have also helped create jobs and increase local budget collection, thus realising the target of developing Ninh Thuan into a national centre of renewable energy, the official added.
The committee will continue to facilitate the company's investment in the next phases of the project, he pledged.
Currently, there are 15 solar power projects in Ninh Thuan with combined capacity of 1,063 MW connected to the national grid. Four similar projects with a total capacity of 140 MW are scheduled to be inaugurated in late 2019, and 12 others with an accumulative capacity of 614 MW will be put into commercial operation in 2020.
Dong Nai to cooperate with RoK on energy industry
Authorities of the southern province of Dong Nai and a delegation from the Jeollanam province in the Republic of Korea (RoK) on September 5 signed a cooperation agreement on energy industry.
Under the agreement, the two sides will coordinate the development of new renewable energy, smart grids, information on energy and energy technology, and energy efficiency.
Jeollanam will help Dong Nai training experts and workers while cooperating in electrical energy projects and new energy industries.
According to Vice Chairman of the provincial People''s Committee Nguyen Hoa Hiep, the RoK is leading the countries and territories investing in Dong Nai with 395 projects and total registered capital of about 6.3 billion USD.
RoK firms mainly invest in textiles, footwear, textile fibers, machinery, iron and steel products, and electronics.
Hiep also noted that Dong Nai is a province with a developed industry, so the demand for power is very huge. In 2019, the province is expected to consume about 14 billion kWh. Therefore, the development of renewable energy sources, new energy as well as deployment of smart electricity grid is essential.
Jeollanam's deputy governor Yoon Byung Tae assessed that Dong Nai has large renewable energy resources, with many industrial parks suitable for developing new, renewable and intelligent power networks.
Jeollanam is the largest place for researching and applying renewable energy in RoK, he added.
At the signing ceremony, the Korea Electric Power Research Institute also signed a contract with Taekwang Vina Industrial Joint Stock Company (located in Bien Hoa 2 Industrial Park) to implement the micro-grid project. This project will help the company save a lot of electricity consumption in use and production.
Vietnam promotes tourism in Japan
The Vietnam National Administration of Tourism is organising a programme to promote Vietnam tourism in Japan from September 6 to 15.
The programme will be held in Kanagawa, Tokyo and Hokkaido, aiming to attract more Japanese tourists to Vietnam.
Japan is now the third biggest source market of Vietnam. In 2018, Vietnam welcomed 826,000 Japanese visitors, a year-on-year rise of 3.6 percent.
In the first eight months of this year, 620,000 Japanese tourists arrived in Vietnam, up 13.7 percent year-on-year.
Vietnam-Czech Republic trade up 5.6 percent in first half
Two-way trade between Vietnam and the Czech Republic in the first six months of 2019 hit 591.14 million USD, up 5.6 percent, according to latest statistics of the European country.
The Czech Republic imported 557.78 million USD worth of goods from Vietnam, an increase of 8.96 percent, while the value of its exports to Vietnam reached 33.36 million USD, down 30.33 percent.
Czech-Vietnam trade value in 2019 is forecast to reach 1.182 billion USD, a year-on-year increase of 0.66 percent, with the Czech Republic's import value expected to increase by 7.93 percent.
In the first two quarter, the European country imported from Vietnam mainly machinery, electrical equipment, footwear, textiles and accessories, and agricultural-forestry products.
Data from the General Department of Vietnam Customs shows that in the first seven months of this year, Vietnam posted increases in export turnover to many EU member states, such as Germany (3.43 percent), Hungary (7.94 percent), Denmark (4.74 percent), Estonia (16.17 percent) and the Netherland (8.97 percent).
Vietnam's handicraft products popular at London int'l fair
Craft products of Vietnam have been a draw to many visitors at the Top Drawer 2019, which opened in London, the UK on September 8.
On the day, a number of local firms expressed their interest in partnering with their Vietnamese counterparts to distribute handicraft items.
On display at the fair are products of 20 Ho Chi Minh City-based businesses, such as bamboo accessories, wooden products, jewellery, and more.
Vietnamese Ambassador to the UK Tran Ngoc An affirmed that the participation of Vietnamese firms in popular fairs in the UK will create chances for products of the country to gain a foothold in the European nation's market.
The Top Drawer is a leading lifestyle trade show in the UK, featuring home and fashion accessories, gifts and stationery. This year, the event runs until September 10, hosting 800 pavilions mainly of European countries.
Int'l food, beverage expo to take place in Hanoi in November
The VietFood, Beverage and Professional Packing Machines (VietFood & Beverage – ProPack) International Exhibition will take place in Hanoi from November 6 to 9.
The event will be co-organised by the Trade Promotion Agency under the Ministry of Industry and Trade and Vietnam National Trade Fair & Advertising Company (VINEXAD).
More than 200 businesses from 10 countries and territories such as the Republic of Korea (RoK), Singapore, Denmark, Bulgaria, Japan, Thailand, India, China and Vietnam are expected to participate in the expo, up 15 percent against 2017. They will showcase their local specialties such as ginseng, lingzhi mushroom and peach juice.
This will be the first expo of this kind to see the presence of firms from Greece, according to organisers.
Various kinds of products will be offered to visitors such as fruits and vegetables, aquatic products, farm produce, alcoholic drinks, juices, tea, food packaging and storage equipment, hotel and restaurant equipment, among others.
Rampant violations detected at Tuyen Lam Lake
Authorities in Da Lat are dealing with several firms which have illegally built tourism projects around Tuyen Lam Lake.

Lam Dong Province authorities have filed a report to the prime minister about the investigation and solutions to deal with violations around Tuyen Lam Lake. They also included a list of violating organisations and individuals.
According to the report, Sao Da Lat Company conducted constructions, including gates, ticket booths, toilets, and resting areas, on an area of 2,000 square metres without permits. Da Lat City People's Committee said it would punish the company. Some of the constructions have now been removed.
"Sao Da Lat Company has submitted adjusted planning to keep the remaining constructions. Their plan has been approved by the Department of Construction. Sao Da Lat promises to remove all unsuitable constructions," Lam Dong People's Committee wrote in the report.
Ly Khuong Investment Company carried out illegal constructions on 483 square-metre of land and encroached 7,700 square metres of land along with many other violations. Ly Khuong Investment Company has to remove 19 illegal houses out of the protected area.
Meanwhile, Thien Nhan Company was accused of illegal deforestation, illegally using 700 square metres of protection forest without permission and building 23 illegal constructions. Thien Nhan Company hasn't paid any administrative fines or removed the illegal constructions as requested. Nor have they started any reforestation activities.
Lac Nam Company also built seven constructions that are not in accordance with the approved plan. They have stopped all constructions activities to fix the violations. They have submitted an adjusted construction plan which was approved.
Lam Dong People's Committee said that they had reprimanded and would clarify individual responsibilities of the Management Board of Tuyen Lam Lake National Tourist Area, Da Lat People's Committee and related agencies. They will have suitable punishments for the employees and solutions to deal with the violations.
"We'll report the results to the prime minister after completely deal with the violations," Lam Dong People's Committee wrote in the report.
Hanoi's late-ripening longan exported to Australia
The first batch of late-ripening longan of Hanoi's Hoai Duc district is scheduled to reach Melbourne city, Australia, on September 6, the municipal Department of Agriculture and Rural Development said.
Longan is the fourth type of fruit, together with litchi, mango and dragon fruits, licensed to be imported into Australia.
Nguyen Xuan Dai, deputy director of the department, said late-ripening longan had been mostly sold to the Hanoi market. However, the fruit has been exported to foreign countries like Malaysia, the US and Poland.
The capital city has instructed departments and agencies to promote late-ripening longan in both domestic and foreign markets, including demanding ones like Australia, through trade promotion programmes.
In 2018, Hanoi had 18,796 hectares of orchard, of which the area of longan ranked third, with an output of 18,000 tonnes.
Phung Thi Thu Huong, Director of Green Path Vietnam Trading and Import-Export Company, said in 2018, Green Path was the first business to ship Hanoi's longan to the US market.
Business matching promotes Vietnam – Philippine trade
A Vietnam – Philippines business matching took place in Hanoi on September 6 to help Vietnamese enterprises explore opportunities to export goods and services to the Philippines.
The event was co-held by the Ministry of Industry and Trade's Vietnam Trade Promotion Agency (Vietrade), the Vietnam Trade Office in the Philippines and the Association of Young Filipino-Chinese Entrepreneurs (Anvil Business Club). It was also part of a visit to Vietnam by a group of Philippine importers to seek partnership opportunities on September 5 – 8.
Present at the event were more than 200 organisations and businesses from both sides. The Philippine group included 52 companies in furniture, design, construction, automobile parts, electronics and real estate.
Le Hoang Tai, Vietrade deputy director, said the Vietnam – Philippine trade reached 4.7 billion USD last year, up 18 percent from 2017. The Philippines is currently Vietnam's fifth largest trade partner in ASEAN and has emerged as a potential market for Vietnamese businesses in recent years.
In 2018, Vietnam exported about 2.2 billion USD worth of commodities to the Philippines with key export items like coffee, seafood, textile and garment, construction materials, and machinery.
In the first seven months of this year, the two-way trade rose more than 26 percent to over 3.2 billion USD, of which Vietnam's exports were valued at 2.3 billion USD, up 24.23 percent. 
Vietnam, Japan cooperate on construction waste management
Vietnam and Japan are working together to set up a construction waste management system to control pollution.
This is to combat the large volume of construction and demolition waste (CDW) produced from urban development which is rapidly increasing in Asian countries including Vietnam.
The National University of Civil Engineering (NUCE) and the Saitama University (SU) on September 4 held a seminar to provide a platform for researchers and students to exchange ideas and discuss research finding and new advances in sustainable development in East Asia.
This is the second joint workshop of the two universities for the SATREPS project for the "Establishment of environmentally sound management of construction and demolition waste and its wise utilisation for environmental pollution control and for new recycled construction materials in Vietnam".
The project is expected to provide a platform for an environmentally sound waste management and resource recycling system in Hanoi, applying technologies and experiences from Japan, where the rate of construction and demolition waste recycle reaches above 95 percent.
At the workshop, participants shared their experiences on sustainable and environmentally-friendly construction waste management activities.
On the same day, the two schools also held the opening ceremony of the SATREPS project laboratory, which had been set up in NUCE's laboratory building, with various testing and analytical equipment from Japan.
Major activities include the investigation of the generation status of construction and demolition waste and environmental pollution status at disposal sites of CDW, the development of standards for recycled materials, the development of various technologies utilising recycled materials, and the manufacturing and marketing of recycled materials on a trial basis.
Human resource development and capacity building for Vietnamese counterparts through joint testing and research activities utilising laboratories is also an important activity.
Speaking at the seminar, NUCE Rector Pham Duy Hoa said this was an opportunity for experts and students of both universities to develop new technologies to solve key issues of management and techniques in structure, materials and environment of Vietnam and developing countries.
"We are confident that this laboratory will become one of the region's leading research centres for recycling and new technology development," he said.
The project proposal was adopted by the SATREPS Programme in the fiscal year of 2017, in response to NUCE's request for the implementation of international joint research in the environmental and social infrastructure sector.
This five year-project was then launched in Hanoi and Hai Phong in February 2018 with the aim of establishing a resource recycling system for CDW and developing new technologies utilising CDW recycling materials, in order to promote sound management of CDW. 
Eight-month rice exports down
Vietnam exported about 4.54 million tonnes of rice for nearly 2 billion USD in the first eight months of this year, up 0.3 percent in volume but down 14.9 percent in value from a year earlier, according to the Agro Processing and Market Development Authority (Agrotrade).
In August alone, the country shipped abroad 591,000 tonnes of rice for 265 million USD, the agency said.
Strong growth were seen in Ivory Coast (64.5 percent), Australia (63.9 percent), Hong Kong (China) (43.5 percent), and Saudi Arabia (31.3 percent) during the January – August period.
The average export price in the eight months reached 433 USD per tonne, down 14.7 percent year on year.
The Philippines outstripped China to become Vietnam's largest buyer during the reviewed period, accounting for 34.5 percent of the total rice exports or 1.46 million tonnes. Its rice imports from Vietnam increased 3.2 times in volume and 2.7 times in value from the same period last year.
Vietnam's rice exports to China plunged 66 percent year-on-year to 350,000 tonnes, pushing the neighbouring country to the second position.
Local traders said China's demand for rice is still high, but Chinese importers have cut back on purchases from Vietnam because of new technical barriers imposed by the Chinese government. In addition to increases in import duty, China has strengthened quality control of goods and inspection of food safety.
At present, Vietnam has 21 enterprises which have received permission to export rice to China. From 2019, China also required licensed enterprises to register total capacity of their factories and they will not be allowed to export more than that. Their licences would be revoked if the volume of rice exported is higher than the registered capacity.
Agrotrade Director Nguyen Quoc Toan warned that Vietnam will face difficulties in exporting rice in the short term due to obstacles in major markets like China and the Philippines.
After approving policies to promote rice imports about six months ago, the Philippines has a high inventory of rice at present. The country's farmers asked the Government to support them in rice consumption because they face difficulties in sales. Therefore, Vietnam's rice exports to this market are expected to fall in the near future.
Meanwhile, the country's rice exports to the EU are expected to grow strongly in the future due to the positive impact from the EU-Vietnam Free Trade Agreement (EVFTA) when it comes into effect.
Under this agreement, Vietnam will have an export quota at 80,000 tonnes of rice per year with a tax rate of zero to the EU in the future, four times higher than the current exports of 20,000 tonnes per year with a tax between 65-211 EUR (71.9-233.3 USD) per tonne, or estimated at 50 percent of export value. 
Hai Duong aims to make tourism a spearhead
With its beautiful landscape together with rich cultural value plus a favourable geographical location and convenient transport system, Hai Duong province aims to turn tourism into an economic spearhead by 2020.
The number of tourists staying overnight in the locality is expected to increase 8 percent this year to reach over 1.6 million in 2020, and the tourism sector will contribute from 2-2.5 percent of the provincial gross domestic product (GDP).
Statistics show that Hai Duong is now home to 200 tourist accommodations, including three 4-star, five 3-star and 25 two-star hotels. As such, those accommodations will not meet future demands.
In addition, there have been no accommodations in the luxurious segment that is forecast to bloom in the next two years.
In the first eight months of 2018, the province welcomed more than 2 million holiday-makers.
Besides holiday makers, Hai Duong has set sight on another source of visitors - local industrial parks which are home to many foreign-invested companies. Foreign direct investment (FDI) in Hai Duong reached 365.8 million USD in the first half of 2018, representing a year-on-year rise of 36.9 percent, the provincial Department of Planning and Investment reported.
The inflow of FDI also brings in both foreign and domestic labourers and experts.
This would stimulate demands for real estate, especially short-term accommodations for foreign experts and labourers.
It is noteworthy that Prime Minister Nguyen Xuan Phuc issued a decision last May, recognizing Hai Duong city as the first-tier city, which has also contributed to spurring the development of the local property market.
Nguyen Duong Thai, Chairman of the provincial People's Committee, said the recognition will create a great impact on the urbanisation and industrial development in the city and adjacent areas in the province.
It is a major breakthrough creating conditions for Hai Duong city to develop in all spheres, deserving its role as the growth engine of the province and the region at large, he said.
Hai Duong, formerly called "Thanh Dong" – meaning the city to the east of Thang Long royal citadel -, has been well-known for its rich culture, both tangible and intangible, which is typical of the Red River Delta. The province was a cradle of cheo (traditional opera), ca tru (ceremonial singing), chau van (spiritual singing) and water puppetry.
The locality boasts 2,207 historical and cultural relic sites, including 144 ranked as national relic sites and four included in the list of special national relic sites.
Among the four special national relic sites, Con Son-Kiep Bac is arguably the most well-known one. The site is closely associated with the lives and careers of outstanding national hero Tran Hung Dao, the great writer Nguyen Trai, and the great teacher Chu Van An.
Meanwhile, Mao Dien Temple of Literature is the second largest of its kind in Vietnam after the temple in Hanoi. It was built during the early period of the Later Le Dynasty in Vinh Tuy commune, Binh Giang district in the 15th century. It was later moved to Cam Dien commune, Cam Giang during the Tay Son Dynasty (1788 – 1802). The temple is a place where worshippers come to pay homage to Confucius as well as some 600 Confucian doctors of the province that have been honoured over more than 500 years.
Hai Duong is also famous for local specialties such as glutinous rice, lychees, green bean cakes, and gai cakes (glutinous rice cake dyed black with a concoction of pinnate leaves). Local craft villages like Kinh Chu stone carving village, Dong Giao wood carving village, Chau Khe jewelry village, and Cay and Chu Dao ceramic villages also preserve their traditional crafts which have been passed down many generations.