With the Lunar New Year Festival (Tet) drawing near and demand of cash increasing, Vietnam's central bank has sounded the alarm over counterfeit money.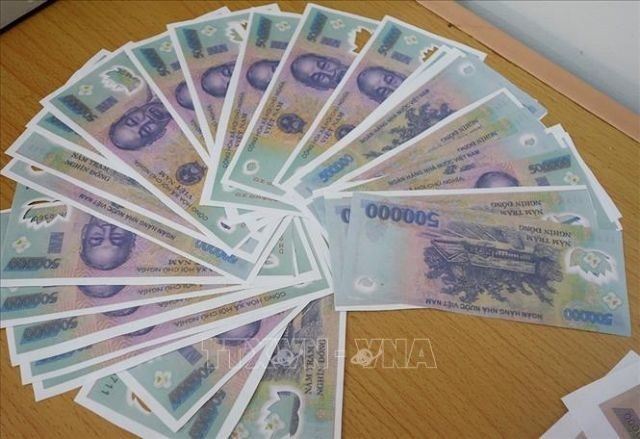 Counterfeit 500,000 VND notes confiscated by police in An Giang province.
The State Bank of Vietnam (SBV) has recommended banknotes used in cash-based transactions be thoroughly checked for counterfeits.
According to experts, counterfeits can be detected by using a number of methods from using ultraviolet light to spotting minute differences to genuine notes.
Banking expert Nguyen Tri Hieu said counterfeits could be verified using the naked eye when one knows where and what to look for, for example shadows and text fonts on counterfeits when viewed from certain angles appear blurry and not as refined as in real notes.
Hieu advised authorities in border towns and provinces to set up task forces to identify counterfeits early. Citizens must also learn how to tell the difference between counterfeits and genuine notes.
Other methods, according to the SBV, include squeezing the notes or trying to tear a corner, both based on the characteristics of the high-quality polymer used for genuine notes. Once let go, they should unfold back into their original forms. It should also be very difficult to tear undamaged notes.
Counterfeits are often made using nylon and a few simple stretch tests should be able to show they don't possess the same elasticity of polymer notes.
Two circle patterns that can be found at the top right and top left corners of notes with value from 50,000-500,000 VND should match each other perfectly when viewed under strong light. Those of counterfeits will not form a perfect match.
Detailed guidelines with photo examples can be found at any commercial bank to help customers verify the authenticity of their notes.
With Tet drawing near, increased flow of counterfeit money is expected due to heightened commercial activities and strong demand for cash before the country's biggest holiday.
Starting from October, adverts offering counterfeit notes could be found on popular social media sites with most sellers asking for a 1:10 rate - 100,000 VND for 1,000,000 in counterfeits.
While most of the deals often ended up being a scam, with sellers disappearing after taking a small amount in purchase-deposit, police have been ordered to keep a close watch on online sellers.
Vietnam's Penal Code forbids the use and transfer of counterfeit notes. Under Clause 180 of the code, individuals found to have stored, moved or circulated fake notes with total value up to 3 million VND can be jailed from 3-7 years.
Those found with 3-50 million VND face 5-12 years in prison and 50 million VND and above 10-20 years with a possible life sentence./. VNA

Tien Phong Commercial Joint Stock Bank (TPBank) has become the first Vietnamese bank to use blockchain technology for money transfers abroad.

The money market is seeing the first signs of loosening though the State Bank of Viet Nam has yet to make a decision on reducing benchmark interest rates.