In general, Vietnam reaped no rewards from the trade war and is facing obstacles in shipments to several markets.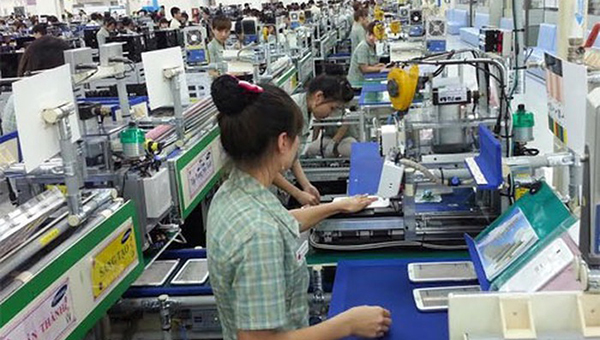 Vietnam's phone exports declined in the first months of this year.
Instead of gaining high growth in exports and FDI attraction in the wake of the US-China trade friction as forecast previously, Vietnam in fact did not see any positive effects from the conflict and is even becoming vulnerable when global demand weakens, experts said.
 Nguyen Thi Thu Trang, director of the Vietnam Chamber of Commerce and Industry's WTO Center and Integration, said that in general, Vietnam reaped no rewards from the trade war and is facing obstacles, explaining that overall, Vietnam's exports to the United States are rising, but its shipments to other markets are slowing down.
A recently-released World Bank report also showed that the country's total exports probably grew around 6.5 percent in the first four months of 2019, much lower than the 13.2 percent growth in the same period last year.
Notably, phones and spare parts, the country's largest single export staple that make up about 20 percent of the total, saw their exports declined. Shipments of footwear, garments and computers gained, but less rapidly as a result of waning global demand. According to experts, a slackening of global growth hurt Vietnam's manufacturing.
Sharing the same view, Can Van Luc, chief economist and director of the BIDV Training and Research Institute, said that the adverse effects of the US-China trade war on Vietnam are obvious. In the first half of the year, Vietnam's exports to Europe decreased by 0.4 percent over the same period last year.
In addition, many Vietnamese export items to China saw a deep decline, which went against many forecasts that Vietnam would replace the United States in boosting exports to China. Vietnam's exports to China during the year up to May slipped 1.4 percent year-on-year, while the year-ago period saw a 31 percent increase versus the 2017 figure, which demonstrates that Vietnamese goods did not replace the US items on the Chinese market.
According to Trang, Vietnamese products are facing fierce competition from Chinese goods and those of other countries. Once China's exports to the United States were hindered, it would ship them to other countries and, as a result, compete directly with Vietnam.
The country targeted an export growth rate of 8-10 percent this year, Luc said, adding that a growth rate of 14 percent in exports, as in 2018, seems impossible.
Chinese investments under warning
Regarding capital flow, FDI commitments in Vietnam dropped by more than 9 percent in the first half this year. The country only saw rising investment from Chinese investors. China's investment in the first six months of 2019 reached US$2.72 billion, ranking third among 95 countries and territories investing in Vietnam.
This raises concerns about Chinese companies rushing to invest in Vietnam, which is supposed to avoid the punitive US tax increases on Chinese goods.
According to Nguyen Noi, deputy director of the Ministry of Planning and Investment (MPI)'s Foreign Investment Agency, on the issue of Chinese enterprises investing in Vietnam to avoid high taxes from the US, the MPI is unable to make an official conclusion. However, he noted, when the US imposes high taxes on some Chinese goods, investors will shift to Asia, including Vietnam, as it is a very attractive investment market.
Noi said that Vietnam will receive only good investment projects and limiting low quality ones. The country will consider carefully to prevent projects forging origin or causing bad impacts on the environment.
"This issue has been mentioned by the MPI in a project to improve the efficiency of attracting foreign investment," Noi said, adding low quality projects will be scrutinized and its prevention is likely to be included in the draft amendments of the Investment Law. Hanoitimes
Anh Hong

Vietnam has devuded not to devalue the dong in order to gain advantages in export.

The number of container equivalents of goods shipped in and out of Vietnam annually may reach 23 million by 2025, up 64% in 2019.