Truong Thanh Furniture Corporation (Truong Thanh) expects its losses to reach VND588 billion (US$25.3 million) in 2019, heard the firm's annual shareholder meeting on Monday.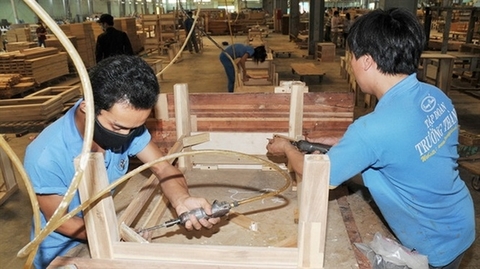 A factory of Truong Thanh Furniture Corporation. The company plans to cut losses to VND588 billion (US$25.3 million) in 2019 from VND805 billion last year. — Photo viettimes.vn
The company plans to increase its net revenue by 18 per cent year on year to VND1.23 trillion this year, but losses are unavoidable due to high costs of selling goods and services.
The firm also intends to not pay a dividend for 2019's performance.
In 2018, Truong Thanh earned VND1 trillion in net revenue, down 23 per cent year on year due to a downturn in market demand, high inventory and provision for hardly-collected receivables.
The company also totalled a cumulative loss of VND2.12 trillion between 2016 and 2018.
According to chief finance officer Le Van Minh, Truong Thanh had to set a provision of VND224 billion for inventory and receivables in 2018.
The company had been unable to claim some of the receivables while its inventory had remained high in recent years, Minh told the meeting.
The company would continue provisioning VND643 billion for receivables and inventory this year, he added. If the provision was excluded from the plan, Truong Thanh would be profitable this year.
Team-ups for better performance
In May, Truong Thanh announced it would acquire Thien Thanh Sanitaryware JSC and the merger is expected to help the former to tap the US market.
According to Truong Thanh chairman Mai Huu Tin, Thien Thanh Sanitaryware is producing 450,000 product units each year and its production will increase to 800,000 in 2020.
The company will also look to improve its co-operation with property developer and retailer Vingroup in the next three years as the firms' contract expires in 2022.
In May 2017, Truong Thanh and Vingroup signed a contract worth VND15 trillion, saying Truong Thanh is the strategic supplier of wooden products and furniture for Vingroup's real estate projects over a five-year period.
But the slow construction of Vingroup's real estate projects was also the reason for low revenue report and forecast in 2018-19, Tin said.
Vingroup had so far disbursed nearly VND2.5 trillion to Truong Thanh. In the first months of 2019, Vingroup ordered only VND3 billion worth of products from Truong Thanh.
Tin also warned investors and shareholders of increasing competition in the wood sector as the Vietnamese wood and furniture had expanded, luring attention of foreign companies, especially those from China. — VNS

Many Vietnam-made products, after being exported to other countries, have been re-imported to Vietnam and sold at prices much higher than the initial prices.

VietNamNet Bridge - Vietnam is a big woodwork exporter, but products are labeled as foreign made, with few local brands.