Vietnam has great potential for the export of ornamental plants and animals thanks to its diverse and favourable natural conditions, said Minister of Agriculture and Rural Development Nguyen Xuan Cuong.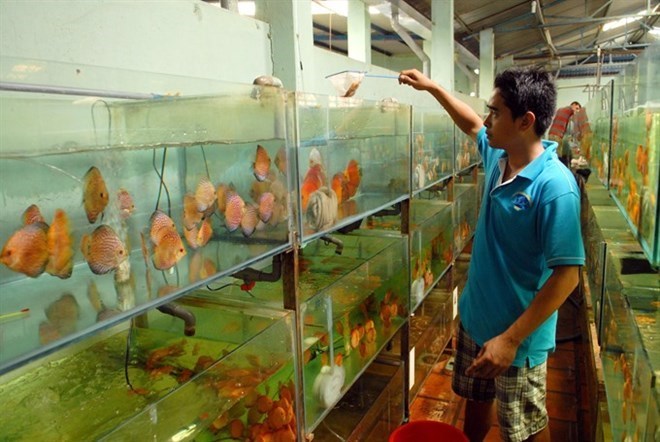 A man takes care of ornamental fish at Saigon Aquarium Corporation in HCM City.
At a ceremony to sign a cooperative programme between the agriculture ministry and the Vietnam Ornamental Creatures Association on May 9, Minister Cuong said demand for ornamental creatures is rising along with improving living conditions, making it an important industry in agriculture.
He affirmed that the ministry will devise projects to promote its development in the time ahead.
According to Nguyen Huu Van, President of the Vietnam Ornamental Creatures Association, the country has around 34,400 ha used for ornamental plant cultivation.
The ornamental creature industry is growing strongly with hundreds of villages specialising in the production and trade of flowers, bonsai, birds and fish.
Some products have been exports, such as flowers, with one billion branches of fresh flower shipped abroad each year, Van said.
Hanoi, Ho Chi Minh City and the Central Highlands province of Lam Dong have become major production hubs of ornamental creatures.
Founded 30 years ago, the Vietnam Ornamental Creatures Association now has 6,000 chapters with more than 350,000 members in 56 provinces and cities.-VNA