The Vietnamese Ministry of Industry and Trade (MoIT)'s Industry Agency and the UN Industrial Development Organisation (UNIDO) on October 22 released the Vietnam Industry White Paper 2019.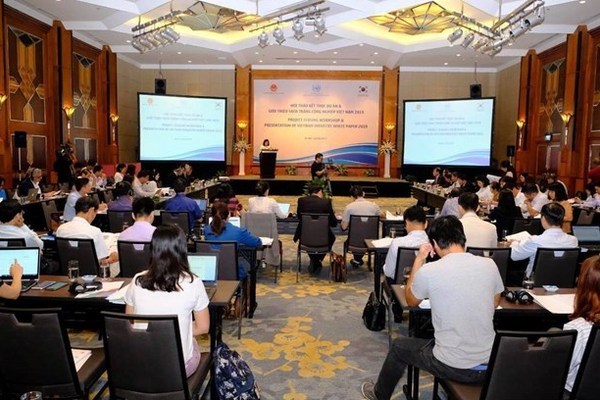 At the event (Source: moit.gov.vn)
The white book was built within the framework of the project "Support to the Government of Vietnam in the formulation of sub-sector industrial strategy and of related implementation policy through institutional capacity building" that has been carried out by the two sides since 2016, with the sponsor of the Republic of Korea (RoK).
Recommendations in the paper will be taken into account during the Government's building of industrial policies in order to enhance the role of the processing and manufacturing sector, said Nguyen Thi Xuan Thuy from the MoIT's Industry Agency, who is also head of the compilation group.
Le Thi Thanh Thao, UNIDO Country Representative in Vietnam, said industrial competition is the main growth momentum in developing countries as a competitive industry will accelerate the structural shifting that is a decisive factor in national development and poverty reduction.
She pledged to further coordinate with the MoIT in industrial development in Vietnam.
Over the past time, UNIDO has closely partnered with the ministry in promoting strategies and policies on industrial development through institutional capacity enhancement, completing industrial reports in both public and private sectors and proposing strategies and specific policies for the processing and manufacturing sector.
UNIDO's Competitive Industrial Performance Index reveals that in 2018, Vietnam ranked 42nd globally and fifth among South and Southeast Asian nations, as compared with the 69th place the country recorded in 2006, she said.
Deputy Minister of Trade and Industry Do Thang Hai said contributions of the processing and manufacturing sector to the national gross domestic product (GDP) increased from 12 percent in 2010 to 16 percent last year.
The sector has contributed over 80 percent of the country's total export value over the past decade and created 9.7 million jobs, he added./. VNA

High-tech, Chemical, and Trading leading the way in salary increases in 2019, Mercer-Talentnet survey finds.

Vietnam is taking strong actions to speed up the application of Industry 4.0 technology, making changes in fields of production, business, cultural and social life, as well as national defence and security.  
The Vietnamese footwear market may face problems if the US imposes a tariff of 25 percent on Chinese products in the current trade war.