Seventy-three per cent of businesses from Hong Kong (China) expressed their intention to open additional factories in ASEAN countries, with Viet Nam coming out on top as their first pick.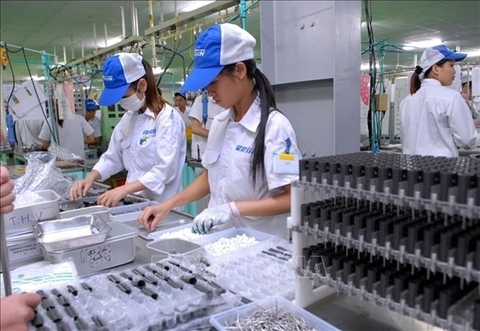 Workers at a Hong Kong-owned (China) factory in southern Binh Duong Province.
According to a recent survey conducted by the Hong Kong Productivity Council (HKPC), Hong Kong businesses' top priority is political stability followed by tax incentives and low operational cost, said respondents.
A majority of businesses showed interest in setting up factories to manufacture electronics, textile products, car parts and toys.
Businesses from Hong Kong who plan to open factories in ASEAN countries must take into consideration stricter environmental protection rules by local governments, said Mohamed Butt, HKPC's executive director.
HKPC said it has the required speciality to support businesses in setting up their operations, meeting environmental regulations and studying local markets and consumers.
Cambodia and Myanmar were other favourites after Viet Nam. — VNS

Hong Kong (China) topped 109 countries and territories investing in Vietnam in the first nine months of this year with total capital of $5.89 billion, reported the General Statistics Office (GSO).  

Insurer FWD Group Ltd. is nearing an agreement to pay about $400 million for a unit of Vietcombank, and a long-term insurance distribution agreement with the bank, Bloomberg reported.