In the first month of the year, Vietnam imported goods worth US$18.42 billion, while its export revenue totaled some US$18.2 billion, resulting in a trade deficit of US$232 million.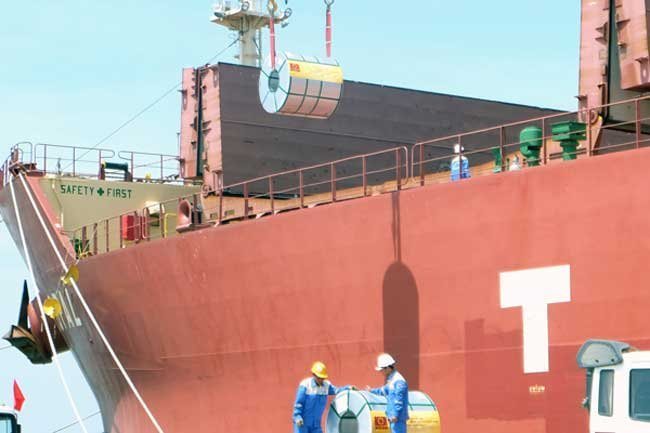 Steel rolls are unloaded from a vessel. Vietnam ran a trade deficit of US$232 million in January
The country's foreign trade value hit US$36.62 billion last month, down 18.4% over the previous month and 16.2% against January last year, news site Vietnamplus reported.
The customs agency attributed the decline to the long Lunar New Year holiday.
Exports and imports also reported a respective decline of 19.4% and 17.4% month-on-month.
Moreover, Vietnam's trade value with China reached US$8.29 billion, plunging 25.8% versus the previous month and 11.8% over the same month last year.
Amid the spread of the novel Wuhan coronavirus, Deputy Minister of Industry and Trade Tran Quoc Khanh on February 4 met with the representatives of departments and agencies under the management of the ministry to discuss solutions to boost import-export activities, according to the Vietnam News Agency.
The deputy minister noted that the epidemic would significantly affect not only the export sector but also imports and domestic trade.
He asked departments under the Ministry of Industry and Trade to list products that will be affected by the epidemic and work out appropriate solutions.
In addition, departments must analyze the effects of the epidemic on the import of materials for local production and present specific response plans. 
According to Phan Van Chinh, head of the Import-Export Department, under the Ministry of Industry and Trade, the epidemic has hurt the export of local farm produce to China. For example, some 100 containers of dragon fruit, which were due to be exported to China, were stuck in Lao Cai Province.
Although the Huu Nghi Border Gate in Lang Son opened on February 3, the Chinese side did not accept any shipments. Therefore, transactions will not be completed until February 8.
If the coronavirus outbreak lasts for one to two more months, the export revenue from agro-forestry-fishery products will drop by US$200-300 million. The losses will be US$600-800 million if the outbreak lasts for three to six months.
It is necessary for localities to change shipment methods, expand markets for agricultural products and boost local consumption.
As for the textile and garment, footwear and electronics sectors, which depend heavily on material imports from China, local firms can seek other sources of materials. However, prices may rise, reducing the competitiveness of locally made products, Chinh stated. SGT
Hung Le

Vietnam reported a trade deficit of US$100 million in January, according to the General Statistics Office (GSO).