Car imports would continue to increase due to stronger demand from the domestic market, causing negative impacts on local car production and the country's trade balance, said the Ministry of Industry and Trade.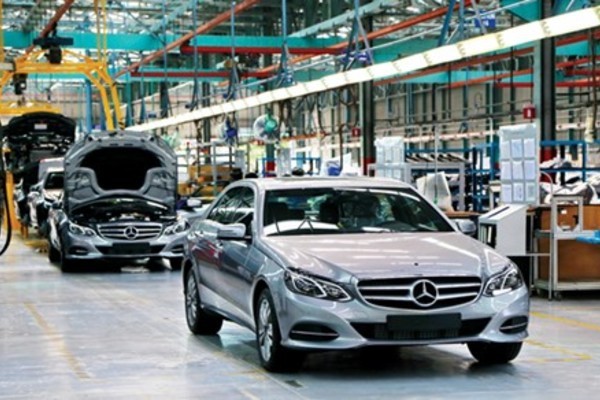 Vietnam is projected to have a record car trade deficit of US$3.4 billion, according to a report from the Ministry of Industry and Trade (MoIT). 
Over the last two years, the domestic car assembling sector has recorded high growth rate, stated the MoIT's report submitted to the National Assembly. 
As of present, Vietnam has a total of 40 automobile manufacturers and assemblers with a combined capacity of 680,000 cars per year. 
Additionally, the market for less-than-nine seat cars grows at an average rate of 20 – 30% per year. With such high growth rate, the MoIT expected Vietnam to exceed the Philippines in terms of sales and production capacity. 
The report also noted a number of local enterprises have further integrated in the global production chain of automobile. 
According to the MoIT, cars assembled and manufactured in Vietnam have been exported to Laos, Cambodia, and Myanmar, among others, however, they are facing fierce competition from imported cars right in the home market. 
In addition to countries such as Thailand and Indonesia that are known for being the attraction destination of major global car manufacturers, Vietnam could soon face competition from the fast growing automobile industry in latecomer markets in the region such as Myanmar, Laos or Cambodia. 
Car imports into Vietnam from ASEAN countries are rising fast as the ASEAN Free Trade Agreement (AFTA) became effective and leading to zero import tariff. 
Statistics from the Vietnam Register, which is resposible for registering vehicles, revealed that by the end of June, the number of imported cars increased nearly 520% year-on-year with import turnover of nearly US$1.7 billion. 
"Car imports would continue to increase thanks to stronger demand from the domestic market, in turn causing negative impacts on the domestic car production and the country's trade balance," said the MoIT. 
The concentration of a high number of car makers and assemblers in such a small-size automotive market is one of the main reasons for sluggish development of Vietnam's automotive industry, stated the MoIT. 
More importantly, Vietnam's car making industry depends heavily on the multinational production chains and has only participated in the early phase of the global value chain with low added value products. Meanwhile, local companies have not been able to master core technologies such as engine and control systems. 
The MoIT also pointed to the fact that the market has not formed a system of auto parts suppliers, while high prices remain a bottleneck for locally produced/assembled cars given the lower quality compared to imported cars. 
Among different kinds of cars, light and medium trucks up to 7 tons are those with the highest localization rate, averaging at 50%. However, for passenger cars under nine seats, the rate is 7 – 10%, much lower than the target of 60% set in 2010, and the average 65 – 70% localization rate of countries in ASEAN, and especially in case of Thailand, the rate is nearly 80%. 
"Without solutions to increase localization rates, it would be difficult for the local automotive industry to compete with foreign players," asserted the MoIT. 
The ministry attributed the low capabilities of enterprises in operating industries to such low localization rate and high production cost, not to mention a wide range of taxes and fees related to cars. 
A slow process of drafting supporting policies for the sector led to loss of investment opportunities. Besides, local polices are inconsistent and unstable, leading to failure in creating breakthroughs for the development of automotive sector, stated the MoIT. 
As fiercer competition is anticipated from the Comprehensive an Progressive Trans-Pacific Partnership (CPTPP) and the upcoming EU – Vietnam Free Trade Agreement (EVFTA), the MoIT requested to waive excise tax for auto parts made for cars under nine seats that are produced locally, with the policy to have a validity from 5 to 10 years. 
The MoIT also recommended to revise tax policies and increase incentives for investors joining in projects manufacturing electric vehicles. Hanoitimes
Hai Yen

Vietnam's automobile market is expected to set a new sales record this year with sales of the Vietnam Automobile Manufacturer Association (VAMA) members and TC Motors averaging nearly 32,000 cars each month in January-September.  

Some experts and government units have voiced concern over the future growth prospects of the local automobile sector due to the upsurge in car imports from foreign markets in recent months.