Vietnam has become the ninth largest importer of fresh fruit from the US.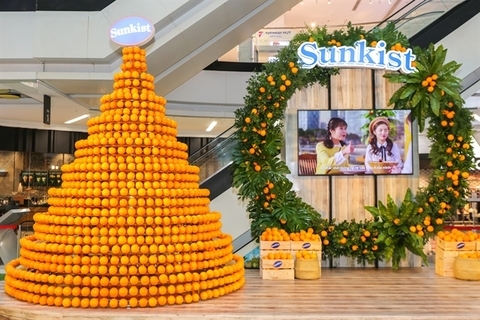 Sunkist orange will be sold widely in Viet Nam. — Photo vietnamplus.vn
The US' fresh fruit exports to Viet Nam reached US$97 million in 10 months of last year, as of October 30, a year-on-year increase of 46 per cent, reported the US Department of Agriculture.
Agricultural trade between the two countries was one of the most important areas of the US-Viet Nam bilateral relationship during the past 25 years, said Benjamin Petlock, agricultural attache at the US Consulate General in Viet Nam at an event in HCM City last Sunday.
The event is to introduce Sunkist's Navel orange brand from the US. This orange is succulent, sweet and seedless with a bright yellow colour and thick skin.
Sunkist orange is a brand established in 1893 and grown in California, the US.
Vietnamese consumers can buy Sunkist's Navel oranges at a system of retail stores and fruit distributors, including Emart and Thu Duc food wholesale market.
This orange will also be available at Vinmart, Aeon, Co.opmart and other supermarkets across the country in the near future. — VNS

Advanced farming techniques and value chains are needed to tap the potential of fruit cultivation in the southern region, which contains 60 per cent of the country's fruit-growing areas, experts have said.

It's unbelievable but true though Vietnam is one of the planet's tropical fruit meccas, Vietnamese consumers pour a lot of money on foreign fruits.