Local firms are set to face fierce competition from EU imports thanks to two upcoming agreements between the two sides.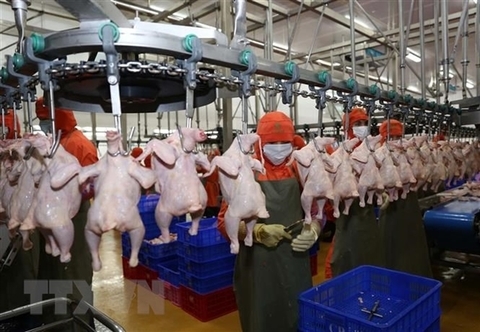 A processing line of CP Joint Stock Company. The companies is one of Viet Nam's food processing ones facing fierce competition from imported products in the Vietnamese market.
The EU-Viet Nam Free Trade Agreement (EVFTA) and the EU-Viet Nam Investment Protection Agreement (EVIPA) are scheduled to be signed on June 30.
The competition was highlighted by Minister of Industry and Trade Tran Tuan Anh at a conference to assess the two agreements' impact on Vietnamese agriculture held in Ha Noi on Wednesday.
Anh said that integration wouldn't be entirely rosy thanks to increasing competition with imported goods from more developed countries.
"Competitive pressure will cause some sectors to be narrowed down such as pig breeding and sugarcane," Anh said.
There are also risks that agricultural products might be returned or face loss of export rights or increased inspection frequency due to failure to meet Sanitary and Phytosanitary Measures (SPS) and Technical Barriers to Trade (TBT) requirements in fastidious markets like Japan and EU countries, he added.
Anh said these difficulties required State management agencies, ministries and sectors to enforce laws to ensure efficiency for the agricultural sector.
He said in all of Viet Nam's major economic sectors with export value of more than US$1 billion, agriculture accounts for a large part. However, the sector still faces difficulties in quality and competitive capacity as well as processing technologies to ensure technical standards when participating in FTAs.
The Ministry of Industry and Trade will be the focal point of the Government in inspecting and urging the implementation of FTAs, with a spirit of two-way interaction, listening to all perspectives, Anh said.
In the EVFTA, Viet Nam will remove 24 per cent of agricultural tariff lines in the first year and 99 per cent after 10 years for EU products, meanwhile, EU countries will cut 74.6 per cent and 97.3 per cent, respectively, for Vietnamese products.
The EVFTA also stipulates rules of pure origin which are based on the WTO framework and applied for member countries.
According to Minister of Agriculture and Rural Development Nguyen Xuan Cuong, EVFTA continues to be one of the new-generation FTAs ​​expected to help Viet Nam make a change. It is predicted to strongly impact Viet Nam's economy in general and the agricultural sector in particular.
"Participation in FTAs ​​opens new opportunities for Vietnamese agriculture to expand export markets, deeply taking part in global production networks, changing economic and labour structures," Cuong said.
It will also help improve business environment and competitiveness, take advantage of investment capital, technology knowledge and management experience from foreign countries, he added.
Tran Cong Thang, deputy director of the Institute of Policy and Strategy for Agriculture and Rural Development under the Ministry of Agriculture and Rural Development, said as the enforcement of domestic food hygiene and safety regulations has been poor, there is a high risk of losing the domestic market when agricultural products from Canada or Japan have high quality and reliability with competitive prices.
"Besides, many of Thailand's agricultural products, which have advantages compared to Viet Nam, are currently penetrating strongly into the domestic market," Thang said.
He said Viet Nam will also find it difficult to meet the rules of origin to enjoy preferential tariffs in some sectors due to the use of imported materials such as cashew and timber.
As one of the leading countries in agricultural products for export such as coffee ranking second in the world, rice ranking third and seafood ranking fourth, there is no limit for production capacity if the sector can take advantage of market opportunities and get conditions to restructure, which will be associated with the development of value chains. — VNS

The Ministry of Agriculture and Rural Development is calling for ideas to create a draft decree that establishes a system of regulations ensuring Vietnam's legal timber and wood products qualify for import and export.  

Vietnam is seeking solutions to prevent pork supply shortage in the coming time as African swine fever continues to spread.  

The Ministry of Agriculture and Rural Development (MARD) has instructed localities hit by African swine fever (ASF) to detect whether there has been fraud designed to take advantage of the Government's financial support for farmers