2019 witnessed a fierce race among manufacturers and distributors to reduce prices to attract more buyers.
Pick-up registration fee triples

In April, the registration fee applied to pick-ups and vans increased by three times when the Decree No 20 took effect.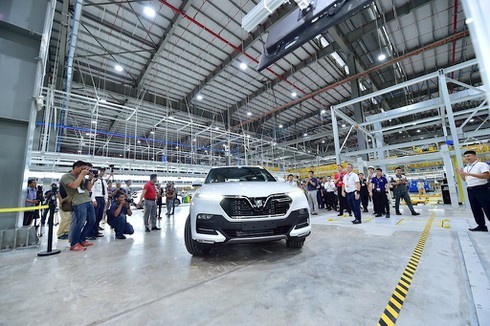 Under the new regulation, pickups with five or fewer seats have to pay a first-time registration fee equal to 60 percent of the first-time registration fee applied to passenger cars with nine seats or less, instead of the previous rate of 2 percent.

As such, the new tax rate is 6-7.2 percent, and the 7.2 percent tax rate is applied in Hanoi.

VinFast's cars launched 

2019 witnessed a fierce race among manufacturers and distributors to reduce prices to attract more buyers.
Vinfast, the Vietnamese automobile brand, marketed its first products in 2019 as it promised.

Fadil cars were delivered to customers in June and Lux duos in July.

VinFast now has to compete with foreign brands which have existed in the domestic market for many years.

Vietnamese favor foreign brands, but they welcomed VinFast's products which were advertised as using the most advanced technologies.

Japanese Nissan and Tan Chong extended car distribution contract

Tan Chong continues importing and distributing Nissan cars in the Vietnamese market until September 2020 under the extended car distribution market signed between the two parties. The old contract terminated in September 2019.

After the contract extension, Tan Chong has scaled up its business, though the sales of Nissan in Vietnam are not satisfactory.

Sources said Tan Chong is expanding its assembling activities in Da Nang and is trying to bring a Chinese car brand to Vietnam.

Ford stopped assembling Ford Focus

The manufacturer confirmed it stopped assembling the model in August 2019.

A Ford's representative said the decision was part of the manufacturer's business plan in the region which aims to gather strength on some models with high demand in Vietnam.

After it stopped assembling Ford Focus, it began assembling Ford Tourneo and Escape. The two models have been introduced in Vietnam, but only Tourneo is on sale, while Escape would hit the market in some months.

CBU imports arrived en masse

Vietnam imported 135,200 CBU cars in the first 11 months of 2019, worth $2.91 billion, nearly double the same period last year. The imports were mostly less-than-9-seat models from ASEAN.

Car prices slide

Automobile manufacturers and sale agents all cut selling prices to clear stocks and prepare to sell new models.

The car price decrease began in July and the movement continued though the market is in the high sale season.

The prices of bestsellers such as Toyota Vios, Fortuner, Wigo, Innova; Mazda CX-5, Mazda 3; and Ford Everest and Ecosport decreased by tens of millions of dong.
Chi Mai 

Despite sale promotion campaigns launched by manufacturers, the car market remained gloomy in the last months of the year.

Truong Hai Auto Corporation (Thaco) has said it will to export 1,026 cars to Thailand and Myanmar in 2020, the car maker has said.