The cement industry needs capable investors and large-scale producers to navigate eco-friendly and high efficiency production and generate quality products at lower costs, said Vietnam Cement Association chairman Nguyen Van Cung.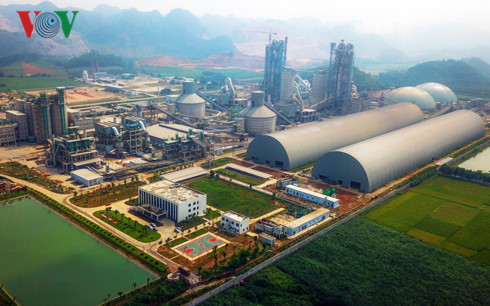 A view of Long Son cement factory in the central province of Thanh Hoa.
Domestic cement sales were estimated at 64 million tons in 2018, representing an annual rise of around 7 per cent. During the first four months of 2019, cement consumption fell slightly, reaching only 98 per cent of the amount seen during the same period last year.
According to the Vietnam Cement Association, state management agencies plan to stabilize the total cement and clinker exports for 2019 at some 32 million tons - the same as last year.
Global cement exports have yet to reach 200 million tons per year while Vietnam tops the list of worldwide exporters with an annual contribution of approximately 30 million tons, accounting for one seventh of the world's total.
Amid international economic integration, the cement industry must make drastic changes to heighten its competitiveness. This can be achieved by creating joint ventures and attracting further foreign direct investment inflows.
Controversy however remains over the future development of the local cement industry, whilst a big concern exists about the competitiveness of cement products, rather than export markets. In 2016, the price of Vietnamese clinker exports stood at US $28-29 per ton, but it climbed to US$40 by late 2017.
It is noteworthy that small cement production lines still dominate the domestic production as 42 out of the 60 cement production lines nationwide have been installed with a designed capacity of 2,500 tons of clinker per day or less, yielding only 1 million tons per year or 22 per cent of the total output.
Cement products from these small factories fail to go global, proving that low tech production becomes a major hindrance for export.
In order to streamline the industry, Vietnam looks to reduce the number of cement factories like what regional peers have done. Thailand now runs only five cement mills with the total designed capacity of 56 million tons. Meanwhile, Vietnam currently has some 50 cement producers but these facilities are likely to only produce a combined 100 million tons per year.
If the number of domestic cement producers is slashed to 10, the sector's efficiency and productivity will improve significantly with a sharp drop in operation costs.
An eco-friendly production approach should be pursued with a focus on attracting further investment in applying advanced production technologies and increasing labor productivity. Indeed, the labor productivity of domestic cement plants remains low in comparison to that of cement joint ventures.
Foreign cement producers could stir up the Vietnamese market if the competitiveness of domestic cement mills remains at a standstill, Cung said, predicting that domestic consumers would suffer most from the competition.
The chairman added that local enterprises are yet to stand firm in the face of increasingly fierce competition. He noted that there should be a transition period for cement producers in which state management agencies put forward and review production standards in terms of technology, scale, environmental impact, and waste disposal when appraising the capacity of investors and granting investment permits.
In fact, domestic newcomers such as Thanh Thang, Xuan Thanh, and Long Son have successfully developed advanced cement production lines.
Long Son in particularly have made bold investments in two production lines to increase their designed capacity by at least 20 per cent. The labor productivity of these facilities is equivalent to that of major joint ventures such as Chinfon, Nghi Son, and Holcim, the chairman stressed. VOV