The door for Vietnam's coffee to reach out to the world market has opened more widely for small and medium roasters.
A big surprise occurred at Vietpresso 2019, a coffee preparation competition held some days ago. The golden prize was given to Real Bean Coffee, which was established in April.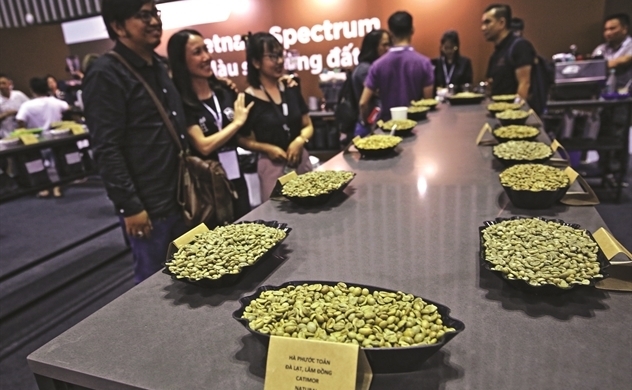 The coffee prepared by Real Bean Coffee defeated the other 14 brands to win the prize. Right after the competition finished, many foreigners queued up to enjoy Real Bean Coffee's product.

"The coffee is faintly aromatic and has a strong taste, " said Richard Toix, a member of the jury board at Vietpresso 2019.

Established just seven months ago, Real Bean Coffee can export its products to China, South Korea and Japan. It is conducting negotiations for exporting coffee to Thailand and the US as well, according to the company's CEO Van Thi Loan.

Not only Real Bean Coffee, but many other Vietnam's small and medium coffee companies now can bring roasted coffee to foreign markets, especially in Asia.

South Korean and Japanese are familiar with Truong Son Coffee's Con Soc brand. However, the brand is little known to Vietnamese, though the company has been operating for the last 10 years.

The door for Vietnam's coffee to reach out to the world market has opened more widely for small and medium roasters.
A representative of the company said consumers from the two markets like coffee with strong flavor, mostly Arabica. Seventy percent of its products are exported to Japan, South Korea and China, while the company is negotiating with importers from the US and learning about the European market.

Anh Coffee of Anh Pham is another example, Instead of directly confronting big coffee brands dominating the domestic market, Anh Pham decided to bring his products to small coffee shops and traditional markets in HCM City. After that, Anh Coffee appeared at small and medium trade fairs. Later, Anh Coffee was found by Central Group which invited the company to participate in a foreign exhibition.

"Our products have entered the Japanese, Malaysian and Thai markets. Around 90 percent of Anh Coffee's output is exported," said Anh Pham, director of Anh Coffee.

"We are following Central Group's footsteps to go to the European and African markets," he said, adding that the domestic market is full of big brands, so it is difficult for small brands to squeeze into it. Meanwhile, the export markets remain very promising.

According to Ta Hoang Linh from the Ministry of Industry and Trade (MOIT), the research and development of products, branding and promotion of Vietnam's processed coffee products are an urgent requirement. That is why MOIT will promote export opportunities for domestic coffee businesses to expand the markets for Vietnam's processed products.
Kim Chi 

Vietnam's coffee industry had suffered from falling export prices, according to the Vietnam Coffee and Cacao Association.

At this time, coffee farmers in Binh Phuoc, Dong Nai and Dak Nong provinces are entering harvest season.