As consumer demand for convenience soars across Southeast Asia, convenience retail channels are experiencing record growth rates and higher rates than any other retail channel, according to a new study by Nielsen.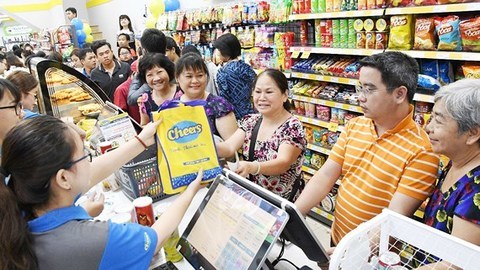 Customers shop at a convenience store in HCM City. — Photo sggp.org.vn
What's Next for Southeast Asia, which explores the changing FMCG retail landscape and consumer needs, highlights that FMCG sales growth in convenience stores across Southeast Asia reached 8.3 per cent last year.
Malaysia saw the strongest growth in the region (up 17 per cent), followed by Viet Nam (13 per cent), the Philippines (10 per cent), Indonesia (8 per cent), and Thailand (7 per cent).
Small format store numbers have also seen exponential growth in recent years.
There were close to 73,000 convenience stores across the region in 2018, and this number is increasing by 10 per cent a year, while the number of mini-market stores in the region is close to 50,000 and growing at 4.7 per cent.
"We've been seeing solid growth in the convenience and mini-market channels across Southeast Asia for some time now, but over the past year or so that growth has really hit fever pitch," Vaughan Ryan, Nielsen managing director, Southeast Asia, said.
"Consumers throughout the region are living increasingly fast-paced lives, and this lifestyle shift is driving increasing demand for on-the-go offerings which, in turn, is driving growth in the convenience and mini-markets channels.
"Notably, the two channels play different and evolving roles in consumers' lives. Convenience has moved from providing impulse products, such as snacks, beverages and tobacco, to competing against quick-service restaurants by expanding their range of ready-to-eat food and impulse items, and adding in many other services and products to make consumers' lives easier.
"Mini-markets are providing close-to-home convenience in everyday grocery shopping, as people struggle for time to visit larger format stores, particularly in heavily congested cities."
Looking across the overall Southeast Asia FMCG landscape, buoyant economic factors coupled with strong consumer confidence levels are fuelling consumers' willingness to spend, resulting in solid growth.
The Philippines saw the highest overall growth in the region last year (8.7 per cent), followed by Viet Nam (5.2 per cent) and Myanmar (4.7 per cent).
Global FMCG growth was just 3.4 per cent.
"The combination of rising consumer optimism and a relatively strong economic outlook in Southeast Asia means that the region is drawing increasing attention from big global companies and local companies alike as they seek out new opportunities for growth," Ryan said.
"But that growth can be elusive if companies don't take the time to understand local consumer needs and wants. With increasing internet penetration and more exposure to various brands, products and offerings, consumers across the region are becoming more savvy and discerning in their purchasing decisions. Tailored offerings that tap into local tastes and purchasing behaviours is critical for success."
The retail landscape is undergoing a change in Viet Nam due to rising consumer demand and a preference for frequent shopping trips for everyday needs.
This is contributing to strong store growth across 1,812 mini-markets (up 45.5 per cent compared to 2017). — VNS

As consumer demand for convenience soars across Southeast Asia, Vietnam saw strong growth of 13 per cent in Fast Moving Consumer Goods (FMCG) sales growth in convenience stores in the past year.  

The Vietnam National Petroleum Group (Petrolimex) is planning to open convenience stores at its gas stations across the country.  

With certain advantages, convenience stores have been an increasingly popular shopping destination for customers, and they have also become a choice for domestic retailers to compete with foreign rivals.