Vietnam gained more than US$1 billion from the export of wood and wood products in October, up 22.69 per cent year-on-year, according to the General Department of Vietnam Customs.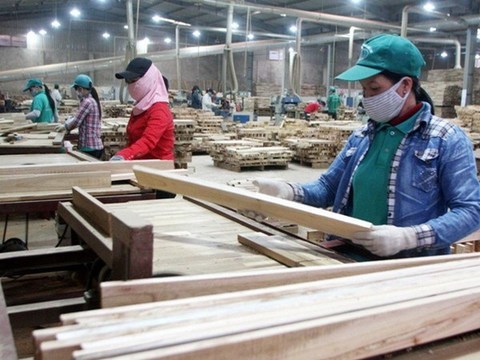 A wood processing line at Hoang Duc Linh Company Ltd., in the central province of Quang Tri.
Vice Chairman of Ho Chi Minh City Handicraft and Wood Processing Association (Hawa) Huynh Van Hanh said this is the first time in just one month the export value of wood and wood products surpasses the $1-billion mark.
Hanh said in recent years, the Vietnamese Government has effectively prevented origin fraud in which Vietnamese products are exported to foreign countries. "Therefore, the wood and wood products export market is expected to be brighter in the last months of this year."
"However, timber enterprises still need to be very vigilant and resolute to say no to the origin fraud of exported timber and wood products, in order to maintain important markets including the EU, US and China and continue to grow impressively in the near future," Hanh said.
In 2018, wood and wood product exports reached nearly $9 billion.
Insiders said that if the sector maintains the export turnover of about $900 million in the last few months, the country will this year certainly surpass the $10-billion mark for the first time. — VNS

With the upcoming entrance of global home furnishing brand Ikea into the Vietnamese market, many large local wood exporters are paying more attention to the domestic market.

Foreign direct investment (FDI) in the wood processing industry is on an upswing, but it should be tightly controlled to avoid trade fraud.