The Vietnamese government's policy of land grouping, a form of accumulation of capital in agriculture, has failed to materialize so far, "due to flaws in current farmland policies," said an expert.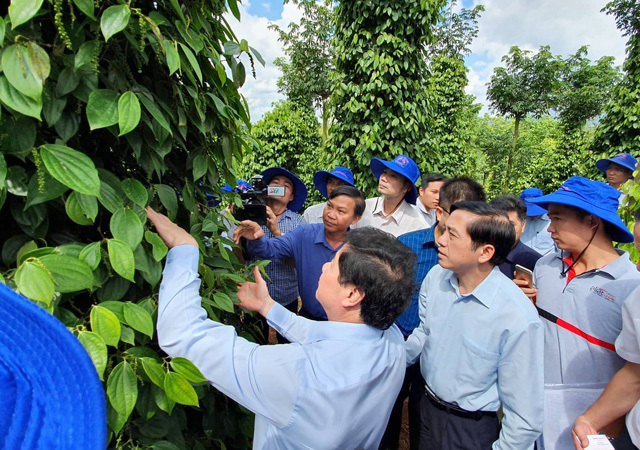 Vietnam's agricultural land use efficiency stood at US$1,000 per hectare, equivalent to that of Laos, half of the Philippines, and one third of Indonesia and Thailand, according to Tran Cong Thang from the Institute for Policy and Strategy for Agriculture and Rural Development (IPSARD). 
"Worryingly, the contribution of land for agricultural growth is declining," Thang said at the Vietnam Autumn Agricultural Forum 2019 held on October 24, adding the rate going from 26% in the 1986 – 1993 period to 38% in 1994 – 2000, 16.3% in 2001 – 2007 and less than 1% in 2008 – 2013.
As of present, the number of agricultural enterprises only accounts for 1.6% of total enterprises, in which 90% are small and micro-sized ones that use 10–50 employees with capital of VND1-5 billion (US$43,000 – 215,000) each, Thang added. 
The average revenue of these enterprises reached a modest VND3.6 billion (US$155,000) annually, resulting in an average per capita income of VND47 million (US$2,000), lower than the country average of US$2,500. 
Thang cited low economic efficiency as the main reason for farmers looking for jobs other than agricultural production.
As a result, the rate of abandoned farmland increased from 1.7% in 2014 to 3.8% in 2016, while the average farming area per household decreased by 0.9% in the 2014 – 2016 period. 
Regarding the issue, Nguyen Duc Thanh, director of the Vietnam Institute for Economic and Policy Research (VEPR), said the government's policy of land grouping, a form of accumulation of capital in agriculture, has failed to materialize so far, "due to flaws in current farming land policies." 
Vietnam is among countries with the lowest arable land per capita at 0.25 hectare, lower than the global average of 0.52 hectare and of the region with 0.36 hectare, Thanh said. 
According to Thanh, Vietnam's agricultural sector is heavily dependent on 10 million farming households with 76 millions of fragmented farm plots.
"This is one of the main bottlenecks to the development of a modern and sustainable organic agricultural sector on the basis of cooperation and linkage among enterprises, especially economic corporations with large-scale farming lands and high tech concentrated production areas."
Vu Trong Khai, former principal of College of Management for Agriculture and Rural Development 2, said in order to take agriculture to a new phase of development, there must be a new mindset in drafting policies in agriculture.
For example, the current fee in transferring agricultural land is subject to similar rate to other kinds of land, i.e. 2% of personal income tax which is not favorable for the execution of land grouping policy. 
Additionally, local companies are not allowed to purchase but only rent agricultural land for farming.
More worryingly, there has been a lack of regulations for ownership rights for agricultural land compared to other types of land, Khai said, adding only taking drastic actions to address these issue can the Vietnam's agricultural sector step up its competitiveness in the context of global integration. Hanoitimes
Ngoc Thuy

Participation in new generation FTAs opens new cooperation opportunities for businesses in Viet Nam's agricultural sector, but challenges remain.

To attract customers, manufacturers need to pay more attention to packaging, experts said.