The VND was expected to remain broadly stable against the USD over the remainder of 2019 and to be slightly weaker on average over 2020, buoyed by robust FDI inflows, dollar purchases by businesses, and a healthy foreign reserve position.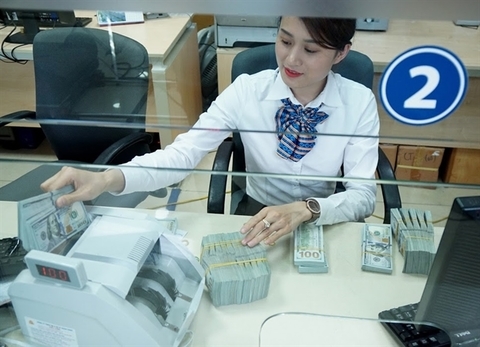 Strong foreign direct investment inflows will support the stability of the dong in the remaining months of 2019.
The dong has remained stable against the dollar at around VND23,200 since July and has averaged VND23,260 year-to-date.
"The dong will remain stable as FDI inflows are expected to remain strong over the coming months with a quick resolution to the US- China trade war unlikely. Businesses will probably continue shifting part of their supply chains out of China and to the rest of Asia, and Viet Nam is expected to be a strong beneficiary of this move given its positive business environment, many free trade agreements, and a low cost, large and relatively young labour force," finance expert Nguyen Tri Hieu told Viet Nam News.
According to Hieu, the bulk of FDI flowing into Viet Nam remained in the manufacturing sector due to the relocation of supply chains, although rising demand for infrastructure would also create opportunities and thus lure FDI into the infrastructure and construction industry over the coming months.
Hieu also believed a burgeoning middle class on the back of rapid economic growth would also continue to attract FDI into the retail sector. During the first nine months of 2019, total FDI increased by 3.3 per cent over the same period in 2018 to US$26.2 billion, of which wholesale and retail accounted for $1.4 billion.
Meanwhile, strong prior inflows of FDI into the manufacturing sector as well as Viet Nam's position in the global supply chain were expected to increase the country's imports in tandem with its exports.
Given that global trade is mainly transacted in US dollars, this points towards an increase in dollar demand among businesses.
As a result, domestic firms will likely increase purchases of the US dollar over the coming months. Meanwhile, as part of a regulatory amendment announced in August, commercial banks will no longer provide mid and long-term foreign currency loans for offshore payment of imported goods and services.
The amendment aims to reduce dollarisation in the economy and to improve the interest rate transmission of monetary policy. Under the new regulation, local importers will have to borrow in dong and buy dollars to fulfil offshore payment obligations.
In addition, experts said the nation's good foreign reserves would also help stabilise the dong in the coming months. The latest data showed Viet Nam's foreign reserve position was at $63.9 billion in May, representing three months of import cover.
Can Van Luc, Chief Economist at the Bank for Investment and Development of Vietnam, believed the State Bank of Viet Nam (SBV) had sufficient foreign exchange reserves to continue its course of active intervention to ensure currency stability, which suggests the dong would likely see minimal volatility over the coming months.
As for long-term outlook, analysts from Fitch Solutions Macro Research expected the dong to persist on a gradual depreciatory trend against the dollar due to higher structural inflation in Viet Nam versus the US and the dong's overvaluation. Fitch forecast the unit to average VND23,650 per dollar in 2021.
Fitch forecast inflation in Viet Nam to average 3.3 per cent between 2019 and 2021, above the 2.2 per cent average forecast for the US over the same period. It continued to expect upside inflationary pressures to stem from higher livestock prices due to the ongoing spread of African swine fever in Viet Nam, which had affected all 63 provinces, and strong demand for building materials from a pipeline of both public and private sector projects to exert pressure on inflation in the housing and construction materials category.
Additionally, the dong's real effective exchange rate (REER) is trading 10.6 per cent above its 10-year average, which suggests currency overvaluation, although Fitch believed that some of the strength in the REER could be attributed to productivity gains.
Nonetheless, higher structural inflation in Viet Nam and excessive currency strength would diminish Viet Nam's export competitiveness over the long run, which would weigh on the country's economic growth given that exports accounted for 95.4 per cent of GDP, Fitch said, adding that it thought the SBV would favour a weaker dong in the long run. — VNS

After two big purchases of foreign currencies in the first four months of the year and from July until now, Vietnam's forex reserves reached the highest level, now at $70 billion.

The State Bank of Vietnam (SBV) obtained a large amount of foreign currencies in the first half of 2019, pushing foreign exchange reserves recorded in the period to the highest level to date.