Even the Mekong Delta, the biggest fruit granary of the country, is having a tough time selling fruit in the midst of massive imports.
For a long time, imported fruits were seen only in large cities as they were unaffordable for low income earners. However, they are now available everywhere.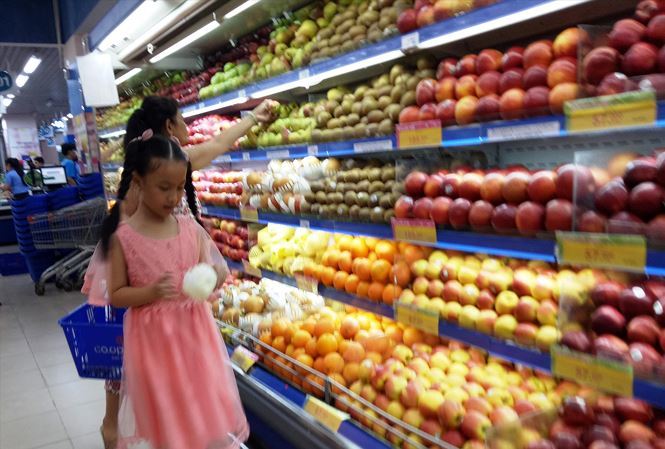 Co-opmart and Big C in Can Tho City are full of imported fruits. The supermarkets even reserve large areas in advantageous positions for display of imported products.
The same thing can be seen in traditional markets. Apples, pears, grapes and mangoes from the US, Australia, France, Thailand and New Zealand are seen heaped up at stalls.
A petty merchant at Xuan Khanh Market said imported fruits are carried by trucks every day from HCMC and southwestern border areas to Can Tho City. She said the sale of imported products sometimes double the sale of domestic fruits. Imports are diverse, from high-end to popular products.
Even the Mekong Delta, the biggest fruit granary of the country, is having a tough time selling fruit in the midst of massive imports.
Thanh Lan in Ninh Kieu district admitted that she buys imported products not because they are more delicious than domestic ones but because of the traceability of imports.
"I want to know exactly the origin of fruits before deciding whether to buy them. I cannot do this with domestic fruits," Lan explained, adding that she, like other consumers, whose income has improved considerably, now pay high attention to the origin of products and transparency of information about products.
Anh Duc, the owner of a fruit shop at Cai Tac Market, also said he prefers selling imported products, because the products are better preserved and they can easily attract buyers thanks to better appearance.
"Imports are always put in boxes with scrap paper to protect fruits. They are well preserved to keep freshness and there is a label on every fruit," he said.
Mekong Delta's farmers now are selling their fruits slowly. To Van Thuong from Tan Binh commune of Hau Giang province leased 0.6 hectares of land in Long Thanh commune to grow oranges. He has to pay VND50 million a year in land leasing fee, and tens of millions of dong more for fertilizer and pesticide, but he earns VND15 million only from the fruits.
"The orange price is just VND5,000-6,000 per kilogram, which is too small compared with the investment cost," he complained.
"I borrowed VND3 billion from the bank to buy 2 hectares of land more to grow oranges. However, as the orange price is low, I decided to sell the land. However, I still cannot find buyers," he said.
Nguyen Van Thanh in Long Loi A Hamlet of Dong Phuoc A commune, who is growing oranges on 0.8 hectares of land, is suffering also and wonders if he should fell orange trees to grow other crops.
Chi Mai

Thailand has replaced China to become the biggest fruit supplier to Vietnam in the first five months of this year.  

Farmers in Ben Tre Province's Cho Lach District, the country largest fruit seedling producer, are using advanced techniques to produce higher-quality seedlings, mostly for durian, jackfruit, mango and rambutan plants.