Vietnam's growth is exceeding expectations, prompting economists and researchers to revise forecasts for the nation in the near term, while remaining cautious due to fears of a global economic recession.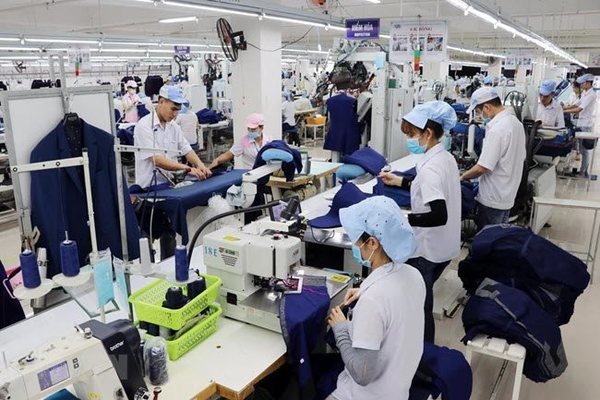 Employees work at 29/3 Textile and Garment Company. Vietnam's growth is exceeding expectations

Though economists had generally cast doubt on Vietnam's ability to grow some 7% this year due to the economic slowdown continuing to spread across the globe, they were surprised by the 7.3% GDP growth year-on-year (y-o-y) at the end of the third quarter.
The General Statistics Office of Vietnam (GSO) reported that real GDP growth came in at 7.3% y-o-y at the end of September, up from 6.7% y-o-y in June.
Economist Yun Liu at HSBC Global Research said in her economics note for Vietnam that in a bumpy year like 2019 where an uncertain global economic environment has become the new normal, it was hardly imaginable that Vietnam, which is highly exposed to trade, could grow more than 7% as it did last year. It has even surpassed HSBC's forecast of 6.6%, marking the fastest expansion in six quarters.
According to Liu, Vietnam's resilient manufacturing sector lies at the center of the GDP growth.
"Despite growing at a moderate pace versus previous years, manufacturing saw ongoing steady double-digit growth of 11.7% in the three quarters. This is best illustrated in the industrial production (IP) release: manufacturing IP expanded 13.3% in Q3, much faster than the first half average of 7%," noted Liu.
"Much of the fast growth was driven by the booming electronics sector, thanks to the continuing influx of FDI from tech companies."
In addition, services have also been seen as the greatest contributor to Vietnam's sustained high growth.
Expanding at the fastest pace in 2019 (7.1% y-o-y in Q3), the services sector continued to see steady growth, accounting for 40% of the headline GDP growth, according to Liu. This is partly thanks to stronger domestic consumption due to rising wages and the booming middle class.
Fitch Solutions Macro Research shared this view, pointing out that the acceleration in Vietnam was underpinned by the ongoing influx of companies from China amid the U.S.-China trade war, given that the manufacturing sector's growth continued to outperform other sectors.
"In light of the strong Q3/19 growth print, we at Fitch Solutions are revising our forecast for real GDP growth to come in at 6.9% in 2019, up from 6.5% previously, and we maintain our 2020 growth forecast at 6.8%," wrote the research and solutions provider.
Fitch Solutions' adjustment coincides with HSBC's forecast, which expects the local economy to expand at 6.9% for the year, with a focus on external headwinds that will take a toll on the country in the following year.
"We expect Vietnam to grow at 6.9% in 2019, before gradually decelerating to 6.4% in 2020," stated HSBC.
Caution on the side
Despite the brighter revised projection, the country should not relax so soon as it is not entirely protected from the global economic slowdown.
According to HSBC, although widely seen as a beneficiary of U.S.-China trade tensions, Vietnam's economy is highly dependent on global demand, especially mainland China, the United States and the European Union.
HSBC projections thus suggest that the growth of these major economies is likely to decelerate further, posing material risks to Vietnam's trade and growth.
Meanwhile, Fitch Solutions claimed it has seen signs that the surge in companies relocating to Vietnam as a result of the U.S.-China trade tensions is putting increasing stress on the country's infrastructure and labor force.
"We believe that these structural challenges, if left unaddressed, may cap growth over the coming quarters. This informs our view that these bottlenecks causing growth in the manufacturing sector will top out over the near term. That said, we believe that headline growth will remain supported by robust growth in construction and services over the coming quarters." SGT
Trang Nguyen

Minister and Chairman of the Government Office Mai Tien Dung on October 2 affirmed that Vietnam has achieved the highest gross domestic product growth in the past nine years.

Economists are upgrading their growth projections for Vietnam after the latest data showed the economy surged more than 7 percent in the third quarter, according to Bloomberg.  

Local gross domestic product (GDP) climbed nearly 7 per cent in the first three quarters of 2019, reaching its highest level for the last nine years.