Falling one place to 11th in the global index of emerging logistics markets, Viet Nam was still seen as a clear winner in the US-China trade war.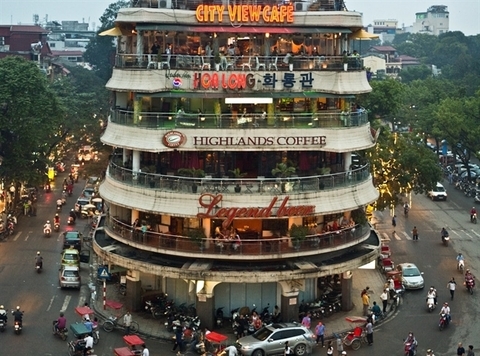 A view of a building in the heart of Ha Noi by Hoan Kiem Lake. Viet Nam is among the three logistic markets with most potential in the globe. — Photo vtc.vn
According to the recently released 2020 Agility Emerging Markets Logistics Index, with an overall score of 5.52 out of 10, Viet Nam fell behind several Southeast Asian peers, including Indonesia (4th), Malaysia (5th) and Thailand (9th).
As the world's leading logistics company, Agility, ranked 50 countries by factors that make them attractive to logistics providers, freight forwarders, shipping lines, air cargo carriers and distributors. The three factors considered in the ranking were: domestic logistics opportunities, international logistics opportunities and business fundamentals.
At the same time, China remains the world's leading emerging logistics market, followed by India and UAE.
Slipping one place, the report stated that Viet Nam performed well in international opportunities, ranking fourth globally, while it stood 21st in domestic logistics opportunities and 20th in business fundamentals, which includes regulatory environment, credit and debt dynamics, contract enforcement, anti-corruption safeguards, price stability and market access.
The report said: "Viet Nam and Indonesia also saw their international logistics opportunities scores improve, with gains made via a combination of volumes won as manufacturers switched production locations from China, as well as moderate increases in domestic demand."
Despite leading its Southeast Asian peers in the business fundamentals sub-index, Malaysia followed Viet Nam, Indonesia and Thailand in international logistics opportunities.
Malaysia saw sea freight exports to the US rise 24 per cent in the first eight months of 2019 as a result of the trade war, but its wider sea freight market remains small by comparison with its neighbours which each have a sea freight market around three times larger.
The group of six markets identified by survey respondents as having the most potential as future logistics markets was unchanged in 2020, with India and China maintaining a marked lead and Viet Nam still third thanks to its improved infrastructure and domestic market in recent years, in addition to the export growth it has seen as trade shifts from China.
Though fewer survey respondents this year suggested Southeast Asia as a region would benefit from the US-China trade war, most of them thought the benefit was narrowing to a few markets, adding that Viet Nam – both in terms of survey sentiment and trade data – emerged as a clear winner.
If businesses are going to relocate from China, Viet Nam and India are the most likely investment destinations, according to 48 per cent of those surveyed. Mexico and Cambodia were the lowest rated relocation options amongst survey respondents.
The report also said: "While growth in some regional markets remains robust – including key export markets like Viet Nam as well as in more nascent manufacturing locations such as Cambodia – export growth has slowed."
According to the Viet Nam Logistics Business Association's latest survey, there are around 30,000 logistics companies in the country, including 4,000 international ones.
The industry has been growing at 12-14 per cent annually and is now worth $40-42 billion. — VNS

The European Union-Vietnam Free Trade Agreement (EVFTA) will boost the demand for logistics services and significantly impact on Vietnam's logistics industry, said a trade official.
Vietnam's logistics industry can reap the rewards of the country's growing economy.