The growth and openness of the economy have made Vietnam an attractive retail market for both domestic and foreign retailers.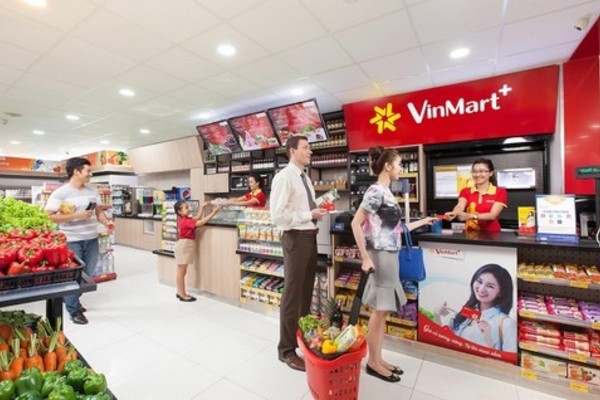 Convenient stores account 15 per cent of Vietnam's retail market share
Entering the southern market of Vietnam two years ago, Japanese company Heian Shindo Kogyo Co., Ltd., which provides smart racks and rods, has witnessed fast-growing demand for their products. With the aim of expanding their market to the north, the company participated in a recent business-matching event hosted by JETRO in Hanoi.
"Within two years, our sales have increased by 50 per cent. There is a boom of department buildings and houses for homestay services in Vietnam. This is a good opportunity for our company and our products. We hope this year, our products can appear on shelves in Hanoi," Yusuke Katayama, general manager of Heian Shindo Kogyo Co., Ltd told VIR.
Not only to Heian Shindo Kogyo, currently Vietnam is an attractive market for many retailers.
Starting to export Japanese detergent products to Vietnam since 2015, Abell Bio Clean Corporation (ABC) wished to introduce new products to Vietnam.
"Japanese products in general are famous for their quality. Particularly, our products are environmentally friendly and pose no health risks. That's why we are happy to see continuous increase in the demand of our products," Shinki Abe, director of Sales of ABC, told VIR.
As the distributor of ABC's products in Vietnam, Sakuko Vietnam has witnessed a sigfinicant increase in consumption.
"Although these products are new to our system, they received a warm welcome from consumers," Hoang Thi Tan Huong, head of Buying and Supplying Department of Sakuko Vietnam, told VIR.
According to Huong, ABC's products have been on the shelves of 27 stores of Sakuko Vietnam along with many other Japanese products.
"On October 5, we opened the 27th store. So in 2019, we have opened six Japanese domestic good stores and four franchises," Huong said.
Before that, on September 22, Sunshine Group's second supermarket was also officially put into operation at the Sunshine Riverside project in Tay Ho district, Hanoi. While on the 10th of the same month, Hanoi Trade Joint Stock Corporation (Hapro), a member of BRG Group, officially opened its first Hapromart, supplying household appliances and food.
"Hapromart provides over 10,000 kinds of products, including imported goods from the US, Japan, and the Republic of Korea," Vu Thanh Son, general director of Hapro, said at the opening ceremony.
Besides, a significant increase of 22 stores of the Circle K system over the last four months and eight new Vinmarts has also added excitement to the retail sector.
Addressing the recent Vietnam-Russia Business Matching event in Hanoi with the participation of 13 Russian giants who wished to seek connections with retailers in Vietnam, Dinh Thi My Loan, ch­­­­­­airwoman of the Association of Vietnam Retailers (AVR), said, "With a population of nearly 100 million people, 60 per cent of whom are under 35 years of age and 50 per cent are middle class, Vietnam is a promising market."
Besides, she also added, "The retail, service, and the food and beverage sectors in Vietnam have witnessed annual growth of 10 per cent. With the support of technology and the increase of M&A, the Vietnamese retail sector is looking at great prospects of positive change in the future."
According to the latest report of the General Statistics Office of Vietnam under the Ministry of Planning and Investment, by the end of September, total retail sales of consumer goods and services reached VND3,634.8 trillion ($158 billion), up 11.6 per cent over the same period last year. This number in September was estimated at VND420.3 trillion ($18.27 billion), up 1.7 per cent compared to August and up 12.7 per cent over the same period last year. VIR

With a population of nearly 100 million, the country's final consumption expenditure has been maintaining at a high rate of over 70% annually, indicating huge potential remains for the market.

Total revenue from retail trade and services in the first nine months of this year reached VND3.6 quadrillion (US$156.5 billion), 11.6 per cent over the same period last year.

As online commerce has boomed, agencies fear that it will be difficult to prevent banned goods, goods restricted for import and export, and origin fraud.