The Ministry of Finance makes a careful study of tax laws to collect taxes from electronic contract-based vehicles to avoid evasion and ensure a level playing field for ride-hailing and traditional taxi firms.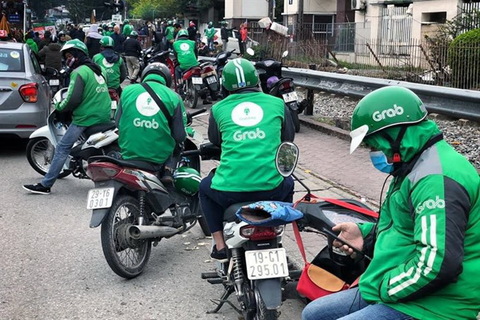 GrabBike riders in Ha Noi.The Ministry of Finance seeks to ensure a level playing field for ride-hailing and traditional taxi firms. 
Speaking at a recent meeting, Minister of Finance Dinh Tien Dung said Government agencies would work to ensure a level playing field for local and foreign companies and ride-hailing and traditional taxi firms.
The Law on Tax Administration is applied consistently to all kinds of enterprises in terms of tax rates, preferential conditions, and tax breaks, he said.
It requires enterprises that can determine their turnover, expenses and profit like Grab, Mai Linh and Vinasun to file tax returns.
In the case of foreign players like Uber, the tax authorities can determine their revenues but not expenses. So they must pay a fixed rate of value-added tax (VAT) and corporate income tax based on their turnover.
Tax authorities would proactively examine the tax details of these businesses to prevent evasion and provide information and electronic invoices for passenger transportation under electronic contracts, he said.
Ride-hailing firms, especially Grab, have been accused of tax evasion by traditional taxi firms, but they, in fact, have fulfilled their tax duties, he added.
Grab paid VND441 billion($19 million) in taxes last year, he noted.
According to Vinasuns consolidated financial report, last year it paid VND144 billion ($6.2 million) in taxes.
Minister of Transport Nguyen Van The said ride-hailing firms are "less likely" to engage in tax evasion since they are closely watched by tax authorities.
In 2017 the Ministry of Finance had asked the city Department of Taxation to examine Ubers tax payments in 2015-2016, and it collected VND66.68 billion in taxes. Uber, which exited the country last year, has no tax dues.
In Viet Nam, Grab faces fierce competition from emerging local ride-hailing apps like Go-Viet and Fastgo in addition to traditional taxis.
Grab, which came to Viet Nam in 2014, was one of the first ride-hailing companies in the market along with Uber.
With constant offers of promotions and discounts on every single ride, Grab quickly attracted a large number of users and drivers.
Due to the popularity of Uber and Grab, traditional taxi companies have also been struggling.
Vinasun has consistently reported losses on passenger transportation, and only achieved profits by selling old cars.
Mai Linh laid off more than 3,000 employees in 2017.
Even Uber was acquired by Grab, its biggest rival in the Vietnamese ride-hailing market, last April, which has as a result become a dominant player.— VNS