A Vietnamese trade promotion delegation that includes 22 local businesses from five localities is visiting South Africa from June 21 – 29, seeking partnerships and export opportunities.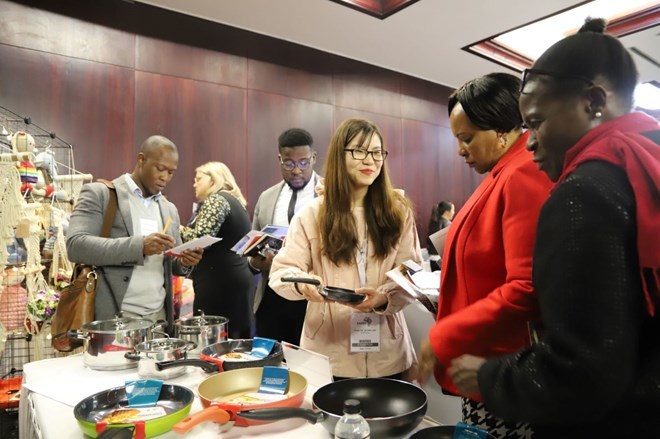 A Vietnamese firm introduces its products at the South African International Trade Exhibition 2019
Co-organised by the Ministry of Industry and Trade (MoIT) and the Hanoi People's Committee as part of the 2019 national trade promotion programme, the trip aims at showcasing Vietnamese products, looking for trade partners and investment opportunities, and studying consumers' taste and importers' requirement in the market.
On June 24, a workshop on connecting Vietnamese and South African businesses took place in Johannesburg, with the participation of over 100 local firms.
Speaking at the event, Trinh Huyen Mai from the MoIT's Vietnam Trade Promotion Agency said despite the geographical distance, the two countries' bilateral trade increased continuously from 658 million USD in 2010 to over 1 billion USD in 2018.
However, she added the figures still fall short of potential due to the lack of information shared between Vietnamese and African enterprises and of regular delegation exchanges. Efforts should be made to tackle the issue, the official noted.
Bernadette Zeiler, head of the international trade unit at the Johannesburg Chamber of Commerce and Industry, expressed the hope that trade promotion activities will help turn potential into practical outcomes, bringing benefits to the two business communities and strengthening the Vietnam – South Africa relations.
Vietnamese Ambassador to South Africa Vu Van Dung stressed the embassy and its trade office always consider boosting the bilateral trade-investment ties among top priorities.
As scheduled, Vietnamese firms are showcasing the nation's key products, such as apparel, rice, coffee, processed food, and construction materials, at the South African International Trade Exhibition 2019 (SAITEX), which runs from June 23 to 25. The expo brings together over 320 enterprises from 34 countries.
On June 25, the delegation plans to have a meeting with representatives of the South African Ministry of Trade and Industry to discuss matters of common interest and plans for future cooperation opportunities.
On June 27, it will organise a workshop on Vietnam-South Africa trade in Cape Town. They will also hold separated meetings with local importers, and retailers, including Advance Cash & Carry.-VNA