Nguyen Duc Thanh, director of the Institute for Economic and Policy Research (VEPR) talks to Việt Nam News about the role of the private sector in the local economy and how it can develop.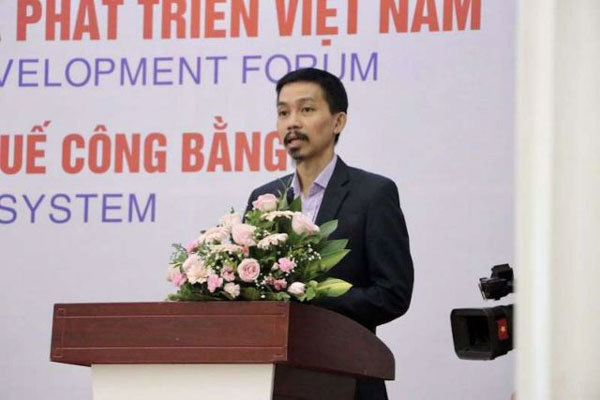 Nguyen Duc Thanh, director of the Institute for Economic and Policy Research. — VNS Photo Nguyen Minh Huong
How do you see the private sector developing?
In Vietnam, there are three main types of enterprises: private enterprises, State-owned enterprises (SOEs) and enterprises with foreign direct investment (FDI). Private enterprises, especially the small and medium sized enterprises (SMEs) have fewer opportunities to receive incentives in tax, land and other factors.
The shift in the economic structure showed the private sector has become an important propellant as it generates 40 per cent of GDP and creates 1.2 million jobs.
In the first nine months of 2019, the private sector's investment hit VND624.6 trillion ($27.1 billion), up 16.9 per cent on-year, and also the highest investment level compared to the State-owned and the foreign-invested sectors.
What are the challenges private enterprises in Vietnam face?
They account for nearly 80 per cent of the total enterprises in Vietnam, but they still face discrimination. State-owned and the FDI enterprises often receive much better incentives than the private ones which often have little or no incentives at all.
There are many positive reforms, but the tax system is still complex and incompatible with other countries. Tax incentives are concentrated among large-scale enterprises which are often the SOEs and FDI.
In 2016, the amount of tax spending from the State budget was VND86 trillion, an increase of 40 per cent compared to 2014. In particular, the tax incentive amounted to VND64 trillion in 2016, which was twice as much as in 2012.
In that case, to be fair to the private sector, instead of creating more tax incentives, Vietnam should eliminate incentives for the other two.
The FDI brings big businesses, but they come and go. The SOEs are big but many have shown their sluggish and ineffective operations. Meanwhile the private sector is the future of Vietnam. They are the one to build up the local economy and they should receive equal opportunities like others.
Private enterprises are the future of the country. If we do not realise this, do not eliminate discrimination, we are destroying our own future.
If we eliminate the incentive for FDI, does it go against the FDI attraction policy of Vietnam?
It is time for Vietnam to reconsider its FDI attraction method. Enterprises that only arrive in Vietnam to enjoy tax incentives are top companies. These enterprises want transparent tax policies for their investments, not just the incentives.
Between 2012-16, Vietnam's total corporate income tax incentives for businesses accounted for 7 per cent of the total State budget revenue, 1.4 times higher than the highest budget spending on health in 2012.
What should be done to help the private sector?
Facts show private enterprises in Vietnam become smaller in size and scale. There are two reasons for this. First is the international business environment is changing. Advanced technology is allowing businesses to be simpler. The tech can even create a lot of personalised enterprises.
The second is that private enterprises keep their operation small in size and scale to avoid complicated administrative procedures.
Administrative reform can really help develop the private sector. We talk more about innovation, promoting the private economy, but new policies are mentioned in a general way and nothing has really changed for them.
Enterprises of all types need consistent policies, long-term protection, good working environment and good human resources. If Vietnam can deliver this and eliminate unfair incentives, it will create a better business environment. VNS

Ongoing assistance will see Vietnam's private sector truly become a driver of economic growth, stakeholders said.

Vietnam's aviation industry will need US$23.5-24.2 billion from the private sector by 2030 for its development, Pham Doan Hong, vice chairman of the Vietnam Association of Aviation Science and Technology, told a conference in HCM City on November 26.

With the Politburo's new orientation in the policies on foreign investment attraction, government agencies and localities are hoping to stave off potential issues in order to take the appropriate actions to add to its attraction.