Vietnam's stock market remained among the world's best performers in the first five months as the benchmark Vn-Index rose by 16.31% against early 2021 to 1,283.93 points at the close on May 21, according to StockQ.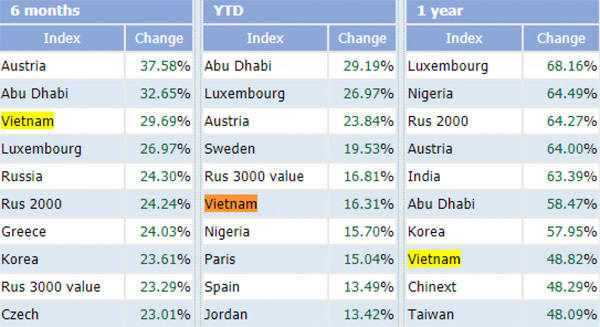 Vn-Index expanded by 16.31% year-to-date. Source: StockQ
In addition to the index's strong growth, market liquidity has been improved in the past months with an average transaction value of over VND20 trillion (US$865 million) per session.
Chairman of the SSI Securities Corporation (SSI) Nguyen Duy Hung at a recent annual shareholder meeting expected 2021 "to be a good year for the local stock market" and predicted the Vn-Index to hover around 1,300-1,400 this year.
"The first reason would be the stable macro-economic conditions with no sign showing a financial crisis being on the horizon. Secondly, people are still moving their money from saving accounts to the stock market," Hung explained, saying such a large amount led to many securities firms using up all of their margins but more is still coming in.
Hung also highlighted a positive note that the contribution of foreign capital to the Vn-Index is on the decline, as domestic investors are emerging as growth drivers.
Data from the Viet Securities Depository (VSD) showed local investors opened nearly 367,000 new securities accounts in just a four-month period, equivalent to 93% of the number of new accounts for the whole of 2020.
While foreign investors have been keeping their net-selling position, Hung said the trend is a normal market practice, and moreover, the market still grows strong with high liquidity. 
"Foreign investors are in the market for the profit and would pull out when meeting their expectations. But new foreign investment funds would emerge and pump money into the market," he said.
In addition to strong domestic capital inflows, Bao Viet Securities Company (BVSC) suggested the cheap price to earnings (P/E) of the Vn-Index, currently at 17.5 as provided by Bloomberg data, is much lower than other benchmarks in the regions.
This, coupled with the earning per share (EPS) of enterprises at over 20%, higher than regional markets, is turning the Vietnamese stock market into a more attractive destination, it noted.
Meanwhile, the expectation that the market could soon be upgraded from the current frontier market status to an emerging market in the 2022-2023 period is supporting the growth. An estimate from VnDirect securities company suggested once the move is materialized, foreign capital inflows into Vietnam could be around US$2 billion.
However, for the market to continue its upward trend, the SSI executive said the key issue would be to ensure smooth operation of the transaction system and prevent overload issues from recurring as in the past months.
Hanoitimes

Statistics by securities companies show that in 2020, foreign investors had net sold more than VND39 trillion in the stock market.