The garment and textile industry was one of the country's key export industries, but also produces high levels of greenhouse gas emissions.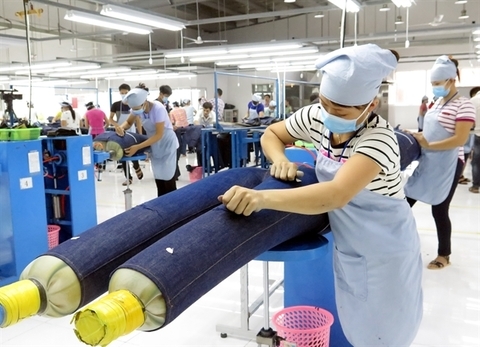 This year, the textile industry sets a target of $40 billion in export turnover.
The statement was made by Truong Van Cam, vice chairman of the Viet Nam Textile and Apparel Association (VITAS) at a meeting held in Ha Noi on Tuesday.
According to Cam, the industry gained US$31.7 billion and $36 billion in export turnover in 2017 and 2018, respectively. This year, the industry had set a target of $40 billion in export turnover.
However, it also had high levels of greenhouse gas emissions. This field is facing a number of social and environmental issues, affecting the reputation of the textile industry, Cam added.
The World Wildlife Fund (WWF) and VITAS have co-ordinated and been implemented the "Greening Viet Nam's Textile Sector Through Improving Water Management and Energy Sustainability" since
October, 2018.
The project aims to transform Viet Nam's textile and apparel industry from a low-cost manufacturing and low environmental standard industry to a sustainable, environmentally responsible manufacturing
industry.
The project has a vision to transform the textile-apparel sector in Viet Nam. It will achieve this through engaging the industry and influencing environmental governance in order to bring social, economic and
conservation benefits to the country.
Hoang Viet, manager of WWF's Sustainable Development Programme, said global customers were aiming for environmental sustainability which had made many world famous brands change their
production methods; in particular, enhancing environmental and social standards.
Therefore, if the textile sector does not change its production method right now, Viet Nam will lose its competitiveness and opportunities, Viet said.
In fact, the textile industry can cause the most environmental impacts today. Intensive water extraction, use and discharge of wastewater and high energy consumption for water heating and steam generation
can have significant impacts on water resources and greenhouse gas emissions.
Factories and industrial parks still face many difficulties in meeting the national standards for water discharge due to various reasons such as financial resources to invest in equipment for wastewater
treatment.
In addition, policies and regulations governing the management of existing water and wastewater resources are quite complicated, with limited implementation. This creates barriers for businesses to invest in cleaner technologies and production methods, which could lead to the difficulties in complying with environmental regulations.
In order to deal with this issue, Le Thi Minh Anh from the Ministry of Natural Resources and Environment shared the orientation to amend environmental protection laws.
The ministry would ask the State to consider revising criteria for screening investment projects: allocating investment projects according to the level of risks affecting the environment; mechanisms to strengthen control; and an environmental licence integrated under those conditions. — VNS