Vietnam is likely to reach its export turnover target of US$11 billion from wood and forestry products this year as the main season for business is in the last six months of the year.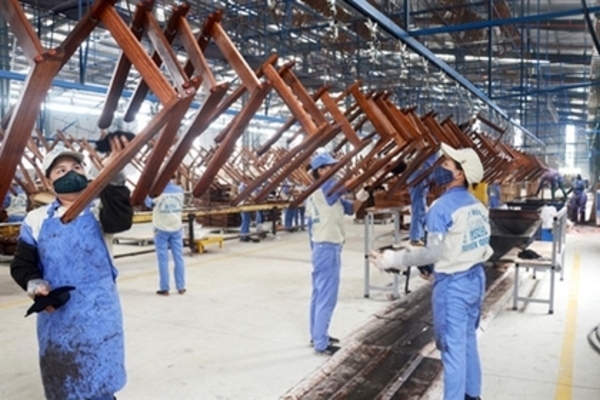 Workers perfect wood products for export at the Woodsland Tuyen Quang JSC. — Photo hanoimoi.com.vn
Businesses also have enough orders for production by year-end, said Nguyen Ton Quyen, Vice Chairman and Secretary-General of the Vietnam Timber and Forest Product Association..
Deputy Minister of Agriculture and Rural Development Ha Cong Tuan also said to meet this goal, the Government has committed to creating favourable conditions for businesses, including domestic and foreign-invested enterprises, to develop and have solutions for origin fraud in the timber industry.
According to the association, Viet Nam is expected to export timber and wood products to the EU valued at over $700 million this year, higher than the $680 million achieved in 2018.
Before 2018, the EU market mainly imported outdoor wooden furniture, while since early this year this market has increased imports of indoor wooden furniture at a much higher value. This trend will continue in the future, it said.
Viet Nam's exports of timber and wooden products to the EU market have good prospects thanks to the advantages from the Voluntary Partnership Agreement on Forest Law Enforcement, Governance and Trade (VPA/FLECT) and the Viet Nam-EU Free Trade Agreement (EVFTA).
To seize opportunities in the EU market, Vietnamese businesses should invest in equipment, technology and materials following market demand, according to the association.
For the Japanese market, besides wooden furniture, Japan has a policy of producing wood pellets to replace fossil energy sources such as coal, oil and gas which are gradually running out. The wood pellets are used as fuel for thermal power plants replacing coal and oil and used as heating equipment in the industrial sector and civil activities.
Recently, Japanese enterprises have invested in three wood pellet production factories in Nghe An Province, producing wood pellets for export to Japan.
Therefore, it expects that Viet Nam's export turnover of wooden products to Japan will surpass the EU, reaching over $1 billion.
Meanwhile, the Ministry of Industry and Trade's Import and Export Department has warned that the rapid increase of Viet Nam's timber and wood products exports to the US at present may cause the US to pay more attention to the exports of those products to this market. Therefore, local enterprises exporting wood and forest products should actively update information from their partners and authorities to avoid this risk.
According to the Ministry of Agriculture and Rural Development's Administration of Forestry, the export value of wood and forest products in the first eight months of 2019 was estimated at $7.08 billion, up 18.6 per cent year on year, including $1 billion in August, up 16 per cent.
Pham Van Dien, deputy director-deneral of the administration, said 87 per cent of the national export turnover from wood and forest products was to traditional markets, such as the US, Japan, the EU, China and South Korea.
Quyen said the US is the largest export market of Viet Nam's timber industry, accounting for 45 per cent of the industry's total export value. The average growth rate of exports to this market is from 15-17 per cent each year. The export value of timber and wooden products in the first seven months of 2019 was $2.7 billion, up 32.8 per cent over the same period in 2018.
Meanwhile, Viet Nam's exports of wood and wooden products to Japan have increased sharply since the beginning of the year, according to the Ministry of Industry and Trade.
Viet Nam was the largest kitchen furniture supplier for Japan in the first half of 2019, reaching 12,800 tonnes, up 19.8 per cent year on year. Kitchen furniture from Viet Nam accounted for 54.4 per cent of Japan's total kitchen furniture imports. — VNS

The opportunities are great for Vietnam's woodworks industry, but great challenges exist as well, experts say.
Vietnam's woodwork industry runs the risk of being watched by the US government for taxation as its export turnover has soared, especially in the context of the sharp rise in Chinese investment.