The Ministry of Industry and Trade (MoIT) and the Ministry of Agriculture and Rural Development (MARD) have proposed the Government import pork based on the directions of Deputy Prime Minister Vuong Dinh Hue.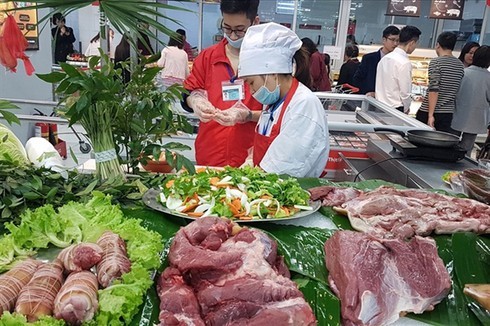 Vietnam must import pork to meet domestic demand. Photo tapchicongthuong.vn
The imports aim to protect businesses, farmers and consumers, Hoang Anh Tuan, Deputy Director of MoIT's Domestic Market Department, said at an online dialogue held by the Government's online newspaper on November 26.
He said Vietnam has traded pork with 24 countries and imports will depend on businesses' demand to ensure pork supply before, during and after Tet, he said. 
The ministry will work with the agriculture sector to control imported pork products to ensure food safety.
According to Nguyen Xuan Duong, acting director of the MARD's Department of Livestock Production, pork has no import quotas and is controlled by quarantine.
He said due to African swine fever, pork supply would be short at about 200,000 tonnes so Vietnam must import pork to meet domestic demand.
If the State had good control of quality and origin for pork imports, the agricultural sector would not be afraid of imports, Duong said. However, pork prices across the world were also high so imported pork products wouldn't necessarily be cheap.
Meanwhile, along with safe pig breeding, the MARD wants localities to prepare more poultry, cattle and seafood products, while citizens need to restructure meals to ensure nutrition and avoid dependence on pork.
As the second largest producer of pork in the country after Dong Nai, Pham Huy Dang, Deputy Director of Ha Noi Department of Agriculture and Rural Development, said the department was guiding farmers to breed pigs safely.
To control the disease, Dang said it was important that authorities have good management of facilities in the pork trade.
The MoIT also asked departments of industry and trade to work with processing enterprises and slaughterhouses to control African swine fever.
Restructuring the livestock industry
Duong said African swine fever had forced the domestic livestock industry to restructure production methods.
"There will be no more small producers, but only professional farms and pork production businesses that can control biosafety. We must do that to have sustainable development in the livestock sector," Duong said.
This would also avoid traders pressuring farmers to cut the pig price and improve control of disease, he said.
Dang said restructuring had been underway for some six years.
Also at the dialogue, Dang said Hanoi's pork demand averaged about 600 tonnes per day and it had fallen amid the shortage of pork, but he was bullish on Tet supply.
"Ha Noi will not face a serious lack of pork on Tet holiday like other localities," he said.
Most of the companies and large pig farms in Ha Noi still have relatively large pigs producers, while African swine fever mainly affected small households, according to the official.
In addition, Ha Noi works with other provinces and cities to ensure pork supply for the market.
Along with that, for the Lunar New Year, many residents will return to their hometowns. This will also reduce pressure on pork consumption in Ha Noi. VNS

The sharp rise in pork prices has driven up the costs of related food in restaurants and markets.

This years inflation is controllable at 3.3-3.9 per cent, Deputy Prime Minister Vuong Dinh Hue said while chairing a meeting early this week regarding the recent surge in pork prices, an essential foodstuff.