The US Consulate General in Ho Chi Minh City on April 18 held a workshop on boosting Vietnam-US cooperation in airport infrastructure development in Vietnam, gathering 80 representatives of the public and private sectors of both nations.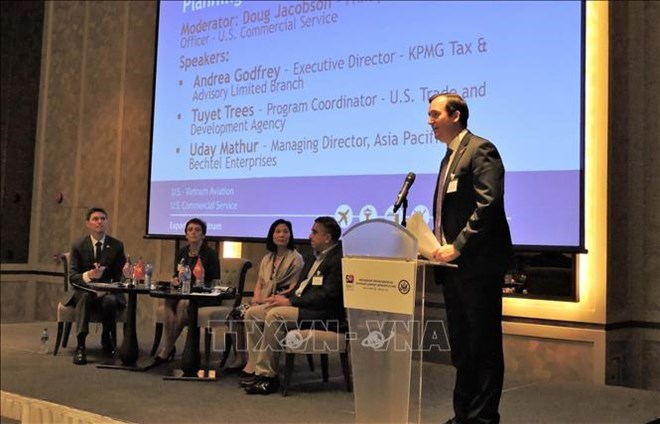 Scene at the event
US Deputy Consul General Timothy Liston said the workshop was organised following the Category 1 aviation safety rating recently given to Vietnam by the US Department of Transportation's Federal Aviation Administration (FAA), as well as aviation trade pacts signed during President Donald Trump's visit to Hanoi in February.
Participating representatives from Vietnamese and US agencies in charge of aviation management, transport-security, and trade exchanged experience to boost bilateral ties in the field, and discussed orientations for collaboration in developing key infrastructure of Vietnamese airports. Vietnam's airport development plans were also a feature of the talks.
The Vietnam-US aviation industry group, which consists of 26 companies and six agencies from both countries, as well as two US enterprise associations, discussed ways to boost public-private partnerships in Vietnam towards airport improvement and modernisation in preparation for the opening of direct air routes between the two nations.
According to the US Consulate General, the group's private members cover resources for aviation building, maintenance, safety, services, and technical support.–VNA