More and more banks have started offering free services to attract customers in a very competitive market.
Experts propose higher foreign holding in Vietnamese banks
Total assets of banks in Vietnam hit more than US$472 billion
After many delays, banks are now listing shares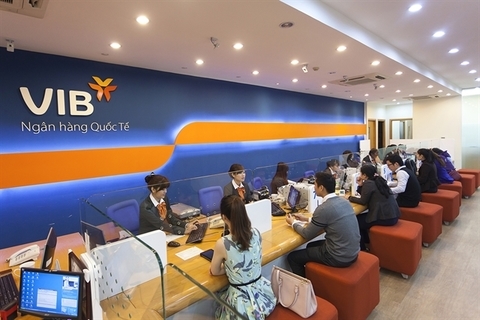 VIB's new customers are free to transfer money online and to withdraw money at 17,000 ATMs nationwide. — Photo VIB
 The Vietnam International Joint Stock Commercial Bank (VIB) and Southeast Asia Joint Stock Commercial Bank (SeABank) have announced a free service policy for individual customers, for ATM withdrawals and online internal and external money transfers, starting from this month.
At VIB, new customers will be free to transfer money online and to withdraw money at 17,000 ATMs nationwide, regardless of internal or external network, for six months after opening the account.
The fee waiver also applies to existing VIB payment accounts that have been open for less than six months.
For older accounts, VIB will waive the two fees and the fee at the counter if the average account balance in the last six months reaches VND5 million or more.
These waivers exclude international transaction.
Meanwhile, at SeABank, the free-of-charge programme has been applied to all new customers and existing customers with SeANet/ SeAMobile services such as free internal and external money transfer for customers using the services.
Last year, Techcombank also applied a e-banking with zero dong programme called F@st Ebank for corporate customers after successfully luring a large number of individual customers in the wake of free transfer programmes for all online transactions via the bank's F@st I-bank and F@st mobile.
Banking expert Bui Quang Tin said the free programmes would help banks attract customers.
A Nielsen report on personal finance also showed along with convenience, ease and speed, transaction fees are a factor customers care most about when banking. Free transactions help customer reduce significant monthly fees and makes them feel comfortable in using the services.
As for banks, Tin said free transactions would help them attract and create a large customer base to promote cross-selling products and services, such as lending and bancassurance.
In the case of Techcombank, for example, its number of new customers last year increased by 87 per cent over the previous year.
The rapid increase in the number of new customers also means a large amount of money is circulated through banks. As a result, the banks will attract a large amount of current account savings account (CASA) with low interest rates, creating a low-cost capital source.
The free services policy has also contributed to surging Techcombank's services income. The bank's income from payment services and cash by the end of last year increased by 81 per cent against 2016 to VND508 billion (US$21.8 million). Its net profit in this segment also increased by more than 32 per cent to VND306 billion.
With the success, it is forecast that more banks will introduce free services policies, which will bring more benefits to customers. — VNS