The total asset value of Vietnamese dollar billionaires have dropped according to statistics from Forbes.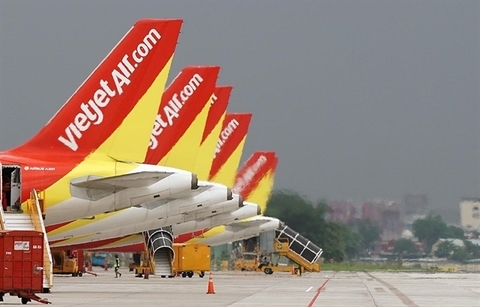 A corner of Noi Bai International Airport. VietJet is one of the Vietnamese airlines suffering from the global COVID-19 outbreak. The carrier's President and CEO Nguyen Thi Phuong Thao lost $175 million according to Forbes' statistics.
The Forbes' real-time billionaires list shows that the asset value of Vingroup Chairman Pham Nhat Vuong decreased by US$724 million, or 11.86 per cent, to $5.4 billion.
Meanwhile, Techcombank Chairman Ho Hung Anh lost $35 million to $1 billion. The assets of VietJet's President and CEO Nguyen Thi Phuong Thao stand at $2 billion, down $175 million, or 7.96 per cent.
The global stock market has recently experienced strong downward momentum due to the COVID-19 pandemic. As a result, the assets of many billionaires have 'evaporated'.
Viet Nam has only four representatives on Forbes' list of world billionaires, including Tran Ba Duong who is founder and Chairman of Truong Hai Auto Corporation (Thaco).
Duong is the only one billionaire of Viet Nam still keeping his assets intact at $1.5 billion. — VNS

In 2009, when the VN Index soared from 324 points to the year's peak of 630 points, the richest stock billionaire had total assets worth over VND9 trillion. 

More large corporations have released 2019 finance reports. The 2019 business season witnessed a boom of enterprises with the profit of over VND10 trillion.