Vietnamese enterprises are not doing enough to learn about the Comprehensive and Progressive Agreement for Trans-Pacific Partnership (CPTPP) which make them fail to grasp opportunities arising from the trade deal.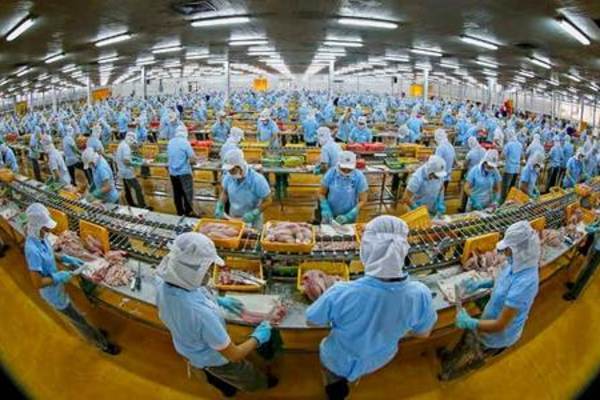 Workers at a fish production line in the south of Viet Nam. — Photo doanhnhansaigon.vn
CPTPP is a new-generation free trade agreement with a broad scope and the highest level of commitments Viet Nam has ever signed.
The trade pact came into force in January but has not received adequate attention from both the business community and State management agencies.
Ngo Chung Khanh, deputy director of the Ministry of Industry and Trade's Multilateral Trade Policy Department, said the ministry has received only 12 questions from businesses since the trade deal took effect, which is too small compared to a large number of companies in Viet Nam.
Data released at the forum on pros and cons in the context of US-China trade tension last week showed the use of preferential treatment under CPTPP to export was still very low.
According to the Ministry of Industry and Trade (MoIT), goods exported using CPTPP certificate of origin (C/O) were worth only US$190 million out of total $16.4 billion export value to CPTPP members, which meant only 1.17 per cent of the total exports made use of preferential C/O.
Only two products – footwear and steel – has taken advantage of about 10 per cent of the opportunities, while the apparel products which is expected to benefit most of CPTPP hardly made any use in reality.
A recent survey by the Viet Nam Chamber of Commerce and Industry (VCCI) also showed only 26 per cent of 8,600 surveyed enterprises have learnt about CPTPP, a modest rate compared to more than 70 per cent who are unclear about the agreement.
Nguyen Thi Thu Trang, director of the WTO Integration Centre under the VCCI, said the enterprises pointed out the lack of information on the commitments and implementation methods under the agreement and insufficient execution of State agencies were the biggest obstacles, followed by other issues such as low competitiveness and hardship to meet the C/O requirements.
"Implementing the commitments is not in the hands of the Government and ministries, but mainly in localities and enterprises. If businesses fail to understand the opportunities arising from the agreement, they cannot grasp them," Trang said.
Khanh also said the ministry hardly received any questions from sectors and localities. Most localities have built their action plans on CPTPP implementation (after several calls from the Prime Minister) but most of plans did have detailed action programmes, not mentioning many plans were rushed, he said.
Economist Vo Tri Thanh said it was time for businesses to get more confident and learn to have a thorough understanding about trade deals that Viet Nam has signed with other countries to compete in big markets.
Businesses also need to have regular talks with the Government and State agencies, raising problems and seeking solutions.
CPTPP has long been identified as an opportunity for businesses to boost exports, as well as making Viet Nam an attractive destination for foreign investment. However, to make most of its use, there is a need for more active participation of all stakeholders to promote serious implementation. — VNS