The productivity and competitiveness of Vietnamese enterprises remain low, according to a report publicized on April 26 by the Vietnam Academy of Social Sciences (VASS), the Ministry of Planning and Investment nd the UNDP.
Improving business environment is Government's priority in 2019
Costs cause seafood firms to sink
Government issues new resolution on improving national competitiveness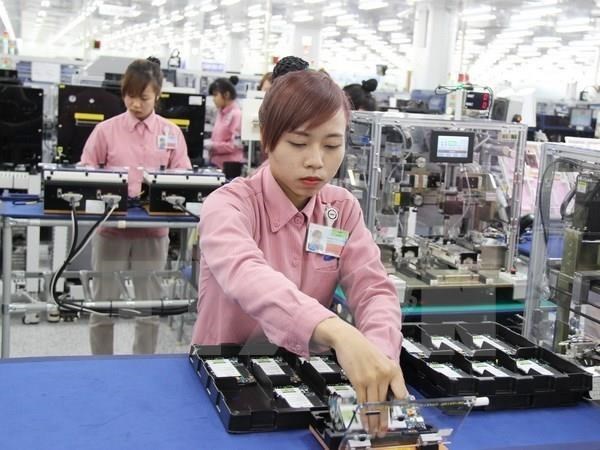 A worker at Samsung hi-tech complex in Thai Nguyen province
At the report launching workshop, Vice President of VASS Prof. Dr. Dang Nguyen Anh said with a per capita income slated to reach 3,000 USD in 2020, Vietnam has entered a period of growth based on efficiency and productivity, according to the World Economic Forum's methodology.
Anh noted that previous growth drivers of Vietnam such as natural resources and low-cost labour have approached their limits, which means Vietnam must change its growth model towards relying more on productivity, innovation and competitiveness of its enterprises.
The scholar also stressed that Vietnam should shift the focus of its FDI attraction policy from quantity to quality while enhancing the linkage between domestic and FDI enterprises and moving to the higher level in both local and global value chains.
UNDP Country Director in Vietnam Caitlin Wiesen said improving productivity of manufacturing and processing enterprises along with innovation is key for Vietnam to avoid the middle-income trap and achieve inclusive growth.
Deputy Minister of the MPI Vu Dai Thang said the report, which makes comprehensive analysis of the processing and manufacturing industries, the productivity and competitiveness of each sub-industry, will be one of the important sources of input materials for the building of the socio-economic development strategy for 2021-2030 and the socio-economic development plan for 2021-2025.
The report recommended that Vietnam should give priority to enhancing the productivity and competitiveness of domestic private enterprises in the next development period, which it said is an indispensable part of reforms in public investment, State-owned enterprises and policies on foreign investment attraction and use.-VNA