Local pig farmers desperately wanted to recover their pig herds amid the pig undersupply and price upsurge on the local market, but existing conditions are not favorable for the effort.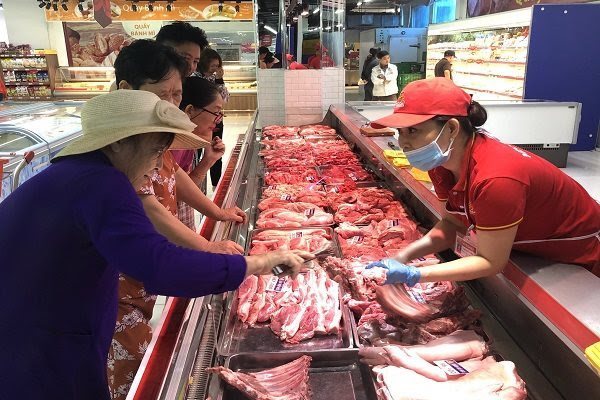 Consumers inspect pork products at a Co.opmart supermarket in HCMC. Local pig farmers desperately want to recover their herds amid the pig undersupply and price upsurge – PHOTO: TT
One of the main hindrances to the recovery plan is the high prices of breeding piglets, at VND115,000-VND120,000 per kilogram, while the number of piglets is not as high as before, Nguyen Kim Doan, vice chairman of the Dong Nai Livestock Association, told the Saigon Times on November 25.
Accordingly, farmers will need to spend VND2.4 million purchasing a 20-kilogram breeding pig. With possible losses of 10% and VND2.5 million worth of pig feed to raise the young pig, farmers will gain a full-sized pig weighing 100 kilograms.
Barring other complications, they can earn a profit by selling it at VND70,000 per kilogram. However, amid fear of another outbreak of African swine fever, they will likely sell the pig at a weight of 40 kilograms and will thereby encounter losses, he explained.
Further, small local farmers who have already suffered the impact of the disease with many sick pigs being culled, leaving farms abandoned, will have difficulty recovering their herds as they have run out of capital.
It was also learned that no cure or vaccine is available for the disease, leaving the possibility of a recurrence open, said the vice chairman.
New outbreaks have been recorded in some localities after some small farmers expanded their herds under substandard conditions. This prompted many others to balk at the recovery plan.
According to Dao Huu Thuan, owner of a local farming household in Dong Nai, one of the country's major production provinces, his farms are now empty. Earlier, he incurred losses of approximately VND5 billion after culling his sick pigs and rushing to sell some 3,000 others to avoid being hit further by the disease.
Despite wanting to restart pig production, Thuan is still unsure of the plan, fearing new outbreaks.
Another Dong Nai-based farmer, Nguyen Quang Thuy, reported similar fears when purchasing an additional 36 breeding pigs over the past month. He has had to pay close attention to farming hygiene practices to ensure his pigs remain healthy.
Previously, the disease had slashed Thuy's herds from 1,500 pigs to some 50 sows, 200 commercial pigs and 200 piglets, which were expected to be available for sale early next year.
The local market is forecast to face a pork shortage of an estimated 200,000 tons during the last two months of the year and over the Tet holiday, according to data from the ministries of Industry and Trade, Agriculture and Rural Development.
The Ministry of Industry and Trade has adopted multiple measures to stabilize the local pork market, including monitoring the supply and cross-border trade of pork products, evaluating the reproductive performance of the country's pig herds and importing safe pork from other countries. SGT
Vu Yen

The sharp rise in pork prices has driven up the costs of related food in restaurants and markets.

This years inflation is controllable at 3.3-3.9 per cent, Deputy Prime Minister Vuong Dinh Hue said while chairing a meeting early this week regarding the recent surge in pork prices, an essential foodstuff.