The Government has proposed borrowing VND459.5 trillion (US$19.9 billion) next year to make up for the State budget deficit, increasing regular expenditures and social insurance debts.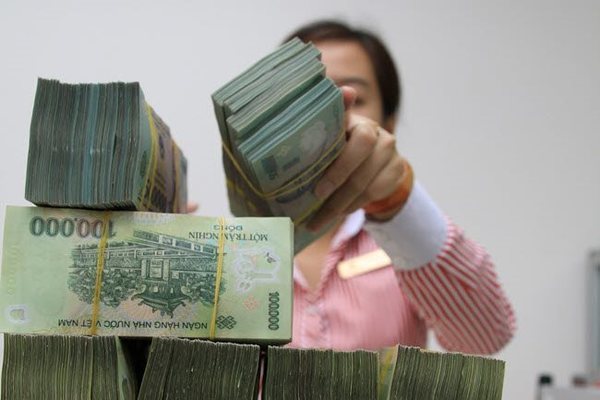 A bank employee arranges stacks of Vietnamese banknotes. The Government has proposed borrowing VND459.5 trillion next year
According to the Government's report on public debt this year and plans for next year, delivered at the National Assembly's eighth sitting, some VND217 trillion of the amount borrowed will be used to offset State budget overspending, another VND217 trillion is needed to pay off debts and VND9.1 trillion will be used to pay social insurance for policy people, the local media reported.
To mobilize capital, the Government plans to issue Government bonds worth VND300 trillion, disburse official development assistance (ODA) loans valued at VND107.4 trillion and mobilize VND95.4 trillion from other sources.
The Government expected to pay VND379.1 trillion in debts next year.
By late next year, the public debt-to-GDP ratio is forecast to reach 54.3%; Government debt-to-GDP ratio, 48.5%; and foreign debt-to-GDP, 45.5%.
The Government admitted a decline in public debt, but this was mainly due to the slow disbursement of public investment, especially foreign loans. This has hindered loans from contributing to the country's development and put pressure on the State budget.
In addition, 10.3% of the Government's debts will mature next year, and Government bonds issued in foreign currencies worth US$1.7 billion will become due next year and again in 2021.
The Government also reported that the interest rates of foreign loans are on the rise. Meanwhile, some countries have replaced ODA loans with ordinary loans offering fewer incentives and higher costs. SGT
 

The government has set targets for public debts, government debts and foreign debts to ensure they are within the limit and lower than the national financial plan in the 2016 – 2020 period.

Foreign investors have made a net purchase of VND15.2 trillion worth of government bonds so far this year, according to SSI Retail Research.

Upon breaking downs, the government spent VND195.7 billion (US$8.43 billion) on paying domestic debts and VND41.2 trillion (US$1.77 billion) on foreign debts.