Vietnamese banks are following their corporate clients by expanding abroad.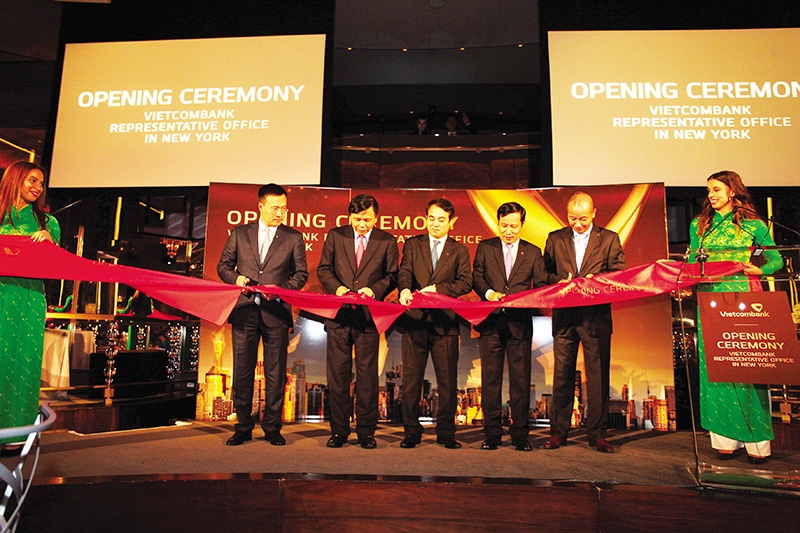 Vietnamese banks are beginning to make inroads in major markets such as the United States and Australia
However, lenders could also confront a combination of hurdles when going abroad, including understanding cultural differences, local regulations, and meeting strict requirements. 
During his bilateral talks with South African Deputy Prime Minister David Mabuza in South Africa last week, Vietnamese Deputy Prime Minister Vuong Dinh Hue stated that the legal framework to support co-operative activities between the two nations would soon be completed.
Notably, he proposed that the South African government tackle difficulties in payment method for Vietnamese enterprises and allow them to "open branches of Vietnamese commercial banks in South Africa."
Mabuza affirmed that all best conditions will be made available for all Vietnamese businesses and investors to invest in his nation.
Elsewhere on the African continent, Saigon-Hanoi Joint Stock Bank (SHB) recently submitted a proposal to enter the Ivory Coast although the board of management is still considering their options, according to insiders.
Meanwhile, Vietcombank officially opened a representative office in the United States last week, marking the milestone of the first presence of a Vietnamese commercial bank in the world's largest market for financial services.
"As US investors turn their attention to Vietnam, the representative office is expected to act as the international arm of Vietcombank to connect Vietnamese corporates doing business in the US, or to weigh up investment with potential US partners," the bank wrote in its announcement.
The office will join the lender's global network consisting of a finance firm in Hong Kong, a remittance company in the US, an office in Singapore, and a 100 per cent-owned subsidiary in Laos. Furthermore, the State Bank of Vietnam (SBV) last month gave approval for Vietcombank to open a branch in Australia.
Expanding overseas
SHB has proven to be one of the most successful Vietnamese banks in Southeast Asia by setting up one head office in the Laotian capital of Vientiane, along with three branches in other provinces in the country.
Its subsidiary charter capital has reached more than $47 million, and approximately 2,500 individuals and businesses in Laos are purchasing the bank's services.
"With large demographics and huge consumption demand, this neighbouring country is a potential destination to invest in," said Vu Anh Tuan, general director of SHB in Laos.
This financial institution has gone on to widen its business scale with four branches in Cambodia. The board of the bank also revealed it is waiting for official approval from the National Bank of Cambodia to expand its activities in other provinces.
Laos and Cambodia have been the top investment destinations chosen by many other Vietnamese banks over the years thanks to significant overseas investment by Vietnamese companies in those markets. These banks include VietinBank, BIDV, Sacombank, and MB Bank.
According to the Ministry of Planning and Investment (MPI), Vietnamese businesses are firming up their presence in Laos with 292 projects at $5.1 billion in total investment. In addition, 178 projects from Vietnamese investors, which are estimated at around $2.8 billion, were underway in Cambodia as of September.
Across the Atlantic, two of VietinBank's German branches, which are operating in Frankfurt and Berlin, have helped to boost the bank's position in the European country and brought its financial services to its wide range of customers and partners.
"We can proudly say we are the first and only Vietnamese bank meeting all requirements of the institutional system and risk management model of the Federal Financial Supervisory Authority of Germany and the central bank of Germany," said Erdmann R.G. Vogt, co-director of VietinBank Germany.
At the end of 2018, its total assets and profit increased more than 1,450 per cent and 265 per cent respectively compared to figures at the start of the year.
Data from the MPI's Foreign Investment Agency revealed that in the first four months of this year, the finance and banking sector ranked second in overseas investment by Vietnamese businesses with the total registered capital of $36 million, accounting for 24.1 per cent of the country's total overseas funding.
Strict requirements
While banks can gain benefits from greater geographic diversity, rapid overseas ­expansion could test their operation, risk management capacity, and pose several challenges to their activities. One major concern for lenders is raising capital to meet the capital adequacy ratio (CAR) imposed by Basel II standards and the SBV. Analysts at Bao Viet Securities pointed out that listed banks need to mobilise at least $10 billion to ensure they satisfy CAR requirements by 2020 – a mission that lenders say they are struggling to complete.
Moreover, experts also voiced concerns over multidimensional obstacles in cultural integration.
"We should pay a great deal of ­attention to cultural inclusiveness," said economist Hieu. "Hong Kong and Singapore may be a good target for Vietnamese lenders wanting to expand overseas thanks to their unique gateway position as mature, open markets with free flow of goods, capital, and ­talent."
Looking on the bright side, Nguyen Thi Hong, Deputy Governor at the SBV, said that under the banking strategic development plan in 2025, Vietnam aims to have at least two or three banks ranking in Asia's top 100 banks by assets, and three or five banks listed on foreign bourses. Therefore, targeting international expansion would be one of the most crucial priorities for domestic lenders in the future. VIR
Luu Huong

Several local banks have reduced their interest rates in recent days, going against the banking sector's general year-end trend of increasing rates to boost earnings.  

The credit growth rates of state-owned banks are decreasing, but rising at joint stock banks.