The Vietnamese port industry needs further investment to keep pace with the country's rapid economic growth and reduce logistic costs for businesses.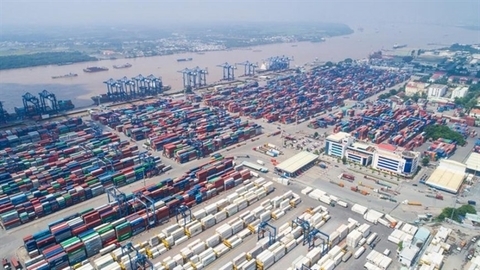 Containers at Cat Lai Port. Cat Lai Port in HCM City is also ranked among the top 25 biggest container ports in the world and the fifth biggest in ASEAN. — Photo tancang-stc.vn
After two plans (in 1999 and 2009) and one adjustment (in 2014), to date, Viet Nam has 45 seaports with total capacity of more than 550 million tonnes per year. Major ports are concentrated in northern Hai Phong City, Da Nang and Quy Nhon in the central region and HCM City in the south.
However, Viet Nam has many smaller ports, which takes the total number in the country to 320.
In the last 10 years, rapid economic expansion in Viet Nam has driven up shipping demand, highlighting the importance of ports. Viet Nam's container traffic through the seaport system has risen 10-12 per cent per year, far exceeding the average growth of 3 per cent of the global port industry in the last decade.
According to Bui Thien Thu, deputy director of the Viet Nam Maritime Administration, most of the regional major ports have been upgraded to accommodate vessels with capacity of up to 30,000 deadweight tonnage (DWT).
Cai Mep-Thi Vai Port (CM-TV), a deep-water port located around 80km south of HCM City, can handle vessels with capacity of 18,000 20-foot equivalent units (TEUs), or 194,000 DWT. This port handles goods for Dong Nai and Binh Duong provinces, which are major manufacturing hubs in the South, and is popular on routes to the US and EU thanks to its deep-water capabilities.
However, the market share of throughput among ports is uneven, Thu said, emphasising that 90 per cent of the country's total freight is going through the two port groups in Hai Phong and HCM cities.
The network of ports in HCM City handles about 55-60 per cent of the total throughput nationwide while the northern ports account for 25-30 per cent. Cat Lai Port in HCM City is also ranked among the top 25 biggest container ports in the world and the fifth biggest in ASEAN.
Container goods through the central ports account for just over 10 per cent.
This implies that northern and central ports are operating below capacity while the southern ports are over-burdened with shipments, which has led to congestion and significant delays, Thu said.
According to the World Economic Forum's global competitiveness report 2019, Viet Nam ranks 83rd among 138 economies on the quality of port infrastructure, with an average score of 3.80 on a scale of 1 (lowest) to 7 (highest).
The Viet Nam Port Association (VPA) stated that 80 per cent of container exports and imports go through smaller ports and ships, a process known as trans-shipment, which leads to delays and increases costs by around 30 per cent.
Tran Dinh Thien, former director of the Viet Nam Economic Institute, said the overloading at seaports was also the result of poor transport infrastructure.
Road and rail infrastructure has not been able to keep up with economic growth. The railway and road network around ports remains underdeveloped and lacks connection with various ports.
For example, belt roads around HCM City's ports are either too far or undeveloped which has led to poor connection between the ports and the key economic regions and the international trans-shipment to the key economic region is limited, Thien said.
"The investment in Dinh Vu Port in the North is a crucial factor to spur the development of industrial clusters," Thien was quoted as saying on haiquanonline.vn.
He said to go to Hai Phong, most cars currently travel on 5B highway while long and heavy trucks choose to go on the old, small National Highway 5 with slow speeds, as most industrial parks are located along this way.
According to Thien, the Government needs to have a new approach for planning seaport infrastructure to keep pace with the nation's economic development.
In fact, the Vietnamese Government has introduced a master plan related to the development of the seaport system by 2020 and 2030. It has targeted to achieve a cargo clearance target of at least one billion tonnes by 2020 and 1.2 to 1.6 billion tonnes by 2030.
According to the master plan, many deep-sea ports are being invested in all three regions such as Lach Huyen Port in Hai Phong, Lien Chieu in Da Nang City, Tran De in Soc Trang Province and Hon Khoai in Ca Mau Province with investment capital of trillions of dong.
Given the currently limited State budget, Thien said the Government needed to consider public-private partnerships and encourage initiatives to develop the private sector.
Ho Kim Lan, general secretary of the Viet Nam Seaport Association, also pointed out a weakness of Viet Nam's seaport system which is the lack of updated logistics technology.
Cat Lai Port is the only port that currently applies "electronic port" (ePort) to handle procedures and online payments for all container forwarding options.
As well as investing in increasing port capacity, Viet Nam also needed to invest in modern equipment to increase productivity, apply one-stop service for customers and enhance connectivity with international maritime routes, Lan said. — VNS

More and more Vietnamese are looking for opportunities to invest in property abroad to diversify their portfolio, according to experts.

The National Assembly Standing Committee spent the whole day discussing reports evaluating the implementation of the socio-economic development plan and State budget in 2019 during the 38th session yesterday.