Vietnamese products are attractive to foreign distribution channels as lots of purchase departments of foreign distribution channels have arrived in Vietnam to speed up purchasing contracts with local enterprises.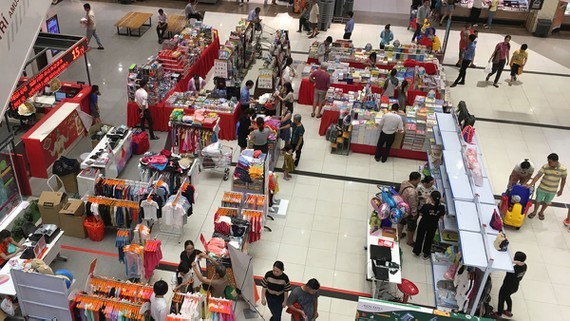 An area selling clothes and handbags of Vietnamese enterprises in a Japanese shopping center in Vietnam. (Photo: SGGP)
Assessing the buying demand for agricultural products and processed food of foreign distributors, Ms. Nguyen Thi Thu Thuy, deputy director of the Export Promotion Center under the Vietnam Trade Promotion Agency under the Ministry of Industry and Trade, said that from November 13 to 16, importers from the US, Russia and South Korea and purchasing corporations, domestic and foreign supermarket chains, such as Walmart, Vinmart, CJ Freshwasy, CJ Cau Tre, Lotte, Big C Vietnam, Aeon, Haro, Satra, Saigon Co.op and Vietsway will be present in Ho Chi Minh City, seeking for opportunities to buy goods from more than 300 local farm produce, food and foodstuffs manufacturers.
Statistics by the Ministry of Industry and Trade showed that in the trade promotion program in 2018 for farm produce and food processing sector, these aforesaid distribution channels carried out more than 800 direct transaction and more than 30 trade meetings on specific products in food and beverage sector.
There were nearly 240 transactions which purchase departments evaluated to have high or good potential to promote further and contact to discuss detail cooperation direction after the program. Especially, according to reports by purchase departments of Lotte, Aeonmall, Vinmart and Saigon Co.op, around 21 direct transactions at the program that might lead to contract signing.
With highest number of purchase departments, the Korean business delegation with purchase departments, including CJ CheilJedang, Samsung SF Holding, Green Trade, Jinsung F.M, KBridge, Tomorrow Trading, Dongwon F&B and Sweet Potato Factory Story, rated satisfaction with transaction results of 83 percent.
Agricultural products, vegetables, fresh fruits, dried fruits, frozen products, tea, coffee, canned food, beverage, cattle meat, poultry meat, seafood, sweetmeat and food packing were products with highest number of orders. Russian enterprises were interested in fresh fruits, dried fruits, tropical fruit drink, dipping sauce, coffee and tea of Vietnam. They also highly acknowledged connection efficiency of the program.
The representative of the Vietnam Trade Office at Far East – Russia said that in the near future if affordability of Russian consumers is higher, Vietnamese enterprises will definitely have opportunities to promote export of food and beverage products to this market.
Especially, Vietsway, the purchasing and business developing unit through well-known e-commerce channels, has been studying suitable cooperation forms for each specific group of farm produce, processed food, beverage and soft drink of domestic enterprises in order to increase purchasing and distributing capacity in global e-commerce channel.
As for the US-based Walmart, the fact that it continues to participate in this year's program has attracted great attention of Vietnamese enterprises.
According to Ms. Thuy, foreign distribution networks have great interest in agricultural products and processed food of Vietnam as consumers all around the world also favor Vietnamese goods.
In addition, thanks to efforts to improve the image and brand name, several Vietnamese products have gradually built their prestige in the international market.
Enterprises have also put ceaseless efforts to convert production so as to increase the value of export products, reduce the ratio of raw material export and borrowing of brand names of partners in global market.
The commercial counsellor of Vietnam in the US said that 1,938 brand names of Vietnam have been registered and 1,090 Vietnamese existing brand names are protected by the United States Patent and Trademark Office. In comparison with countries and territories which are behind Vietnam in terms of import turnover to the US market, such as Taiwan, Singapore and Malaysia, the number of protected brand names of Vietnam is much lower. However, the efforts of domestic enterprises will strongly improve in the near future.
Report by the General Statistics Office of Vietnam showed that in the first ten months of this year, export turnover was estimated at US$217.05 billion, an increase of 7.4 percent over the same period last year.
However, agricultural products, such as seafood, vegetables and fruits, coffee and cashew nut continued to keep downward trend as domestic manufacturing enterprises have not caught up with technical barriers that many markets in the world have been raising.
Moreover, most of domestic enterprises are small and medium sized enterprises so their export capacity remains limited.
Therefore, promoting trade connection with foreign distribution channels will possible solve the problem by helping enterprises to increase their on-spot export capacity and reduce risks when sending goods abroad.
On the other hand, representatives of foreign distribution channels said that, Vietnamese enterprises have had good internal production capacity and been able to meet large orders.
However, in order to become international suppliers, it requires enterprises to make plan to meet strict requirements about standards, quality and packing, hereby they will be able to maintain on-spot as well as abroad export orders. SGGP
Thuy Doan

"I expect Vietnam's economy to continue to be one of the world's fastest growing in the coming years," said Dr. Frank Jurgen, Chairman of the Horasis in an interview with VietNamNet's Lan Anh.  

Whichever way you look at them, Vietnam's Key Performance Indicators tell a compelling investment story.