Vietnamese rice prices are on the rise and can compete with other rivals in terms of quality, according to the Ministry of Agriculture and Rural Development (MARD).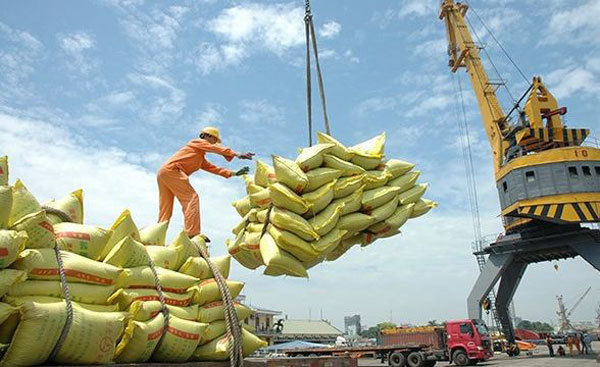 Free trade agreements (FTAs) have opened a wide door for Vietnam's rice exports. — Photo thuonghieuvacongluan.vn
The Vietnam Food Association (VFA) said on Sunday that the export price of Vietnamese rice reached US$513-517 per tonne for 5 per cent broken rice and $488-492 per tonne for 25 per cent broken rice. Other rice such as jasmine hit $563-567 per tonne and 100 per cent broken rice costs $438-442 per tonne.
The prices for Vietnamese rice were $5-7 per tonne higher than those of Thailand and much higher than those of India and Pakistan. Specifically, 5 per cent broken rice was quoted at $508-512 per tonne in Thailand, $398-402 per tonne in India and $438-442 per tonne in Pakistan.
The VFA said free trade agreements (FTAs) have opened a wide door for Vietnam's rice exports. In the first days of 2021, many companies under the association won big rice orders, especially in the European region and some other markets under the Regional Comprehensive Economic Partnership (RCEP), the world's largest trade pact.
Nguyen Nhu Cuong, Director of the ministry's Department of Crop Production, said in the first two months of the year, Vietnam exported more than 608,700 tonnes of rice worth $336.1 million. The figure was down by 34 per cent in quantity but up 22 per cent in terms of turnover.
He told Tiền Phong (Vanguard) online newspaper that this was the highest level for exports of Vietnamese rice, a positive sign showing that the quality of Vietnamese rice has improved and has a high value.
Localities in the Mekong Delta have enhanced the harvest of winter-spring rice while others are planning for the summer-autumn crop. For example, Hau Giang Province has targeted a total output of 489,000 tonnes. In addition, increasing export rice prices have been at a very good level, bringing opportunities for the country's rice industry, he added.
Dao The Anh, deputy head of Vietnam Academy of Agricultural Sciences (VAAS), said the country's rice exports this year would continue to see impressive growth in value and surpass rivals.
He said the EU-Vietnam Free Trade Agreement (EVFTA) has helped Vietnam to penetrate the European market and Vietnamese firms should take advantage to conquer the market.
Anh said Vietnam's rice exporters should focus on maintaining quality. Businesses and farmers should ensure they have stable material areas and control quality.  
VNS

The shift in rice export from low- to mid- and high-quality helped the rice export industry fare better in 2020. Yet much has to be done to maintain achievements.

The Ministry of Industry and Trade's Import and Export Department has released a list of 205 local traders nationwide who were certified as eligible to export rice as of January 18.