Lack of production materials and flagging export value have caused seafood companies to suffer losses in the third quarter of this year.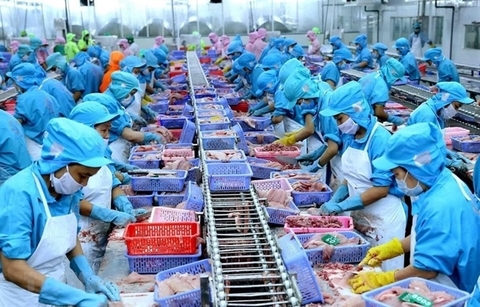 In the first nine months of 2019, the country's total seafood exports were estimated at nearly $6.3 billion, down slightly by 0.8 per cent against last year. — Photo tinnhanhchungkhoan.vn
The Dong Thap Province-based Vinh Hoan Company (VHC), the largest tra fish exporter in Viet Nam, saw post-tax profit drop by 58.3 per cent year-on-year in Q3, reaching VND254 billion (US$10.9 million).
VHC's net revenue also dropped by 25 per cent against last year, totalling VND1.88 trillion.
The company attributed the sharp fall in profit in the third quarter to the significant decrease in export volume. VHC's revenue from exports declined from $40 million in June to $22 million in September.
In the first nine months, net revenue at VHC decreased by 13 per cent to VND5.69 trillion, while post-tax profit fell by over 5 per cent to VND981 billion.
Minh Phu Seafood Joint Stock Company (MPC), one of the world's biggest shrimp firms involved in farming, processing to sales, also experienced a plunge of 31 per cent in gross profit in Q3 to VND249 billion.
MPC's net revenue totalled VND3.2 trillion, a decrease of 15 per cent year-on-year. Revenue from its financial segment also plummeted 71 per cent to VND24 billion.
The company also saw lower export value in July, August and September, down by 3 per cent, 20 per cent and 34 per cent, respectively.
The company's revenue from exports to the US plunged 59 per cent in September and 14.3 per cent in the first nine months of this year.
In the first nine months, MPC's total revenue from exports reached $198 million, down 20.5 per cent over the same period last year and only reaching 57 per cent of the target set for 2019.
Minh Phu said that since July, due to prolonged heavy rains, the amount of shrimp fingerlings in Viet Nam had declined significantly, so the company had been unable to meet customer demand.
In August, MPC's inventories fell by more than 60 per cent and there were fewer products to export, forcing the firm to stop taking orders for the remainder of the year.
As a result, Minh Phu's third-quarter post-tax profit was only VND103 billion, down 54 per cent compared to the same period last year. In the first nine months, the company's revenue increased by 1.7 per cent to VND8.39 trillion but post-tax profit dropped by 10 per cent to VND484 billion.
Currently, the company is trying to complete its Loc An hi-tech farming area in order to be able to meet demand in the years to come.
Cuu Long Fish Joint Stock Company (ACL) witnessed revenue and post-tax profit down by 44 per cent and 80 per cent in Q3, reaching VND261 billion and VND19 billion, respectively.
In the first three quarters, ACL achieved VND1 trillion in revenue and VND132 billion in post-tax profit, both down by 10 per cent year-on-year.
The last quarter of 2018 was a great period for the pangasius catfish industry as prices climbed sharply. ACL earned a record profit of VND230 billion during that time. However, pangasius prices then gradually fell in the second quarter of 2019, affecting the business of ACL and many other companies.
Mekong Fisheries Joint Stock Company saw revenue rise by 8 per cent in Q3, reaching VND55 billion, but gross profit was down by 31 per cent, touching VND3.3 billion.
In Q3, revenue at Hung Vuong Joint Stock Corporation (HVG) plunged by 64 per cent to VND527 billion, and the company suffered a loss of VND129 billion.
HVG attributed the drop in revenue to its divestment from Viet Thang Feed JSC that cut its revenue from the sale of animal feed.
One of the few seafood processors to report higher profit in Q3 is Nam Viet Corporation (ANV).
In Q3, ANV recorded a net revenue of VND1.12 trillion, up 7 per cent compared to 2018. Post-tax profit reached more than VND152 billion, up 34 per cent year-on-year, marking eight consecutive quarters of growth.
ANV has three factories with a capacity of 600 tonnes per day and is working on its Binh Phu project with over 200 ponds of mature fish and 40 ponds of fingerlings.
ANV's export markets are quite diverse, including the US, Mexico, Brazil, the EU, China and Southeast Asia.
Nguyen Duy Nhut, deputy chairman of the board of directors cum deputy general director, said the company had increased its market share of pangasius exports in China from 17 per cent to over 26 per cent, and was striving to reach 35 per cent.
According to the Viet Nam Association of Seafood Exporters and Producers (VASEP), in the first nine months of 2019, the country's total seafood exports were estimated at nearly $6.3 billion, down slightly by 0.8 per cent against last year, of which exports of shrimp and pangasius had dropped by 7 per cent and 8 per cent, respectively. — VNS
The EU, which was once the second biggest seafood export market for Vietnam, consuming 18 percent of Vietnam's seafood exports, fell to fifth, with 13 percent, after the EU gave Vietnam the yellow card.

The seafood industry must envision a long-term strategy to make full use of new trade pacts and prepare for problems that might arise when they take effect, Truong Dinh Hoe, VASEP general secretary, said.