The U.S. Department of Commerce (DOC) today, April 10, announced the preliminary results of the 13th period of review (POR 13), exempting Vietnamese shrimp imports from antidumping tariffs.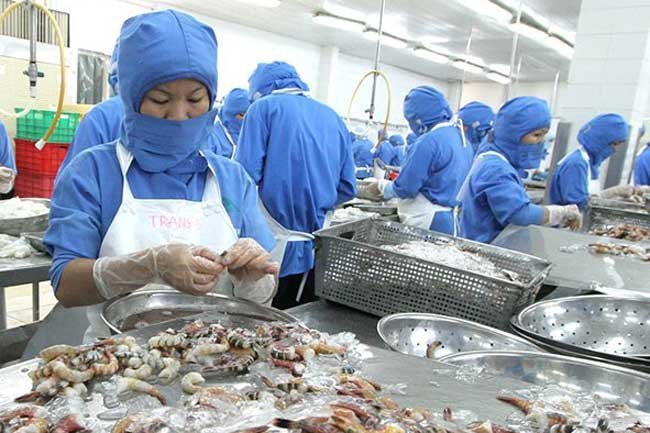 Workers process shrimp at a local seafood factory. Shrimp imports from Vietnam have been exempted from the United States' antidumping duty
Truong Dinh Hoe, general secretary of the Vietnam Association of Seafood Exporters and Producers, told Thanh Nien Online newspaper that the tax rate will be applied to two mandatory respondents in the review and all local enterprises shipping shrimp to the United States.
Although these are only preliminary results, the report is a milestone for the local shrimp sector.
If the rate is kept unchanged in the final decision, which is expected to be announced at the end of next quarter, local shrimp exporters will be encouraged to boost shipments Stateside in the coming years.
Moreover, the antidumping duty exemption will help increase Vietnamese shrimp exporters' competitiveness.
The results of recent PORs on Vietnam's shrimp have all been positive. In September last year, the DOC lowered the antidumping tariff on shrimp imports from Vietnam to 4.58% in the final results of POR 12 from 25.39% presented in the preliminary results and 4.78% in POR 11.
Nguoi Lao Dong newspaper cited Ho Quoc Luc, chairman of Sao Ta Foods JSC, a mandatory respondent in POR 13, as saying that the antidumping duty is the best recorded in 13 years, which also demonstrates that Vietnamese exporters have not dumped shrimp on the U.S. market.
As of November last year, Vietnam had exported nearly 54,100 tons of shrimp to America, up 6% over the same period in 2017. The country ranked fourth among the American shrimp suppliers.
In the first two months of this year, Vietnam's shrimp exports to the United States dropped by over 15% year-on-year at US$374 million. SGT