Nguyen Phuong, sales director of Minh Thanh Co., Ltd, said his company plans to invest more than 50 billion VND (2.15 million USD) in a production chain for bedroom and living room furniture.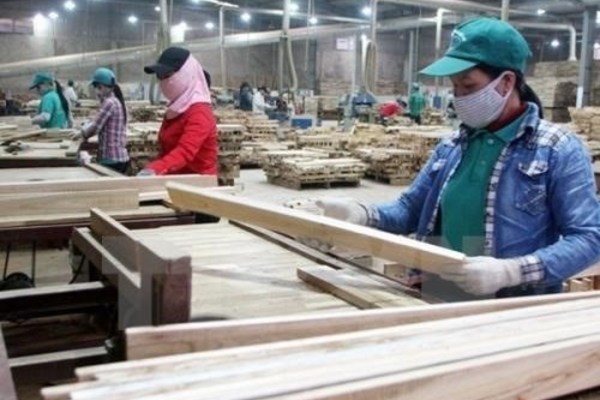 Vietnam's wood and forestry exports were worth over 7.9 billion USD in the first nine months of this year, a year-on-year increase of 18.1 percent
Besides installing a new machine, the company has also revamped its productionprocess to create the most compatible and efficient machine system, he said.
With this, Minh Thanh expects to reduce manpower by around 30 per cent andimprove productivity and quality.
Leslie Lye, sales manager at the Weinig Group, said: "Vietnameseproducers have been making more investment in technology than in otherSoutheast Asian countries."
But with customer preference shifting to personalised furniture, the productioncosts of such customised furniture must be comparable with that of massproduced items, he said.
This is affecting furniture manufacturers globally and in Vietnam.
He said furniture manufacturers need to have factories with mass productioncapacity but also the flexibility to make small batches.
"To be profitable, they need to have a precise mapping of the productionprocess and easy and quick product changeover."
Nguyen Chanh Phuong, Vice Chairman of the Handicrafts and Wood IndustryAssociation of HCM City (HAWA), said the high growth rates in recent years notwithstanding,the wood processing industry faces challenges like fierce competition due to anincreasing number of foreign enterprises investing in the sector but also ashortage of workers as a result, and a shifting of orders from China.
Firms in industrial parks pay 10-20 percent higher wages than previously, butstill find it hard to get workers, he said, adding that despite rising wages,labour productivity remains low.
The country's wood and forestry exports were worth over 7.9 billion USD in thefirst nine months of the year, a year-on-year increase of 18.1 percent.
Nguyen Quoc Khanh, HAWA Chairman, said: "All enterprises in the industryare heading towards a bigger goal of 20 billion USD in 2025.
"The Government has set a clear direction of making Vietnam a world leadingwoodworking production centre. This has helped companies in the sector gainconfidence and motivation."
To cope with current and prospective challenges and changes in customers' demands,the industry needs to adopt effective business strategies and embrace advancedtechnologies, he said.
"With the progress in global machinery manufacturing, our woodworking companiesare able to get the latest technologies, especially precision productiontechnologies by using computer numerical control (CNC).
"Current emerging technologies such as AI, big data, cloud computing androbotics will surely enable us to improve product quality, better control theproduction process, reduce dependency on manpower and the time taken forproduction, and quickly meet customer demands."
When investing in technologies, firms should base it on future needs and seekadvice from experts and machinery suppliers, he added.
Bernd Kahnert, senior expert at HOMAG, the world's leading supplier of smartand integrated production solutions for the wood industry, said finding humanresources who can understand and operate these advanced technologieswould not be an easy task for Vietnamese firms.
Enterprises themselvescan resolve the human resource challenges but it needs closer collaborationbetween educational institutions and businesses, he said.
Training human resourcesfor the industry is an urgent requirement, he added./. VNA

The opportunities are great for Vietnam's woodworks industry, but great challenges exist as well, experts say.
Vietnam's woodwork industry runs the risk of being watched by the US government for taxation as its export turnover has soared, especially in the context of the sharp rise in Chinese investment.