Forum looks to develop legal frameworks to boost cooperatives
The second ICA-AP Cooperative Registrars' forum is introduced at a press conference on April 11
The second International Cooperative Alliance-Asia Pacific (ICA-AP) Cooperative Registrars' forum will take place in Ho Chi Minh City from April 16-19, identifying legal frameworks and policies that affect the sustainable development of cooperatives.
Themed "Creating an Enabling Legal Framework and Policies to Promote the Sustainable Development of Co-operatives in the 21st Century," the event is expected to gather delegates from the Vietnamese Government, the ICA-AP, heads of cooperative alliances in 63 cities and provinces, and 120 international representatives.
President of the Vietnam Cooperative Alliance Nguyen Ngoc Bao said on April 11 that the forum will deliberate on development trends and their impacts on cooperatives in the 21st century, as well as exchange experience in the creation of an enabling environment for the cooperative eco-system.
The event will also bolster collaboration between the Government and the cooperative movement in settling current socio-economic issues, he added.
Meanwhile, Director of the Institute of Vietnam Organic Agricultural Economics Le Thanh said that the forum creates opportunities for regional countries and international organisations to gain a deeper insight into the Vietnamese cooperative economy, and for domestic cooperatives to introduce their products and gain access to the Asia-Pacific market.
On the occasion, a trade promotion fair will be organised in Ho Chi Minh City, with 350 booths displaying agro-forestry-fishery products, industrial products, agricultural machinery and equipment, and plant protection products, among others. Exhibitors include domestic cooperatives and businesses, as well as those from Japan, Taiwan, Thailand, Malaysia, and the Philippines.
Vietnam is currently home to more than 22,400 cooperatives, with over 7 million members. Around 13,000 cooperatives operate in agriculture.
Joining global value chains unavoidable for development: workshop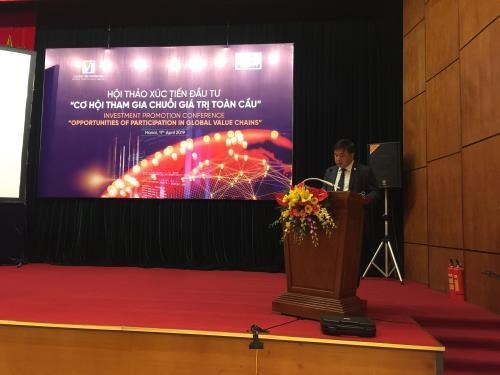 At the workshop
Participating in global value chains is an inevitable step towards building and developing brands, as well as gaining a firm foothold on the world market, said Le Hoang Tai, deputy head of the Trade Promotion Agency, at an investment promotion workshop in Hanoi on April 11.
Tai stressed that international trade has witnessed the formation of global value chains, which attract the participation of not only developed, but also developing nations.
In developing countries like Vietnam, global value chains have helped local enterprises gradually undertake different stages of the production process and bring into full play trade advantages, thus speeding up the industrialisation process, he added.
The Vietnamese economy has maintained its development trend over the past time. According to a report by the General Statistics Office (GSO), the national GDP in 2018 rose by 7.08 percent year-on-year, the highest level since 2008, in which the industrial sector enjoyed a growth rate of 8.79 percent, accounting for 28.44 percent of the GDP. The index of industrial production last year increased by 10.2 percent, with processing and manufacturing remaining the main driver with a growth rate of 12.98 percent.
Over the past few years, both domestic and foreign investors have continued to put their confidence in the stability of Vietnam's macro-economy and invest in the country's industrial sector. Some outstanding investment projects are the 35-trillion-VND (1.5 billion USD) Vinfast automobile production complex project, with a capacity of 500,000 units a year; and Hyosung Corporation's 1.2-billion-USD project to build a polypropylene (PP) plant and underground storage facilities for LPG.
GSO statistics show that last year, processing and manufacturing attracted the largest share of foreign investment, with newly-registered capital totalling 9 billion USD, accounting for 50.5 percent of the total newly-registered capital.
Big enterprises choosing Vietnam as the location of their factories offers opportunities for Vietnamese businesses to participate in global value chains. For example, the Republic of Korea's Samsung Group recently announced its requirement of about 500 supply firms for its production facilities in Vietnam during the 2019-2020 period.
However, Vice President and General Secretary of the Vietnam Association for Supporting Industries Truong Thi Chi Binh pointed to the fact that many small- and medium-sized Vietnamese enterprises have yet to meet orders, either in terms of price or volume.
Therefore, Binh advised businesses to choose products suitable for their capacity.
She also stressed the need for policies to prioritise domestic supply, and attract domestic and foreign investments in the production of certain products depending on different periods.
Vietnam, Netherlands share cultivation experience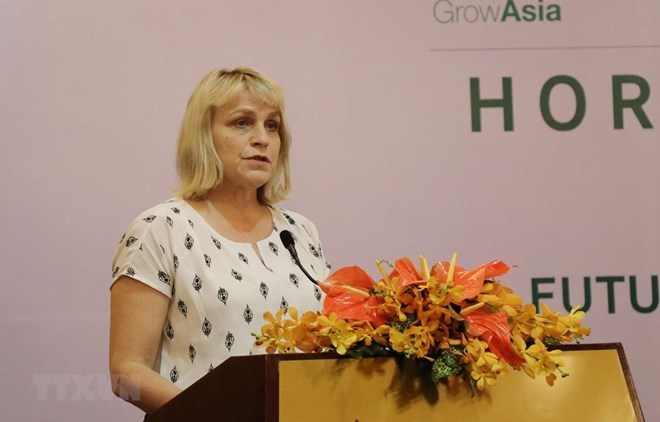 Dutch Vice Minister of Agriculture, Nature, and Food Quality Marjolijn Sonnema
A seminar took place in Ho Chi Minh City on April 11 to discuss experience and form partnerships in cultivation between Vietnam and the Netherlands.
Speaking at the event, Deputy Minister of Agriculture and Rural Development Le Quoc Doanh said agriculture is important to Vietnam's economy, with cultivation accounting for 75 percent of agricultural production value.
Currently, there are seven home-grown produces that earn over 1 billion USD from exports each year. Four of them rake in 3 billion USD, including rice, coffee, fruit, and cashew nuts.
The cultivation sector strives to achieve an annual growth of 2-2.5 percent in production value and export turnover of 22 billion USD by 2020.
However, it faces intense competition with other sectors in terms of workforce and land. The farming scale remains sporadic with limited adoption of technological advances.
In the near future, the Vietnamese Ministry of Agriculture and Rural Development and the Dutch Ministry of Agriculture, Nature, and Food Quality will step up technical projects in agriculture and encourage Dutch investment in the field in the form of foreign direct investment and public-private partnerships.
Dutch Vice Minister of Agriculture, Nature, and Food Quality Marjolijn Sonnema said cultivation has a big share in the Netherlands' farm produce exports and the European country is ready to share its experience with Vietnam in this field.
According to her, a number of joint projects have been launched in Vietnam, especially in the Mekong Delta.
At the seminar, several Dutch firms introduced farming technologies, measures to build a supply value chain, and preservation and post-harvest technologies used in the Netherlands and other countries worldwide.
Jean Marie Rozec, Executive Director of Rijk Zwaan Vietnam, stressed the need to form close partnerships between farmers and distributors, choose quality varieties, and adopt modern preservation technology.
The seminar was co-hosted by the Dutch Trade and Economic Mission, the Grow Asia organisation, and VNU Exhibitions Asia-Pacific.
No big changes in exchange rate, interest rate in 2019: research institute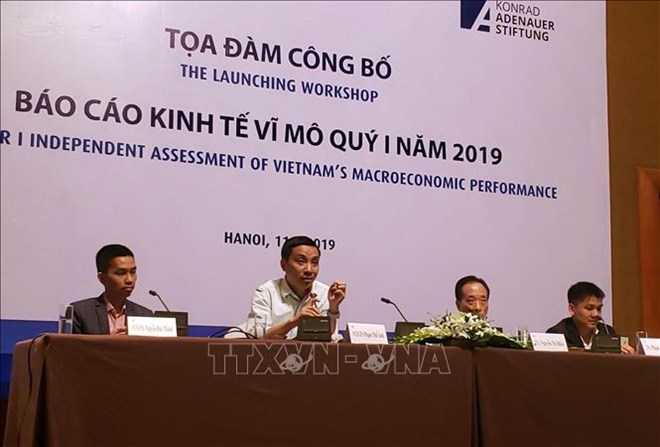 The workshop to announce the report
There would be no big fluctuations in the foreign exchange rate and interest rate in 2019 as pressure caused by the normalization of monetary policy in major economies in the world has eased, according to the Vietnam Institute for Economic and Policy Research (VEPR) under the VNU University of Economic and Business.
In a report on the macro economy in the first quarter released on April 11, the VEPR research group noted that the daily reference exchange rate set by the State Bank maintained a rising trend since the beginning of the fourth quarter of 2018 to the end of the first quarter this year. At the end of March, the rate was nearly 1 percent higher than the level one year ago, lower than the 1.4 percent yearly gain in the fourth quarter of 2018.
Meanwhile, the VND/USD exchange rates listed at commercial banks stayed close to the ceiling rate in the trading band of 3 percent. On March 31, the rate listed at commercial banks stood at 23,250 VND per USD, up only marginally from the rate of 23,245 VND per USD in the fourth quarter last year.
Meanwhile, the inter-bank interest rate in the first quarter this year showed a rising trend, fluctuating between 3.38 percent (in mid-January) to 5.6 percent (at the end of February and immediately before the lunar New Year holidays). The report said the rate reached the quarter's peak just before the lunar New Year holidays due to surges in demand for short-term credit. The rate then dropped towards the end of the quarter to 3.32 percent. The rise in the inter-bank rates was attributed to the requirement for banks to ensure compulsory reserves and changes in deposits in major banks.
Director of the VEPR Nguyen Duc Thanh recommended that the top priority is to manage the forex rates in a flexible way to cushion impacts from outside changes. Meanwhile, the interest rate should be kept stable to facilitate enterprises' access to the capital market.
Inflation in the first quarter also showed an upward trend due to recent adjustments in the prices of electricity and petrol, the report said, adding that the impacts from those price adjustments could last for many months, requiring the State Bank to be cautious in managing money supply and credit.
Vietnam Export-Import Report 2018 announced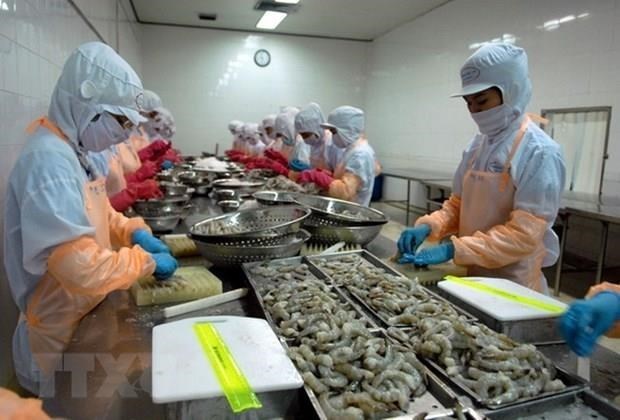 Vietnam's export-import value topped 480 billion USD in 2018, up 11.1 percent year-on-year, said deputy head of the Ministry of Industry and Trade (MoIT)'s Export-Import Agency Tran Thanh Hai.
Hai, who is also Vice Chairman of the Editorial Board of the Vietnam Export-Import Report, made the statement during a ceremony recently held in Hanoi to announce the 2018 report.
Of the figure, export value hit 243.5 billion USD, up 13.2 percent, surpassing the target set by the National Assembly and Government, bringing the trade surplus up to nearly 6.8 billion USD.
The maintenance of high export growth and a trade surplus amid complicated developments in the region and the world as well as increasing protectionism has contributed to improving foreign exchange reserve and stabilising other macro-economic indexes, proving the substantial efforts of the Government and businesses, the report said.
According to experts, the report enables users to review and forecast the efficiency of foreign trade activities.
State management agencies have said the annual publication has met requirements in the context of Vietnam's global integration.
Compiled and edited by the Export-Import Agency, the Industry & Trade newspaper, and the General Department of Customs, the report was announced and published for the first time in March 2017. It has been welcomed by managers and export-import firms.
Vietnamese goods to be displayed in South Africa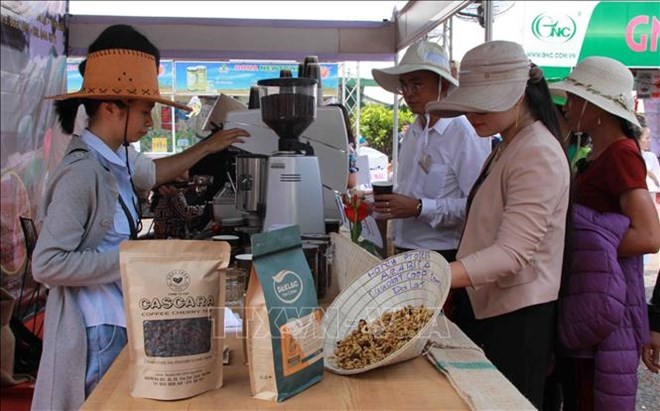 The Ministry of Industry and Trade (MoIT)'s Department of Asian-African Markets will hold a trade promotion trip to South Africa to display goods at wholesale and retail supermarkets from May 8-16.
Accordingly, the Vietnamese goods will be introduced at wholesale supermarket chain Advance Cash & Carry and retail supermarket Shoprite.
Via the event, Vietnamese firms will have a chance to meet South African importers to boost exports to the country, focusing on farm produce, processed food, confectionery, beverages, aquatic products, apparel, household appliances, stationery, leather, and footwear.
The delegation will survey the market and conduct trade with South African enterprises.
Head of the West Asian-African market office Nguyen Minh Phuong said South Africa is the most developed country in Africa in terms of socio-economy and politics, as well as now being the largest trade partner of Vietnam in the continent.
Two-way trade surpassed 1 billion USD last year. Nearly 742 million USD of which was Vietnamese exports, mostly mobile phones and spare parts, machinery, peppercorns, apparel, footwear, iron and steel, cashew nuts, wooden furniture, chemicals, vegetables, and rice.
Vietnam spent 386 million USD on imports from South Africa last year, including plastics, metal, vegetables, apparel and footwear materials, chemicals, iron and steel, machinery and equipment, spare parts, coal, ore and minerals, chemicals, cotton, and rubber.
The MoIT will work closely with Cape Town and Johannesburg's chambers of commerce and industry to organise business seminars in the two cities.
Vietnamese farm produce must be proactive to enter European market: experts
Preparing dragon fruits for export
Vietnamese agricultural products have many opportunities to enter the European market, but exporters need to understand local consumption trends and come up with suitable brand-building strategies, said experts at a conference on promoting farm produce exports to Europe.
At the conference held in Ho Chi Minh City on April 11, Bui Thi Thanh An, Deputy Director of the Vietnam Trade Promotion Agency, said the agricultural and food processing industries are changing to make Vietnam an important farm produce supplier of the world market, including Europe.
Thanks to trade promotion and technical support activities, said An, European import partners, retail and wholesale distributors, and consumers have adopted a more positive view about Vietnamese food products. Meanwhile, Vietnamese firms in the field are now capable of meeting strict requirements from the market and demand from a number of top European importers.
Koos van Eyk, Country Manager of the Dutch Centre for the Promotion of Imports from developing countries (CBI), said Vietnam's agriculture and food processing industries are switching from exporting raw materials and labour-intensive, low-value simple processing to deep processing and exporting products with high value added with a better understanding of customers' demand.
Improvements in their trade management have built trust in the European market, he added.
Participating experts recommended Vietnamese enterprises invest in research and development to create greater value for their products and actively catch up with consumption trends in the market.
They said the enterprises should pay more attention to the promotion of their images and trademarks via brand identity systems as well as meeting the target market's quality and technical requirements.
VIB wins two international digital banking awards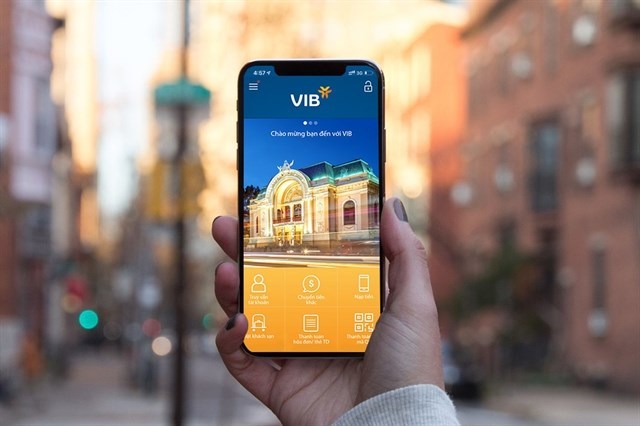 MyVIB mobile banking application
The Vietnam International Bank (VIB) has won two international digital banking awards from The Asset, making it the first bank in Vietnam to receive the awards for three consecutive years.
The awards aim to honour finance institutions and technology companies that achieve outstanding results in developing and applying digital technology in the Asia Pacific region (including Japan and Australia).
The Asset is a widely recognised business news and research organisation, delivering authoritative, unbiased and independent coverage on Asia's financial industry. Since its launch in 1999, The Asset has been providing essential news, analysis and insights addressed to a distinct community of corporate leaders and financial decision-makers.
"Vietnam is an ideal market for the advancement of digital financial services. In this regard, VIB has been quite vocal in its efforts to push for inclusive digital banking in the country. For example, through the MyVIB mobile banking application, customers are able to do their online shopping among a number of lifestyle-focused services aside from general banking," a representative from The Asset said.
In addition, The Asset has also recognised VIB's efforts in creating and providing digital banking products and services, especially its development of a website as a professional channel to reach customers at the end of 2018.
VIB launched the new website with design focusing on the user experience, scientific information structure, basic content and friendly user interface.
According to VIB, 16 percent of new customers registered to open new online accounts in 2018, while the number of customers who registered to use internet banking services increased by 15 percent compared to 2017.
During the period, the proportion of customers making internet banking transactions was 76 percent, tripling the number of cash transactions made at counters. The number of customers downloading the MyVIB application rose by 36 percent year-on-year.
Previously, VIB received "The most innovative mobile banking application 2018" award from the Global Banking and Finance Review (UK).
Global textile supply chain conference talks green trend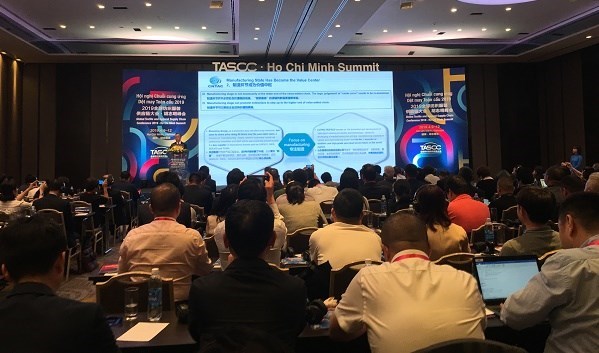 At the event (Source: VOH)
The Global Textile and Apparel Supply Chain Conference (TASCC), the first of its kind in Vietnam after 11 previous editions in China, took place in Ho Chi Minh City on April 11.
Co-hosted by the Vietnam Textile & Apparel Association (VITAS) and the China National Textile and Apparel Council (CNATC), the event focused on sustainable development trend towards a green garment industry and regional solutions to global challenges.
Speaking at the event, VITAS Chairman Vu Duc Giang said the association has established an environment committee and joined an action plan to achieve a green garment sector over the past three years with the support of the Sustainable Apparel Coalition and other organisations.
Bui Hoang Yen from the municipal Investment and Trade Promotion Centre suggested improving dyeing process and linking stages together from design to product development, materials and logistics, thus upgrading supply chain and creating a common power for the sector.
The MoIT worked closely with agencies concerned to devise a development strategy for apparel, leather and footwear till 2030 amid the fourth Industrial Revolution, including zoning off several concentrated industrial parks for fiber, thread, leather and new materials.
CNATC President Sun Ruizhe said the Vietnamese and Chinese garment sectors play an important role in the global supply chain.
In recent years, major Chinese apparel makers such as Shenzhou, Youngor, Huafu, Lutai, Xurong and Jifa have invested in building plants in Vietnam, he said.
However, challenges remain ahead as polluting firms are at risk of having orders cancelled by branded names in the world. They tend to place orders from green companies while consumers also consider manufacturers' social responsibility for the environment.
A representative from the World Wildlife Fund said there are a number of projects providing financial support for garment firms to renew technology and mitigate environment pollution.
Payment is critical to improve commute experience, study finds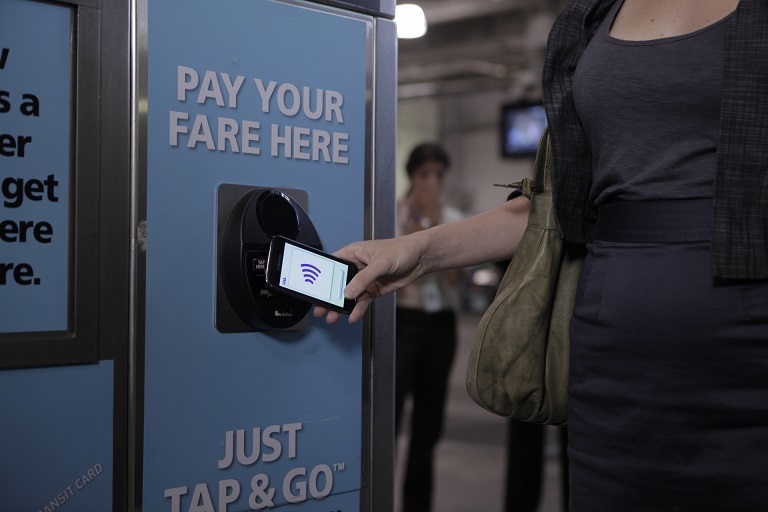 A new study by Visa and Stanford University finds that improving the payment system is vital to support commuters around the world.
Payments lie at the heart of every form of travel, and will continue to become more integral as more cities move to contactless public transportation, digital payments for parking and rental services such as bikes or scooters. In fact, complexity in payment is often at the root of many common complaints placed by commuters.
In a recent study conducted by Visa and Stanford University, more than 19,000 commuters in 19 countries were asked about their thoughts of public and private transportation, and the important role that digital commerce plays in driving sustainable growth.
The respondents consisted of 65 per cent living in the inner city/centre and 35 per cent in the outer city and suburbs. More than half (55 per cent) were in full-time employment.
About 47 percent of respondents said the need for different tickets for different modes of travel is an issue, and 41 percent cited services being "cash-only" as an annoyance that may lead them to use cars instead of public transport.
For car users, 47 per cent would like to see innovations that would advise on the cheapest fuel available. About 35 per cent would like an app that recognises the location where they are trying to refuel and pays through the app.
From these findings, Visa suggested that city governments and urban planners need to collaborate with think tanks, automotive and technology firms, and payments providers to improve the payment experience.
As a single journey will increasingly involve more than one mode transport (e.g., car, underground and bike), it becomes imperative to create a simple, streamlined payment experience for the commuter, ranging from contactless transit to in-app payments or platform-based solutions.
Moreover, as companies and municipalities increasingly incorporate digital payments, they also need to integrate instant authentication. According to the researchers, the role of Digital ID in the ecosystem is critical to address the changes in the way people use transportation, ensuring that both payment and personal authentication is easy and seamless.
Other recommendations are to invest in connectivity, design commerce systems with all members of society in mind and develop strategic partnerships to drive insights.
"Visa and our partners have an important role to play, both in streamlining the payment experience for millions of commuters around the globe, and supporting public transportation authorities in their quest to build sustainable and convenient transportation solutions that improve the lives of the people who use it," said Mike Lemberger, senior vice president for Product Solutions in Europe, Visa.
Tugo ties up with global players to offer premium travel options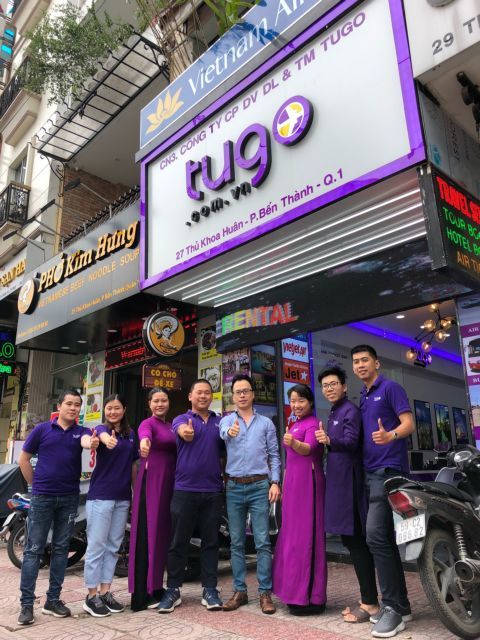 Staff of travel start-up company Tugo at an office in HCM City. The company is developing premium tours to meet increasing demand. 
Travel start-up Tugo announced on Wednesday a tie-up with French advertising platform Criteo SA and five international carriers to expand its business in Viet Nam.
As part of a one-year deal, Criteo will provide retargeting solutions that enable Tugo to reach its target customers and promote tours with the partner airlines.
The five carriers are Vietnam Airlines, Air China, Singapore Airlines, Brunei Airlines and Qatar Airways.
Tugo said the tie-ups would enable it to develop premium tour programmes that provide customers with high-quality transportation and accommodation.
It said Viet Nam has an increasing number of international and domestic tourists, driven by a rapidly growing middle class.
Nguyen Minh Bao, founder and CEO of the company, said: "Over the past few years, we have been seeing stronger consumer demand for premium travel services. With the partnerships, we hope to provide premium travel experiences that satisfy the needs of the modern Vietnamese traveller."
Criteo's solutions provide his company with insights to his customers' travel booking preferences and readiness to purchase.
Alban Villani, managing director, SEA-Pacific, Criteo, said: "We encourage travel operators to join us in adopting new technologies and digital solutions to better reach and engage end-users.
"Tugo is well-positioned to bring together the top airlines and customers to define what is premium travel for the modern traveler."
The growing digital economy is driving travel booking on websites and mobile apps as Vietnamese become more mobile- and app-savvy.
PV Gas raise dividend to 53 per cent, posting $124m revenue in Q1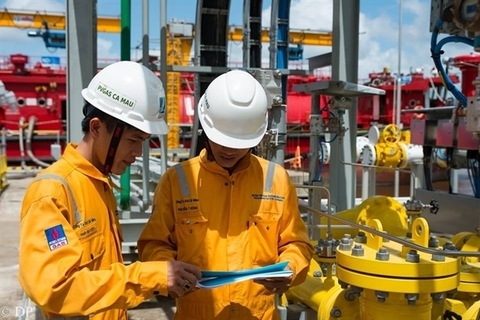 The company has already paid 40 per cent for 2018's dividend and the remaining 13 per cent will be paid this year. — Photo laodong.vn
PV Gas (GAS) decided to raise its 2018 dividend from 40 per cent to 53 per cent thanks to its spectacular business performance last year
This information was reported at the company's annual shareholders' meeting on Tuesday.
The company has already paid 40 per cent for 2018's dividend and the remaining 13 per cent will be paid this year.
PV Gas planned a low profit target for 2018 but by the end of the year, it recorded net profit of VND11.7 trillion (US$502.1 million), surpassing its yearly goal by 82 per cent thanks to higher-than-planned oil prices (up $23.4 per barrel).
It continued to set modest targets for 2019, with total revenue of VND63.9 trillion (US$2.74 billion) and net profit of VND7.64 trillion ($328 million), down 16 per cent and 35 per cent year-on-year, respectively. This projection is based on the forecasted oil price of $65 per barrel.
The dividend rate is planned at 30 per cent this year.
With positive performance of global oil prices, the company estimates revenue of about VND20 trillion ($858.4 million) and pre-tax profit of VND2.9 trillion ($124.4 million) in the first quarter.
Regarding State capital divestment, the company said the Government has a policy to reduce its stake to 65 per cent but has yet to set out a specific roadmap. PetroVietnam, the representative of the State capital, holds nearly 97 per cent.
PV Gas plans to raise ownership in two liquefied petroleum gas (LPG) companies to 51 per cent. This would show the company's commitment in retail operations, increasing market share and support channel for wholesale activities, the company said.
PV Gas, a member of PetroVietnam, is Viet Nam's largest natural gas company which runs integrated operations, from drilling for gas through marketing. It controls nearly 70 per cent of the domestic market for liquefied petroleum gas.
Shares of the company, listed on the Ho Chi Minh Stock Exchange with sticker GAS, declined 1.9 per cent on Tuesday at VND107,000 ($4.60) per share.
MM Mega Market Vietnams diligent efforts to control pork quality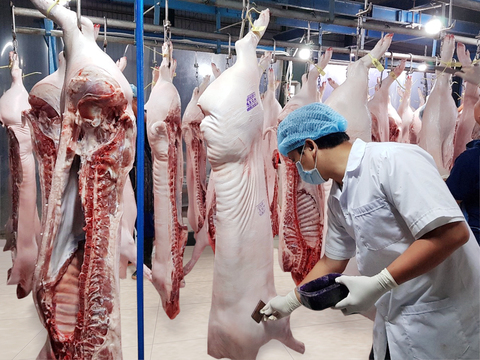 Wholesaler MM Mega Market Vietnam (MM) has announced it has been working closely with farmers and authorities to tighten control over quality of pork products at all stages from breeding to slaughter and transportation to ensure safe pork is supplied to consumers.
Since its launch in June 2017, the Dong Nai pork platform is now entirely supplying safe pork to MM stores in Central and South Viet Nam. This transit facility is run in close co-ordination with farmers and pig farming meets VietGAP standards and quality is strictly controlled in a closed loop. MM is currently in partnership with nearly 400 farms in Dong Nai, and provides the market with more than 250 tonnes of clean, safe pork a month.
In this time of disease outbreaks, Phidsanu Pongwatana, managing director, MM Mega Market Vietnam, said, "MM has maintained close communication with the Dong Nai Department of Agriculture and Rural Development, advocating farms to participate in the outbreak control training that is available.
"We have been working with the farmers on the ground to increase the frequency of disinfection of the farms and workers and keep strangers away from the farms as much as possible to prevent the diseases from spreading.
"Importantly, our agricultural engineers have been here every step of the way with the farmers to maintain strict control of the foods and drinks we give to pigs."
Furthermore, all the breeding farms that are in partnership with MM are also being closely monitored by the local sub-department of livestock production and veterinary, which has been a valuable source of training in farming procedures and animal health knowledge, as well as how to prevent and control diseases.
The pigs raised at farms are all marked with traceability rings and put through urinal rapid tests to find any banned substances, and visually checked for skin colour and overall physical condition before being slaughtered and taken to the market.
Besides being closely watched throughout the farming process, before being taken to the slaughterhouse pigs from participating farms are clinically examined by veterinarians and must get a healthy pig certificate before they are permitted to be slaughtered.
In the post-slaughter stage, the vets continue to examine the pork quality, stamp the products and issue a certificate for each batch. At the slaughterhouse, the trucks that carry the pork to the MM Mega Market system are sealed.
To keep the meat fresh, MM Mega Market Vietnam has made serious investments to obtain advanced equipment and specialised trucks.
At the pick-up points, MM quality control teams check the transport temperature by accessing the temperature log inside the specialised trucks to make sure the temperature remains at 2 - 4oC, and once again examine the pork quality before chopping the meat and taking it to consumers.
Every pork product on sale at MM stores comes with a QR code stamp for traceability for origin, allowing buyers to easily check information about the originating farm, standards applied and slaughter date among others with just a click of their smart phones.
Currently a supplier to more than a million HORECA (hotels, restaurants, canteens) customers, Phidsanu said confidently: "Food quality and safety remain our top priority when we serve our customers. MMs fresh food quality has been firmly established after a decade in Vietnam.
"Our food platforms, including our pork platform, also have capable farm engineers sent to the farms to provide advice and guidance to make sure that the products not only meet VietGAP standards but also MM Mega Market's own standards."
One of the frontrunners in growing and developing the value chain-based farming model, MMs Dong Nai pork platform is a joint operation with LIFSAP (Livestock Competitiveness and Food Safety Project, World Bank) and farmers.
This value chain model is under strict control from the farm to the slaughterhouse and until the products are distributed to the market, offering consumers safe pork products, especially in the current context of pig diseases that are worrying buyers.
Investors open many new accounts in March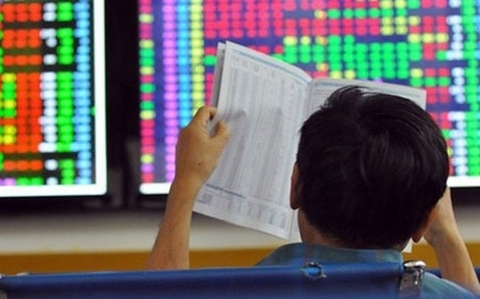 Investors tend to flock to open new accounts when VN-Index touch its peak. — Photo ndh.vn
As many as 21,265 new accounts of domestic investors were opened in March, the highest number since April 2018 when the VN-Index reached its peak of 1,200 points.
According to the Viet Nam Securities Depository Center (VSD), the number included 21,176 individual accounts and 89 organisational accounts.
In March, the market experienced fairly positive movements, including the time the benchmark VN-Index on the Ho Chi Minh Stock Exchange reached the 1,015-point landmark, the highest level since October 2018.
This positively affected market sentiment, triggering a large number of investors to open new accounts.
Investors tend to flock to open new accounts when the VN-Index touches its peak. In March last year, 40,554 accounts opened, the all-time highest number.
Shortly thereafter, at the beginning of April, the VN-Index set its all-time peak of 1,204 points. But the index then reversed and adjusted, showing no clear trend.
As of the end of the first quarter, the total number of securities accounts in Viet Nam reached 2.23 million accounts. Of that number, 2.2 million were accounts of domestic investors, while nearly 30,000 accounts were those of foreign investors.
Vietjet advances second dividend payment of 2018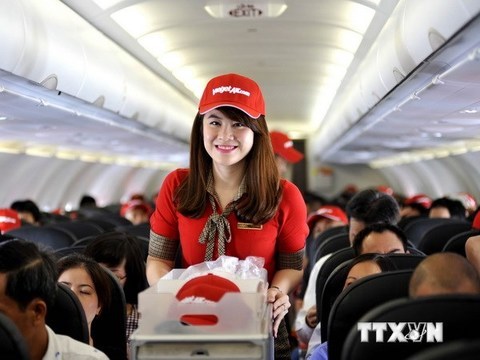 Food and drink being served on a Vietjet flight.
Vietjet has agreed to advance a 10 per cent cash dividend payment to its shareholders, equivalent to more than VND542 billion (US$23.3 million).
The additional payment means the company's shareholders will receive nearly VND1.62 trillion ($70 million) for the fiscal year 2018.
Registration for the payment runs until April 24, Vietjet said in a statement.
The airline plans to pay a dividend rate of 50 per cent both in shares and cash for the fiscal year 2018, following the resolution of its 2018 annual shareholder meeting.
Vietjet has a good record of paying high dividends, from 50 per cent to 70 per cent in both cash and shares.
The airline believed the board of directors would submit another high dividend payout ratio for 2019 at the coming Annual General Meeting of shareholders.
Earlier last week, Thai Vietjet – a joint venture of Vietjet and Thai airline Kan Air – said it would increase the frequency on its two routes connecting Da Lat and Da Nang with Bangkok.
This move aims to meet increasing travel demand on the routes, the airline said in a statement.
The Da Lat-Bangkok route will be operated daily, starting from Tuesday while the flight on Da Nang-Bangkok route will be increased to three round-trip flights per day, starting from Friday.
Viettel Post plans 36-per-cent growth in 2019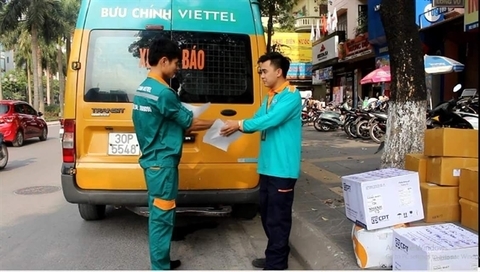 Viettel Post aims to become the No 1 sales enterprise in Viet Nam based on a smart logistics platform by 2024. — Photo baolongan.vn
Viettel Post, a subsidiary of Viettel Corporation, is aiming for growth of more than 30 per cent across its all business targets for 2019.
In a document sent to its shareholders prior to the 2019 annual shareholders' meeting on Thursday, Viettel Post said it plans total revenue of VND6.7 trillion (US$288.5 million) and net profit of VND380.2 bilion ($16.3 million) in 2019, both up more than 36 per cent over last year.
Its total assets are expected to increase 34.3 per cent to more than VND3.8 trillion by year-end.
Viettel Post has recorded impressive growth in the last five years with revenue in 2018 almost quadrupling the 2014 figure to reach VND4.9 trillion, while the 2018 net profit was seven times higher than in 2014, to VND279 billion.
However, the company said its operations remained dependent on postal delivery, accounting for 75 per cent of total revenue, while the company has invested heavily in logistics and trade.
In addition, it faces fierce competition from transportation and shipping firms such as Grab, GoViet, Ahamove and Lalamove.
In the 2019-24 period, Viettel Post aims to become the No 1 sales enterprise in Viet Nam based on a smart logistics platform. To achieve this, it will continue to expand delivery and logistic services, and further promote the application of technology and an e-commerce platform, as well as increase investment in warehouse infrastructure.
Sales revenue is expected to grow at an average of 33.7 per cent per year through 2024, and 5.7 times higher than 2018's result. The company aims to expand its delivery market share to 30-35 per cent of the country by 2024.
Profit before tax in 2024 is projected to quadruple the 2018 figure, and reach an average growth of 25.6 per cent in the next five years.
The company will hold the 2019 annual shareholders' meeting on April 20.
Its shares, coded VTP on the Unlisted Public Company Market (UPCoM), are trading around VND182,000 ($7.81) per share.
Kinh Bac City Development aims higher in 2019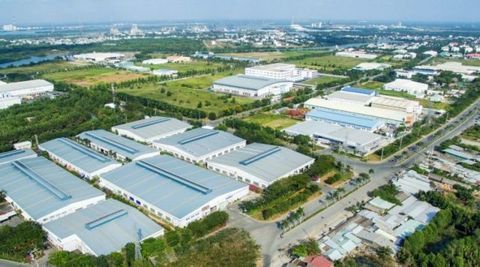 In 2018, land rental fees exceeded VND2 trillion, contributing up to 78 per cent of the total turnover and up 181.6 per cent year-on-year. — Photo vietnamconstruction.vn
Industrial zone developer Kinh Bac City Development Share Holding Corporation (KBC) has set higher business targets for 2019, aiming for total consolidated revenue of VND3.9 trillion (US$167.4 million) and net profit of nearly VND1.04 trillion ($44.5 million).
These figures are 12 per cent higher in revenue and 28 per cent in profits compared to last year, the company's 2018 annual report released yesterday showed.
Last year was successful for Kinh Bac City Development, as its net revenue reached nearly VND2.5 trillion, almost double 2017. In particular, land rental fees exceeded VND2 trillion, contributing 78 per cent of total turnover and up 181.6 per cent year-on-year.
According to the report, the company's land fund for industrial park (IP) development is 5,188ha, equivalent to nearly 5.5 per cent of the total industrial land area of ​​the country. Land area for urban development is 1,058.6ha.
In recent years, KBC's business has concentrated in northern localities of Bac Ninh, Hai Phong and Bac Giang and HCM City's Cu Chi District. This year, the company will invest in infrastructure construction of Quang Chau IP, Nam Son Hap Linh Industrial Park (PK), Tan Phu Trung IP, Phuc Ninh IP and Trang Due IP.
The company's profit after tax reached nearly VND809 billion, up 30.7 per cent compared to 2017 and surpassing the yearly target by more than 1 per cent, in which net profit of the parent company was VND746 billion.
The company still owes investors a dividend of 30 per cent in cash and shares in 2017 which was approved in its 2018 annual shareholders' meeting. It attributed the delay to insufficient cash source due to slow construction progress of some urban development project.
It is expected to pay 10 per cent cash dividend two times this year – the first 5 per cent in the second quarter and the last 5 per cent in the third quarter. The remaining 20 per cent dividend payment will be scheduled at an appropriate time.
GoBear launches app to help unbanked users access financial products
GoBear Vietnams Easy Apply app is an integrated part of user journey. — Photo courtesy of GoBear
GoBear Vietnam has launched Easy Apply, a smartphone app that enables banks, financial institutions and lenders to extend credit to a larger pool of customers.
Seamless integration between its website, www.gobear.com/vn, and the app would enable faster, more convenient and higher approval rates on direct applications for personal loans, credit cards and other forms of unsecured credit, the company said.
The app uses AI-based proprietary algorithms that analyses thousands of data points from applicants smart phones, turning them into predictive credit scorecards to be used to appraise personal loan and credit card applications.
The use of non-traditional smart phone data for credit scoring provides applicants from all demographics, especially the unbanked who have little to no traditional credit history, easier access to financial products.
The app begins with GoBears easy choices which help applicants understand which set of products better suit their profile before they instal it in their smart phones to generate their predictive digital scorecards.
It will start with personal loans before including other loans in the near future.
Bao Nguyen, country director of GoBear Vietnam, said: "The new technology will allow us to help our partners better serve the unbanked, and provide our users easier access to useful and affordable financial products at the same time. This is an important milestone in making financial products accessible to millions of unbanked Vietnamese people."
Nguyen Mai Long, general manager of EASY CREDIT, the first partner to adopt Easy Apply, said: "By partnering with GoBear, we aim to reach new potential customer segments. This will enable us to consult and provide loan products that best suit the needs of each individual, as well as minimise the approval time to bring the best experience to our customers."
Ca Mau seeks to prevent gas shortage at industrial complex

The People's Committee of Ca Mau Province has come up with several solutions to supply the predicted shortage of one billion cu.m of gas at Ca Mau's Gas- Power-Fertilizer Industrial Complex.
The People's Committee of Ca Mau Province has asked the Ministry of Industry and Trade to ensure sufficient gas supply for Ca Mau's Gas-Power-Fertilizer Industrial Complex, which is expected to have a serious shortage by September, according to Nguyen Tien Hai, chairman of Ca Mau's People's Committee.
The gas supply for the province would be less than 1 billion cubic metre per year, while demand was 2.26 billion cubic metres per year, Hai said. 
The shortage would affect the production of the Gas- Power- Fertilizer complex and the province's budget.
To solve the problem, the province has asked the Government and the ministry to put into use Block B on the O Mon gas field and connect the gas pipeline of the complex to the field to ensure a gas source and operation of the industrial park, according to Hai.
The new gas source will contribute to the region's economic development and increase national electricity production.
In addition, the provincial authority is calling for enterprises to invest in the liquefied natural gas industry in Khanh An Industrial Park.
Recently, many enterprises have proposed construction of a new gas thermal power plant in Khanh An Industrial Park with a design capacity of 1,500MW.
Last month, Vietnam Oil and Gas Group (PetroVietnam) and the Malaysian oil and gas corporation Petronas signed an agreement for additional gas to be provided to the Ca Mau complex.
Under the agreement, the complex will receive additional gas of one billion cubic metres per year starting from the end of this year.
The Ca Mau Gas-Power-Fertilizer complex was built in 2001 in the southernmost province of Ca Mau. PetroVietnam invested in the complex, which includes two gas thermal power plants with total capacity of 1,500MW, one fertilizer plant, and 3,252km of gas pipeline.