As of the end of the second quarter of 2019, Vinalines reported VND8.1 trillion ($352.17 million) in total outstanding loans, including more than VND5.36 trillion ($233.04 million) in bank loans.
According to the consolidated financial statement from the second quarter of 2019, Vinalines (Vietnam National Shipping Lines), the leading shipping corporation of Vietnam reported a 9 per cent drop in revenue to VND5.562 trillion ($241.83 million), along with the slight increase of gross profit to VND768 billion ($33.39 million).
In this period, the cost for the liquidation of fixed assets and others raised significantly to VND456 billion ($19.83 million).
So the net loss of the corporation was nearly VND496 billion ($21.57 million) while it was only VND116.5 billion ($5.07 million) in the same period last year.
Vinalines outlined that the losses increased as it has incurred higher costs for the liquidation of ships and other poorly performing assets.
In the first half of this year, Vinalines took over Quy Nhon Port and 30.3 million shares (equivalent to 75.01 per cent of the total charter capital) valued at VND404 billion ($17.57 million) from Hop Thanh Investment and Mineral JSC – the same price it sold the port to Hop Thanh five years ago.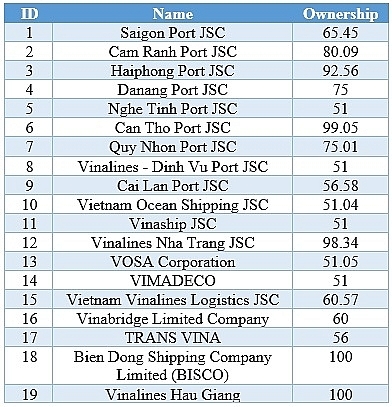 List of companies that received capital contribution from Vinalines
At present, Vinalines contributes capital to 20 companies, as well as affiliates with 27 ones.
As of the end of the second quarter of 2019, Vinalines owned VND2.056 trillion ($89.39 million) of money and equivalents, and VND3.45 trillion ($150 million) in short-term investment, while total outstanding loans amounted to VND8.1 trillion ($352.17 million), including VND5.361 trillion ($233 million) of short- and long-term bank loans. VIR
Nguyen Huong

OCD An Thuan Phat Auctioning has announced the auction of Vinalines' ships on August 9 as authorized by the national shipping line firm.

The Vietnam National Shipping Lines (Vinalines) plans to sell 11 old vessels with total tonnage of more than 230,000 tonnes this year.